Looking to show your Christmas spirit to the world? No worries; there are plenty of ideas for fabulous and festive DIY Christmas shirts that range from easy to difficult, so that you can choose the one that works best with your creativity and sense of style. We've even got you covered for all your ugly christmas sweater needs!
---
12 Fun DIY Christmas Shirts and Sweaters
Glitzy Reindeer Sweater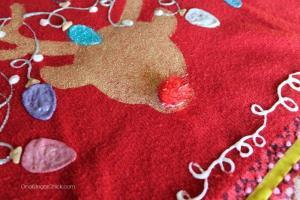 Classified as an ugly sweater, which means that it's an attempt to capture the over-the-top nature of old Christmas sweater, this glitzy reindeer sweater is perfect if you're looking for a sparkly outfit to wear to a Christmas party. Check out the tutorial @ One Krieger Chick.
Christmas Morning T Shirt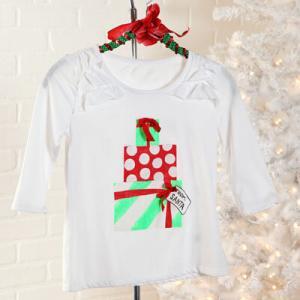 Miss the days when you were a kid rushing to the Christmas tree on a peaceful and blissful Christmas morning? Capture the nostalgia and magic of Christmas morning with this pretty Christmas morning t-shirt!
Feet and Hands Reindeer Shirt
This adorable reindeer shirt is special not just because of its fun and silly appearance, but because its made with the shape of your kid's feet and hands! This shirt will easily stand the tests of time and could even be passed down to the next generation. Check out the tutorial @ Monkeys on the Bed.
Colorful Christmas Tree Shirt
If you're into glitter art, this colorful Christmas tree shirt is perfect, with dazzling Christmas trees placed against a dark backdrop. Check out the tutorial here.
Ribbon Christmas Tree Shirt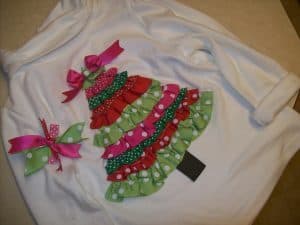 This adorable ribbon Christmas tree shirt has all the frills you need to make your child's outfit fun and fabulous. You can even pick the colors and style of each layer of the tree based on you or your child's preferences. You can check out the guide @ Stuff by Ash.
Painted Christmas Tree Shirt
Looking for a fun craft to do with your kids? This painted Christmas tree shirt is a safe and easy craft to make, and is highly customizable based on you and your child's aesthetic preferences. Check out the tutorial @ All Free Christmas Crafts.
Felt Christmas Tree Shirt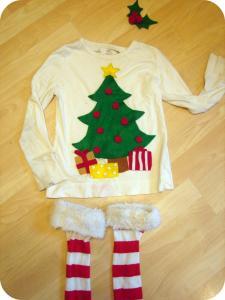 Want something with a bit more pizazz but don't have the sewing skills for it? Check out this glue gun-based felt Christmas tree shirt @ A Girl and a Glue Gun!
Snowman and Gift Truck Shirts for Kids
If you do have some basic sewing skills, we recommend giving these snowman and gift truck shirts a try! The snowman is a well-loved classic, while the gift truck is something a bit new. Nevertheless, they look adorable on kids! Check out the DIY @ Vixenmade Parties.
Christmas Tree Shirts for Kids
Another beautiful craft from Vixenmade Parties, this Christmas tree shirt is a glitzy take on the usual Christmas tree shirt, with a fabulous lace as the tree and a lot of shiny sequins as the tree's décor!
Knitted Heavily-Embellished Sweater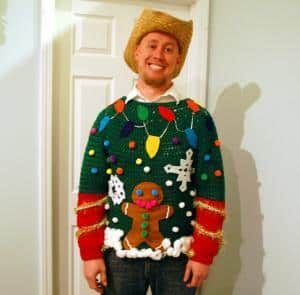 Love to knit? Show off your knitting prowess with this heavily-embellished Christmas sweater filled with Christmas cheer! This sweater will surely turn heads with its bright and highly festive design. It even works as a mens christmas sweater, as per the picture!
Lighted Christmas Sweater
Can't decide which design to go with? Why not wear them all with this lighted Christmas sweater? Simply pick all the Christmas ornaments you love and sew them onto your shirt or sweater! Check out the detailed guide here.
Lighted Christmas Tree Sweater
If you want a bit more structure to the décor you'd like to wear, then go ahead and try out this lighted Christmas tree sweater; now you have a proper structure to place all your décor on!
---
Wear Your Holiday Spirit Today!
Now that you've seen just some of the things you can do with a shirt or a sweater, pick a project from our DIY Christmas shirts list and mix in your own personal touch to make it extra special! You could give it as a diy christmas gift or wear it yourself for a more festive and fun Christmas! Don't forget to share the ones you've made in the comments section below. Happy crafting!