Looking to show your Christmas spirit to the world? No worries; there are plenty of ideas for fabulous and festive DIY Christmas shirts that range from easy to difficult, so that you can choose the one that works best with your creativity and sense of style. We've even got you covered for all your ugly Christmas sweater needs!
---
20 Fun DIY Christmas Shirts and Sweaters
1. Glitzy Reindeer Sweater
Classified as an ugly sweater, which means that it's an attempt to capture the over-the-top nature of old Christmas sweater, this glitzy reindeer sweater is perfect if you're looking for a sparkly outfit to wear to a Christmas party. Check out the tutorial @ One Krieger Chick.
---
2. Christmas Morning T Shirt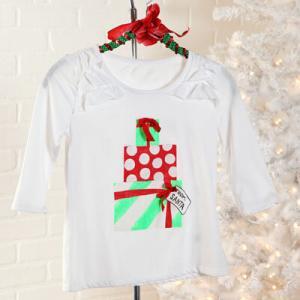 Miss the days when you were a kid rushing to the Christmas tree on a peaceful and blissful Christmas morning? Capture the nostalgia and magic of Christmas morning with this pretty Christmas morning t-shirt!
---
3. Hands Reindeer Shirt
This adorable reindeer shirt is special not just because of its fun and silly appearance, but because its made with the shape of your kid's hands! This shirt will easily stand the tests of time and could even be passed down to the next generation. Check out the tutorial @ Growing Up Gabel.
---
4. Colorful Christmas Tree Shirt
If you're into glitter art, this colorful Christmas tree shirt is perfect, with dazzling Christmas trees placed against a dark backdrop. Check out the tutorial here.
---
5. Ribbon Christmas Tree Shirt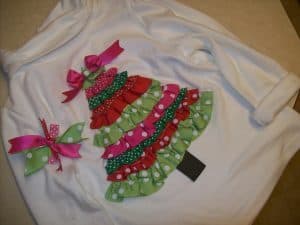 This adorable ribbon Christmas tree shirt has all the frills you need to make your child's outfit fun and fabulous. You can even pick the colors and style of each layer of the tree based on you or your child's preferences. You can check out the guide @ Stuff by Ash.
---
6. Painted Christmas Tree Shirt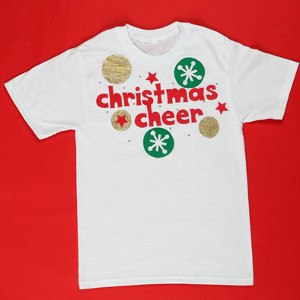 Looking for a fun craft to do with your kids? This painted Christmas tree shirt is a safe and easy craft to make, and is highly customizable based on you and your child's aesthetic preferences. Check out the tutorial @ All Free Christmas Crafts.
---
7. Felt Christmas Tree Shirt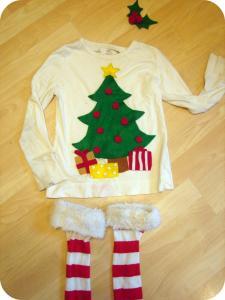 Want something with a bit more pizazz but don't have the sewing skills for it? Check out this glue gun-based felt Christmas tree shirt @ A Girl and a Glue Gun!
---
8. Snowman Sweater or Shirt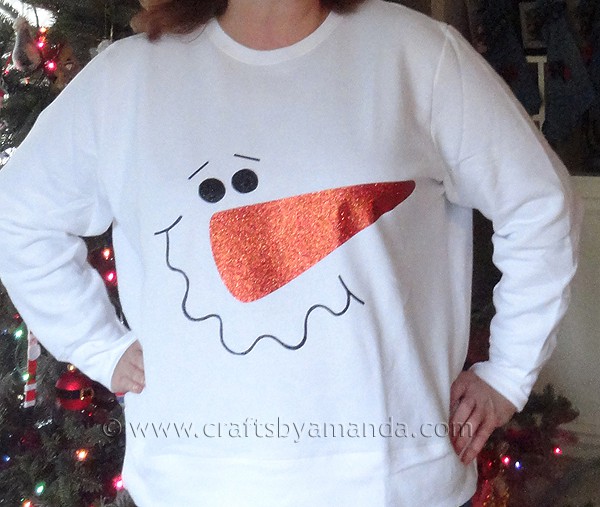 With some basic ironing skills, we recommend giving these snowman shirt or sweater a try! The snowman is a well-loved classic. I love the added twist that Amanda uses to customize the snowmans mouth. But, feel free to adjust this design to suit you! Check it out @ Crafts By Amanda.
---
9. Christmas Tree Shirt with Buttons and Ribbon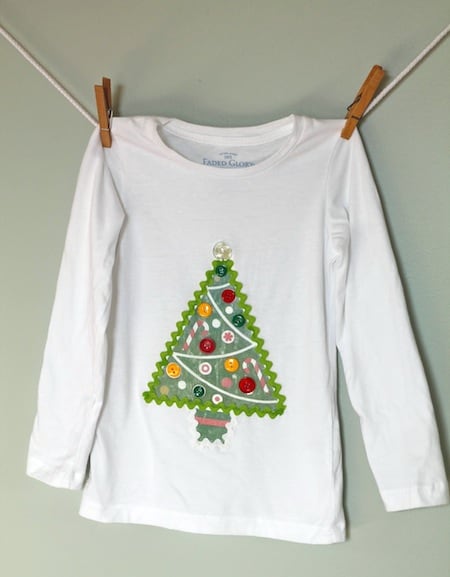 Another beautiful craft from Mod Podge Rocks, this Christmas tree shirt is a button for the win! This simple design would be great to complete with kids and let them pick out the different buttons and ribbon. Plus, it's easy to complete with use of a shirt or sweater, Mod Podge transfer medium, graphic of your choice, foam brush, wax paper, and scissors.
---
10. Knitted Heavily-Embellished Sweater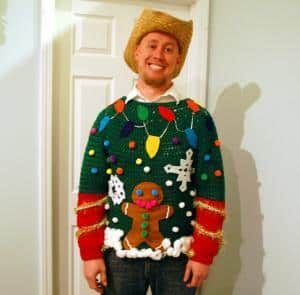 Love to knit? Show off your knitting prowess with this heavily-embellished Christmas sweater filled with Christmas cheer! This sweater will surely turn heads with its bright and highly festive design. It even works as a mens Christmas sweater, as per the picture!
---
11. Lighted Christmas Tree Sweater
Can't decide which design to go with? Why not go with this lighted Christmas sweater? It may take a little more effort but, it'll definitely impress! And truth be told, it'll not be to hard to make and will certainly bring that Christmas joy!
---
12. Lighted Christmas Tree Sweater
Another great lighted Christmas tree sweater! If you want a bit more structure to the decor you'd like to wear, then go ahead and try out this lighted Christmas tree sweater; now you have a proper structure to place all your decor on! Got to love how this Christmas tree even has a skirt!
---
13. Light Up Christmas Sweater
Here's another great light up sweater that isn't a Christmas tree. What a cute festive sweater! You won't be able to win any ugly sweater contest with this DIY sweater. You will need glue, scissors, battery powered lights, a sweater, and some pins--but, you won't need to sew unless you desire too.
---
14. Be Merry and Bright
Nothing like some sparkle to bring out holiday cheer! These iron-on really transform this basic tee into a fun design. Follow the directions @ the celebration shoppe
---
15. Snow Globe Sweater
Watch as Jenelle makes an easy to complete sweater snow globe. I don't know about you but, I've yet to see anyone with a sweater like this for the holidays--here's to being the first with this original idea!
---
16. Tie-Dye Snowman
A fun and non traditional Christmas shirt with the use of tie-dye. This would be a great way to incorporate teens into getting into the holiday spirit.
---
17. Gift Paper Vest
I know this isn't per say a sweater but, what a neat idea! We all have some left over wrapping paper, this could be a very good use for it! Check it out @ All Free Holiday Crafts
---
18. Garland Christmas Tree
See how Beth @ the mommy promotion creates the pic above to be a simple Christmas tree sweater with a few ornaments or how she adds more ornaments and lights to really spruce up the look!
---
19. Grinch Sweater
There are a few Christmas movies everyone loves and I feel like the Grinch is one of them. Why not watch your favorite Christmas movie while wearing your Christmas sweater?!? See how to recreate this design @ Instructables
---
20. Abominable Snow Monster
Another favorite is the Abominable Snow Monster and how fun is he with the added Christmas lights and the "snow"!
---
Wear Your Holiday Spirit Today!
Now that you've seen just some of the things you can do with a shirt or a sweater, pick a project from our DIY Christmas shirts list and mix in your own personal touch to make it extra special! You could give it as a diy christmas gift or wear it yourself for a more festive and fun Christmas! Don't forget to share the ones you've made in the comments section below. Happy crafting!
I'm a stay at home mom with our two kids. I really enjoy doing crafts with my toddler however, that is typically a challenge with her limited attention span, messiness, and desire to always have clean hands. So, I'm always looking for ways to make crafting an enjoyable experience and fond memory for the both of us.