Choosing the best yarn for a project often comes down to finding the right fiber for the job. Sometimes it doesn't seem appropriate to use wool yarn for certain garments and acrylic might not appeal either. This is where you might want to consider linen. The best linen yarns offer a different feel and can transform some projects. So, what should you look out for when choosing a product and who offers a good 100% linen yarn?
---
The Best Linen Yarn Around Right Now
With all of this in consideration, it is important to note that there aren't as many products around as there may first appear to be. For every linen or linen blend yarn ball that comes up on a search page, there are as many linen-colored wool and cotton skeins. Still, there are some quality items out there that are worth a try. The first set of products here are those that are 100% linen. While this is rare, there is a chance to create something light and soft without relying on any alternative materials to enhance the product. Then there are those that are blends. There is a mix here and while some may not have the percentage of linen you hoped for, they do offer quality and a choice of colors.
The Best 100% Linen Yarn
1) Lotus Yarns 100% Natural Linen Yarn
Lotus Yarns is a popular brand that offers materials in a range of fibers. This twist of yarn is their 100% linen model, which they promote as being ideal for baby clothes. Each twist has 317 yards in it and you can choose from some softer natural tones and some that are more extreme. There are some users that found this to be a bit thinner than they wanted, but most are happy with the way it handles and feels. Just be aware that it isn't the cheapest option either.
---
2) Lusie's Linen Yarn Cone
This is another option in a natural tone with 100% natural flax linen fibers. Watch out when purchasing this because there are different options in these simple cones of yarn from 1 ply up to 4 ply. The strong 4 ply option is the shortest at 2600 yards and good for lightweight projects. This is still longer than a lot of products. The finer 1 ply option is better for lacework and comes in cones of 10300 yards. There are also plenty of colors to choose from. Users tend to find it easy to work with and say that it is nice and soft after washing.
---
3) Fibra Natura Flax Yarn
This next option is proof that you can have a fully natural 100% linen project and a brighter color. The range of colors available here is cast and I like some of the options that are still playful while evoking natural tones. This includes the deep blue spruce and feminine pearl. But, there is also a bright turquoise and tangerine. There are 137 yards in these 50g balls so, not a massive amount, but enough to get you started.
---
The Best Linen Yarn Blends
1) Juniper Moon Farm White Pepper Linen Yarn
This first option is a great choice if you want to go for a really natural look. Be aware that there is a big disclaimer about balls varying in tone and color perception being subjective. But, there will be some form of blended white and beige tones here. The 100 gram ball has 284 yards of yarn to work with. It is 40% linen and 60% cotton. While this may not be as high a linen count as you might like, it still adds to the feel of this material.
---
2) Drops Cotton and Linen Yarn
Next, we have something that divides opinion a little bit. While there are comments about value for money due to the small length of 93 yards per ball, this isn't that expensive and could work well for smaller projects. There is also a warning from users that it wasn't as soft as expected, but this could be due to the blend of 53% cotton and 47% linen. What I do like here is that you get a nice selection of natural and wintery colors. There are some nice blue and grey tones among the beige and off-white options too.
---
3) Sugar Bush Yarns Shanty Yarn
Next, I want to highlight something a little bit different. The linen count is on the low side here so I appreciate that this won't be what a lot of people are looking for. However, it is interesting to see a 25% linen and 75% merino wool product. This should allow for a lighter feel to a wool knit. You get 186 yards per piece and a nice range of colors. They all have great names like Sandy Shore and Pebbled Path. But, there are warning to be careful as the colors are often lighter than shown in the photos.
---
4) La Mia Linen Cotton Assortment
Finally, I wanted to add this selection from La Mia. There are issues here in the amount of linen you get in the blend, this is very much more of a cotton yarn with a little linen because of the cotton 30% linen ratio. I would prefer to go for something with more linen and with more than 132 yards in a ball. But, you do get a big range of colors to try out, which is perfect if you have a multicolored project in mind.
---
Why Should you Use Linen Yarn?
Linen yarn is a great choice if you want to knit lightweight garments such as shawls and other items that won't weigh you down. Woolen knits can be a bit much to throw over your shoulders or to keep the chill off on a cooler evening. You can get a nice loose knit that drapes well and is breathable but still comfortable and warm.
Is Linen Yarn 100% Linen or a Blend?
Both options are available so it is important to check the listing to see what you are getting. 100% linen is great if you want to be sure of that lighter feel and a completely natural flax fiber. But, there are other sewers that prefer to use a blend of linen and cotton. See what feels right to you and maybe test a few options out on various projects.
---
Watch Out for Products That Aren't Actually Linen in Any Form
I want to point out something that could potentially trip some people up when searching for the best linen yarn online. The word linen is used as both a type of fiber and as a color. So, when you see something like the Lion Brand Vanna's Choice Linen Yarn on a search result, you might assume it is linen material when in fact it is a synthetic blend in a linen color. Always check the details in the product listing to see what they are made from.
If you are interested in using a different material in a linen color, I suggest looking at some of the Bernat Softee Chunky Yarn or Lion Brand Chunky Knit products. Hand knitting is a great alternative skill for those that want to make something thick and cozy for winter. It is a great way to bring the look of linen into something better suited for the season. You can learn more about handknitting wool in my other guide.
---
What Else Should you Look Out for When Choosing the Best Linen Yarn?
1) How much yarn do you get for your money?
There are two factors to consider when determining the quantity of yarn for sale. Some brands will sell their products in packs, perhaps with a choice of how many balls you get. It would, therefore, make sense that these multi-packs would offer the most yarn. However, I do recommend looking at the length of each ball. You can find some single balls for sale that are longer than you expect.
2) What colors are available?
You may find that companies sell linen yarn in fewer color choices than those working with other materials. There can be a focus on natural or muted tones because that is what we associate with linen. Acrylic, on the other hand, may have more bold colors because it is a synthetic product. But, that doesn't mean you can't shop around or see if there is something interesting available in linen.
---
Choosing the Best Linen Yarn for your Project
In summary, it is possible to get a great linen yarn for your lighter knitting and crochet work, but you may need to compromise with the blends or the weight of the material. Take your time to go over some of the options available and the color choices. If the first choice isn't the best fit, figure out where you went wrong and try again. Eventually, you will find a supplier you love where you can try all kinds of colors for fun projects.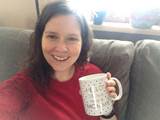 I'm a stay at home mom with our two kids. I really enjoy doing crafts with my kids however, that is typically a challenge with how limited their attention span can be and how messy it gets. So, I'm always looking for ways to make crafting an enjoyable experience and creating fond memory for all of us.