Whether you're looking for a stylish, vibrant addition to your wardrobe or home decor, or simply want to add a little more love to an under-appreciated shirt or bag, heart tie dye patterns are fun, simple, and easy to pull off. Here are 20 projects you can try to add a bit of spark to your life.
---
Top 20 Heart Tie Dye Projects
I Heart Tie Dye – Showcase your fun and energetic vibe with this tie dye that radiates a jagged burst of light.
---
Sunburst Heart Tie Dye – Simple, bright, and sunny, this tie dye project is great for trips to the beach or the poolside.
---
Lightning Heart Tie Dye – Like a jolt of lightning cracking the skies apart, the result of this project is majestic and intense.
---
Easy Heart Tie Dye – If you're looking for a clean and simple heart tie die project, then this DIY fits the bill.
---
Sacred Heart Tie Dye – Keep the sacred fire glowing with this easy DIY heart tie die project that you can do with your kids!
---
Stitched Love Tie Dye – For sewists (sewing artists), this lovely tie die technique is perfect, as it uses a sewing pattern to create a "resist" to be able to paint a heart with tie dye.
---
Dappled Heart – This lively, vivacious heart can bring to life any plain, drab shirt.
---
Floating Hearts Tie Dye – These adorable floating hearts beautifully fills any shirt with warmth, vibrance, and color.
---
Have a Heart Tie-Dye Backpack – Bored of tie dye shirts? Try them on your backpack to give it a little more life and pizazz!
---
Total Eclipse of the Heart – Turn heads around with this bright and vibrant heart tie die project – a beautifully simple and bold design that stands against the test of time.
---
Crowning Heart – The bold outline that crowns the heart on this project produces a stunning effect, making the heart stand out really well against the splash of colors that surround it.
---
Your Crafty Heart – Like a warm whisper followed by a spark, this shirt has just the right dash of boldness and fuzziness to make itself stand out from the crowd of tie die shirts.
---
Triple Love Tie Dye – This chic and stylish tie dye project is a little more structured and meticulous, but the results are simply fantastic and well worth the time.
---
Explosive Heart – This tie dye project is a bit more loosely made, yet it produces an interesting aesthetic effect – a heart cracking to reveal a thousand lightning bolts.
---
Tie-Dyed Heart Sun Catchers – This project is a bit different from the others, as it's not something you wear or take with you; this DIY project, instead, catches the rays of the sun and bounces them off with its vibrant colors!
---
Slitted Heart – Create a bunch of slits on your tie dye to reveal the fabulous undershirt that lies within!
---
Handful of Love – Spell out your love with this lettered tie dye!
---
Single Color Tie Dye – Super funky and super simple tie dye heart shirt!
---
Valentine's Day Statement Tie Dye – This project is perfect for couples who want to have something fun to make and wear together.
---
Rainbow Tie Dye – Surround your heart with an explosion of colors with this tie dye DIY!
---
Paint a Heart, Then Wear (or display) it Proudly!
Now that you've seen the different ways you can use the tie dye, feel free to modify and experiment with the ones you like and see if you can make something that incorporates a part of your own personality and aesthetic taste. Don't forget to post a picture down in the comments section! Happy crafting!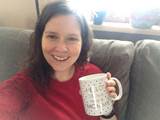 I'm a stay at home mom with our two kids. I really enjoy doing crafts with my kids however, that is typically a challenge with how limited their attention span can be and how messy it gets. So, I'm always looking for ways to make crafting an enjoyable experience and creating fond memory for all of us.