Reusable bags are a must-have item for all shoppers these days, as we try our best to reduce single-use plastic use and waste. What makes them even more appealing is that you can get some simple tote bags with fun designs. You can even create your own with a personalized design on a blank tote. So, what is a tote bag and how can you create a custom canvas tote at home?
Tote bags are most commonly large open bags with spacious interiors, parallel handles that come up from inside the bag, and very little else in terms of features. You rarely see totes with extra pockets or decorative elements. You may find more stylish high-street tote bags with thicker materials like faux leather and tapered sides. But, many of us will be more familiar with the softer canvas and cotton options that are shapeless and screw up into a pocket.
What Is a Tote Bag Used for?
Most typically, tote bags are used for shopping. The more basic shapeless models that fold up for transportation are perfect for grocery shopping. You can keep one in a handbag and take it out to pack up your food rather than using a plastic or paper bag. Many users carry them for environmental reasons as well as for fashion statements. More substantial totes are great as an alternative to handbags where you want one big compartment, or as beach bags.
Can You Get Canvas Tote Bags with Zippers?
Most canvas tote bags are open at the top for easy access. That way you can put your shopping or other items in there with ease and unpack when you get home. Yet, some companies make bags with zippers for a little more security. If you like the idea of this, but struggle to find a suitable option, you could always sew your own tote bag and add a zipper to the design. Some brands creating stylish totes may also use a clasp or popper.
How to Get Creative with Plain Tote Bags
There are lots of brands and organizations that sell or give away totes as promotional items. They are great tools for charities and tourist attractions. However, you can also find plain tote bags and create your own designs. The surface is perfect for self-expression while out shopping. Your options are broad and depend on your materials and skills. You could use Heat Transfer Vinyl for a graphic image, do some free-hand embroidery, or even paint a scene onto the canvas. It all depends on your preferred techniques and skills.
How To Paint on Canvas Tote Bags
There are options available when painting on canvas tote bags. Fabric paint is a good starting point, especially if you can get some pens for fine lines and text. But a lot of people prefer to go for the saturation and durability of acrylic. Hardened acrylic looks great and shouldn't wash off too easily. Consider sketching out the design in chalk first to map it out before putting down permanent paint.
How To Wash Canvas Tote Bags
Many bags will be suitable for machine washing, especially pre-made ones. You can follow the washing label instructions and keep it inside out. Or you may prefer to handwash a bag in warm water and mild detergent. It will depend on the materials used to make the design, their durability, and the risk of color transfer to other materials.
Where To Buy Plain Canvas Tote Bags
If you are interested in creating a personalized canvas bag with a painted or HTV design, there are lots of options available. Amazon is always a good starting point for cheap products and potential multibuys. Craft stores may be a better option for a bag of higher quality. There you can get a better idea of the feel and the size too. Also, if you have a Cricut machine, look out for the company's own compatible blanks.
Create Your Own Canvas Tote Bag
In short, there is no reason why you can't create a personalized canvas bag at home with ease. Find a good supplier of blank tote bags, pick your craft for developing your design, and have fun creating a custom shopping tote.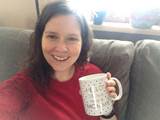 I'm a stay at home mom with our two kids. I really enjoy doing crafts with my kids however, that is typically a challenge with how limited their attention span can be and how messy it gets. So, I'm always looking for ways to make crafting an enjoyable experience and creating fond memory for all of us.