Originally, Christmas trees, which were usually real trees, were illuminated by candles instead of light bulbs, which means that a wax and needle-filled mess awaited the poor soul in charge of cleanup. Christmas tree skirts were the perfect solution to this dilemma, but now, with most trees being made of plastic, and lights made of LEDs, Christmas tree skirts serve just one purpose: to make your Christmas trees look more festive than ever (unless you have a real tree, in which case this will still serve a functional purpose as well). Check out these festive crochet Christmas tree skirt ideas and see which ones fit your sense of style.
---
20 Best Crochet Christmas Tree Skirt Ideas
Holiday Magic Christmas Tree Skirt – With alternating Christmas colors of red and green against a white background, this skirt looks absolutely divine under any Christmas tree. However, this pattern isn't free it's a minimal cost of $5.
---
2. Bernat Crochet Christmas Tree Skirt – This beautiful hexagon surrounds your tree with a dashing red accent and is perfect if you're looking for a simple, geometric crochet Christmas tree skirt. Yarnspiration provides this design pattern for free, as well as, provides at a cost a custom by you pattern kit to make this project a little simpler for you to complete.
---
3. Granny Hexagon Crochet Christmas Tree Skirt – This charming little tree skirt looks divine with its beautiful green cluster of hexagons. Follow along as Petals to Picots guides you through completing this design pattern for free.
---
4. Poinsettias Christmas Tree Skirt – This tree skirt turns your Christmas tree into a beautiful centerpiece surrounded by a garden of beautiful poinsettias. Try this intermediate pattern design for free.
---
5. Colorful Granny Christmas Tree Skirt – If you don't want to stick with the plain and familiar red and green colors, this beautiful granny tree skirt is the perfect free pattern project to try. This design is classic crocheting with it granny squares.
---
6. Classic Christmas Tree Skirt – the free design is simple and sweet. The crisp white color makes it really stick out! How great would this look with some white Christmas tree lights?
---
7. Seven-Way Christmas Tree Skirt – This old but gold project presents you with seven delightful borders to choose from with it's free pattern! This designs are old fashion but, if you ask me– that's what makes them better especially, this for the holiday season!
---
8. Flurries Christmas Tree Skirt – This fabulous tree skirt comes in a dashing splash of blue, embellished with beautiful snowflake appliqués for a splash of winter. Follow along in this video or with written instruction by Nadia.
---
9. Red and White Christmas Tree Skirt – Whether you're a fan of a classy mix of red and white, or a fan of Resident Evil, this Christmas tree skirt works with almost any design. I love the look of the off white in this free pattern.
---
10. Chevron Crochet Christmas Tree Skirt – Chevron crochet patterns always add a certain burst of energy to any festive embellishment, and this pattern is no different. Follow along with this free pattern and change the colors to suit your Christmas decor.
---
11. Plaid Christmas Tree Skirt – Who knew you can actually make plaid work as a crochet Christmas tree skirt?!? This gorgeous skirt can make any plain old tree look absolutely fabulous and classy. the buttons are also a nice touch. This unique free pattern is a must try!
---
12. Pompom Trimmed Christmas Tree Skirt – A playful tree skirt with cute little pompoms at the end, this skirt is sure to bring out the child in everybody. Download this pattern for free today!
---
13. Snowflake Bernat Christmas Tree Skirt – This pretty little tree skirt looks like a large snowflake with it geometric shapes. Show off your crocheting skills using this free pattern with this majestic tree skirt!
---
14. Angel Filet Crochet Christmas Tree Skirt – This pattern, though it's a $4 pattern, is well worth the money with the beautiful trumpeting angels surrounding your tree. It's delicate design is sure to impress!
---
15. Starburst Christmas Tree Skirt – This unique tree skirt looks like a star within a snowflake – a beauty to behold under any Christmas tree. Check out this free pattern now!
---
16. Primitive Pines Yo-Yo Afghan & Christmas Tree Skirt – Surround your Christmas tree with cute little crochet pine trees! This design is shown in an afghan and a Christmas tree so, if you could make one or both; how fun could that be?
---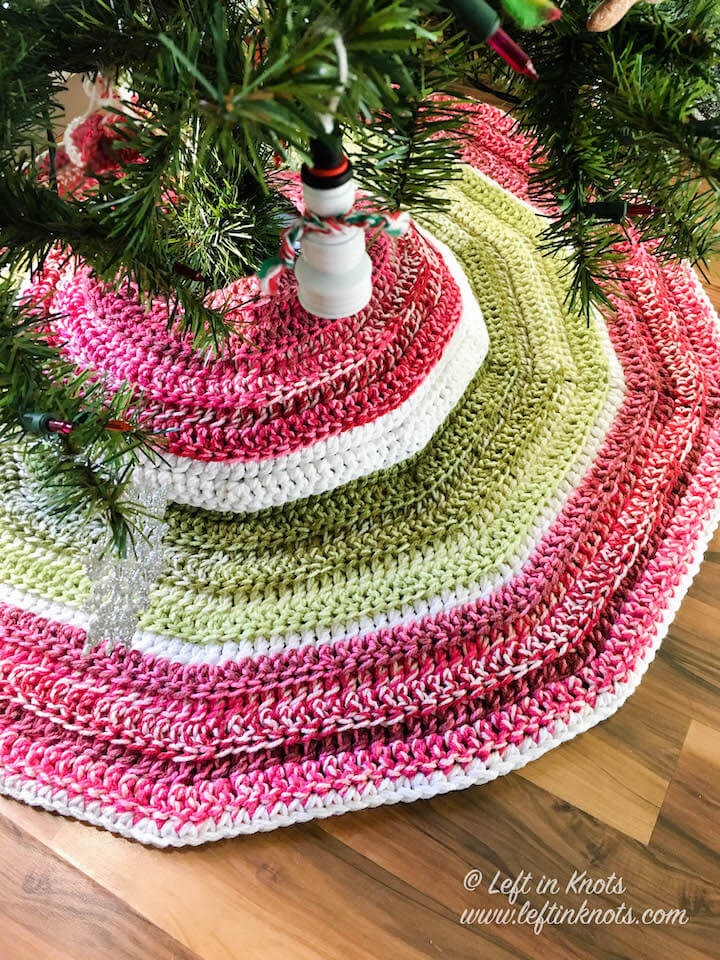 17. Holly Jolly Christmas Tree Skirt – The color blend on this free pattern is stunning! I could see how these colors could go with numerous holiday decoration you already have and fit in seamlessly.
---
18. Victorian Christmas Tree Skirt – With beautiful ruffled borders and a hexagon free pattern, this tree skirt adds a touch of elegance to your Christmas tree. This easy level design could be a great Christmas tree skirt to complete while binging on Christmas movies.
---
19. Lacy Christmas Tree Skirt – This pretty little tree skirt adds just the right amount of excitement without being too ornate with this free pattern. I like the triangle touch at the end, seams nice and different compared to the other designs we've shared.
---
20. Stripedy Mini Christmas Tree Skirt – With a bright mix of playful colors in a beautiful concentric pattern, this mini tree skirt is perfect if you prefer a more child-friendly design. Definitely need to check out this free pattern if you're going for a more nontraditional look.
---
Get Ready to Dress Up Your Tree!
Now that you know some of the prettiest crochet tree skirts you can make for your Christmas tree, go ahead and find one that suits your design style. Don't forget to share with us about your creation in the comments section below. Happy crocheting!
I'm a stay at home mom with our two kids. I really enjoy doing crafts with my kids however, that is typically a challenge with how limited their attention span can be and how messy it gets. So, I'm always looking for ways to make crafting an enjoyable experience and creating fond memory for all of us.