DIY Christmas Card Ideas for Festive Season
Last Updated on
In this modern age of technology, we somehow forgot how it feels to receive or write an intimate and heartfelt letter to someone. We just greet someone through text, put some emojis and call it a day. How about we bring back the tradition this holiday season and pour out our hearts through handwritten words and handcrafted cards? Here are some ideas to help you spread the joy and love this Christmas.
---
Washi Tape Christmas Tree Card at Omiyage Blogs
Don't worry, you don't need impressive skills for this card. It's pretty simple to make this washi tape Christmas card. You only need two things: a blank card and washi tape of your choice.
This also makes a great kids christmas DIY activity as even the smallest ones will be able to stick some tape on paper (and their noses, most likely!)
Another fun thing about these is that you don't need any tools beyond a scissors, so much less mess, and much less cleanup – hooray!
You can also buy some good quality card stock and feel comfortable giving these cards out to people outside of your family – they're such a fun and attractive craft project!
---
Do you wanna build a snowman… with buttons?
This one is a quickie and a cutie! It's really simple so you can totally get some of the older kids involved, plus you can re-purpose these for cards, or for gift tags, or even just some Christmas ornaments.
Having this on card also gives you a ton of options to personalize. You can doodle in the background, you can put them on an existing watercolor Christmas card or similar, or you can put them over pictures. Really the buttons are just garnish.
Of course if you already have some craft buttons lying around, you're ready to go – no supplies needed!
Super fun for everyone!
---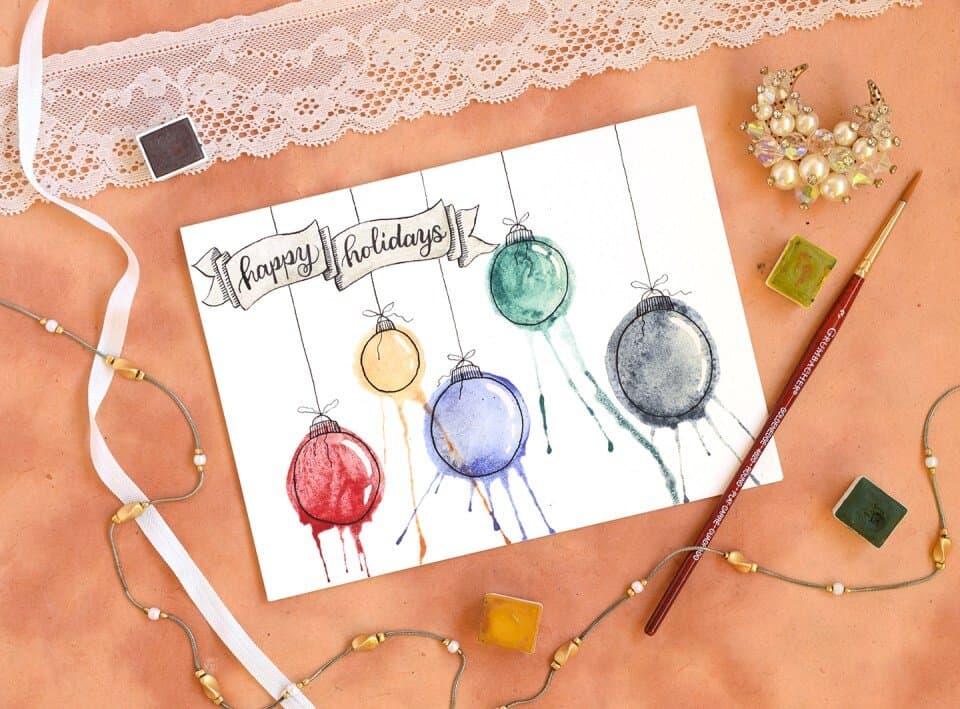 The Postman's Knock is one of our favorite sites for in depth tutorials on beautiful craft projects. Lindsey is in high demand for appearances and guest blogs all over the craft and artisan world, and you can quickly see why!
This tutorial for making hand painted watercolor christmas cards is easy to follow, honestly you don't even need to know how to draw ornaments because Lindsey's instructions are so clear.
Plus the great thing about these super artistic holiday cards is they can double as ornaments – wouldn't you be happy to have these on a tree, or in a wreath?
Let me know in the comments if you've had success with these awesome DIY watercolor Christmas cards!
Burlap Christmas Tree Ornaments at Darice Blog
I've said it before and I'll say it again – Burlap is a state of mind, nor a fabric!
Burlap seems to be all the trend in arts and crafts right now. So many ideas and crafts done with burlap! It's an easy material to work with, plus it gives everything you do a fun country vibe. Maybe the most laid back fabric out there?
Here's another one: a burlap tree ornament that doubles as a fabric Christmas card. This craft project might be a little more advanced than some of the samller kiddos will be used to, but it's definitely one you'll feel comfortable giving out to family and friends.
Plus these will look awesome hanging from some bunting over the fireplace – but maybe don't let the burlap get too close to the fire!
Get your scissors out and get crafting!
---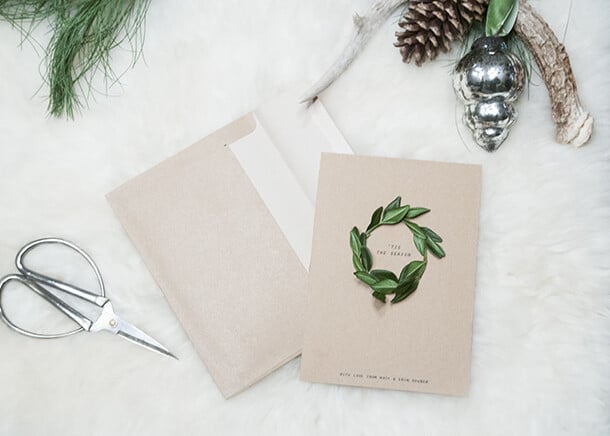 Erin makes some of the cutest little craft projects anywhere on the internet, and this is no exception.
These awesome homemade Christmas cards feature a wonderful earthy touch courtesy of the sprigs of boxwood hot glued to the front of the card.
Erin took some good quality card stock, printed a simple message on the front, and with a touch of boxwood, had one of the cutest, most modern looking DIY christmas cards I've seen in forever.
Best of all these cards come in at a whopping 35c each – that's a twofer!
This one is way too much fun not to share! I mean christmas is about fun, right? Why not give the gift of laughter with this adorable and show stopping card!
This is definitely one that will have to be saved for the older kids, that or heavily supervised as it can be a little tricky to put together.
But your kids will love them, and they'll love to give them.
---
Black & Gold Watercolor Ornament Cards at Fox And Hazel
Black and gold are easily the best pair of colors together. They make everything look elegant and chic.
So much so that these cute cards would double as an ornament – you can hang them on the wall, or over the fireplace.
So what are you waiting for? Grab your watercolor and craft along.
---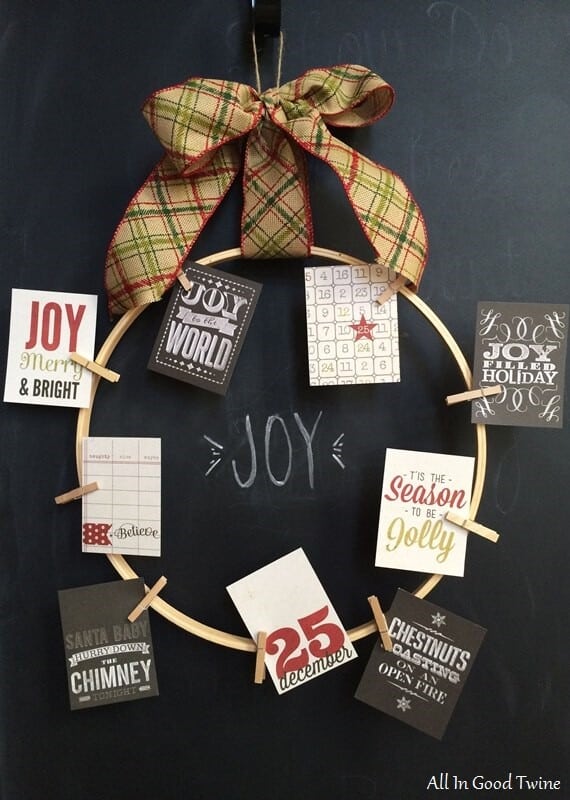 So this one is a little more invovled, but still a ton of fun.
While not strictly a christmas card plan itself, it's definitely an idea for how to display your christmas cards! Why just put them on the mantle when you could create a whole new wall hanging just to celebrate the season.
Plus this stylish and well made wreath could be used outdoors as well as in.
And while it looks trickly, it's actually super simple – you just need an embroidery hoop, some clothespins and glue, a ribbon and a few other small bits, and you're good to go!
---
This attractive cut-out card is a little different from the traditional ones. The metallic touches changes the game and modernizes it. Make sure to give it out to your millennial friends and they'll praise you!
Plus the great thing about this one is Tinsel And Trim have provided all of the printable plans you need to make these stylish cards.
How neat is that?
---
Mommies! Daddies! Parents! Involve your little ones and have fun together while making these handprint cards. Don't be scared to get a little messy! Start them young and bring out their creative side.
Plus these aren't only seasonal cards – you can use this technique for so many other holidays.
And when you're done, you will have these little hand-prints to cherish as your babies get bigger.
---
In the process of making this card, you'd want to squish it or hug it if it was possible! Pine trees are prickly in real life, but not on this card!
Plus who doesn't have some pipe clearners hanging around in their craft supply box?
If you're anything like me this will be a free project as you already have everythign necessary.
It's also a quick project to make in a pinch when you realize – heck it, I forgot to get them a card!
---
Thank you for taking time to read through these cute DIY Christmas card ideas! If you are into DIY this festive season, check out DIY Christmas Trees and DIY Christmas Decor. Put a smile on someone's face and write them a letter. Enjoy!