'Tis the season to be artsy! Give your Christmas cards a heartfelt homemade touch by making some yourself with these simple watercolor christmas card ideas! Don't know where to start? These 12 DIY watercolor Christmas card ideas should get your creative juices flowing.
12 DIY Watercolor Christmas Cards for the Artsy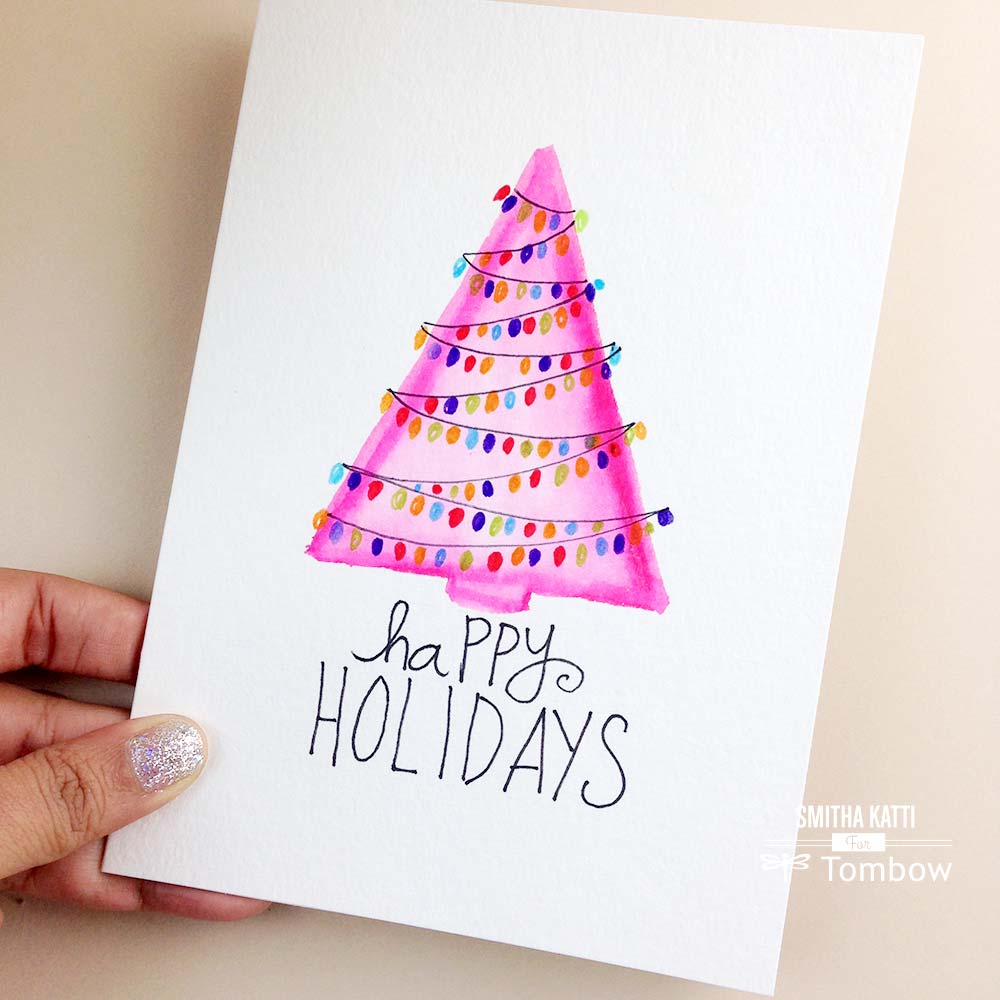 Easy Tree Holiday Card
The simplicity of watercolor trees makes for an elegant Christmas card. You can work with any color you like and make it as festive as you want, or you can stick with two or three colors to keep things simple. Check it out @ Tombow USA Blog.
Snow Globe Holiday Card
The best part about this simple watercolor christmas cards is that you can get your kids involved and let them make absolutely stunning holiday cards no matter what their skill sets are in drawing! Check out the tutorial @ Make and Takes.
Watercolor Gift Tags
Attach your sentiments and love by adding a splash of watercolor to your gift tags. Check out the gorgeous designs @ Lolly Jane.
Watercolor Brush Indent Cards
Feel like trying out a new technique? The brush indent uses the back of your brush for an indented look. It's easy, and it adds a fresh and fun little twist to the usual watercolor art. Check it out @ Make and Takes.
Foiled DIY Watercolor Cards
Simple yet classy, you can use blank foiled holiday cards as your starting canvas so that you have something already beautiful to work with. You can also use any other holiday card you already have and embellish them with watercolor for a unique and customized touch! Check out the tutorial @ Little Inspiration.
Wreath Watercolor Card
If you want to try your hand at a more meticulous and intricate pattern, this cute and charming wreath card is perfect in bringing out the painter in you! Just follow the steps @ Inkstruck Studio.
Oil Pastel Resist Snowflake Watercolor Card
With oil pastels as your resist, you can watercolor the whole card to reveal a beautiful snowflake! This fun and pretty project is one of the easiest DIY watercolor Christmas cards to make, which makes it a perfect craft to try at any age. Check it out @ Arty Crafty Kids.
Cut-Out Ornament Card
Useful and beautiful, this cut-out ornament card works both as a thoughtful greeting and a chic Christmas tree décor! Learn how to make one by following the steps @ The Postman's Knock
Holiday Word Card
Paint your sentiments over a pretty texture and send it to your loved ones this Christmas by making these worded watercolor cards from Darice.
Festive Shapes in a Christmas Tree
Beautiful, simple, and geometric, this watercolor card is great for those who're used to following patterns and aren't quite comfortable with freeform watercolor just yet. Check out the tutorial @ Smiling Colors.
Artistic Ornaments
Artistic and purposefully imperfect, this beautiful watercolor Christmas card is a unique craft that yields different results every time! Try making one and see for yourself the perfection that imperfections can create @ The Postman's Knock.
Holiday Red Cardinal
Want to add a splash of festivity and nostalgia to your cards? Learn how to make adorable red cardinals by following this tutorial.
Turn Your Sentiments into Creative Cards This Christmas!
Now that you've seen the many things we can do with watercolor with these DIY watercolor Christmas card ideas, it's time for you to paint your own masterpiece! Don't be afraid to let your creativity shine through these cards, and remember that there isn't really a "wrong" way of painting your cards; it'll all depend on your sense of style and the person you're giving it to. Just let your imagination take flight, and don't forget to share with us your latest creations in the comments section! Happy painting! Check out some DIY Christmas Gift Ideas here.