Keep your home joyous and upbeat as Christmas draws near with these fabulous, easy-to-create DIY Christmas decorations! Now you can decorate your home without having to blow your budget for food, presents, etc.! Another great start you might want to try is making your own Christmas tree out of cardboard. I know I said we'd provide 14 ideas but, I found so many great ideas I just couldn't leave out; enjoy!
---
23 Cheap and Cheery DIY Christmas Decorations
1. Lighted PVC Candy Cane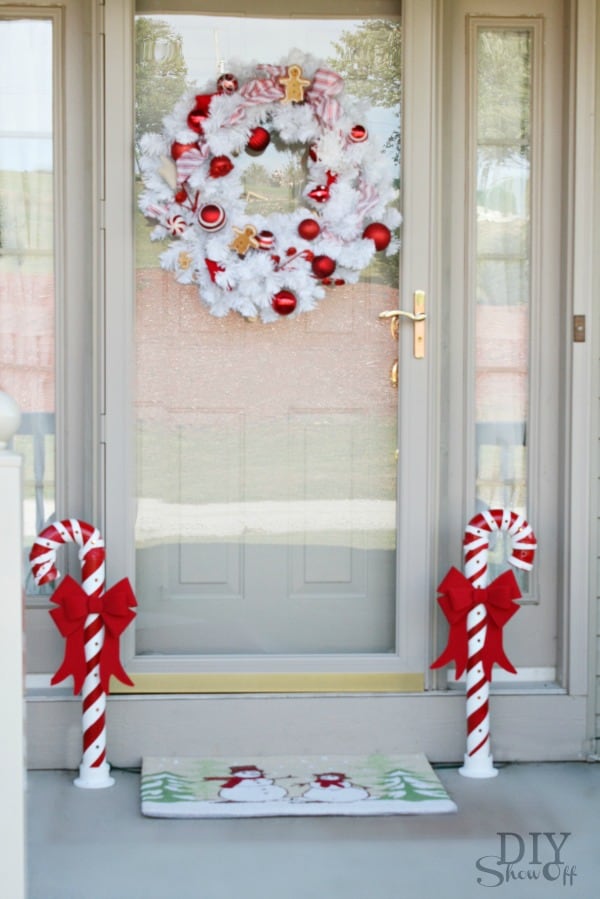 Set the festive mood with these lighted PVC candy cane decors right in front of your doorstep! This DIY Christmas decor is a fun way to greet your guests and is easy to make even for the non-electrically-inclined! Check out the steps @ DIY Show Off
---
2. Lighted Burlap Garland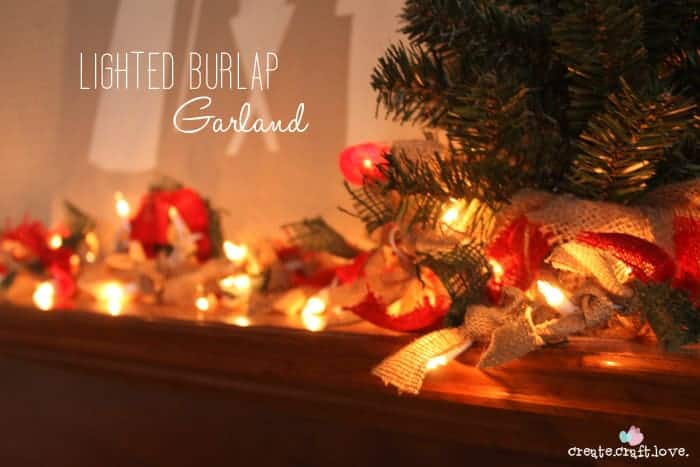 Prefer a more rustic look without losing the fun and festive holiday aesthetic? This lighted burlap garland project from Create, Craft, Love is a beautiful accent to any furniture that provides a soft, warm ambient light to the darkest corners of any room.
---
3. Snowman Candle Holder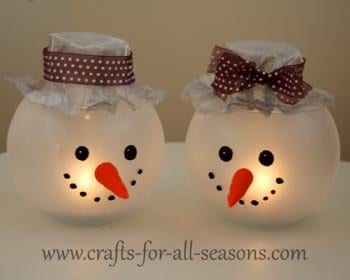 Bring a cheerful, warm glow to any room with this happy snowman candle holder @ Crafts for All Seasons! If you're not comfortable with using real candles, you can opt for LED candles instead.
---
4. Pallet Wood Christmas Tree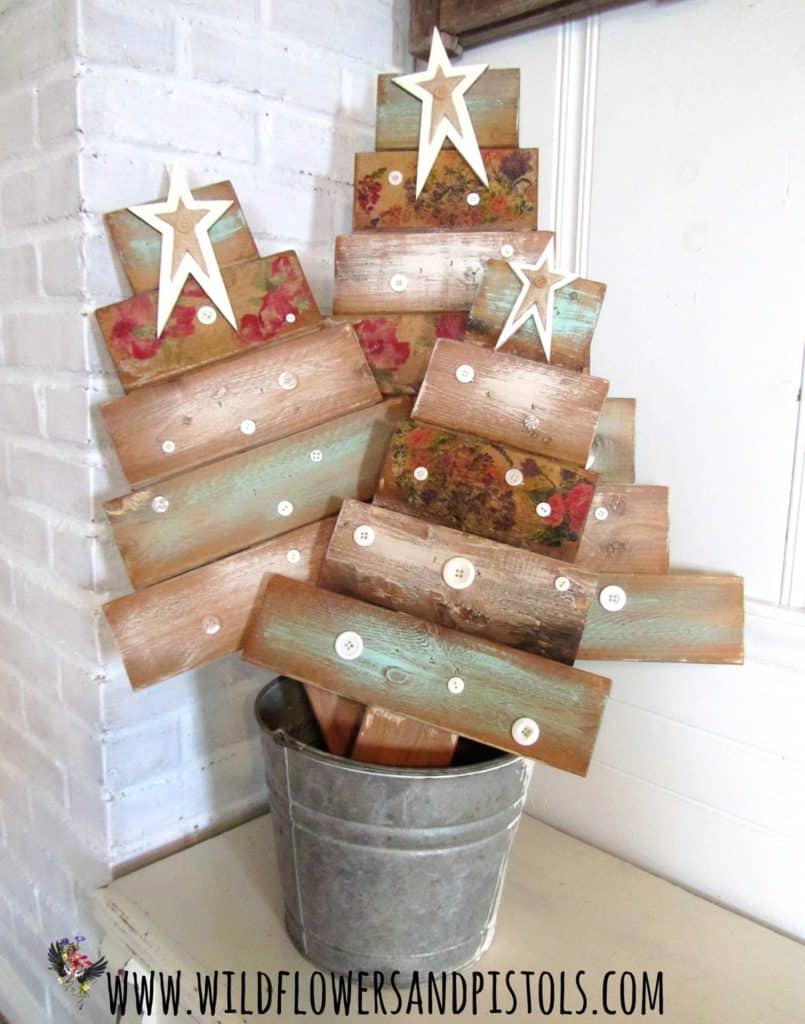 Add a rustic touch to your home by breathing new life into your old pallets! Note that this tutorial from Wildflowers & Pistols will require a bit of woodcutting know-how, but the results are absolutely stunning.
---
5. Easy Wooden Christmas Decor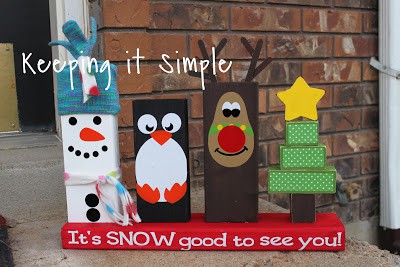 These simple and sturdy blocks of wood will happily greet your guests for years to come. The best part is there are endless designs for you and your family to try to suit your preferences! Check out some of the design @keeping it simple
---
6. Christmas Light Balls
While usually found in outside light shows, you can add a splash of color and excitement to your gardens as well by making your own Christmas light balls! What a playful and jolly way to light up your home!
---
7. Gifts on the Wall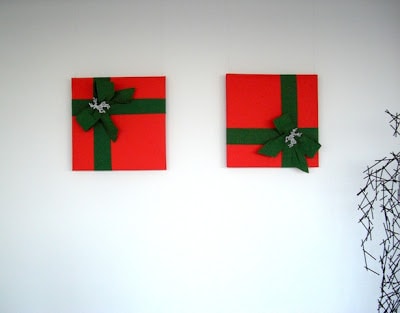 Have paintings or even pizza boxes lying around? Turn them into perky little gifts hanging on your wall in anticipation of Christmas eve! All you need is some wrapping paper which, you'll probably already have and some ribbon to make a bow. Check them out @Pretty Joys
---
8. Jar Lid Ornaments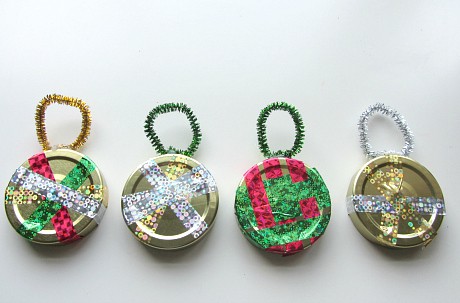 Turn your jar lids into beautiful ornaments for your tree with this easy DIY project! You can do this with your family and customize the design to your hearts content; let your creativity run wild!
---
9. Candy Sleigh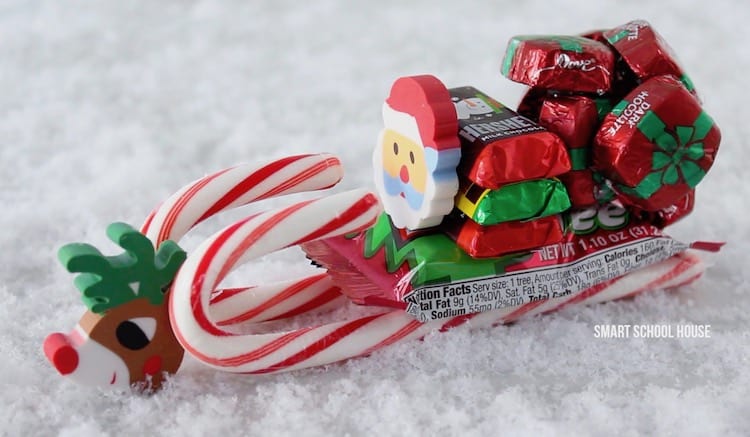 Delicious and delightful, this DIY candy sleigh works as decor or even a gift! The best part? You can eat it and make a new one easily! This is an easy and cute design plus, Kelly walks you through the steps, material and even has a YouTube video guide.
---
10. Minimalist Rustic Reindeer Centerpiece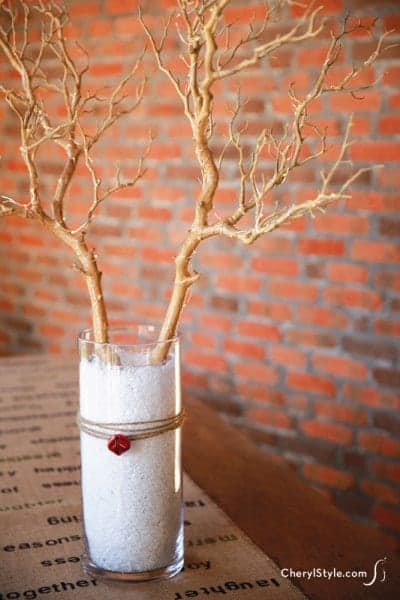 If you're a fan of minimalism, then you can't pass up this charming DIY glass vase reindeer centerpiece – a bold and beautiful fusion of minimalism and rustic aesthetics. Put together this centerpiece by following the instructions @ Everyday Dishes.
---
11. Fishbowl Snowman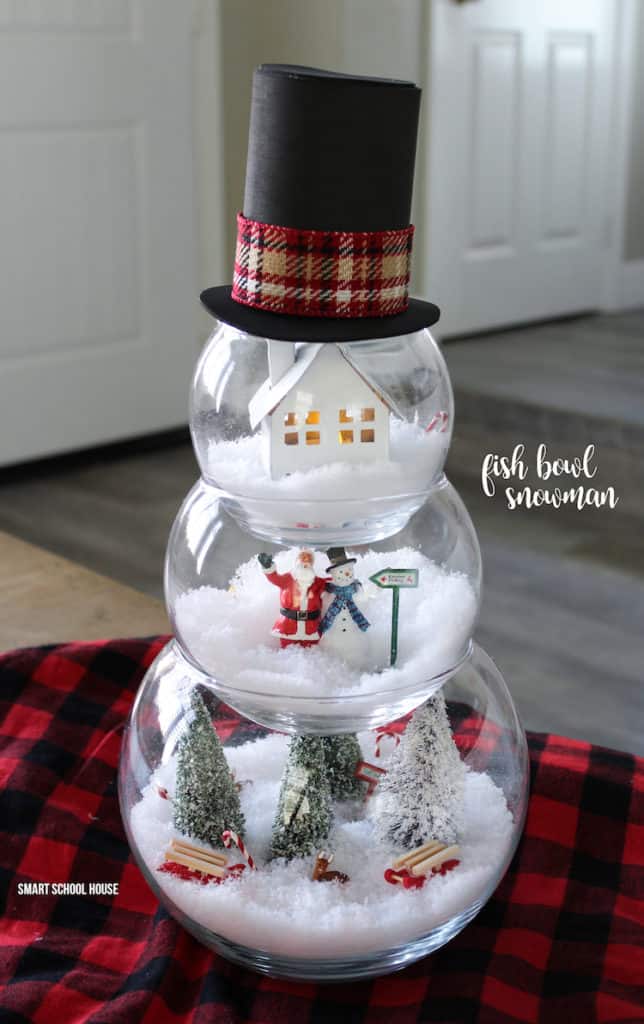 An adorable mishmash of DIY Christmas decorations, this fishbowl snowman has pretty Christmas scene in each bowl that forms a snowman shape! Check out the tutorial @ Smart School House
---
12. Snowman Door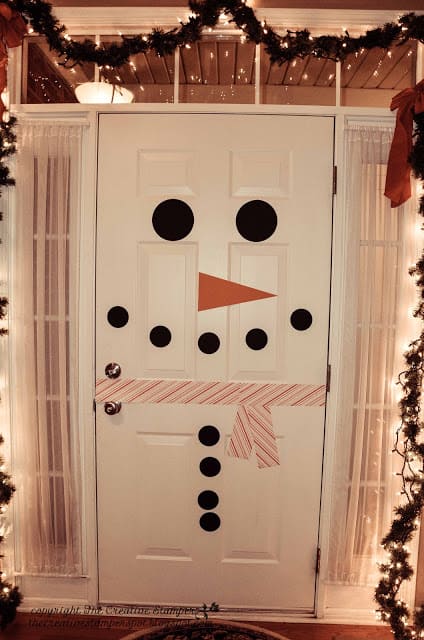 Greet your guests with a jolly snowman ON the door! This fun little DIY project is extremely simple and easy to make, while also being easy to remove when the holiday ends. You could also complete this design on the fridge too. Check out the tutorial @ The Creative Stamper Spot
---
13. Felt Bulb Ornaments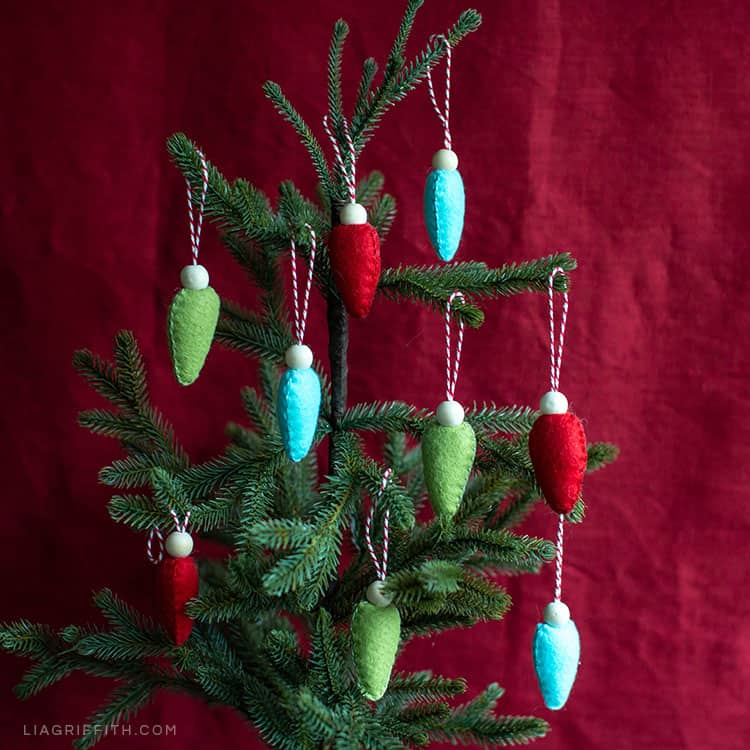 Some holiday ornaments are just too similar and have lost their magical touch. By making your own colorful felt bulb ornaments, you'll never have to worry about your Christmas tree looking too dull and common. Plus, you'll never worry about them breaking at all!
---
14. Stamped Burlap Ornaments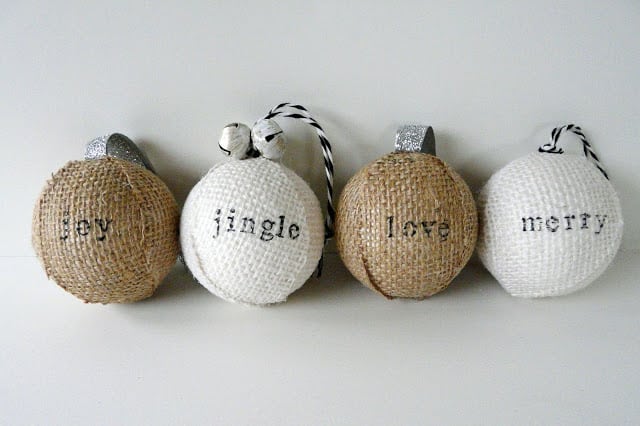 If you don't like everything too shiny and bright, keep it simple with these burlap wrapped ornaments. With just a few cuts, stamps, added glue you could easily make these. Check out how @ bliss bloom blog
---
15. Copper Joy Holiday Wreath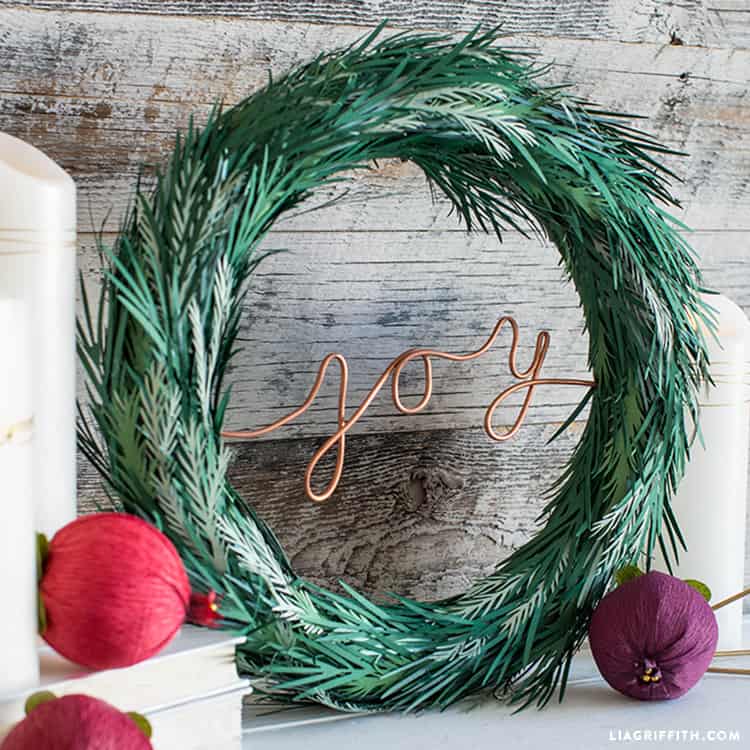 First impression really matter most of the time and seeing this stunning wreath upon entering your house, your guests will immediately fall in love with your home and your home decor! Wanna know how to do it? Check out @ Lia Griffith
---
16. Gingerbread Animal Ornaments
Dress up and adorn your tree in the cutest way possible! If you're an animal lover, these adorable ornaments will be your dream come true! They're just the right amount of gingerbread man and cat mixture!
---
17. Christmas Centerpiece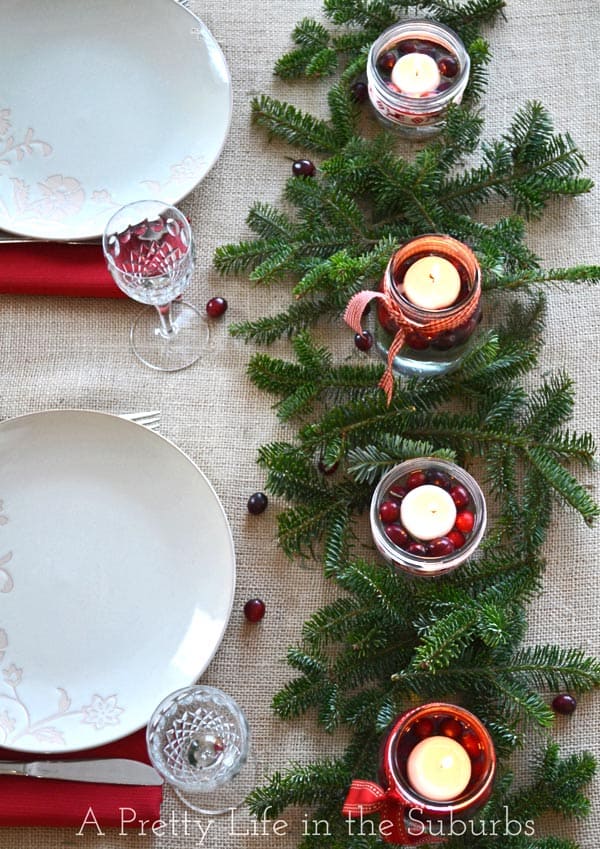 Looking for ways to spice up your dining table? All you need is to dress up these mason jars and add candles! Check out this design @ A Pretty Life
---
18. Whimsical Felt Gnomes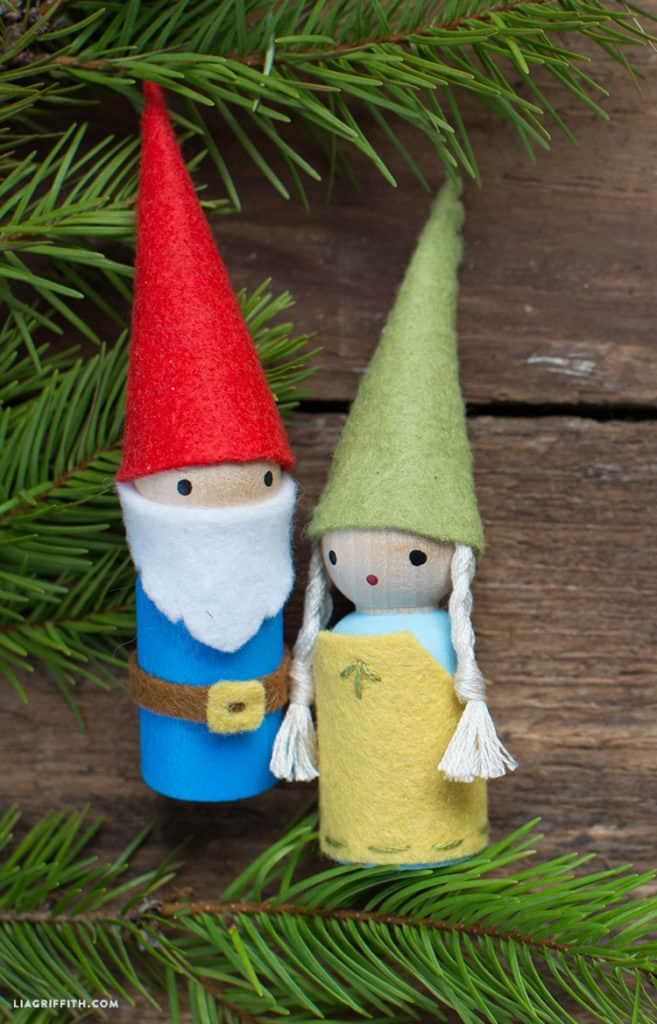 There's no craft like gnome! These delightfully charming and endearing characters will definitely be a fun craft to make.
---
19. Caramel Latte Tea Cup Candle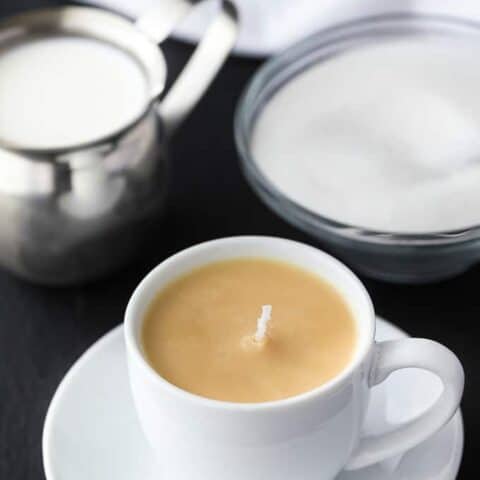 These elegant and simple caramel latte tea cup candles are what's missing from your dining table. It will surely be your cup of tea and the sweetest decoration of all! Get the full tutorial here.
---
20. Copper Leaf Wreath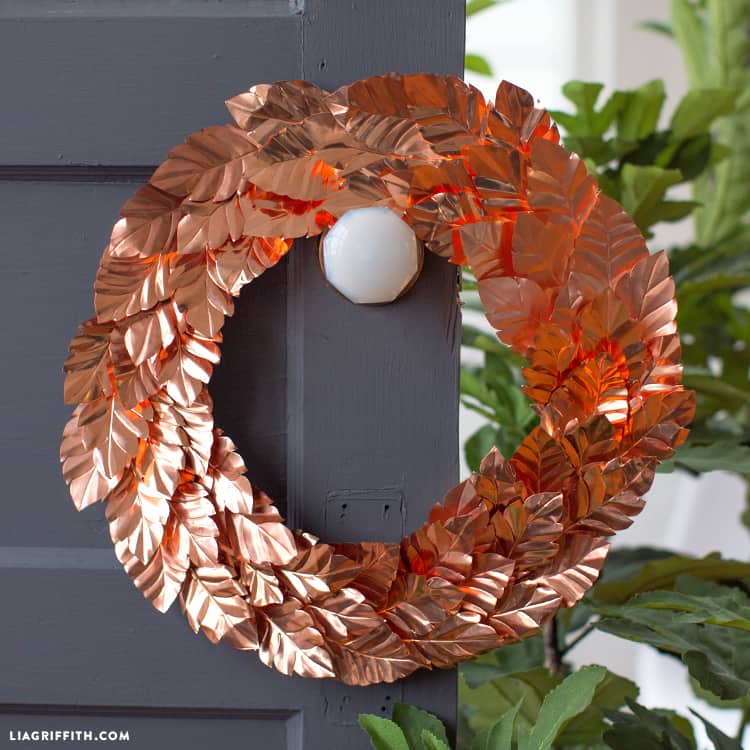 This beautifully detailed copper leaf wreath will deceive anyone into thinking that you either bought it or it must've been complicated to make, but, it's not! Undoubtedly, it is a statement piece added to your home! You gotta have it! But first, here are the instructions.
---
21. Wooden Joy Wreath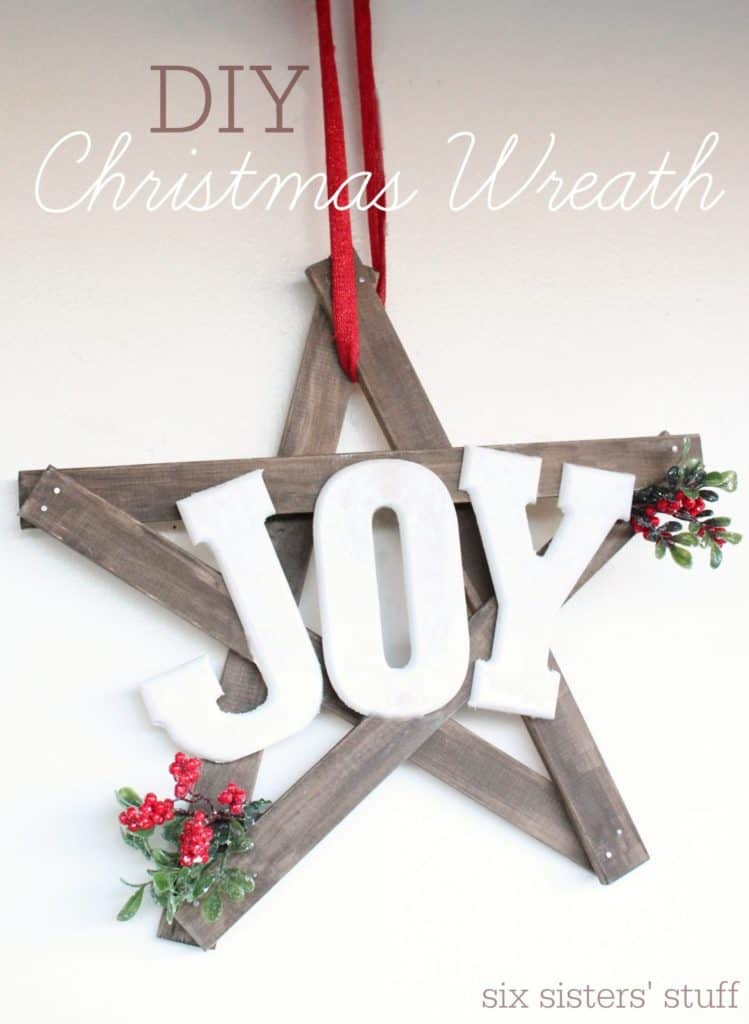 This design surely brings be JOY to look at! Instead of going for the traditional Christmas wreath, create your own by putting wooden pieces together to form a star. Find out how to @ Six Sisters' Stuff
---
22. Log Candle Holders
These wonderful log candle holders are perfect for the most wonderful time of the year. It you have any down wood or know someone who does; this design can be completed at a very low cost.
---
23. Felt Joy Christmas Decor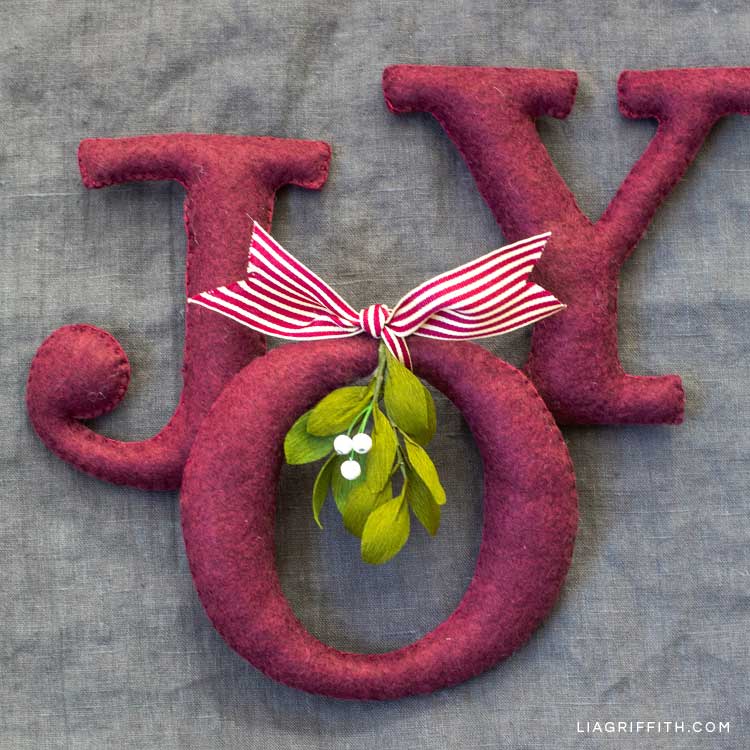 Add a pop of color to your Christmassy and evergreen decorations with this felt holiday decor and spread some joy! You'll need to do a little sewing but, not much!
---
More Do-It-Yourself Christmas Decorations
Ornaments
There are endless possibilities when it comes to ornaments. You can make them yourself, buy them pre-made, or borrow from friends and family. Here are a few ideas:
Snowflakes: Cut out snowflakes from construction paper or felt and hang them on your tree or around the house.
Bells: String bells together to create a festive garland or attach them to presents for some extra holiday cheer.
Pine cones: Glue pine cones to a piece of cardboard and add Christmas lights for a beautiful centerpiece.
Wreaths
A wreath is the perfect way to add some festivity to your door. Here are a few ideas:
Christmas lights: Wrap a wreath in Christmas lights for a bright and cheerful decoration.
Greenery: Use real or fake greenery to create a traditional wreath. Add some berries or pinecones for extra flair.
Ribbon: Get creative with your ribbon and make a unique wreath that shows off your personal style.
Centerpieces
A centerpiece is a great way to dress up your table during the holidays. Here are a few ideas:
Candles: Place candles of different heights in the center of the table and surround them with greenery or ribbons.
Flowers: Fill a vase with fresh flowers add some holiday decorations like ornaments, berries, or pinecones.
Snow: If you live in a cold climate, bring the snow inside and use it to create a winter-themed centerpiece.
'Tis the Season to be Crafty!
With Christmas just around the corner, there are endless opportunities for you to spread the Christmas cheer and create a joyous and festive atmosphere for you and your family. Try out some of these DIY Christmas decorations and see which ones bring out the holiday cheers best in your home! Next, you might want to bring cheer with a Christmas inspired outfit, check out our DIY Christmas Costume article.
Hope you enjoyed the DIYs we put together for you. Let us know in the comments if you got to steal some of these creative ideas and made it your own. Don't forget to personalize and customize them to match your personality! Stay warm, cozy and merry! 'till the next craft!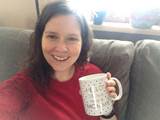 I'm a stay at home mom with our two kids. I really enjoy doing crafts with my kids however, that is typically a challenge with how limited their attention span can be and how messy it gets. So, I'm always looking for ways to make crafting an enjoyable experience and creating fond memory for all of us.