It doesn't take long when you scroll down to your social media feeds to see all these cool pictures of amazing nail designs. Nail technicians these days truly create works of art, and that's a fact.
Unfortunately, some of us can't participate since we may work and go to school in more conservative environments. However, pedis to the rescue! While your hands have to look a certain way, no one has the say over what's happening with your pedicure.
Here are 15 pedicure ideas to inspire you, whether you need to hide your toes or are in the mood to show them off.
Cute Pedicure Ideas
1. Let me be your teddy bear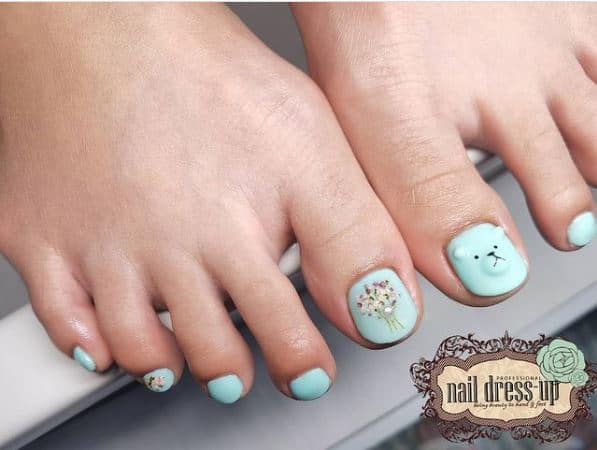 Credits: @nail_dressup
This design couldn't be girlier even if it were pink! Honestly, this entire account is full of super cute pedicure designs that it was hard to choose which one to list here. But this one came on top because this is a pastel turquoise 3D teddy bear. With flowers and pearls. Did we mention a 3D teddy bear?
Hopefully, you have a great technician because this design requires some skill. Not only to make the bear, but for those flowers as well.
2. Love is in the air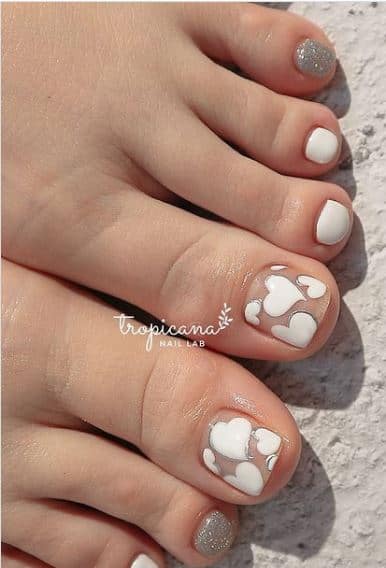 Credits: @tropicana_naillab
And now for something less cartoonish and more wearable. Who doesn't think that hearts are cute?
If you know that your pedicure technician has some mad skills, ask them to deck your toes out in hearts. Feel free to change the color, or even go for the whole rainbow. But, as it is in the picture, isn't perfect for a bridal pedicure?
Elegant Pedicure Ideas
3. The greige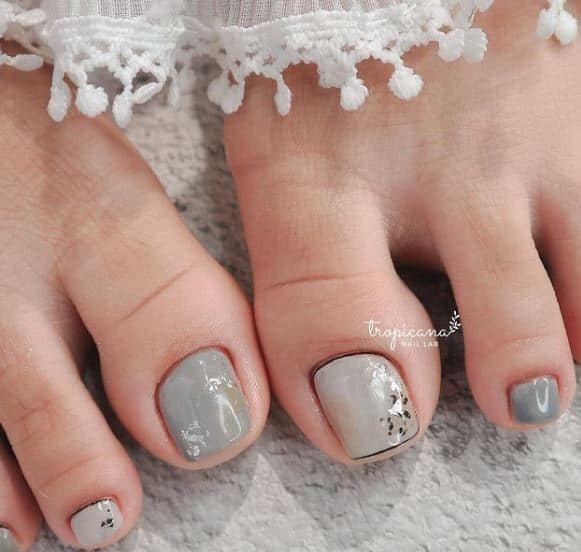 Credits: @tropicana_naillab
Some of us regret many fashion choices we made during the nineties, but we don't regret getting grays and greiges onto our nails. Depending on the hue and shade, these colors can look both edgy and classy. In fact, you can wear a business suit during the day and leather pants and a corset on a night out, and your nails will match both looks.
You can breathe some new life into a greige if you feel like you need too. Just like in this picture, add a hint of gold or silver, or both!
4. Lacework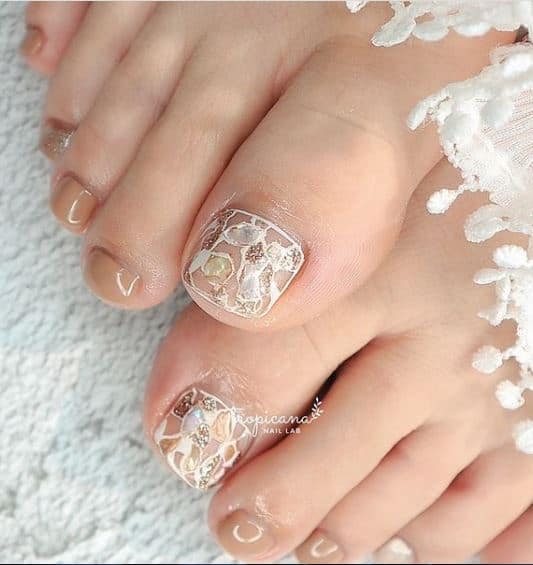 Credits: @tropicana_naillab
This is seriously one of the most beautiful pedicure designs floating about social medial. It's delicate, classy, and elegant, but you just know there's space to zhuzh it up, if that's more up your ally.
It would also be perfect for bridal pedicures. Keep it neutral or sneak in your wedding colors on some of the toes.
French Toenail Designs
5. An oldie but goodie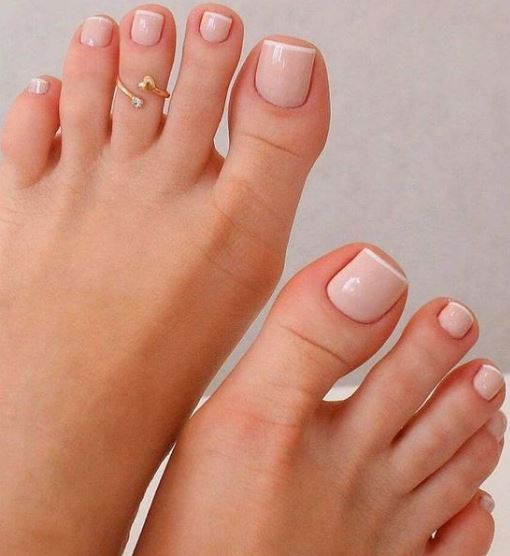 Credits: @unhas_slim
A good French pedicure is always a safe and classy option! However, you need to do it right, so it doesn't look like you're sporting some seriously overgrown nails.
Avoid stark white for your tips, and if you want to go with color, avoid dark shades. They will only make it look like you have dirt stuck in there. And make sure that the nude shade matches your skin tone since that obviously fake pink is just a big NO.
Sparkly Pedicure Ideas
6. Diamonds are a girl's best friend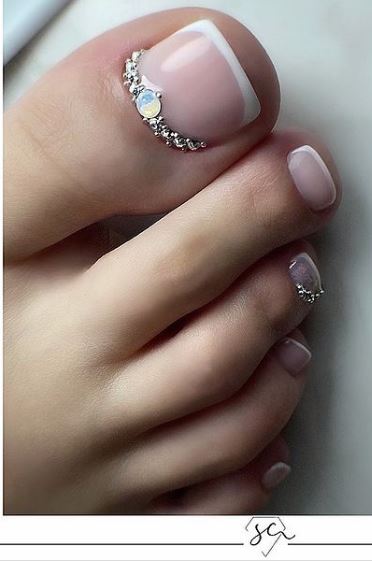 Credits: @ciesla_sara
Of course, we can't skip rhinestones. They dial up the glam even on a humble French pedicure.
But notice the placement in this picture. This is how to do rhinestones and crystals in winter! Since the piece is closer to the cuticle and not on the tip of the nail, it will survive longer.
No matter how good of a job your technician does, when you're putting on and taking off shoes you are tugging at anything that could be glued to the nail. This is why most customers skip on the stones in winter.
This design will work for every season, and it is also a good choice for a bridal pedicure.
7. Move over glitter
Credits: @growth.idea.manicure
But you don't have to be super loud to sparkle. Gold leaf has become a big trend in both mani and pedi in recent years, and this image shows how great it can look in a minimalistic setting.
That white Jackson Pollock moment is what makes this look work. All you need is something to break through the solid color for the design to have dimension and life.
Fall Pedicure Ideas
8. Grand burgundy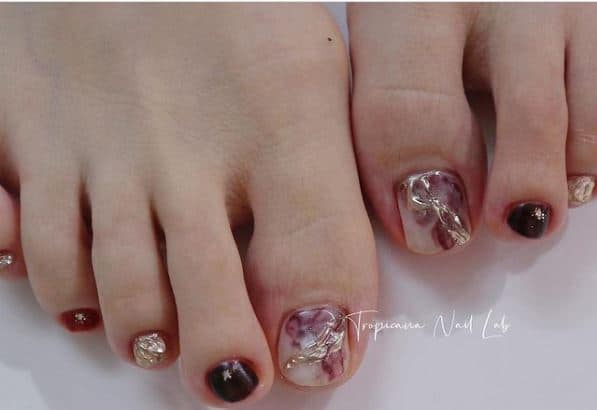 Credits: Instagram @tropicana_naillab
Everyone switches to reds and burgundies in fall and winter. While they make for fabulous nail colors in this season, why not switch it up a bit?
Gold and burgundy simply go perfectly together. If you're making an appointment at the salon to reproduce the look from this image, make sure that the technician has some gold leaf on hand. Polish will do just fine, but it's the leaf that gives this design that expensive vibe.
9. Classy Halloween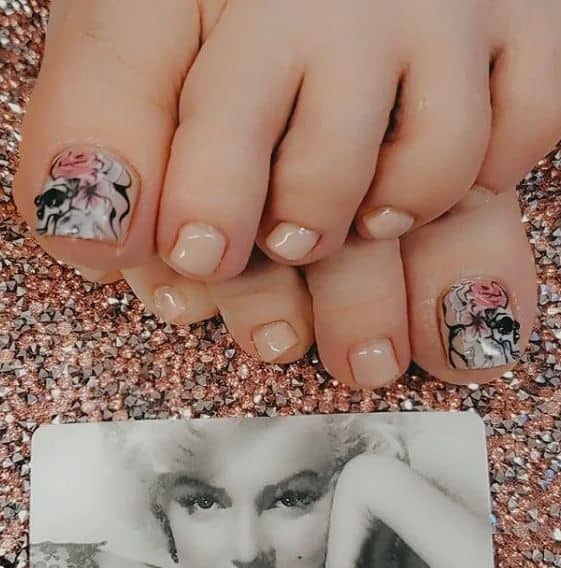 Credits: Instagram @latinwildflower78
There are very few things that are more fun than dressing up for Halloween. Though this gives you an excuse to go crazy with your pedicure as well, that doesn't mean that it all has to be bright green and orange with plenty of ghosts and ghouls.
Kudos to the designer behind this look. It fits the mood and occasion, yet it still looks so elegant and classy. If you think you've outgrown cartoonish pumpkins and witches, try this on for size.
Winter and holiday Pedicure Ideas
10. Simple but never boring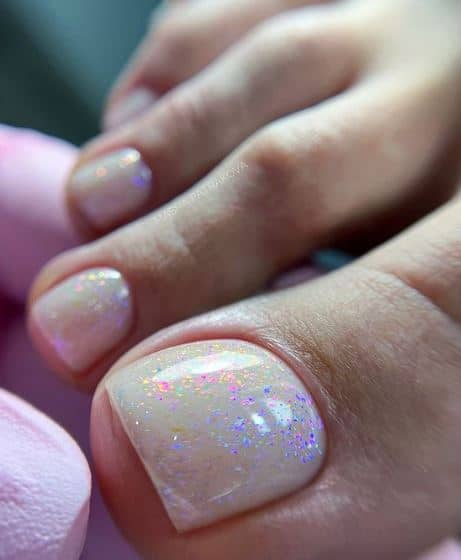 Credits: Instagram @mashapatrakova05
Most don't think about their pedicures during winter. Since their feet will always be in thick socks and boots, it only matters that the toes are clean and neat.
But, keeping it clean and neat doesn't have to spell boring. You can always add a bit of sparkle, even if you are the only one who is going to see your toes. Just like in this picture, add a coat of nude under some glitter, and your feel will be sandal-ready when someone decides to whisk you away from cold and frost, and take you on a surprise trip to the Maldives. Well, one can dream, right?!?
11. Winter opulence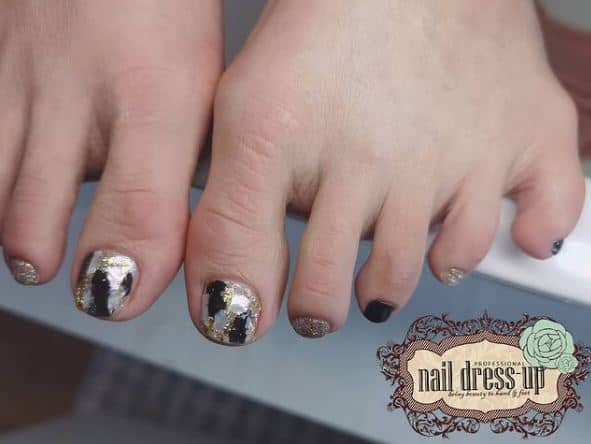 Credits: Instagram @nail_dressup
There is something very rich and opulent about this rather simple design. It's reminiscent of that masquerade scene in the Marie Antoinette movie where Kirsten Dunst glides around in that black ballgown. Probably, if she had to get her toes done, she would choose this design.
If you're not feeling the black, the same pattern would work with deep blues, burgundies, and peacock greens. Or if you're brave enough to mix your metals, choose swipes of silver.
12. 'Tis the season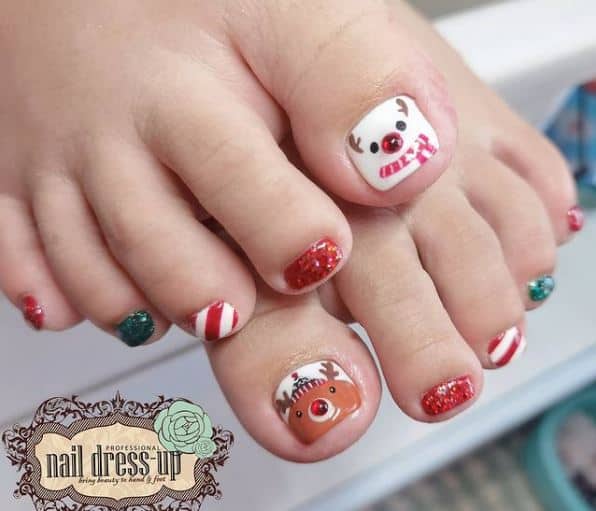 Credits: Instagram @nail_dressup
We declare a war on Chri… Wait, that's wrong. We declare war on boring Christmas pedicures! Of all times of the year, isn't this season a perfect time for our toes to look festive and glamorous?
The design from this picture leans towards cute, but it's still a masterpiece. However, if you want something simpler, you can always break out some glitter, candy cane stripes, and your favorite reds and greens. But, if you want the design but can't get to the salon (and nail art is not your forte), don't worry – all major stores will have a ton of nail stickers you can choose from.
Spring and Summer Pedicure Ideas
13. Pink is the new red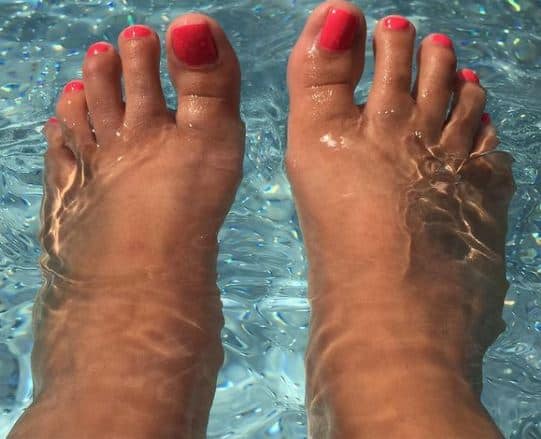 Credits: Instagram @pedicure_salon_angela
Spring and summer are great for rocking all toe designs, so feel free to pick what you love and enjoy wearing them. However, we must talk about this shade of pink.
This is the best shade of bright pink. Ever! Full stop. It's neon with a hint of yellow and works on all skin tones, from moonlight pale to rich coffee shades. It can be a bit too much on your hands (especially if you work in a conservative environment), but it's perfect for a pedicure! If you think it's too loud for your toes as well, try a salmon pink instead.
14. A fresh way to match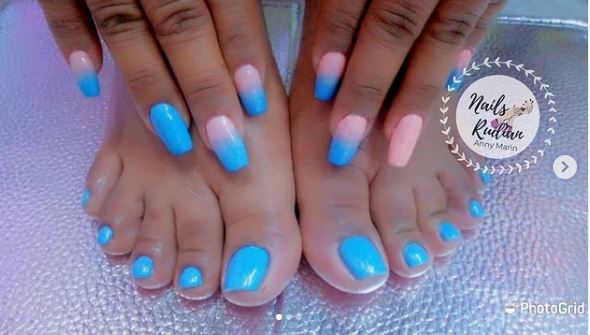 Credits: Instagram @nailsrudian
During the season when everyone can see your toes, most will choose to match their mani and pedi. That's a bit boring!
Here's an interesting way to do it. Instead of going for the same color on both your fingers and toes, bring a second shade to the party. The image here shows how good it can look even when you keep things simple down there, but feel free to have some fun.
Plus, this shade of blue is absolutely divine. It will look great with all skin tones, and it will particularly stand out with a glowing summer tan.
15. Hippy vibes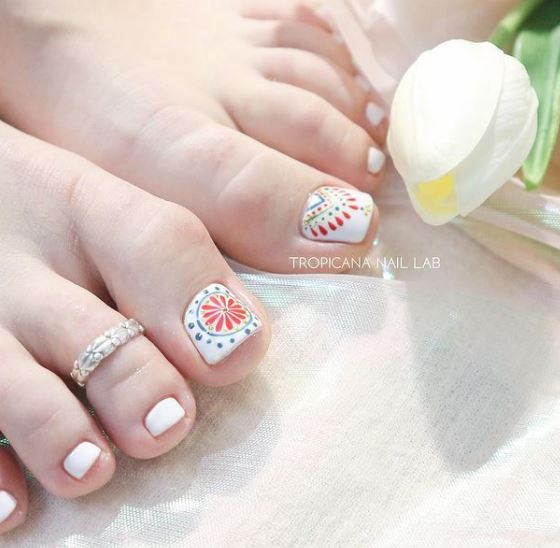 Credits: Instagram @ tropicana_naillab
This is such a refreshing design in the sea of rhinestones and neon. The shapes look a bit Aztec and a bit Native American, and 100% beautiful! Perfect for a summer festival, or some who is all about peace, love, and good vibes.
Feel free to insert some of yourself and your heritage into the design and create something new and that tells your story. Bring images of folk motifs to your next pedicure appointment and let the technician create something unique.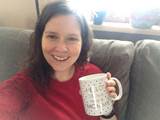 I'm a stay at home mom with our two kids. I really enjoy doing crafts with my kids however, that is typically a challenge with how limited their attention span can be and how messy it gets. So, I'm always looking for ways to make crafting an enjoyable experience and creating fond memory for all of us.