Updated 4/12/2021
Itching for some creative ways to show your Christmas spirit? Fill the holidays with festive cheer with these easy DIY cardboard Christmas tree crafts that you can make alone, or better yet, with family and friends!
12 Creative DIY Cardboard Christmas Tree
1. Modern Cardboard Christmas Tree
A beautiful and simple way to store memories, this modern cardboard Christmas tree can serve as a guest book for the holidays. Guests can be as creative as they want with the pens and note cards you provide, with only the space on the tree and their own creativity as the limit. Big thanks to artist and designer Courtney Wotherspoon for sharing this wonderful craft and tradition!
---
2. Lighted Cardboard Christmas Tree
un and so utterly simple that you won't have trouble with kids running around and breaking it or getting themselves hurt tripping over it, this easy cardboard craft is the perfect low cost decor for a worry-free holiday!
---
3. Cardboard Christmas Tree
For a cardboard Christmas tree, this design is stunning! I love how dimensional it is! Plus, it only took cardboard, paper and pencil/ pen, straight edge, box cutter or x-acto knife, scissors, flour and water to make wheatpaste (or glue), brush for spreading glue, and binder clips. @Instructables breaks down this design step by step and with picture instructions.
---
4. Christmas Coffee Filter Trees
Looking for a cheap DIY cardboard Christmas tree project to try, but don't want cheap-looking results? These Christmas cone trees not only look fabulous, but they're also highly customizable and fun to make! You can check out the steps @ City Farmhouse
---
5. Christmas Tree Craft with Cardboard and Buttons
This simple tabletop design is great for adding a touch of festiveness to plain kitchen counters and dining tables. It's a fun and safe project you can try with your kids, and the results, while simple, are also quite elegant. Learn how to do it @ Artful Parent
---
6. Dazzling Cardboard Christmas Tree Lamp
Buying a real tree for Christmas can be rather messy and a tad wasteful, so if you don't really have to have a real Christmas tree and just want something beautiful to gather around in and open presents, check out this beautiful minimalist reusable Christmas tree lamp!
---
7. Cardboard Living Room Christmas Tree
This cardboard Christmas tree is perfect if you need a last-minute tree in the living room. So long as you have some left over boxes it should be able to blend in well with regular Christmas tree decor. This design is from @recyclart. There are no instructions per say with this design but, with a little imagination I'm sure you can make it work!
---
8. Colorful Cardboard Christmas Tree with DIY Décor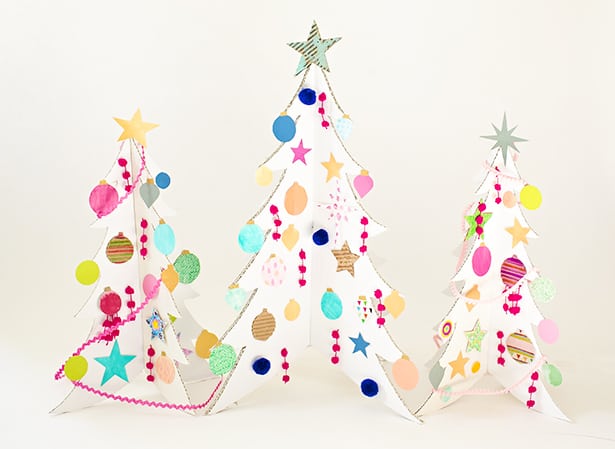 Brighten up your holidays with these DIY cardboard decor crafts that you can make with your family! Why buy expensive decorations when you could make ones fueled by you and your family's imagination?
---
9. Star Christmas Tree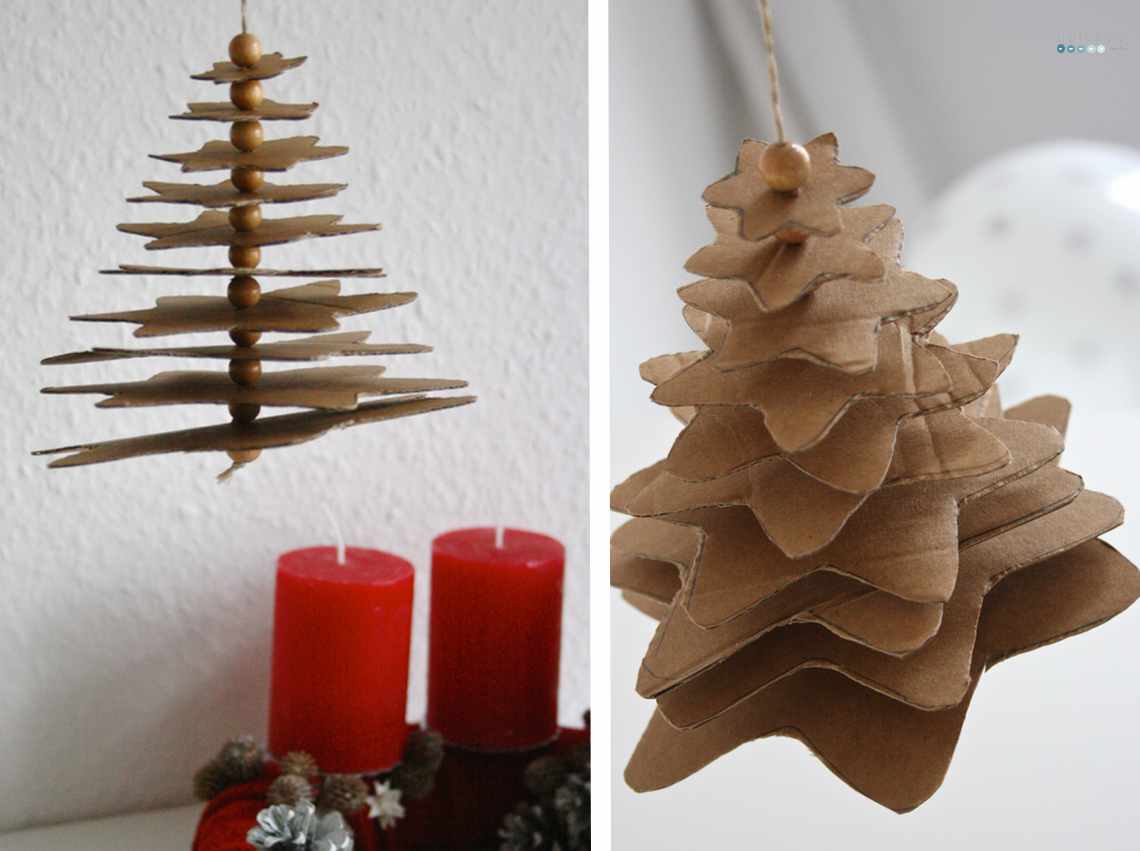 Made from the boxes of the gifts you've given or received, this star-stacked Christmas tree from Craftalicious Me is a perfect way to fill your house with memories of the thoughtful gifts given and received by the people in your life.
---
10. Accordion Paper Christmas Tree
Beautiful, modern, and chic, this accordion paper Christmas tree craft adds just the right touch of elegance to any home with more modern aesthetics. They're pretty easy to fold up and store for next year, too!
---
11. Origami Modular Christmas Tree
This beautiful, small modular Christmas tree can be customized based on the height you prefer and the ornaments you want. Use your imagination to make the perfect origami Christmas tree for your desk! Check out the steps @ Origami Maniacs
---
12. Rolled Paper Tree
If you have loads of scratch paper lying around, you put them to good use by turning them into festive decorations like this rolled paper tree @ craftaphile.
---
Make a DIY Cardboard Christmas Tree Today!
These 12 DIY cardboard Christmas tree crafts are just some of the wonderful things you can do with cardboard. Try them out and feel free to experiment with some of the steps. With a little creativity, you really can make all kinds of fun and festive decor for you and your family to enjoy. You might also want to try creating an elf costume for the whole family. Or maybe your onto that long Christmas gift list and should consider some DIY heartfelt Christmas gifts. As Always, happy crafting and please comment below your cardboard Christmas tree designs and ideas.
I'm a stay at home mom with our two kids. I really enjoy doing crafts with my toddler however, that is typically a challenge with her limited attention span, messiness, and desire to always have clean hands. So, I'm always looking for ways to make crafting an enjoyable experience and fond memory for the both of us.