Make a christmas tree bow today! It's hard to tell if more effort goes into Christmas or July 4th Craft and Decor. But as the holiday draws near, you might be wondering what you can do to make your Christmas tree look more exciting than the last. This is why we've compiled this list of fabulous DIY Christmas tree bow topper ideas so that you can make your Christmas trees look extra fun and festive this year!
12 Amazing DIY Christmas Tree Bow Topper
Flowing Ribbon Bow Topper
Looking to make a fabulous bow topper that flows from the top of the tree to the bottom? This flowing DIY ribbon bow tree topper can make any tree look classier because of the beautiful lace and ribbons flowing down the tree.
Quick n' Easy Bow Topper
Want to quickly cap off your holidays without much frills and fuss? This charming and simple bow topper should do the trick. Check out the tutorial @ Christmas Whimsy.
Starry Streamer Bow Topper
Why have just one star on top of your tree when you can have a whole bunch of them flying out from a fabulous streamer bow? Check out this beautiful starry streamer bow topper from Kristen's Creations.
Christmas Present Bow Topper
Make your Christmas tree look like a festive Christmas present with this huge DIY Christmas tree bow topper! Learn how to make a Christmas tree bow in the style of a present by following this tutorial: https://southerncharmwreaths.com/how-to-make-a-tree-topper-bow/
 Chevron Tree Bow Topper
A pretty chevron bow at the top of your tree adds a subtle twist to your usual Christmas tree topper. Do something different this year by trying out this chevron tree bow topper.
Satin and Burlap Bow Topper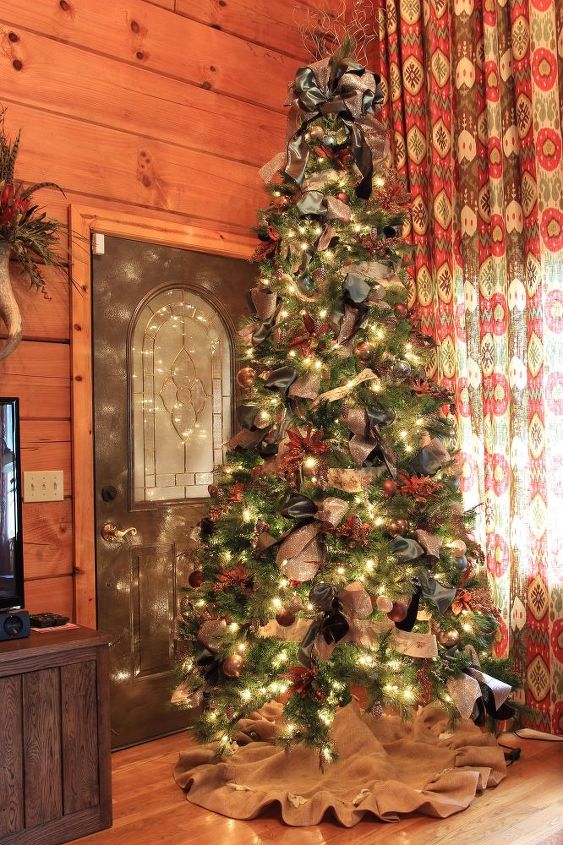 The contrast of satin and burlap really adds a classy rustic touch to any tree! Gold accents really help maximize this effect, so if you're a fan of gold, you're going to want to try this bow topper tutorial @ Home Talk.
Simple Single-Style Ribbon Bow Topper
Looking for a simple yet elegant DIY ribbon tree topper made of only one style of ribbon? Then try out this easy ribbon bow topper.
Whimsical Bow Tree Topper
Looking to add a little rustic enchantment to your tree? This unique and utterly whimsical bow tree topper will surely turn heads with its fine sparkly and curly filaments sticking out of a gorgeous bow. Check out the tutorial @ I Need Mom.
Loose Burlap Bow Topper
Looking to add a rustic charm to a boring old tree? This loose burlap bow topper will give your tree a more unique and rustic appearance. Check out the tutorial here.
Golden Bow Topper
With this golden bow topper, you can make any tired Christmas tree, gift, or wreath look more upscale and classy. Learn how to do it @ I Need Mom.
Rugged Red Bow Topper
This rugged red bow topper looks great for trees that have a looser design – with different ornaments big and small decorating the tree. You'll love the relaxed Christmas vibe you'll get with this rugged red bow topper @ Offray.
StoneGable Christmas Bow
This elegant and marvelous Christmas bow is sure to make any Christmas décor look prim and proper with beautiful gold lines running on the sides of a pretty red bow. Check out the tutorial @ StoneGable Blog.
Take a Bow!
Go on and take on a DIY Christmas tree bow topper project today and make your Christmas tree look marvelous and unique this holiday season! These bow toppers are highly customizable, which means that you can vary their designs and size based on your own tree. Feel free to experiment with them until you make one that fits your tree just right. Don't forget to share your latest creation with us in the comments section! Happy crafting!