After Christmas, July 4th has to be the biggest event for DIY home decorations. Everyone wants to throw the biggest party with the most USA themed decor. Everything's gotta be red, white, blue or a combination of them all!
Well worry not – we have pulled together 11 of our favorite July 4th DIY decorations to give you some fun things to pull together for the biggest event of the summer.
And that's not all! In this blog we hope to introduce you to a couple of new and awesome blogs we've been enjoying. Not only are we giving you 11 independence day decor ideas, we've hidden just as many more inside each introduction!
So get your craft supplies out, fire up your home depot store card or amazon account, and get ready for the biggest craft event of the summer. Have fun!
---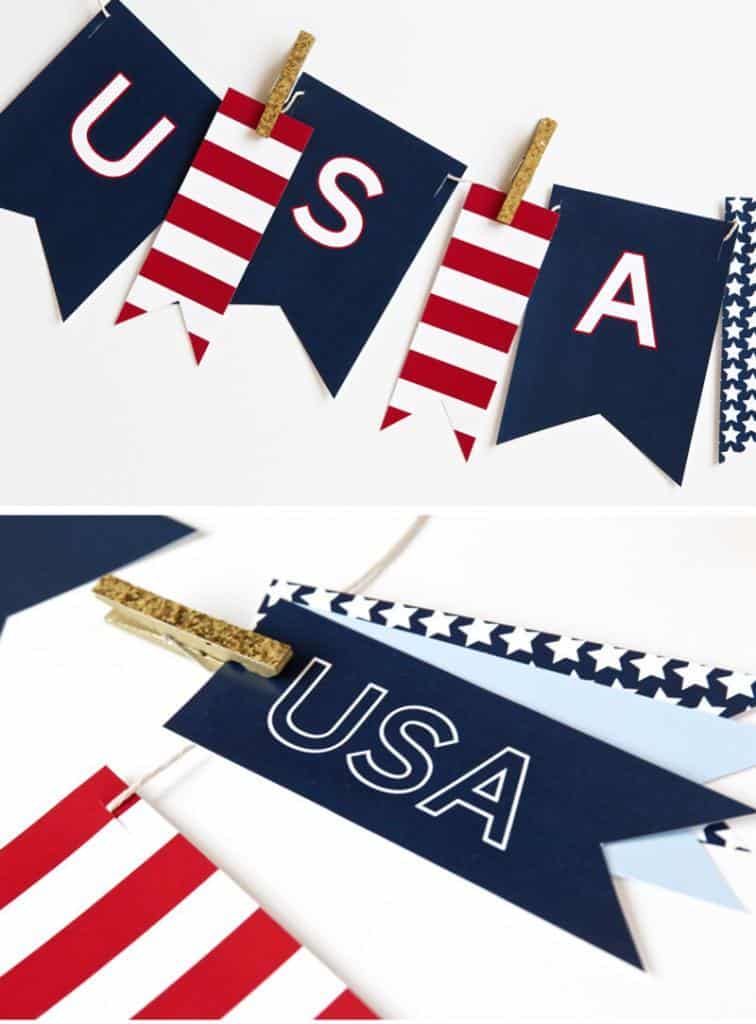 Of course you can just buy a banner online (and Amazon has some of my favorites), why not make one at home? That's crafting, right?
Better yet, you can just print one online and then fashion it together!
Aimée and Bettijo over at Supermom have shared a couple of other printable banners way back in 2011 and 2012, but this one is hands down my favorite. All you need is their PDF, some string and clothespins, and you're ready to celebrate!
And while you're at Paging Supermom, be sure and check out some of their other killer posts. They have a huge range of stuff, from these cute nail polish gift tags, to a no-sew kids ninja costume, to some absolutely KILLER instant pot tacos.
Something for everyone!
---
This one if for sure a little more hands on, but you get something you can hang year round.
This is also probably one for slightly older kids – I can't see myself doing this one with my three year old!
You'll need a wood pallet, some wood stain (we like the Varathane premium fast drying stain for this one), frog tape, a couple acryllic paints (they use folk art, who have this nifty pack for super cheap that covers all the colors you need) and some vinyl stars and you're all set.
And while you're at A Diamond In The Stuff, be sure to check out some more of their killer posts, like this awsome witch's scroll, this industrial open shelving guide, and this gorgeous sofa table.
---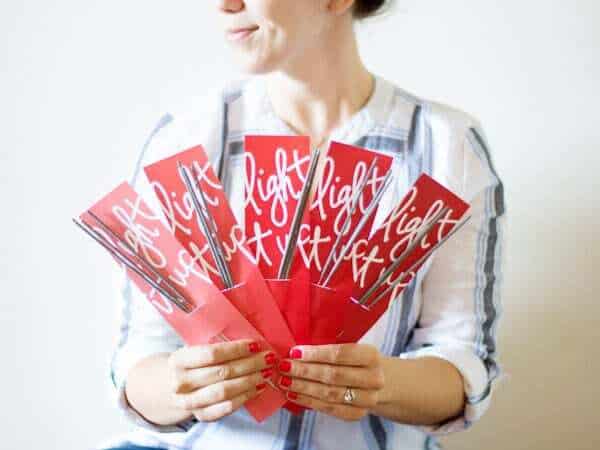 4th Of July Sparkler Packs at Lovely Indeed
This is a killer quick DIY for anyone who likes sparklers on the 4th of July (who doesn't like sparklers?). The thing I like about this one is it comes with the printable as a PDF, so all you need to do is print it on some 100lb paper, cut it up with an x-acto knife, and you're ready to go!
By the way, while you're there, check out some of Chelsea's other fun craft projects, including her awesome jello shots!
---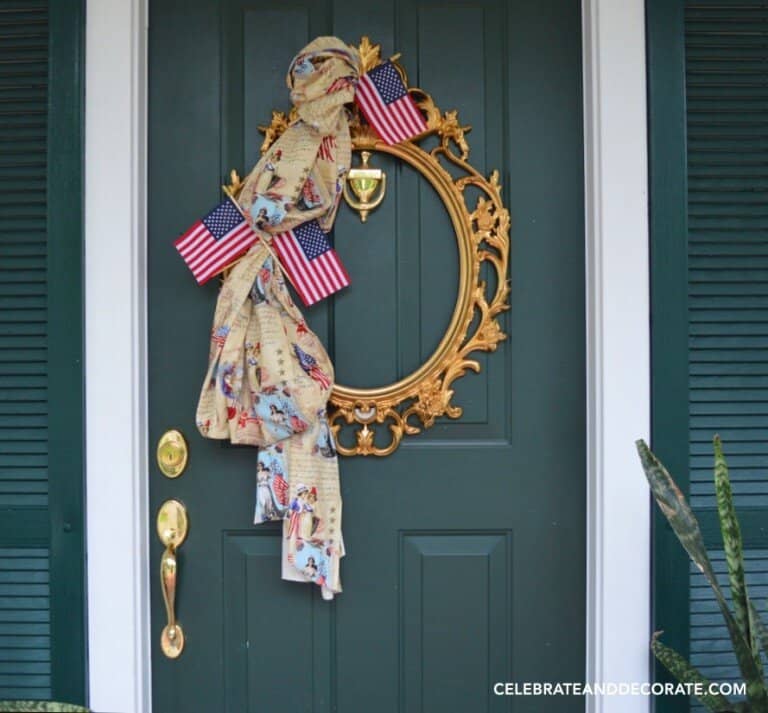 Grab your favorite vintage frame, your best patriotic fabric, some mini flags, and get to work! Chloe at Celebrate And Decorate has made one of our favorite patriotic wreaths that really doesn't have to be relegated to only July 4th decor. One of the great things is that you can really pick any type of american flag fabric to match the wreath to whatever door or other surface you use to display the wreath. You could also add a burlap bow to make this shine.
By the way, if you're not already a fan of Chloe's work, you need to do something about it! She's got a whole new post of summer wreaths, as well as another awesome post for door decorations. Keep up the good work Chloe!
---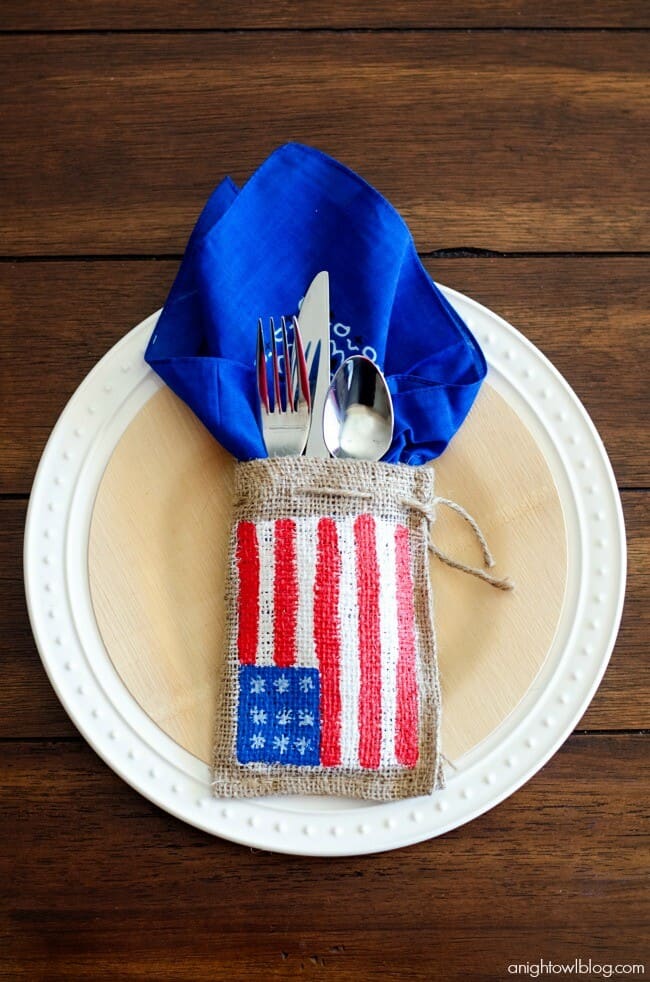 Painted Burlap Patriotic Place Settings from A Night Owl
Honestly I feel like burlap is a state of mind more than it is a crafting material. The people I know who are into burlap are INTO BURLAP!
And why not, it's a killer crafting material, perfect for all your country style craft ideas.
Kimberly over at A Night Owl has a killer blog that touches on everything from Trader Joe Pancake Bread to why you should go see the movie The High Note to… Why these amazing burlap place settings of course!
So these are probably my favourite thing I found when researching this article. Maybe it's the cute little stars, maybe it's the perfect flag shape, maybe it's the blue kerchiefs that make the flag pop. Either way, you'd be crazy to skip over these on your holiday table.
And while you're at it, you'd be crazy not to check out Kimberley's site, as well as the HUGE list of big Red, White, And Blue crafts at the bottom of the linked page.
Enjoy!
---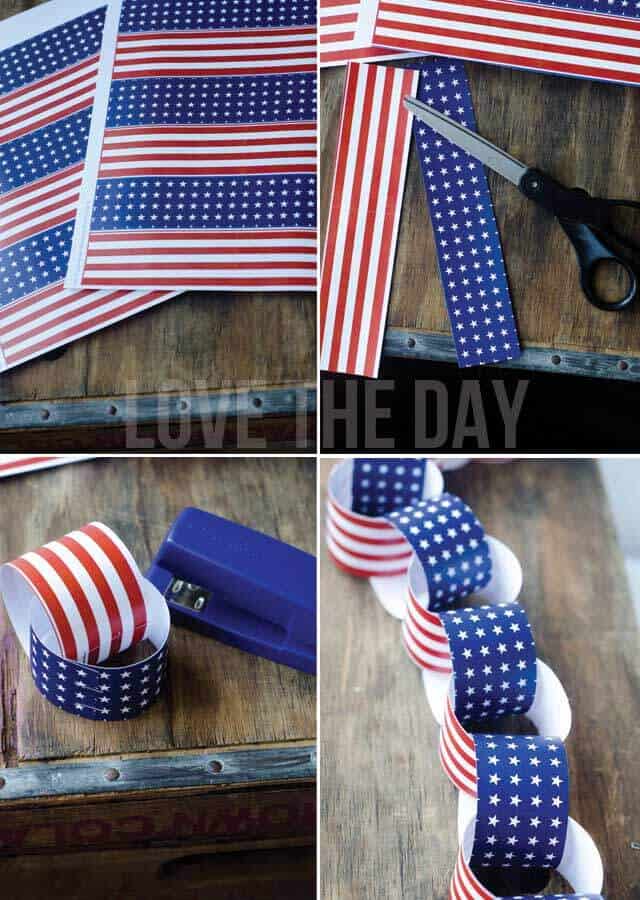 Fourth Of July Paper Crafts at Love The Day
Lindi at Love The Day always has such wonderful crafts, and these free printable paper chains are no exception. They will look amazing as a party backdrop, hanging from a mantle, or just aligning a table.
While you're there, make sure and check out this awesome post where she walks through making some beautiful medallion ribbons. She also has her own page stuffed with a ton of July 4th party crafts. Thanks Lindi!
---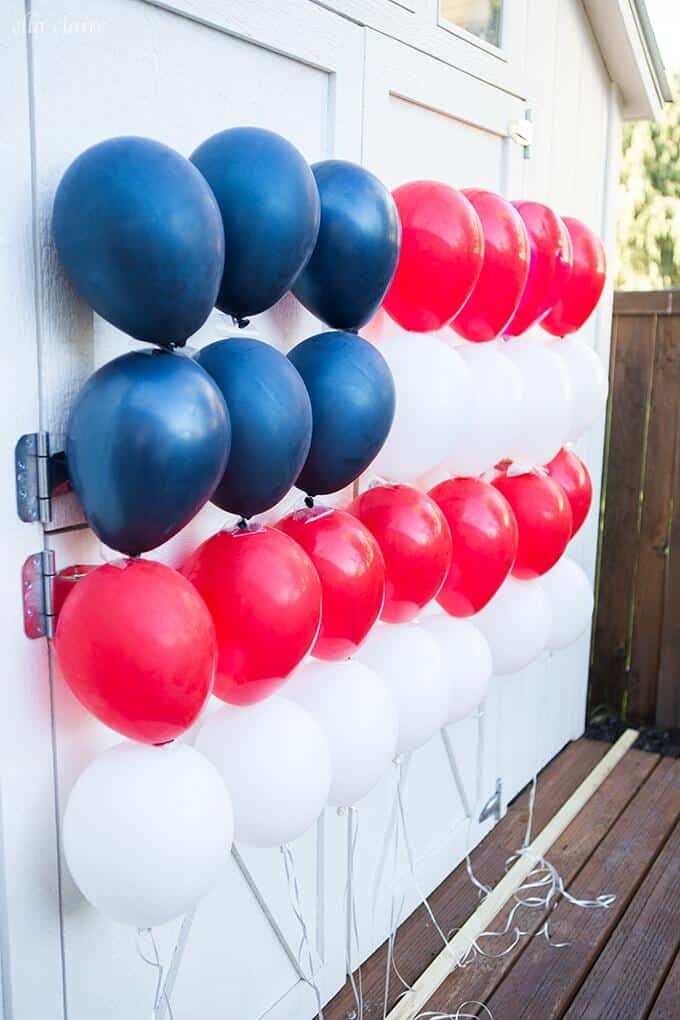 What I love about this one is that it's simple and fun. You don't need to spend hours sweating over cutting angles, printing paper, drilling holes, or anything else. All you need is a pack of red white and blue balloons (or get these self linking balloons if you want to get fancy), some helium (yes, I was also surprised amazon sells helium), some string and tape and you're ready to go!
By the way, while you're there, Ella also has this awesome post with patriotic table setting ideas, as well as a killer guide on making a patriotic garden flag.
---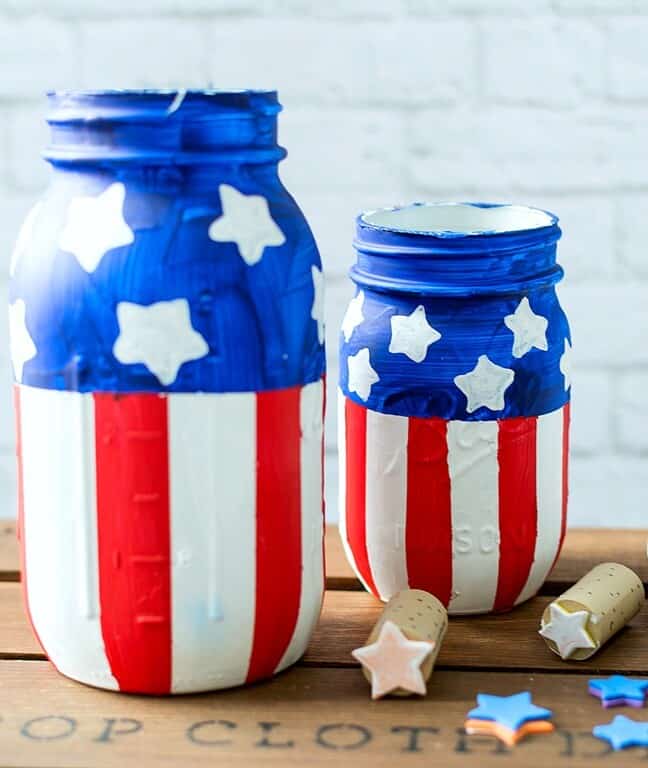 One of the great things about this project is that you can use these wonderful jars year around to show your American pride!
Mason Jar Crafts Love is one of my favourite websites for fun crafty ideas. I probably have more of their designs floating around my house than I'd care to admit!
These jars are an easy, fun and messy project. You can make this something you'll use a long time by using a good primer paint and a good clear coat, but if it's just for independence day and you want to use what you have, craft paint works just fine.
If you do decide to keep these after the fact, they work great for drinks (especially if you need to be discrete!), or you can use them as a centerpiece with some flowers. You could even put them in the kitchen to hold some utensils – there's a lot of options with these awesome jars.
By the way, while you're there, they also have this wonderful post to show you how to make american flag candle jars, as well as this easy guide on making these absolutely breathtaking red white and blue pop-sickle holders. So many fun designs to choose from!
---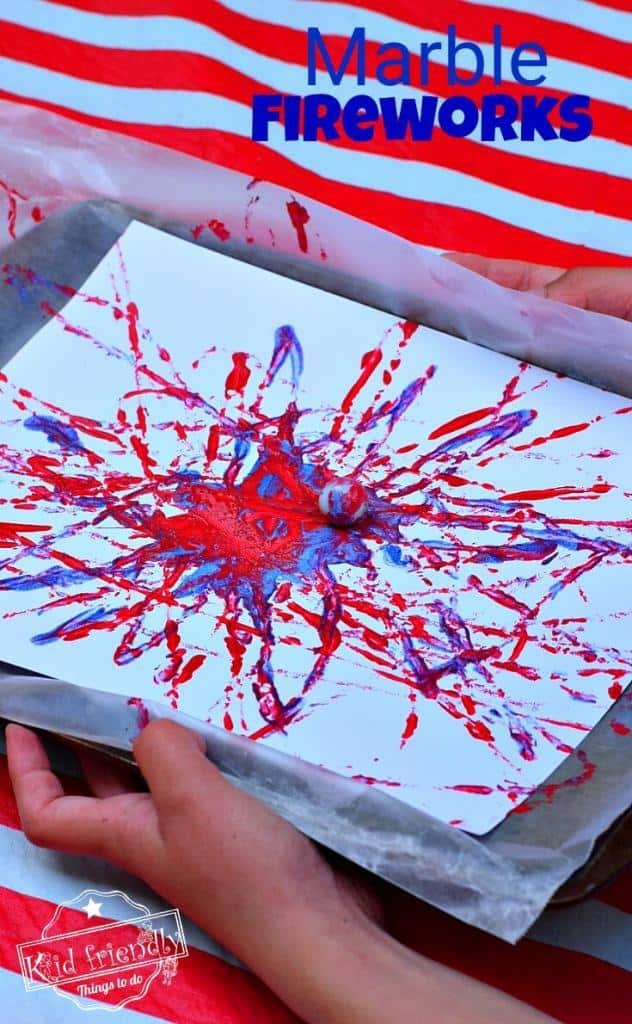 One of the fun things about independence day is all the fun activities you can plan for kids – and for adults!
And while everyone likes to dress nice and be presentable – sometimes it's a lot of fun to get super messy!
Look no further than this "fireworks" marble activity.
It really doesn't get any more simple than this. All you need is some marbles, some craft paint, some paper – and you're ready to go! Roll the marble in some paint, fire it at the paper, rinse and repeat! Soon you have a wonderful "fireworks" painting.
This is a great little activity that lets even the less creative among us make something pretty and fun.
Plus it doesn't only have to be for the 4th – you can pull this one out for any firework holiday (like new years), or even just make fireworks on an off day when you're stuck inside and bored! Fun for everyone.
---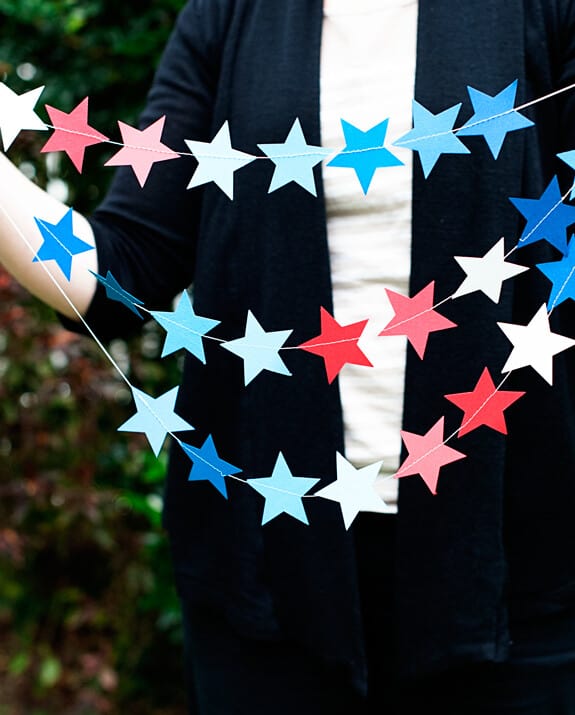 4th Of July Mini Chair Bunting from Say Yes!
This is a cute, creative and fun activity for older kids as it does involve some more complicated scissor work, as well as a sewing machine (if they're able).
But what you end up with are these fun, craftsy chair buntings that will make anyone feel like they're having a party right in their seat.
And if you want to keep things a little more low key this year, it's a quick and easy project that won't make your party look too over done.
---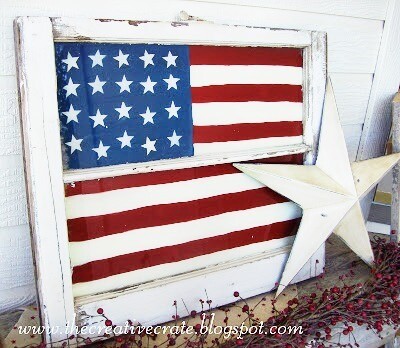 This is probably the most hands on idea we have on this page – but it is without question the most permanent.
Stacie normally blogs on her own site, The Creative Crate, but for this one she was guest blogging for You Create Crafts – and she really turned them in something special.
The only part of this that might be a challenge is her first step.
Start off with any old window you might have
Now I don't know about you, but I do not have old windows lying around!
That said, it should be easy to get out to some flea markets in your area and pick up a cool window for this killer craft.
Then all you gotta do is make your stencil and bust out the craft paints, and you're ready to repurpose that old window to make the most awesome decor for the big day.
---
We hope you liked our list of killer independence day decor ideas – let us know in the comments which one worked out for you!