Crochet Neck Warmer Patterns
Last Updated on
Looking for a cozy buddy to keep you comfortable during winter? A crochet neck warmer or cowl will keep you warm and in style for the winter days to come. For summer days, you can wear lighter versions of these neck warmers. That being said, you'll love these twenty free crochet neck warmer patterns that are easy to make and even easier to wear! Check them out below:
---
By the way, if you want to level up your crochet skills, check out our top five intermediate crochet stitches!
---
Top 20 Crochet Neck Warmer Patterns
Peacock Neck Warmer – This stunning blue neck warmer really stands out with its simple yet elegant pattern embellished with a beautiful flower.
Knit Look Cowl Crochet Pattern – Don't be fooled by the gorgeous knitted look of this cowl! This is actually a crochet pattern designed to look knitted, so if you prefer crocheting over knitting, this project is worth a try.
Convertible Crochet Neck Warmer – This crochet warmer is perfect for beginners because of how simple yet versatile the pattern is – perfect as a gift or your go-to cowl!
Crimson Ridge Cowl – This cowl is perfect for those cold fall and winter days with its thick ridged pattern that you can easily adjust according to your preferences.
Candy Kisses Scarf Pattern – This fun and light lacy scarf is perfect for those who need a colorful, fun scarf for spring or summer.
Fall-In Love Crochet Infinity Pattern – This exquisite infinity pattern scarf is perfect for the fall season and fits in well with your fall wardrobe.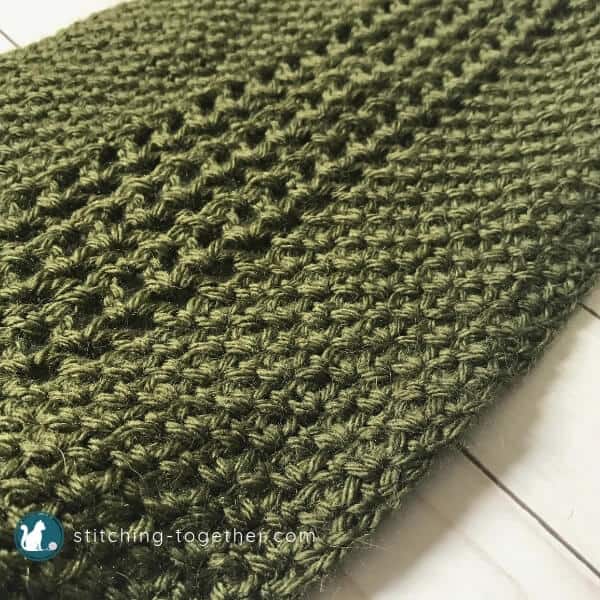 Crochet Moss Stitch Scarf – If a simple scarf is all you need, then this project is perfect, as it has just enough style without being too flashy, and it works for both men and women!
One Skein Crochet Scarf – Itching to use that one skein of yarn just lying around? This quick little project will make sure that that skein of yarn is put to good use.
Wrap Me in Diamonds Crochet Scarf –The diamond lace stitch is absolutely exquisite without being too difficult to make. Whether you're a beginner or an expert crocheter, this fun and simple scarf is worth trying.
Two-Color Beginner Crochet Neck Warmer – Just because something is easy doesn't mean it can't be fabulous, and this neck warmer proves just that.
Bulky Striped Cowl – This beautiful striped cowl is perfect for those sporting more neutral or muted colors and want just a little bit of vibrance to their outfit.
Piece of Cake Cowl – Whip up an easy, timeless cowl with this piece of cake cowl! It really lives up to its name with the simple, classy design that any beginner will enjoy making and wearing.
Sea Foam Infinity Scarf – For those in love with the beauty and mystery of the sea, this sea foam infinity scarf is the way to go.
Galaxy Flexi Cowl – This majestic cowl looks like a tiny galaxy wrapped around your neck. Beautiful, versatile, and functional, this cowl is a great gift for men and women alike.
Orange Sorbet Cowl – Keep your outfit cool and your body warm with this fabulously perky sorbet cowl!
Laura Gingham Cowl – This is probably one of the more challenging cowls to make, but the pretty checkered pattern makes the time and effort worthwhile.
Romantic Twilight Cowl – A classy mix of romantic and funky, this elegant cowl is great for any chilly evening – romantic or not.
Enchanted Infinity Cowl – This magical infinity cowl uses decreases for a fun, whimsical look that'll enchant even the most unremarkable outfits.
Granny's Wave Cowl – The modern fusion of chevron and granny stitch really gives this cowl a gorgeous modern boho vibe that works well with any outfit.
Cowl Hood – Fabulous and functional, this cowl hood protects not only your neck, but the entire back of your head!
Get Cozy and Fabulous in Any Season!
Now that you've seen some of the most beautiful cowls and scarves that you can make for yourself or for friends and family, go ahead and try one out! Don't forget to share a pic of your latest creation in the comments section below. Happy crocheting!