Bulky yarn crochet is where a lot of us start off.
Bulky yarn looks like simple spun thread until something cute is crafted out of it. Once it does, the results can be quite amazing.
There are numerous bulky yarn crochet patterns to make the item of choice look super, whether you wish to craft a chunky yarn sweater for your chunky baby, a thick yarn scarf to keep your neck warm during the cold winter months, or a simple gift for your pet cat or dog.
Bulky yarn is used for two main reasons. Perhaps the first is to make something heavier than usual. It also tends to be soft and smooth to touch and feel. They are therefore the most ideal for baby clothes.
There are a number of chunky yarn crochet patterns to think of beyond just bulky yarn crochet hat patterns that we all love. Below are some of the best that I found on the net. Do check them out.
---
By the way, if you want to level up your crochet skills, check out our top five intermediate crochet stitches!
---
My Top Pick for Bulky Yarn Crochet Ideas
---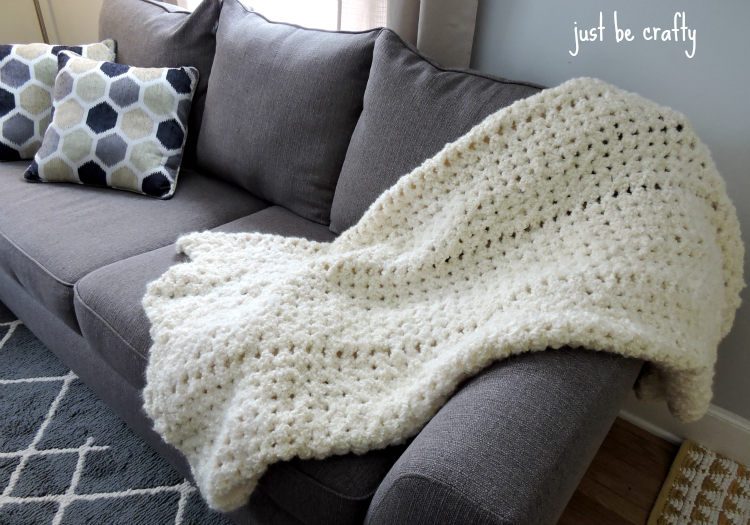 Easy Crochet Angel Cloud Afghan at Just be Crafty
When in need of a thick blanket that is luxurious as well, this is it.
Brittany at Just Be Crafty came up with this pattern sitting looking out at the January North Carolina snow, thinking about all the fun events ahead where she could wear this beautiful afghan.
Quite easy to make, this super blanket is quite warm and cozy too. The afghan is crocheted using a granny ripple pattern with Lion Brand Homespun Thick and Quick yarn (find it here on Amazon). This soft yarn makes for a wonderful thick luxurious afghan.
Brittany has also updated this pattern based on feedback from other users, so you know you're not going to get stuck on this one – it's all thought out and ready to go!
---
During the cold winter months when you and the baby need more warmth than usual, this is the perfect blanket for beating the cold.
Creating this blanket with bulky yarm means you are able to work it up quickly, and it gies you a warm and cozy blanket.
The lacy edges with their delicate touch make the bedroom look very sophisticated.
You'll feel like a real snow queen wrapped in this crochet blanket, watching the snow fall.
---
This fun and cute beanie features an easy stitch pattern that lends a nice texture to the finished fabric.
Janaya has also included sizes for this beanie from preemie all the way up to large adult, so no matter who you're looking to make this bulky yarn beanie for, she's got you covered.
This hat is worked from the brim up, and is rated easy – so you can happily zone out and crochet yourself a wonderful gift for the coldest head in your life.
---
Rainbow Lace Crochet Poncho by Lorene Eppolite
The Lion Brand yarn would be an ideal choice for this one. With the cowl neckline, it looks very trendy.
---
Interlocked Granny Throw Blanket by Vickie Bizzard
This is a cozy one for most seasons. If plenty of matching colors are patterned professionally, it can be such an eye-catcher.
---
It looks really small but when those items begin streaming inside this gift sack, you realize it isn't really small.
---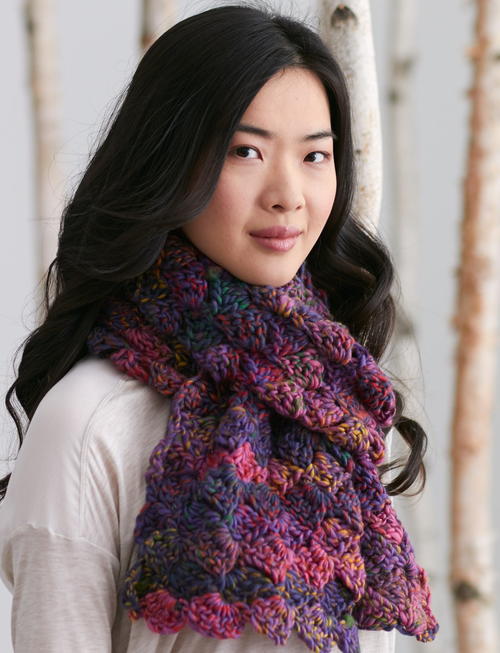 Aurora Borealis Crochet Scarf by Yarnspirations
This Aurora Borealis inspired scarf summons all the magic of the northern lights to turn heads wherever you go!
They suggest using a variagated yarn from Patons (get it from Amazon here) to give the illusion of moving colors.
This pattern is marked as easy too, so you don't need any advanced crochet stitches to pull off this amazing and eye catching scarf.
Enjoy!
---
The numerous colors entwined together ensure the end result is nothing but a fascinating blanket. Its soft features make it a good consideration for the baby.
---
Camel Stitch Easy Crochet Blanket by Rina
This blanket can be crocheted along the length running from top to bottom. With the right measurements, nothing could be so appealing as this warm blanket.
---
Thinking of a great baby shower gift? The caterpillar toy would be an ideal item to think of. The oversized toy offers more than comfort to a baby.
---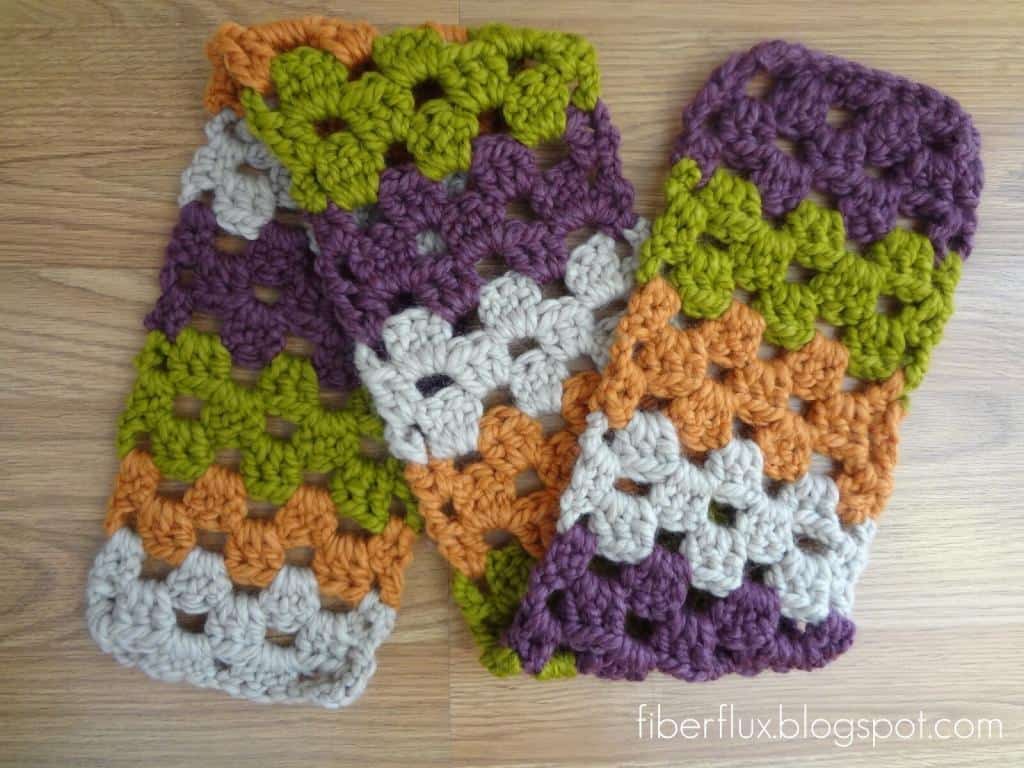 Scrap Happy Scarf at Fiber Flux
This is a fun project because it has so many different sections, you can easily just use up all your old leftover yarn without creating something that looks like it was made from old leftover yarn!
This pattern can be worn year round – and once you've used up all your leftover yarn, you have a great excuse to buy more! Win win!
---
Using bulky yarn makes the results quite amazing. It can be a great last minute gift idea for a friend and definitely a nice bulky yarn crochet pattern you should try.
---
Cuddly Newborn Crochet by Olivia Kent
This is definitely something to keep the baby warm during the cold months and when taking a stroll in the evening.
---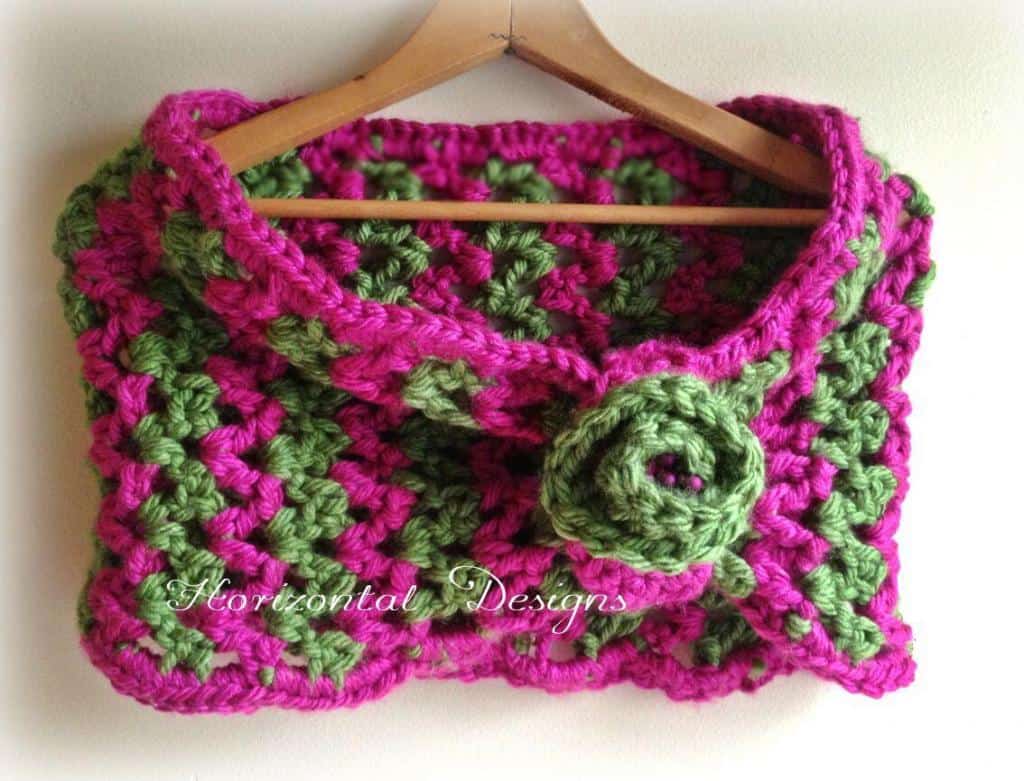 There is nothing quite like WATERMELON. Love the colors, taste, and how refreshing it is.
This colorful cowl can be a great way to approach summer or spring. With a wide neckline, it is worn off the shoulders.
The pattern is named after the vibrant colors of a watermelon – using the suggested pink and green yarn will add a pop of color to this fun and warm infinity scarf.
Claire also includes an adjustable flower with a hidden button in the pattern, that way the style can be changed on the fly to suit your mood. Neato!
---
Button Cowl Crochet Pattern at Crochet Dreamz
It is different from the usual cowls since it has a button. With a beautiful scalloped edge, it is best made of chunky wool. Although there are numerous scarf patterns, this one definitely stands out.
---
It spots beautiful big eyes and fuzzy patterns. Fun fur may be added with crochet stitches for a cuter look.
---
Go On and Give It A Try
These amazing bulky yarn crochet patterns are a great way to throw a gift to a friend or for personal use. Check out all the different ideas above and pick something to start on using bulky yarn. Feel free to post your finished pattern on the comment section below. Happy crocheting!