Buying belt sanders or belt grinders can be a little pricey, so why not make your own? Whether you want to make an edge sander, a table sander, or you're looking for ideas for a belt sander for knife making, we got you covered. Below are 12 well-done, proven and tested DIY belt sander project ideas that will walk you step by step through how to make a belt sander.
DIY Belt Sander Projects
1. Mini DIY Belt Sander
With just using scrap material, you can build your own belt grinder! Unfortunately, there is no blueprint of the project, but, there is a video to guide you.
2. 2 x 42″ Belt Sander
This tutorial also provides a quick video for you to visually see how this belt sander is done. Watch and learn !
3. Four Wheeler
Kevin Blumer knows exactly how disappointingly pricey belt grinders are. Because of that, he built his own! Know the deets by reading his article on the website.
4. The smallest Belt Grinder
While watching this this video, you might wonder "What's this belt sander for? Ants?!". It's so tiny you might start doubting its function, but, can we all just agree on how cute and clever it looks?
5. 1" by 30″ Belt Sander
This budget DIY belt sander is good for sanding particular parts and inside corners, but you may change the belt as you wish.
6. Belt Sander
Before reading the instructions, its best to watch the video to have a deeper understanding of the discussion. The product will be a simpler version of a belt sander but it is still as functional and rigid in construction.
7. 2 x 72 Belt Grinder
Isn't it fun to find people on the internet with the same interests as you? If you're looking through this article trying to figure out how to make a belt grinder, well, let me introduce you to your new friend! The thread will help you a lot and the instructions are pretty straightforward and obvious so it wouldn't cause any confusion… hopefully!
8. Shank Knives
If you're broke, cheap or not willing to pay a fortune for something you can build yourself, this one is for you! This is ideal if you're looking for a belt grinder for knife making.
9. 2 x 48 DIY Belt Grinder
This thread will help you know all the tips and how-tos in building a belt grinder; it'll also answer your questions, too!
10. Belt Grinder for under $200
This forum will give revive your hope of building your own belt grinder! Check it out for in-depth explanations and answered questions.
11. Homemade Belt Grinder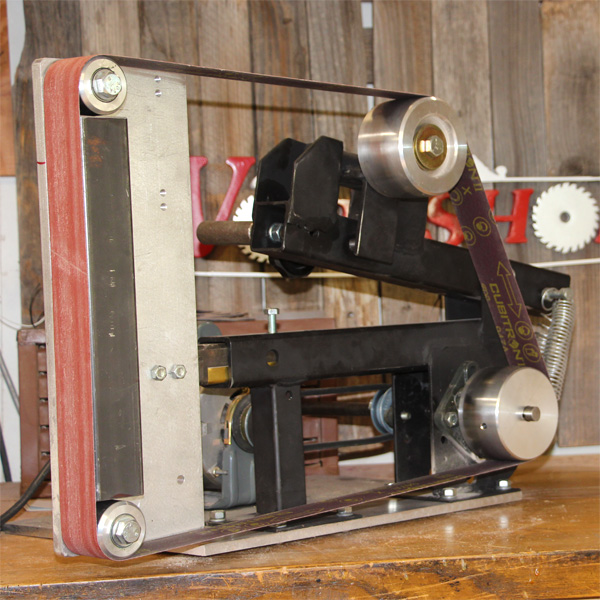 Jaff Baker of Home Built Workshop explains that if you want to create or build something inexpensive and affordable, you certainly can. It may just take some time to gather and find the equipment that you need. But, when it comes to knowing how to build the belt grinder, he's your guy.
12. 2 x 72 Homemade DIY Belt Sander
This article will provide you information on how to make a homemade 2×72 belt sander or belt grinder in great detail – from videos to downloadable PDF files – just for your convenience. Be sure to check it out to increase your knowledge on how to make a belt sander!
Let us know what you think about these project ideas. We'd love to see your version of the projects, too! Thanks for checking them out! 'till next time!