DIY Pool Table Plans for Your Home
Last Updated on
Playing pool is a fun way to bond with friends and family, and so making a pool table! Whether it's a standard size pool table, regulation size pool table, a portable pool table or a foldable pool table, we've got you covered. Check out these DIY pool table plans, print your blueprints, grab some buds – and beers – and start building!
DIY Pool Table Ideas
1. Small Pool Table
The goal of this tutorial is to teach you how to make a cheap and inexpensive mini pool table and it exactly accomplishes the goal and exceeds your expectations.
2. Half-Sized Pool Table
If you're a beginner in both playing pool and building a pool table, you might want to consider creating a pool table half the regular size. Check it out to save yourself from the hassle!
3. MDF Pool Table
What is MDF, you ask? It's medium-density fiberboard. Still not familiar with it? Well, all you need to know is that it makes your pool table sturdy without costing you a lot! This project will help you big time!
4. Mini DIY Pool Table in a Tin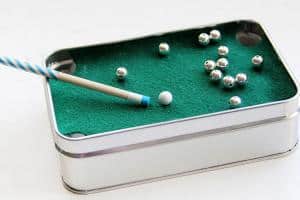 While not something you're going to play every day, this super adorable and clever table in a tin is an excellent gift idea! Turn an empty tin into a super cute pool table and it will warm the heart of the man or little boy in your life!
5. Pocket Sized Pool Table
Another mini and awesome craft idea is this pocket sized and portable pool table. Woodworking can be dangerous and your skills may not permit you to build a regular sized pool table, so, this could be your best option!
6. Upcycled Ford Mustang
This table has two of the best things: it's incredible and movable! How boujee and fancy is this pool table?
7. Pool Table YouTube Tutorial
If you're a visual learner and learn best with watching videos, this could help you! Don't skip through the video and watch carefully, you don't want to miss a few tricks!
8. Pool-Billiard Table
Less is more. Sometimes, set of photos are enough to explain what is needed; so, here is a set of photos to guide you through what to do.
9. Volkswagen Pool Table
If art and entertainment had a child, this pool table would be the product! This incredible and innovative idea is undoubtedly unique and fun to do. It represents elegance, grace and quality style. Probably the greatest piece of art you will ever own!
10. Pool Table Video Tutorial
Here is another video guide to help you easily make a mini diy pool table. You'll be forever grateful for this tutorial!
11.  Home DIY Pool Table
If you're into something retro, this old school but thorough guide on making a pool table provides you designs and blueprints. You sure won't get confused with this one!
12. The How-To
Building a pool table is obviously not an easy job, it requires some experience and skills, but, don't worry! The experts of Century Billiards will teach and guide you from what you need and you should do.
Hope these tips were helpful to you! Remember, woodwork is not a safe job so if you're in doubt, don't do them and stay safe! 'till the next craft!