If you've mastered the basics of candlemaking, it's time to start playing with your new skills. Here are 15 ideas that even newbies can tackle, and may inspire seasoned crafters. Don't forget to checkout 9 best candle making kits here.
1. Gender reveal that won't burn a forest down
The original gender reveal trend was all about slicing a cake to discover the color of the sponge or the filling. So, how come we ended up starting forest fires?
Tone it back down and show your skills at the same time by picking different colored waxes for the interior and the exterior of the candle. You can either turn this into a gambling game during a baby shower or give them away as very unique announcements.
2. Treasure hunt
In the spirit of the previous entry, why not try and hide other things in the candle as well?
Crystals and metal figurines will work the best. Or maybe put a message in a glass vial, or even hide an engagement ring. As the candle melts away, it will slowly disclose its secret.
3. Floating tealights
It's time to play with candle jelly. Or use any other candle way if it strikes your fancy.
The idea is to place smaller candles on the surface so they look like they are floating in water. You can use either commercial tealights or other homemade small candles.
And if you add a scent to the jelly, it will release slowly as the heat from the tealight is transferring into it.
4. The art of layering
Almost every perfume has a top, middle, and base note, so why not do something similar with your scented candles? This is a very exciting thing to do with smaller candles that are designed to burn out within a couple of hours.
There may be a bit of a trial and error in what sents work best with each other, but the technique is easy. Simply pour each layer and allow to cool down before adding another one.
5. Spice up your life
Whole spices work beautifully in candlemaking. Not only them but coffee beans and firmer herbs and plants (like rosemary or pine) too. Just add them to your favorite mixture for both scent and decorative purposes.
But take your time and experiment since each wax will react differently with each scent. And you may want to leave this technique for larger candles so the spices and herbs never get too close to the flame.
6. Ikebana
Pair a floral fragrance with an attractive floral arrangement.
There are so many ways you can do this. The simplest is to add dry flowers into the wax with a low melting point. Or invest in a couple of molds of your favorite flower. Maybe even take it all to the next level by combining those elements into a 3D creation?
7. Marvel at marble
If you know how to make marble cake, you know how to make candles with a marbling effect.
If you don't know how to do it, it's not like it's a difficult technique to grasp. All you'll need is wax in several colors and a skewer. Try combining turquoise or pastels with gold for some Instagram-ready shots.
8. Concrete matters
Concrete has been a big trend in home decor, so it makes sense that it would seep into candlemaking as well. There's a bit of a learning curve
and some practice is needed, but in no time you will be able to dish out some amazing pieces.
You have options – either keep it simple by making concrete candle containers or make the concrete part of the candle itself.
9.Large and in charge
Who says you need a fireplace to get a proper mood going? Just light a giant candle.
These do come with challenges of their own, and it's not only about finding a mold that's big enough. That being said, they make for amazing and breathtaking centerpieces.
10. Wood wicks
Classic wicks are so last decade. Wood wicks make your candles melt evenly and even crackle.
They are easily available everywhere where candlemaking supplies are sold, and they are very easy to use. So why not give them a go?
11. A burning log
Whether you are trying to capture the cozy Christmas spirit, or you're into Wabi-Sabi, a candle made out of hollowed-out wood makes for an impressive centerpiece.
However, to keep everything on the safe side, line the wood with a fire-resistant resin. That is unless you want to make your house burn down.
12. Be the zest
When you eat grapefruit or make your morning OJ, what should you do with a peel? Turn it into a candle, of course.
This method works best when using thicker peels and lower melting point candle wax. Simply remove the inside of the fruit living as much of the pith as possible, and pour the wax in. No added fragrance needed.
13. Tea party
Teacups make for gorgeous candle molds, and they are a great way to use mismatches and cracked pieces.
Soy candles are perfect for this project because they have a low melting point. This will ensure that cups with cracks don't crack any further. Still, warm them up a bit by rinsing in hot water to be on the safe side.
14. Birthday sprinkles
Are sprinkles still in? Pinterest says so.
Add a layer of them to a plain white candle to zhuzh it up in a flash. Bonus points if you lace it with oodles of lovely vanilla perfume oil.
To do this, spread a thin layer across the walls of the glass container or mold of clear candle jelly and add the sprinkles straight away. Once it sets, continue with your preferred candle mix.
15. Recycle, reuse, reduce
This concept is in no way new, but you probably have a lot more than you can use for your candle-making projects these days.
Certain world events probably triggered you to stock up on canned food. Cans alone make for interesting candle vessels, but you can go the extra mile by painting and decorating them.
Numerous single-use packaging items can now become molds or be fashioned into candle holders.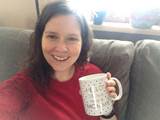 I'm a stay at home mom with our two kids. I really enjoy doing crafts with my kids however, that is typically a challenge with how limited their attention span can be and how messy it gets. So, I'm always looking for ways to make crafting an enjoyable experience and creating fond memory for all of us.