While a lot of what's made from crocheting is worn by women such as a fringe crochet sweater, there are also crochet crafts out there that are astoundingly stylish for men without being too frou-frou. That being said, here are the top 20 easy mens crochet hat crafts you can try.
---
By the way, if you want to level up your crochet skills, check out our top five intermediate crochet stitches!
---
Top 20 Mens Crochet Hat Crafts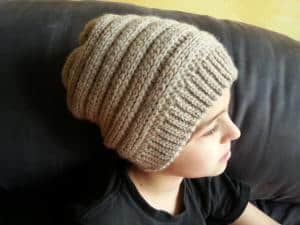 No More Snow! – The name says it all – no more snow! This simple, no-fuss men's crochet hat is a perfect companion for the winter that just won't seem to leave you alone.
Jingle Jester Hat – Live a little, and laugh a lot! This playful, whimsical jester hat is perfect for livening up the holidays.
Waldo's Favorite Striped Beanie – An iconic character, Waldo's a long time childhood favorite. Relive childhood memories with this fun and vibrant beanie.
Zigzag Popcorn Weave Hat – Eccentric and unique, this stylish weave hat is sure to turn a few heads. After all, who doesn't like popcorn?
Unisex Crochet Mesh Beanie – Quite literally a cool hat to wear with its open stitch design, this beanie is great for summer. When crocheted with wool or acrylic yarn, it can also be used for winter.
Team Spirit Hat – A great way to show team spirit is to wear the colors of your favorite team with this two-color team spirit hat!
Leaping Stripes and Blocks Beanies – The fun zigzag patterns on this project makes it look like something straight out of a retro video game – perfect for the playful, fun-loving man.
Nana's Papa Beanie – The textured design of this beanie gives off a smart, elegant vibe to those wearing it, which is great for men looking to add a stylish, mature accessory to keep them warm.
Brim Hat – Offering a skillful fusion of classy and casual without being complicated, this brim hat is a great beginner's project to try.
Mistake Rib Pattern Hat – Beauty lies in the area between symmetry and asymmetry, and this mistake rib pattern hat just achieves that balance effortlessly using the mistake rib pattern.
Easy Santa hat with Beard – Ho ho ho! This festive hat is great in keeping Santa warm and stylish – whoever he happens to be.
Psychedelic Two-Color Crochet Hat – Interestingly, while this crochet hat sports only two colors, the pattern the two colors are crocheted in produce a hypnotically dashing effect.
Mayuri's Crochet Beanie – This wavy men's crochet hat pattern reminds one of the calm and serene sea – perfect for ocean lovers.
Aurora Borealis Crocheted Hat – Wear the mystery of the outdoors on your head with this magical aurora borealis crocheted hat!
Elevated Honeycomb Crochet Slouch – Looking for a unique yet simple pattern to crochet? This elegant elevated honeycomb crochet slouch is definitely worth a try.
Wave Stitch Slouch Hat – Giving off a cool and laid back vibe, this hat is great for younger men who want to keep warm in style.
Crochet Beard Beanie – Who needs no-shave November when you have this nifty little beard beanie to keep you warm in the winter?
Dream Weaver Beanie – Sweet dreams are made of this fabulous dream weaver beanie. This project looks absolutely stunning with variegated yarn.
Basic Beanie – This is one of the simplest crochet hats you can ever make; you really can't go wrong with this simple hat if you're a beginner.
Simple Grey Crochet Hat – Simple and classy, this plain grey hat is perfect for the minimalist man.
Try Out a Pattern!
­These mens crochet hat patterns are relatively simple and low-cost, which makes it easy to experiment on and tweak to your aesthetic preferences. Try some of them out and don't forget to post a picture of your mens crochet hat down in the comments section. Happy crocheting!