DIY Makeup Vanity: 20 Of The Best Ideas
Last Updated on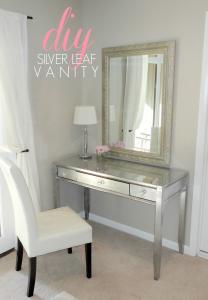 Silver Leaf Repurposed Desk – Thrift store buys are often a steal, but the things you buy aren't always in the best state when it comes to looks. With this project, you can make your thrift store desk go from drab to fab in no time.
Classic Corner Makeup Vanity – Add a touch of elegance to that sad corner in your bedroom with this classic corner makeup vanity.
Chalk Paint Makeup Vanity Makeover – This technically not a complete DIY, but a much-needed makeover for a tired makeup vanity.
Slim Diva Glass Top Makeup Vanity – This fabulous vanity with a small footprint is extremely easy to make, and has an extra leg in the middle for added support.
Modern Wood and LED Vanity Mirror – The future is here! If you're going for a futuristic look, this project is an absolute must.
Repurposed Sewing Table – The gorgeous combination of white and natural colors of wood really give off a beautiful, classy, rustic vibe.
Perfect DIY Makeup Vanity?
There's no such thing as a perfect DIY makeup vanity, but there will be one that fits the space you have, provides the compartments you need, and has a fabulous design to boot. Now that you've seen just some of the things you can do to make your own makeup vanity, it's time to pick your battle station! Start a new project today and don't forget to share it here by commenting below! #justcraftingaround