After years and years of looking at the same old stuff, sometimes things get boring, worn out, and just downright uninteresting. What do we do when we get tired of things that have just become boring but not broken? We reframe them with creativity, of course! And in this guide, you'll see 20 daring DIY mirror frame projects you can try to make your mirrors interesting again.
DIY Mirror Frame Ideas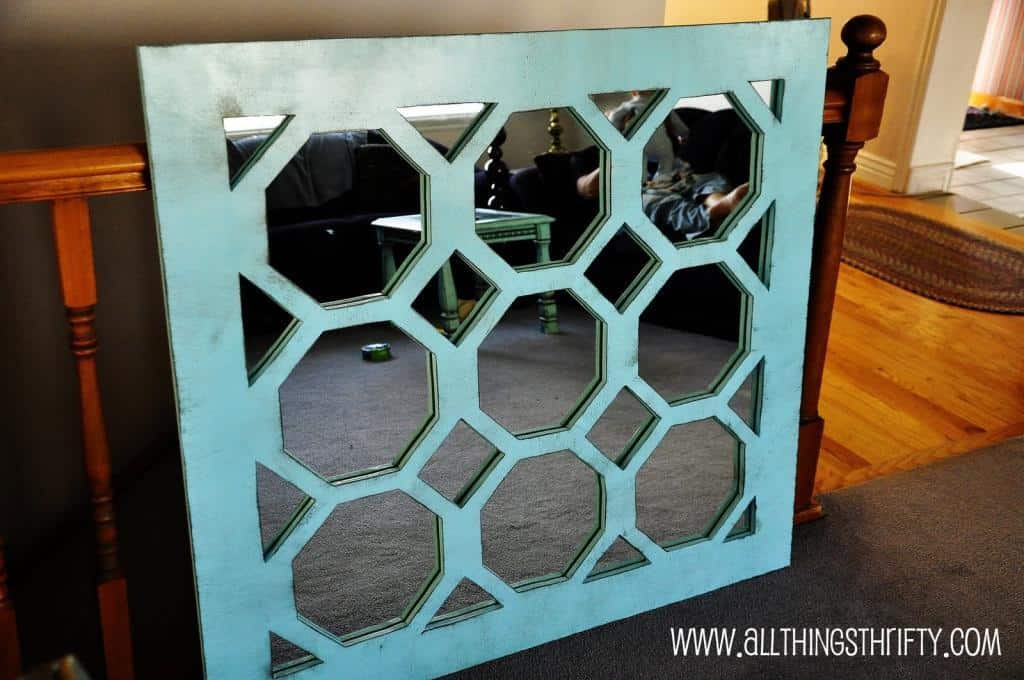 Itching to make something geometrically unique? This project is a fantastic way to put your creativity to the test.
Lucky for Brooke at ATT her husband is a good sport AND handy with a jigsaw. This one started out as a photoshop plan and ended up on TV!
Check out Brooke's blog for all the gory details!
---
This ones for all you pantone nerds out there! Can't seem to choose a color? Use them all!
This color wheel DIY mirror frame is a great project for those in love with colorful pieces of furniture. Better yet, pick yourself an entire pallet and go wild!
A word of warning however, given the shape of this killer DIY mirror you'll probably need to do a little math to get it looking just right. But don't worry – I believe in you!
---
Lighted Christmas Starburst Mirror Frame

at DIY Showoffs

Why hang a new mirror on the wall when you can put it on top of your Christmas tree?

When Roeshel of DIY Showoffs found herself short a christmas topper for her new white tree, her mind went to the spare white star she had.

Several dozen BBQ sticks and garden stakes later, she had this wonderful starburst mirror christmas tree topper (try saying that three times quickly!)

This one's definitely not for kids – and has a small amount of electrics too, so even you might want to be supervised for this one!
---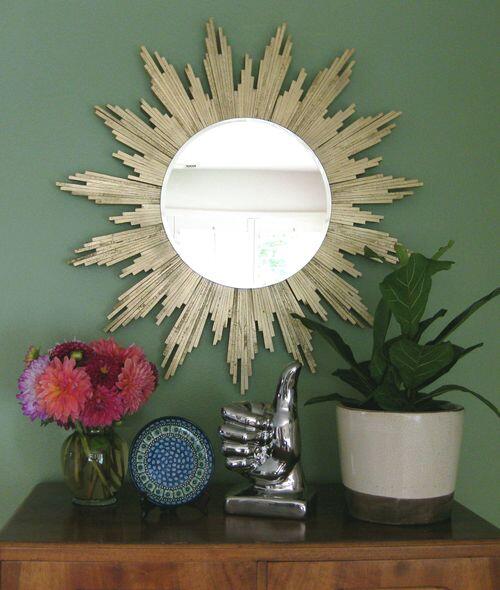 Wood Shim Sunburst Mirror Frame

at K Sarah Designs

It's surprising how a bunch of simple, low-cost shims could get you a luxurious, sunburst mirror with a gold metallic finish. Talk about luxury on a budget!

Sarah decided to save herself the $500 she was seeing for mirrors like this and build her own.

It doesn't hurt that she has a serious eye for design, and can make a mirror like this from ordinary shims that no doubt most would be happy to pay for!
---
An elegant combination of simplicity and luxury, this gold-dipped DIY mirror frame isn't too flashy, nor is it too elaborate – works well with both modern and traditional homes.
Sarah from Pretty Providence found out the hard way that a $15 project can really quickly turn into a $50 project.
But lucky for you, she's written it all down so you can learn from her mistakes.
And at the end of the day, even if you do go over budget, you end up with an awesome mirror to be proud of every time you walk past.
---
Repurposed Angel Food Cake Pan Mirror Frame

at Haye Stone

Sometimes, art is really just be about people combining things they like, and in this case, it's the elegant fluted edges of angel food cake pans, and of course, mirrors.

Laura couldn't leave Goodwill without picking up some of these bottomless wonders and give them a new purpose.
---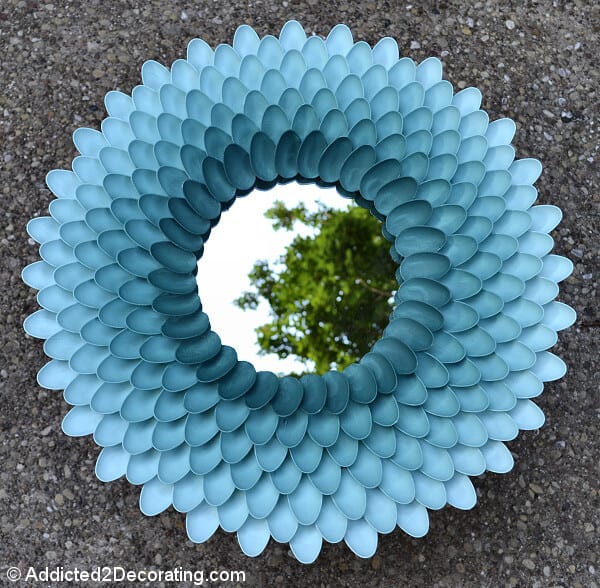 This beautiful chrysanthemum mirror frame's main ingredient is actually quite interesting: plastic spoons! This makes the frame light, but at the same time, easy and cheap to repair or modify.
Kristi has the patience of a saint as they say – laying all of these out just right takes time and concentration.
But look at the results – one of the most creative mirrors on this list, and an opportunity to wow any guests who assume it must be something significantly more expensive!
---
This is a quick and easy way to achieve the luxurious log cabin aesthetic you've always dreamed of!
Jaime came up with this design as part of a master bedroom makeover – and if this is just the mirror, I'd love to see what she did with the rest of the room!
For the mirror itself she used an Ikea Kolja mirror, glued to plywood and surrounded by sliced wood. Super creative, and definitely fetching.
---
Ray of Pencils Mirror Frame

at Mosaic Works CA

This DIY mirror frame brings in a ray of sunshine with its army of bright yellow pencils – an elegant and truly creative way to perk up any room.

Karen J once again shows her geometric patience by lining up 238 yellow pencils in just the right formation to create this stunning frame.

The fun part about this one though is you can use any color of pencil – or any combination – to make this fit any room or style. Super fun, super creative, super adaptable.
---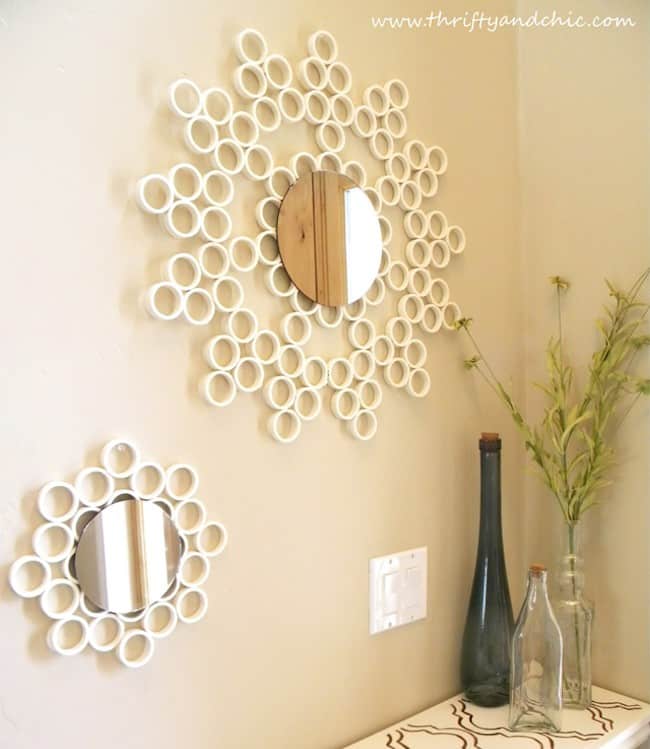 Push the limits of your imagination with this PVC pipe mirror frame! Who knew that you could make PVC pipes look so modern and trendy?
Alicia shared this one as a guest post for Bob Vila. She left the pipes as their natural white, but you could easily spray paint these any color you want, or combination of colors.
Plus the PVC makes this a fun choice for a modern bathroom mirror.
Just heed her advice about letting your miter saw cool down – you don't want to end up with a "mostly white with some burnt bits" mirror frame!
---
Rustic Wood Framed Mirror

at Tag And Tibby

A $50 project resulting in a gorgeous, rustic $500 look, this DIY mirror frame is treat for rustic DIYers on a budget.

Wooden mirror frames don't have to be crazy expensive to look amazing, and in this case Julia ended up with a shabby chic, classic, rustic, modern bathroom mirror – all in one!

Amazingly, all it took to adhere the wood to the mirro was some command strips – how many projects like this can do you with supplies from the grocery store?
---
One Mirror Frame to Rule them All

from Mosaic Works CA

This fabulous oversized frame is a fun project for those who love large mosaic projects.

Karen says this is her biggest mirror project to date, and we believe her!

For this one she utilized school rulers – 234 of them to be exact. Definitely a project that will have you wishing for the dog days of summer.
---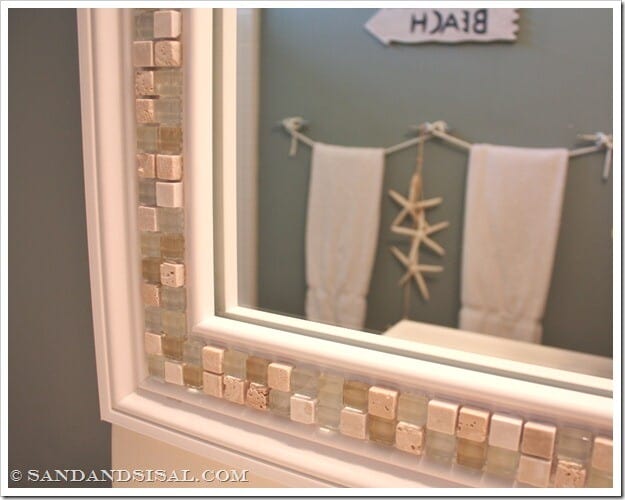 If you have leftover tiles or simply want a sturdy, stylish frame for your mirror that you can customize easily, then this project is perfect.
Kim managed to take a few tile strips and make her regular old bathroom mirror something more modern, but with a classic beachy feel.
---
Cheap, simple, and stylish, the rustic charm of this DIY mirror frame will take years to wear off.
Gina managed to take a small decorative frame from Goodwill and by adding about 100 feet of jute rope, create something pretty spectacular.
Plus it wouldn't take but a few design flourishes to turn this rope mirror into an awesome nautical mirror! Ahoy!
---
Medicine Cabinet Makeover Mirror Frame

from Not Just A Housewife

This project adds a much-needed pizzazz to any tired, worn-out medicine cabinet.

Stacy took her boring old builder's grade white bathroom mirror and jazz it up with a wood frame to make a stunning modern bathroom mirror.

This project does involve some wood work as you would expect, so make sure you have a jigsaw and a router handy – but the results will speak for themselves!
---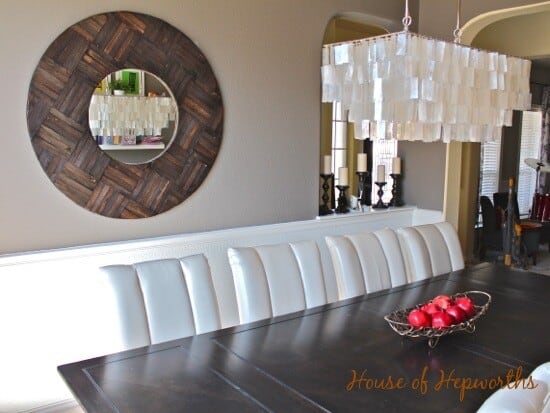 This inexpensive yet luxurious mirror frame blends well in most dining rooms and looks gorgeous with its rich, dark color.
In fact, we think this mirror is one of the finest DIY wood framed mirrors of the bunch, and it's made from simple shims!
House Of Hepworths is one of our favourite DIY blogs and it's easy to see why – when you get the whole family involved you can make a ton of awesome DIY projects come to life.
---
Styrofoam Convex Mirror

at DIY Showoffs

This project is easy, cheap and a lot of fun, resulting in an interesting twist.

Roeshel asked herself "why spend $120 on a convex mirror when I can make one for $15?"

Lucky for us she documented the whole process step by step, even providing a full list of materials.

The result is a collection of wonderful mirrors that you can feel proud of every time you look in them!
---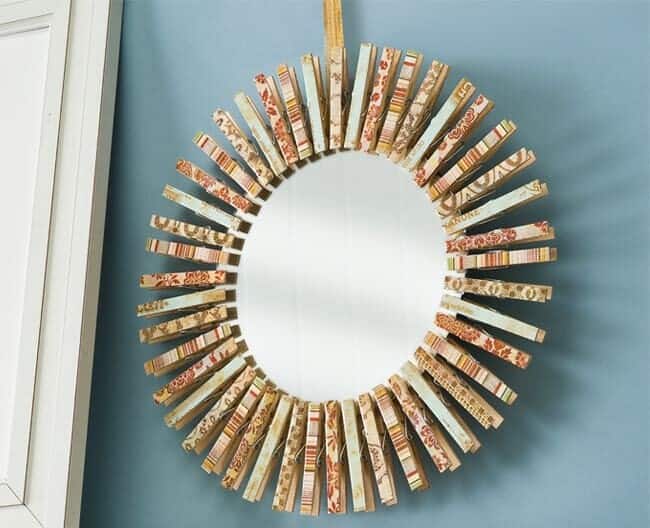 Clothespin Wreath Mirror Frame

from Mod Podge Rocks

This is an easy decoupage craft that results in a stunning, colorful mirror frame.

Honestly I'd never heard of Mod Podge until I saw this amazing mirror frame, but now every time I go into my laundry room all I see is little bags of potential where once there were just ordinary old clothespins.

Plus the best thing about this mirror design is that it is SO DAG GUM EASY! Just about anyone could pull off this stylish, budget friendly mirror.
---
Toilet Paper Roll Mirror Frame

at Life Of A Star

You will literally not run out of things to do with toilet paper rolls, and this is one of the best and most fabulous things you could do with them.

And when you figure out you can make home decor with toilet rolls, you realize that your key materials are all free!

Plus you're going to be painting the rolls no matter what, so you can make this easy craft mirror in any color you like, to match any surface you like.

Naturally this means this is a project that's just as good for kids as it is for adults.
---
Plastic flowers look absolutely horrid as a DIY mirror frame, but egg cartons, on the other hand, look surprisingly lovely and classy.
Once you have the required 12 egg cartons… You might want to take a nap! But fear not, this is actually a super easy DIY project for any age.
---
Many DIY Mirror Frame Projects
As you can see, there are lots of surprisingly novel DIY mirror frame projects out there that aren't too expensive, difficult, or time-consuming to make. In fact, a lot of them are just projects that came about from a shared dissatisfaction of how household mirrors look. Try your hand at some of them and see which ones speak to you. Once you have completed it, do share it with me by commenting below! #justcraftingaround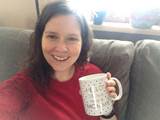 I'm a stay at home mom with our two kids. I really enjoy doing crafts with my kids however, that is typically a challenge with how limited their attention span can be and how messy it gets. So, I'm always looking for ways to make crafting an enjoyable experience and creating fond memory for all of us.