The baby horse is a crowd favorite in the world of arts and crafts; the well-loved and well-known face, outline, and silhouette make it easy to use in different horse crafts projects, even by kids! The following are just some of the baby horse craft projects you can do on your own or with your child.
Baby Horse Craft Ideas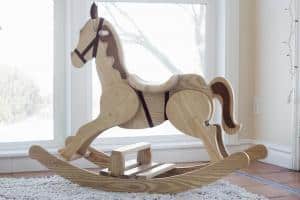 DIY Rocking Horse – As your child grows and learns to take its first step, it's time to upgrade the rocking crib to a rocking horse. Not the simplest project around, but definitely worth the effort.
Dala Horse Party Craft – What's interesting about this craft is that it's best when done in a children's party where every child gets to design their own baby horse. Simple, fun, and cheap, this arts and crafts activity is perfect for younger children.
Cardboard Tube Horse – Pretty and geometric, the cardboard tube horse is a great project for a mini farm setup or simply as a desk buddy.
Baby Horse Tire Swing – A beautiful and crafty twist to the classic tire swing, the baby horse tire swing breathes new life into your old, worn-out tires.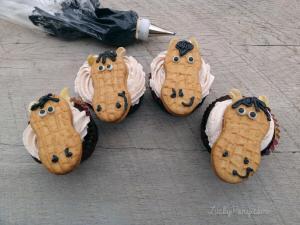 Wacky Baby Horse Cupcakes – These baby horse cupcakes are probably some of the cutest cupcakes around, with their cartoony eyes and darling smiles.
My Little Pony Costume – Creating a costume is much more fun, and depending on the creativity of the persons making it, can look much better than store-bought costumes. This My Little Pony costume not only looks adorable, but is also easy to make. (Note that while technically, ponies aren't horses, they look close enough to merit being a part of this list)
Pool Noodle Hobby Horse – Have some unused pool noodles lying around? This 10-minute craft will breathe new life and purpose into it.
No-Bake Horse Cookies – Can't bake? No problem! These cookies look and taste great, but take only minutes to make.
No-Sew Felt Horse Head Candy Cane Cover – A fun arts and crafts project for the holidays that doesn't require sewing skills!
No-Sew Horse Puppet – Looking for an adorable horse puppet to entertain your kids? This no-sew horse puppet is quick and easy to make, and looks really cute with its googly eyes.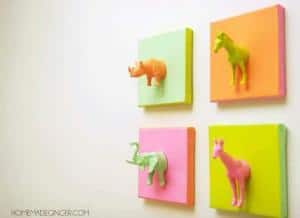 Mini Canvas Art – Perfect for playrooms and bedrooms, this cute mini canvas art can display whichever animal you like, from horses to elephants.
Stuffed Baby Horse Stick – This friendly, plushy companion will stick with your kid for many years to come. Take note, however, that this project will go a lot smoother if you aren't a complete beginner in sewing, as some techniques required could be difficult for beginners.
Horse Head from Thread – The beauty of art is that you can create unexpected masterpieces from even the most mundane materials. This project shows you just how easy it can be to bring a boring pack of threads to life in just minutes!
Horse Stamps – Baby horses look adorable on stationaries, envelopes, etc; this DIY horse stamp kit lets you create custom simple baby horse stamps to help decorate and embellish your other arts and crafts projects with cute baby horses!
Baby Horse Storage Jars – It's one thing to recycle jars, but another to actually make them pleasing to the eye. This project helps you make chic and absolutely gorgeous jars with baby horses on top for that extra bit of charm.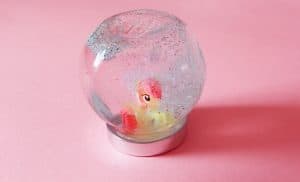 My Little Pony Snow Globe – If you can trust your child around more fragile, glass items, then try this cute DIY snow globe craft out; it doesn't require a whole lot of materials and time to make a snow globe, but the results are spectacular.
Horse Head Shadow Paper Craft – A simple activity to show kids the beauty of shadows and its potential for art, this project is a perfect entry point into silhouette portraits.
Horse Toilet Paper Roll Craft – This is an excellent project in recycled arts and crafts; it's easy, fun to make, and good for the environment.
Paper Bag Horse Craft – Need a puppet but don't have additional threads lying around? This paper bag horse craft needs nothing more than your regular paper lunch bag and your basic art materials like paper, scissors, glue, crayons, etc.
Clay Flower Pot Baby Horse – This is a more advanced project, so if you're looking for a challenging project to take on with your kid, this outside baby horse is a fun project to try.
Gallop on to Your Next Project!
As you can see, the sky's the limit when it comes to making baby horse-inspired arts and crafts projects. Try your hand at some of them and see which ones you enjoy; who knows? Perhaps you'll find a fun new creative tradition in the years to come. Happy DIYing! #justcraftingaround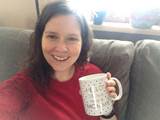 I'm a stay at home mom with our two kids. I really enjoy doing crafts with my kids however, that is typically a challenge with how limited their attention span can be and how messy it gets. So, I'm always looking for ways to make crafting an enjoyable experience and creating fond memory for all of us.