So many books but so little space? No worries! We know that each book is a treasure to you and seeing them covered in dust is frustrating. So here are 12 easy DIY bookshelf ideas for booklovers like you who are looking to start a new DIY project for your home.
---
My Top 12 DIY Bookshelf Ideas
1. The Shelf Chair
If you spend most of your days curling up in bed while reading, then this is perfect for you! You can stack your favorite books in the shelf so you don't have to look for them elsewhere. Could it get any more convenient than this? You might sweat a little by doing this DIY but trust me, better lazy days are ahead! Be sure to check Instructable Bookshelf Chair to know how to do it.
2. The Invisible bookshelf
You've probably seen something like this on Pinterest and wondered how to do it. Well, all you need is just brackets and couple of screws! Prepare the materials and visit this guide to do it!
3. Skaterboy
This shelf is a nice way to spice up a teenager's room. If your child liked skateboarding at one point and decided to drop it all of a sudden (teenagers, am I right?), well, don't worry! You can still use the skateboards for something artsy like this DIY! Build this shelf with this thorough tutorial @ Instructables.com.
4. Skatergirl
Well, what if you actually didn't have a teenager that quit skateboarding? Or what if you actually have a daughter? Or maybe you're just a teenage girl trying to style your room? We got you! This bookshelf is the classy and stylish version of the skaterboy. Safety first then head on to this tutorial and perk up your room!
5. Gravity falls
Gravity, who? This shelf will confuse your guests and will leave them in awe! It's gonna be an instant conversation topic! Turn your world upside down by recreating this DIY @ Instructables.com
6. Wood shelf
Wood you want to crate a shelf? (pun intended). This super simple DIY will save you both money and time. Put together this easy-to-make shelf by following the instructions @ family handyman
7. Ladder Shelves
This shelf just screams AESTHETICS! It's beautiful, timeless and elegant. You've got to have this in your living room! Here are the steps: https://apairandasparediy.com/2014/10/diy-ladder-shelves/
8. Rusty Ladder Shelves
No money? No problem! If you have a rusty, old ladder in the garage, you can easily pull this DIY off. Plus, it will revamp your whole living room! All you need to do is just nail the ladder on the wall! Hard to believe? Not really! Check out the guide – Rusty Ladder Shelves.
9. Crate-ive!
Let's crate more shelves! (more puns, yikes) If you've got tons and tons of books, this shelf is waiting to be made by you! It's very simple, too. Give it a look: Tara Michelle Interiors
10. Metal Basket Shelf
This shelf is one of the simple DIYs you can add to your bedroom. Who knew you could make a cute shelf with just metal locker room basket? Rain On A Tin Roof tells you it's possible! You might want to spray paint it gold or with a color of your choice to make it fancier!
11. Spine Bookshelf
Complete the look of your bedroom with this minimal bookshelf. It saves a lot of space yet adds a lot of taste. Your bedroom will never look dull again! See how pretty they look @ Shades of Blue Interiors.
12. Leather Strap Shelf
This chic yet easy to make shelf is another minimal design by Burkatron.com. I bet you've seen something like this at your local high-end store. You're welcome! You saved yourself a whole lot of money!
---
Which one was the cleverest DIY bookshelf ideas for you? Gather your family and bond over recreating these DIY bookshelf ideas! Have fun and do share your bookshelf by commenting below.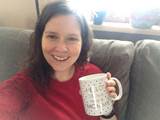 I'm a stay at home mom with our two kids. I really enjoy doing crafts with my kids however, that is typically a challenge with how limited their attention span can be and how messy it gets. So, I'm always looking for ways to make crafting an enjoyable experience and creating fond memory for all of us.