DIY Makeup Vanity: 20 Of The Best Ideas
Last Updated on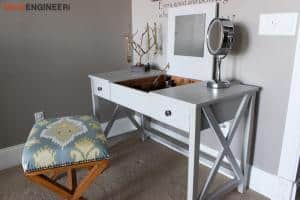 Flip Top Makeup Vanity – Wide enough to become a desk when not in use, this space-saving makeup vanity is great for people who don't have a lot of space to allot for a separate desk and makeup vanity.
Lighted Modern Flip Top Makeup Vanity – This chic modern flip top makeup vanity not only is useful, but is also absolutely stunning with its splendid combination of brown and white.
Large and Simple Makeup Vanity – Sturdy and robust, this makeup vanity will last you for years without taking a lot of time to put together – perfect for the no-nonsense makeup junkie.
Repurposed Sewing Machine Makeup Vanity – Sewing machines are some of the most beautiful rustic pieces of furniture that often just lie around for design nowadays. Now you can breathe life into that sewing machine and turn it into your very own makeup vanity!