The makeup vanity is a beauty junkie's battle station. If you find yourself having to lock yourself in the bathroom every day to do your makeup, a makeup vanity in your bedroom will serve you well. (As an added bonus, your room will almost always smell and look better!).
A beautiful vanity makes putting on makeup much easier, and definitely more fun.
While a good, preassembled makeup vanity could set you back by at least $500, the following DIY makeup vanity ideas are achievable with much less, and in each case the dressing table plans will make construction a breeze.
We've got a lot of different vanities to show you, so whether you're looking for a corner vanity table, a mini vanity desk, or a glass top makeup table, we've got you covered!
---
Budget DIY Makeup Vanity Ideas
This rustic makeup vanity converts into a regular desk when you need it – chic and functional!
Elisha at Pneumatic Addict was trying to come up with something with modern, clean lines – and boy did she knock it out of the park!
Elisha walks you through the process step by step, sharing a ton of pictures and diagrams that make following this plan a breeze.
She also makes use of a Kreig Jig, which has been one of the best purchases I've made for home DIY in the last few years. There's a reason every DIY plan revolves around a Kreig Jig for the last couple of years – they are so versatile, and easily one of the most distinctive drill guides out there.
One of the other things that's super fun about this project is that there is such a huge variety of hairpin legs out there – you can really make this your own, and get the exact style to fit your home.
While you're there, check out some of Elisha's vast array of furniture building plans, as well as her huge catalog of home improvement tutorials.
---
Glass Top Makeup Vanity at Liz Marie
This is one of the makeup vanities you never knew you needed – a way to organize your makeup while still having a bird's eye view of what you need!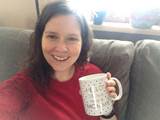 I'm a stay at home mom with our two kids. I really enjoy doing crafts with my kids however, that is typically a challenge with how limited their attention span can be and how messy it gets. So, I'm always looking for ways to make crafting an enjoyable experience and creating fond memory for all of us.