What do you do if you love working on canvas, but also want to improve your skills as a watercolor artist? You might think that you will have to make a compromise somewhere by creating images on ill-suited materials or reverting back to pads of watercolor paper. That doesn't have to be the case because there are canvas products that are suitable for watercolor painting. Some are better than others and you do need to watch out for different traits. But, you can create some great pieces of work with the right product.
| | | |
| --- | --- | --- |
| PHOENIX Blank Cotton Stretched Canvas | Canson Plein Air Watercolor Art Board Pad | Arteza Watercolor Foldable Canvas Pad |
| The cotton material is triple primed | Choice of sizes to suit your needs | Fun way to create and display your watercolor work |
| | | |
In this guide, I want to explore some of the different types of watercolor canvas products, including a few reviews on the best packs available. I also want to look at what makes a canvas suitable for watercolor painting and answer some important questions about watercolor painting on canvas.
7 of the Best Watercolor Canvas Products
1) Natural Art Painting Canvas Watercolor Painting Canvas
There isn't too much to say about this product because it is one of the more basic options in terms of what you get. However, it can pay to start off with something simple and affordable when new to watercolor canvas work. This is a cheap beginner product which does lead to mixed comments. On one side, you have those that are more than happy with the results and would order more in the future. These tend to be the buyers with low expectations, to begin with, that just need a blank surface for experimentation. Others feel that the quality of the cotton and the wooden frame could be better.
Still, this option does check a lot of the right boxes for stretched canvas. The 11 by 14 inch dimensions offer plenty of room for sketching and playing with washes. The cotton has a decent rate of absorbency and is completely acid-free for protection. The fact that it is a dedicated watercolor canvas also means that it should handle different processes well.
Pros:
1) A simple starting point for stretched canvas work
2) A good size for larger experimental pieces
Cons:
1) Mixed comments about the quality of this cheaper product
---
2) PHOENIX Blank Cotton Stretched Canvas Watercolor Artist Painting
Next, we have a product from a company that supplies a lot of different canvas products for various media. Unlike the product above, there is a clear indication of precisely what you get for watercolor work. The cotton material is triple primed to ensure that it is suitable for use with watercolor paint. This is classed as a multi-media canvas, which does have its pros and cons. You can play with more techniques but you probably won't get the same effect with washes or lifting as on watercolor paper.
Another benefit here is that there are plenty of packs in the range to choose from. You aren't stuck buying canvas one after the other. I picked this 11 by 14 inch four-pack because it's the perfect choice for beginners. There is enough space and enough spare canvases without getting overwhelmed. But, there are various sizes out there. They go as small as 5 by 7 inches and as big as 18 by 24 inches. Also, be aware that some of these are 6 packs not 4 packs if you want a little extra to work with.
Pros:
1) A set of quality stretched canvases from a well-known brand
2) A multi-media canvas with priming for some interesting techniques
Cons:
1) Be careful when ordering to make sure you get the size and quantity you need
---
3) U.S. Art Supply 24″ x 36″ Stretched Watercolor Canvas
By comparison, this option from U.S. Art Supply lacks variety. This is a three-pack of 24 by 36 inch canvases with a 1.5 inch profile for hanging. This is a serious piece of material for those that have images in mind and that plan to exhibit or gift the painting. 24 by 36 inches is extreme for a lot of artists, even those comfortable with big bold strokes with acrylic. So, this may be a step too far for beginners using watercolor. Still, it is something to work up to in the future.
You do get a high-quality item here – even if it is a bit large. The material is 100% cotton with the soft cotton feel. There is a good absorbency rate and the triple-primed surface does help to mimic watercolor paper pretty well. The material is also acid-free and stapled to a strong warp-resistant frame. An added bonus here for those worried about the source of the materials is that the wood comes from environmentally managed forests.
Pros:
1) A high-quality surface that is triple-primed and ready to handle washes with ease
2) A strong ethically sourced backing for hanging the finished piece
Cons:
1) The canvases are very big and may not ideal for beginners
---
4) Arteza Stretched Canvas For Watercolors
This is another simple set from a company that has an interesting range of products for watercolor painting. There are just 2 pieces here to get you started and this pair is on the larger side again at 38 by 48 inches. As with the other quality materials in this guide, you get 100% cotton that is primed with Gesso and ready for washes and other techniques. The company claims that you can also use this for acrylic, oils, and pouring techniques.
The only issue here is that I think the frame could be a little better. Some of the frames in the products chosen are thick and strong with support structures. This could be a bar in the middle or a more complex frame. Here, the product seems a little thin and the are comments about the canvas sagging in the middle.
Pros:
1) This is a simple pair of larger canvases for those that want to go a little bigger
2) The material is primed for immediate use with watercolor as well as other paints
Cons:
1) The structure of the frame and lack of support can lead to the product sagging a little
---
5) Canson Plein Air Watercolor Art Board Pad 12×16
The aim of this product is a little different from the stretched canvas as these pieces are a lot more portable. That is why the company calls them their "plein air" boards – it is all about working outside and capturing true-to-life studies of scenes. This is where a smaller size can help as the boards are more portable. This set measures 9 by 12 inches, which is a good size for getting started. There are also 8 by 10 and 12 by 16 boards in the range if you have other ideas in mind. There are also 10 boards in each set, offering a little more value than the option below.
The canvas surface on the boards is meant to be suitable for a range of materials, as more of a multi-media pad. This could be useful if you want to play with watercolor crayons or different paints and inks but don't want to travel with too much. However, there are some comments about the effect of this on watercolor paint, with some mentioning lifting issues. There is also a warning that these are "student-grade" rather than professional.
Pros:
1) A multimedia solution for playing with watercolor and other materials
2) A choice of sizes to suit your needs
Cons:
1) Some issues with the lifting due to the grade of the canvas
---
6) PHOENIX Watercolor Painting Canvas Panels
Next, we go back to Phoenix for an alternative product. If you have used their stretched canvas in the past but need something that doesn't take up so much room, you might benefit from these canvas panels instead. There is a similar level of quality here with the watercolor-ready cotton material backed onto a strong board. This provides a great surface that works well on easels, all without becoming too cumbersome. That surface is also triple-primed to make it as suitable as possible for adding and lifting color to your work.
This specific set of canvas panels is a six-pack with panels measuring 8 by 10 inches. This is a great size for getting started with studies and playing with techniques. You may find that 6 is too low a number for your project, to begin with. However, the company does offer similar sets with different sizes. That way you can opt for something a little bigger when you build confidence and get a better idea of creating compositions.
Pros:
1) Triple primed canvas for better watercolor techniques and experiments
2) A strong and rigid backing that is easier to work with than the pads
Cons:
1) Are six boards enough for your needs?
---
7) Arteza Watercolor Art Paper Foldable Canvas Pad
Finally, I want to highlight something I discovered that artists will either love or hate. The concept here is that you get a series of boards with perforations that then fold up into mini canvases. It is meant to give the illusion of a stretched material on wood – all without the hassle of handling those large pieces or the extra cost. All you need to do is paint your image on the pad as normal, let it dry, then fold the pieces over to create something ready to hang on the wall.
This product is great for those that have the patience to deal with the folds and perforations. It is unclear how easy it would be to tear the material or make other mistakes. You also need to be sure that you don't go over the boundaries when painting where you end up distorting the final image. All, be aware that these acid-free sheets lead to an image of just 5 by 6.6 inches, which is a lot smaller than the average painting. But, there are 20 sheets in the pad.
Pros:
1) A fun alternative way to create and display your watercolor work
2) Plenty of sheets so you can practice the process and create lots of interesting pieces
Cons:
1) Be patient with the folds and dimensions for the best results
---
Which is the Best Watercolor Canvas for your Needs?
In short, there are a couple of different options available for those new to painting with watercolor on canvas. The boards are a good starting point because of the quantity and value. But, there are some great primed canvases in various sizes for those looking to stick with a familiar approach and modern frame-free look. Avoid the canvas pads as this isn't enough of a step up from watercolor paper. You will get more satisfaction and a better learning curve with the boards or stretched canvases.
Watercolor painting is never easy and switching to a watercolor canvas won't make it any easier for novice painters. But, the interesting properties of the primed cotton and the large surface of the best stretched watercolor canvas should make those lessons a lot of fun. Take your time comparing brands, double-check you have the right size, and don't hold back!
Don't Expect A Perfect Painting The First Time
You can't go too wrong with these products if you are just starting out and playing with ideas. There are negative reviews on some about the quality and feel of the material. But, it is better to have an affordable set for experimentation than to waste your money. Besides, it is unlikely that you will get the perfect image the first time. This is a new way of painting – whether you are used to acrylic on canvas or watercolor on paper. Go easy on yourself and have fun trying things out.
---
Watercolor Canvas FAQs
It helps to get more familiar with watercolor canvas and what it does. The following questions and answers may help you decide if watercolor canvas painting is right for you.
Can you do Watercolor on Canvas?
This is the most common question for those new to watercolor. The answer is yes, but there are two options to consider. The first is to get a fairly standard stretched canvas or set of canvas boards and prime the surface so that it is better able to handle the paint. This could be a good idea if you have a certain brand of canvas you love and trust. However, it takes a lot of work to prep the material with enough layers of gesso and absorbent grounds.
A more efficient option is to opt for a canvas product that is primed in advance. This means that the company has taken the best cotton materials and added the same layers and grounds for the same effect. The surface should be ready for you to start working on straight away. An honest product listing online should tell you whether a canvas is primed and offer further details on the material.
Why Can't you Paint with Watercolor Straight Onto a Standard Canvas?
There are some big problems with normal canvases and their levels of absorbency. A good acrylic canvas isn't that absorbent so that there is a strong surface for layers of this thicker paint. Therefore, washes of watercolor won't behave as you need them to on a normal surface.
Why Use Watercolor Canvas and Not Watercolor Paper?
You might wonder why we would seek out an appropriate watercolor canvas when there are so many pads of quality watercolor paper around. One of the main benefits here is that you end up with a frame-free painting. There is an old-fashioned look to watercolors behind glass and wooden frames that may not suit your style. Here, a finished piece can go straight on the wall.
You should also find that there are differences in the surface compared to paper that mean that the paint absorbs a little slower. This makes it easier to move around, and therefore great for playing with wet techniques. Many find that it is also easier to lift the dry paint to deal with issues of mistakes or excessive saturation. But, this can depend on the product.
Do you Need to Fix your Watercolor When Complete?
As mentioned above, a good stretched canvas means no need for restrictive glass. However, that glass does provide a barrier against dirt and damage. Therefore, it is a good idea to varnish the painting for protection. Many find that a light spray varnish is a lot more effective than brushing on something thicker.
Are Watercolor Canvases Expensive?
A final concern here is the cost of these products. This is understandable as a high-quality canvas can be expensive. It all comes down to what you are prepared to pay and your expectations. There are some great "student-level" sets of boards and stretched canvases that are affordable enough for early experimentation in watercolor painting on canvas. It helps to set aside a budget for your project where you factor in the costs of new paint and brushes too. This also helps you make a profit if you ever try and sell a piece.
---
The Different Types of Watercolor Canvas Products
When choosing a watercolor canvas set to get started with this style of painting, you have a few options. This include:
stretched canvases
canvas pads
canvas boards
Perhaps the most common and popular of these is the stretched canvas. This is where you get a large piece of material stretched out across a wooden frame. The number and configuration of the supports will vary. They are easy to use on an easel and easy to hang on a wall when complete. There are many of these primed watercolor canvases listed above.
Canvas pads take us much closer to watercolor paper in that there is no firm support behind the material. You have sheets of primed canvas that are great for playing around and making studies, especially if there are lots of sheets in one pad. But, you also have to think about how to mount and frame a completed piece.
Canvas boards are a nice alternative where you get a more rigid structure with the backing for the canvas. They should be as easy to work on as a canvas and don't take up as much room. You can find some great sets with multiple pieces in various sizes. There is also an oddity of a folding board listed above too.
---
What To Look For In The Best Watercolor Canvas
If you still feel that finding a top watercolor canvas product for your next project is a good idea, there are considerations. Keep the following in mind when comparing any sets.
1) The style
As seen above, the style of the canvas is important as it determines what you will be able to create and how to display finished work. Make sure you get the style that works best for you.
2) The material
The best canvas for watercolor painting is 100% cotton and acid-free. This means a high-end surface that is absorbent, easy to use, and won't degrade too much with time. Quality varies between brands and products. But, a listing should make it clear what materials are in use.
3) The number of pieces
Artists looking to experiment with watercolor painting on canvas will benefit from packs with multiple pieces in them. This is where packs of boards or pads can be advantageous. But, there are also multipacks of stretched canvases out there. It is better to have too many in case of mistakes or if you get lots of ideas.
4) The size of the canvas
Then there is the size of the canvas. There can be a big difference between the largest and smallest in a brands range. So, it helps to check the size guides to see what is available. If you find a company with multiple options, you can always come back when you are ready to try something a little bigger and bolder.
That's a Wrap on Canvases for Watercolor
Hope we prepared you for using a canvas for your next watercolor project. While you're here check out our guide on DIY watercolor Christmas cards here. My toddler an I did a variation of number 7 on our Christmas cards last year. They were fun to make and received great feedback.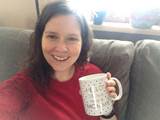 I'm a stay at home mom with our two kids. I really enjoy doing crafts with my kids however, that is typically a challenge with how limited their attention span can be and how messy it gets. So, I'm always looking for ways to make crafting an enjoyable experience and creating fond memory for all of us.