The last year redefined the way we look at home entertainment. Now that most families have to spend more time at home it's become more important to find new ways to pass the time and release our tension. And this is even more important for our teenagers at home. That's why today we'd like to take a look at one of the best hobbies anybody can indulge in: Art.
Craft Crush Felt Succulent

Has all the tools you could need as a beginner

There are tools for multiple styles of painting and drawing

Easy to follow instructions

No cutting or gluing required

Complete art set for only $8

Offers both an artistic afternoon and a completed painting

It's not a demanding art at all, the key lies in patience
Art is a great hobby on countless levels. It is a constructive activity that grants a real sense of accomplishment with every finalized project. It allows for personal expression to a degree almost no other hobby can. And it's something where there is no right or wrong, your take is yours alone and that's always valid.
So with that in mind, today we'd like to share nine great art kits for teens. Each one of these offers a different way to get started on this hobby, and they might just be the first step into a long relationship with art. So let's get started and discover the world of art together.
Perhaps the most traditional art set in this entire list, but it's here for good reason. For roughly $30 the Vigorfun Deluxe Art Set just packs everything you could ever ask in an art set. To begin with, the set is really large, there are 83 pieces overall in the box; not to mention the storage box itself. When opened the box has 4 different compartments and a place for every single tool, which makes storage a snap.
Overall this set brings 24 paints, 24 oil pastels, 12 watercolors, and it's all rounded up with brushes, pencils, and other accessories. That's a little bit of everything and while most teens won't be into all the painting styles, they are bound to like one. So this set is great in the sense that it gives them tools for what they already like, and room to explore new techniques at their own pace. The only thing lacking in this kit are some ideas to start you off on your painting journey. If you go this route and need some inspiration, check out our guide on painting ideas for beginners on canvas here.
Pros:
Has all the tools you could need as a beginner
Every paint or pencil comes in a fair size, these are substantial tools that will last various projects
It's perfect as an art station, everything has a specific place in the box
There are tools for multiple styles of painting and drawing
Cons:
The box isn't as premium as it looks, it's sturdy but it can get stuck or scratched from time to time
No instructions or guides, so owners must learn every technique on their own
---
Craft-Tastic's String Art Set is an interesting entry set into the world of string art. The set itself is relatively simple with 3 unique patterns, and the required string, pins, and boards to complete them. However, this simplicity plays a big role in the appeal. String art is tridimensional so the finished result ends up being eye catching, and it's not a demanding set when it comes to skill. Each pattern just comes down to having patience and twisting a lot of string, which ends up being immersive for teens who love to keep their hands busy.
Ultimately some art kits for teens are meant for beginners, a set like this is more a tool to introduce teens into this unique art, rather than being a set to last for years. But it does present the hobby in a fun way and is easy to use, so if your child gets invested it's really easy to simply buy more strings and pins at a craft store.
Pros:
Offers 3 projects right out of the box
Safe and simple to use
The resulting art looks layered and bright
Great for teens who want to keep their hands busy
It's a great starting point for the hobby
Cons:
The string might not be enough for all 3 designs
---
Accessories have a unique advantage over other kinds of crafts and arts in the sense that they are always relevant regardless of your age. Boys might outgrow superheroes or dinosaurs, but girls will continue to be invested in bracelets well into adulthood. The Craft Crush Bracelet Box is a smart one in that sense, as it works on all age ranges.
The set includes materials and instructions for 8 unique bracelet designs, and the instructions are simple to follow and generally safe. The most complex step is cutting thread so it's perfect for teens. Do note however, that the set is meant to build the 8 specific designs you see on the box, it's not meant to be that customizable. But, the clear instructions and straightforward assembly make it a winner nonetheless.
Pros:
It's a great gift for a wide range of ages
The bracelets have very distinct styles, so there's bound to be at least one bracelet for each taste
It's a great group project and an opportunity to bond with parents
You get 8 functional bracelets out of it, so it offers value both as an art set and as an accessory
Cons:
There are only enough beads and thread for the 8 designs listed in the box
---
The DDMY 3D Coloring Puzzle is a brilliant combination of coloring books and 3D puzzles. You get 6 unique animal models to build, but on top of that, each one is also a coloring project. This is interesting because it appeals to two separate arts and makes this project more time-intensive. Coloring is the longest part thanks to all the pieces, and the set gives you 24 markers so teens can go wild with the sheets. The builds themselves aren't very complex, but it might take a while to identify which piece is which. Our recommendation is to paint the pieces while they are still in the sheet for an easier build process.
Pros:
Combines two unique art hobbies in one
Has 24 markers in a multitude of colors
There are 6 distinct builds so there's a lot of play value in the set
The figures make great display pieces once they are complete
Cons:
The pieces aren't identified outside of the instruction manual
---
Is there a plant or flower lover in your house? Want to give them a gift that lasts forever and requires no maintenance? Then this is the set for that teen in your life.
The Felt Succulent kit comes with enough pieces to make 18 separate succulents in various colors. And since it also comes with chalk for blushing and detailing the final result will stand out at first glance. However, this is one project where patience is key. The parts are small and there are a lot of them. Making the perfect succulent will take some trial and error and a lot of rerolling. But once it is done the final results is breathtaking, and completely beats artificial succulents in the market.
Pros:
No cutting is required
Instructions are clear and simple to follow
Comes with rubber bands so you can complete all succulents without any glue
Beautiful selection of colors
The chalk brings the detailing to another level
Cons:
Due to the size of the parts, this set requires a lot of patience
---
One of the most common challenges when it comes to painting is learning how to apply colors. Painting is a hobby most people enjoy, but knowing where to apply each color and shade is a challenge. And that's what makes the Abeuty Paint By Number sets so interesting.
Each set comes with 3 brushes, acrylic paints, and an art canvas with a printed design. However, the canvas also has numbers that correspond to each can of paint. This simplifies the process so much and allows teens to make great paintings without much effort. Each Abeuty Set grants teens the satisfaction of making a quality painting with their own hands, and that gratification opens the doors to future projects and challenges.
This is a painting made simple, and it's so straightforward that anybody can try it out. So as far as art kits for teens go, it's hard to beat what Abeauty offers.
Pros:
It's the simplest way to paint in the market
Both the canvas and paints are high-quality, so the results are great
There are enough designs for all preferences
The instructions are as intuitive as they can get
Cons:
If you don't measure your paints you might run out ahead of time
---
Diamond beads have been present in toys and crafts for a long time, but the MXJSUA Diamond Painting Kits raise the bar when it comes to the idea. Based on popular photographs and paintings each set allows teens to build their version of these designs with beads. Each set comes with a canvas, diamond beads, a special pen, tray, and cube clay as an adhesive. The cube clay is a particularly interesting addition as this means the set doesn't need water or glue, which avoids any potential spills or messes.
The process is overall very simple and mostly comes down to patience. You pick each bead and apply it to the corresponding number, rinse and repeat once you are done. As far as art kits for teens go this set is particularly good for teens who were into brands like LEGO when they were growing up due to the similar building pattern. But the artistic result might be enough to turn over even those who aren't that interested in building sets.
Pros:
It's not a demanding art at all, the key lies in patience and not in skill
It's a complete art set for only $8
It offers both an artistic afternoon and a completed painting
Doesn't require any water or external adhesives
It's a great activity for family bonding
Cons:
It's going to be a long process, so it's not for everybody
---
Pencil art is a popular pick for teens who are becoming more detail-oriented but haven't made the jump to digital or ink yet. And the Bellofy Sketching Kit has everything a pencil aficionado could ask for. There are 72 unique pencils that include graphite, charcoals, colors, and more. If that wasn't enough, the accessory selection is just as impressive. The blending tips allow teens to try out advanced techniques while the sharpener and pencil extender adds comfort. And there's also a 100-page sketchbook, just in case the value isn't enough. Bellofy offers the definitive set for that sketch lover in your life.
Pros:
72 unique pencils in a single package
Comes with 10 functional accessories
The included sketchbook is as high-quality as everything else
The case is simple, elegant, and able to store everything except for the book
Cons:
No instructions or ideas, it's all up to the owner
---
Mandalas are popular across all ages and countries by now, but there's much more to them than coloring books. The Insnug Mandala Painting Kit does away with books and instead offers a set of stencils that allow you to make as many mandalas as you want. The set comes with 2 large stencils for that traditional experience and 20 smaller ones so you can make smaller patterns or combine them into your creation.
You can use these stencils for coloring as any other mandalas, but the real fun comes into play with all the painting possibilities. There are 10 Dotting Tools that allow you to make mandalas with depth, 6 paintbrushes if you prefer to paint instead of coloring and even a sticker sheet. The idea behind this set is to allow people to add their own mandalas to anything. And that makes it a great gift for teens who are already into coloring, as it gives them more of the same pattern and also allows them to do much more with mandalas.
Pros:
There are clear and detailed instructions on how to use the kit
Offers countless designs that can be combined as well
It allows teens to add mandalas on almost any surface
It's a long-lasting kit that comes with all the tools a mandala fan could need in the long run
Cons:
While it comes with brushes it doesn't include paint for them
That's a Wrap
I was really impressed with all the unique art kits for teens available. Hope you found one that would spark the interest of your teen. Not included in these ideas were any candle making kits, which are always a fun bounding idea too.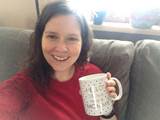 I'm a stay at home mom with our two kids. I really enjoy doing crafts with my kids however, that is typically a challenge with how limited their attention span can be and how messy it gets. So, I'm always looking for ways to make crafting an enjoyable experience and creating fond memory for all of us.