Cotton Warp Yarn Thread by Paper Farm

Premium quality warp thread for superior quality crafts.

Extra tough and resistant to tearing and stretching.

Thread warp is both fade and fray resistant.

Fisherman's Wool from Lion Brand

Made of naturally obtained pure virgin oil.

Ideal for making warmer clothing.

Clothes made of this yarn can be machine washed or laundered.

Linen Yarn by Lusie's Linen

Made from 100 percent linen.

Handspun by experts for superior quality.

Can be machine or hand washed.

Can be used for warp and weft while weaving.

Light and flexible and yet very sturdy and durable.
Weaving dates back to prehistoric times. This art of weaving which gradually became a necessity came into existence almost about 30,000 years ago when human beings learned how to develop strings by twisting plant fibers together. Humans learned how to weave reed stalks, straw, and other materials easily into baskets. From then on weaving has gradually developed to what it is today.
Weaving in simple terms is the process by which the threads are interlocked with each other in such a way that it forms a desired piece of cloth. Although the craft has gone through many updates from time to time, the fundamental principles however remained the same. So, the modern textile mills simply do what men used to do thousands of years ago but with increased efficiencies and speeds.
In the process of weaving, Yarns of threads are used and these threads are difficult to be woven by hand as the direction of these threads is difficult to manage. As such, a device known as the loom was invented to weave clothes using yarns of thread. The loom comprises a frame in which a thread is extended and with rapid movements of the loom the threads are spun slowly into a cloth. This fundamental principle or function of weaving remained unchanged. What changed is the activity – changed from a necessary household activity to an industry with mechanical looms, in textile mills where these looms started getting bigger and more complex.
Most of the weaving in today's world is done in textile mills. If however, you are someone with that creative mind and acumen who likes to weave their own clothes then selecting the best yarn for weaving becomes indispensable.
Let us walk you through some of the best yarn for weaving.
1. Cotton Warp Yarn Thread by Paper Farm
This is one of the top-rated yarn threads that is one of the best yarns for weaving. This premium Cotton Warp is made from pure 100 percent cotton that brings the vibrance of deep colors with the right balance of softness and strength. With this yarn, you can set your creativity free. Let your imaginations run wild, but ensure you have the right kind of tightly spun yarn that lets you create beautiful projects with ease.
This cotton yarn is finer than most of the others in the market. Users state that it is strong and leaves no knots whatsoever. Some users mention that the warp is consistent with its color whatsoever. Whether you are a beginner, on your first weaving project, or a pro who loves to design and weave your own clothes, cotton is best suited for all your projects.
This cotton warp is known for its unparalleled quality. It provides you with the same level of durability and strength that you would get with any other thicker gauge yarn. Paper Farm cotton warp is spun in a compact thread of 8/4. The thread looks similar to a standard yarn but is more tightly wound than others with the same gauge. This warp thread stretches less thereby ensures that your crafts and clothes you make do not lose shape.
Pros:
Premium quality warp thread for superior quality crafts.
Highly durable thread that is made to last long.
Extra tough and resistant to tearing and stretching.
Tightly spun warp threads suitable for all projects.
Consistent orange color with 800 yards of yarn of best quality.
Thread warp is both fade and fray resistant.
Fit for use by weavers of all skill levels.
Cons:
Knots may be there with some yarn samples.
Not suitable for weaving carpets or other projects.
---
2. Fisherman's Wool from Lion Brand
Rated 4.7 on Amazon, this is yet another top-rated yarn that is ideal for weaving woolen clothes. The yarn is made as a blend of natural lanolin oil with 78 percent pure virgin wool. This one is ideal for all your knitting requirements and crocheting projects. This woolen yarn is ideal for fisherman and ski sweaters, scarves, hats, throws, etc. This yarn is easy to work with. You can easily dye this yarn and it is good for felting.
Coming to the feel of the yarn, it is soft with the right amount of warmth needed for any knitting project. As such it is ideal for knitting woolen clothing and clothes that need to be warm. While being warm, the yarn does not lose its soft and nice feel. Anything made from this yarn may be easily machine washed in laundry and the use of soap, detergent, etc does not damage the fabric. You may also use a little bit of hand wash for woolens knit with this yarn and that may not cause any harm to the yarn.
Fisherman's wool is known for its properties that make it fit for woolens and thermal ware. This yarn has the right amount of fiber content that is required for any projects that need warm clothes to be made. For warm clothes, fisherman's wool is the best. When it comes to texture, fisherman's wool has a certain texture that lends a definite character and pattern to your knitting or weaving project. And when it comes to weight, this one is not that heavy as well. It is a perfect blend of all qualities you need for your project requiring warm clothes.
Pros:
Made of naturally obtained pure virgin oil.
Ideal for making warmer clothing.
Clothes made of this yarn can be machine washed or laundered.
Easy to knit and handle.
Not that heavy.
Cons:
May feel rough for people who like smooth clothing.
May feel scratchy to some.
---
3. Linen Yarn by Lusie's Linen
This is a 100 percent linen yarn that comes in multiple colors and in 1,2,3,4, or 4 ply. The best part about this linen is the versatility of its use. This yarn can be used for any project you want to take up. Manufactured by one of the leading linen makers in Northern Europe, this company is known to produce premium quality linen for all linen lovers all over the world.
Coming to the properties of this yarn, this yarn is made out of 100 percent pure flax linen. The best part about this yarn is the fact that this can be used for various projects such as weaving, knitting, embroidery, crocheting, sewing, lace, etc. When weaving you can use this yarn for achieving the desired texture and pattern. You can use it for warp and weft.
You can either machine wash fabrics and crafts spun out of this linen or wash them with hands. Make sure the water temperature should not be beyond 105�F (40�C) or the fabric may start to lose its property. Tumble dry and do not bleach or dry clean. Available in different ply which is as follows:
1 ply – 10,300 yards (9450 m)
2 ply – 5000 yards (4650 m)
3 ply – 3450 yards (3150 m)
4 ply – 2600 yards (2400 m)
Handspun in Lithuania by highly experienced and devoted masters, this linen yarn is sure to make your projects come alive.
Pros:
Made from 100 percent linen.
Can be used in all kinds of projects.
Handspun by experts for superior quality.
Can be machine or hand washed.
Can be used for warp and weft while weaving.
Light and flexible and yet very sturdy and durable.
Cons:
Not good to work with for beginners.
May be damaged if used with water above 105�F (40�C)
---
4. Lily Sugar'n Cream Cotton Yarn by Lily Store
Rated 4.8 out of 5 in Amazon, this one is a hot favorite amongst weavers and knitting enthusiasts. This yarn is 100 percent homegrown, that is it is made from cotton grown within the US. This is a versatile yarn that is suitable for all projects big and small but is especially good for small projects such as potholders, dishcloths, home decor, etc. This yarn is available in a variety of colors and hues that make it best for all requirements you may have.
This yarn is a naturally soft, and highly absorbent cotton yarn that is available in various types of economical sizes. You can use it for your weaving, knitting, crocheting, and other occasional weaving work for small requirements. The color options include brights, neutrals, pastels, that make it suitable for everything starting from dishcloths to crochets to Afghans.
The cloths spun out of these yarns are easily washable and can be dried in the sun easily. There is no special care needed for anything you make with this yarn.
Pros:
Made from 100 percent homegrown pure cotton.
Light and naturally occurring, highly absorbent cloth.
Available in a variety of colors and hues.
Machine or hand washable.
Comes in 14 oz that is good enough for a mini production line.
Cons:
There may be knots and sags in the cone.
Some may have inconsistent color
---
5. Super Saver Yarn by Red Heart
This is one of the best acrylic yarns that you can get for your knitting and weaving projects. It is made out of 100 percent acrylic material. This is a solid yarn with 364 yards length. Available in plenty of solid and other patterns, these are ideal for all projects where you need pure solids or a blend of everything.
There are various patterns of the yarn that you get starting from Solids, Fair Isle, Ombre, Stripes, Pooling, or Chunky. You get one for all your needs.
The care needed is the standard machine and hand wash at a max temperature of 104�F (40�C). Not to be bleached, tumble dried, the fabrics should not be ironed but can be dry cleaned. With too much to offer this product is top-rated on Amazon with an overall rating of 4.7 out of 5.
Pros:
Available in various patterns.
Suitable for crochets, afghans, etc.
Good value for money.
Cons:
May be thinner than other yarns.
May have Inconsistent color patches.
---
Selecting the Best Material for Weaving Yarn
If you want the best yarn for weaving, you need to first look for the material that will best suit your weaving needs. There are various types of weaving material and each one of them has its own properties that make them worth using
If you are just starting with weaving, cotton is the best material to work with. Cotton is obtained from plant cellulose fiber and in fact, has the right kind of texture, which makes it the best choice for weaving. Cotton as a fabric is soft, breathable, absorbent, durable, easy to use. Cotton has a lot of advantages due to its properties. It can easily take abrasion and is resistant to any tension that may arise while working on the loom and can be worked on without snapping. Cotton is best for weaving for towels, throws, scarves, light blankets, summer wraps, etc. It is also one of the best for dishcloths as well.
The next material that also works well while weaving is wool. Wool is known for its stretchable qualities that make it excellent for many projects that you may take up. Elasticity is a quality that makes wool excellent for weaving stretchable woolens and other clothing that needs to be made that way. Wool is the best yarn for weaving rugs, blankets, winter scarves, as they are known for their warmth and their durability.
Silk is also a magnificent material to work with. However, as is known silk can get pretty slippery. Obtained from animal protein fiber such as silkworms, silk has a brilliant shine and luster and can be one of the luxury materials that people use. Silk, therefore, is difficult to work with and may not be good for anyone who is a beginner. This yarn is best for professional weavers who can weave exclusively stylish silk fabrics such as throws, special scarves, etc.
Some other naturally occurring materials that are spun into yarns are Linen, Hemp, Rayon, Tencel & Soy Bamboo, etc. You can also opt for synthetic materials such as polyester, nylon, and acrylic. So, you have many materials to choose from. Based on your requirement and the project requirements, you can choose the material that you would like to work with.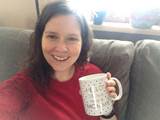 I'm a stay at home mom with our two kids. I really enjoy doing crafts with my kids however, that is typically a challenge with how limited their attention span can be and how messy it gets. So, I'm always looking for ways to make crafting an enjoyable experience and creating fond memory for all of us.