Many people complain these days that there is no such thing as letter writing or penmanship anymore. Either we fail to learn cursive, give up on it in adulthood, or develop sloppy writing in a hurry to take notes. We may spend more time typing than writing by hand. But, that doesn't mean that we can't relearn old skills and develop new ones by taking up calligraphy. In this guide, you will learn a little more about calligraphy paper in various forms. I hope that somewhere in here you learn something new.
| | | |
| --- | --- | --- |
| Bargain Paradise Vintage Paper and Envelopes | MEGREZ Chinese Japanese Calligraphy Xuan Rice Paper | Juvale Calligraphy Paper Pad |
| Set has 60 sheets with matching envelopes | Xuan rice paper available in: ripe, raw, or semi-ripe | Sheets are also 140gsm to hold the ink |
| | | |
---
Why do you Need Specific Calligraphy Paper Rather than Standard Paper?
You can write in a stylized way on any paper with the right pen, once you have grasped the basics of creating the different fonts. But, a lot of paper is too thin to hold calligraphy ink without it bleeding. It may also be too rough for a smooth stroke. That is why it is best to use specific pads of calligraphy paper when learning this skill. There are also different types of paper for Chinese and Japanese writing.
---
What Sort of Calligraphy Paper are you Looking for?
It isn't just the case here that there is a special paper that you can get to improve your calligraphy skills. There are also various types of calligraphy paper depend on your chosen style or experience level. With that in mind, I want to discuss some different products in three different categories. They are:
1) The best calligraphy paper for beginners
2) The best calligraphy paper for letter writing
3) The best calligraphy paper for Chinese or Japanese calligraphy
There are different features and considerations to keep in mind for each style, so we will go over some of those as we go through the options. Let's start with the paper for beginners.
---
The Best Calligraphy Paper for Beginners
We all have to start somewhere and practice makes perfect. So, it helps to start your calligraphy journey with a pad of gridded paper. The grids provide guidance on where to make your marks and keep the letters in neat rows. Just be aware that some brands try and sell standard gridded or squared paper as calligraphy paper. Instead, you want the grids with the diagonal line or the rows with slanted lines.
1) Calligraphy Paper: Hand Lettering Calligraphy Book
The first option for those that are complete novices is this book of practice sheets. The pattern on the gridded paper is perfect for learning how to create various letters in different styles and to work on strokes and flourishes. With 160 sheets in the book, there is plenty of room to practice over and over again. However, where you do have to watch out for here is that this is best used as a practice exercise with pencil or ballpoint pen. Ink can bleed through so t is best to move on to a different paper when you finally confident enough to try with a real calligraphy pen.
---
2) Juvale Calligraphy Paper Pad
Another great option is this set with a different approach to the grid system. Here, there are narrow rows of lines, like more traditional lined paper, but with the slants marked out. It is designed to help you write cursive with more of an Italic slant. This could be more practical, especially as the pads are A5-sized for portability. The sheets are also 140gsm to hold the ink. This set has two pads in the set for added value, with a total of 100 sheets.
---
3) Jamie Penn 150 Large Sheet Pad
Ignore the fact that the cover says that you can "impove" your skill. This next option blends elements of the two previous options. There is the grid design with the slanted lines for better cursive writing and there are the larger sheets to work on. This should allow for a little more space for beginners that want to work on larger lettering. The book has 150 sheets in total and while there are mixed comments about the quality, some find that it holds the ink well without much bleeding through.
---
The Best Calligraphy Paper for Letter Writing
Once you get more confident in your work and want to create a better flow of words, you could turn to letter writing. Maybe you can exchange letters with a pen pal that has the same interest. There are some beautiful sets of paper out there that compliment calligraphy work brilliantly. Look to see how many designs and sheets you get for your money, and if there are any extra features of worth.
1) Bargain Paradise Vintage Paper and Envelopes
I love the look of these vintage papers, especially for calligraphy. With this set you get 60 sheets and 60 matching envelopes that are 4 X 8.7 inches. The vintage paper is 100 GSM for durability and is double sided, the envelopes are made of thick 120 GSM paper which is ideal for calligraphy. User report the calligraphy ink dries quickly and are able to write on both sides without issues. Bargain Paradise does have a 100% satisfaction guarantee so, if you do have any issues, even with one sheet they'll be happy to take your return or exchange.
---
2) Kidepoch Antique Stationary Paper and Envelopes Set
This next set is similar regarding its antique look, but there does appear to be greater variation in the colors on offer. Some have warmer tones and others are more distressed around the edges. There are 6 styles over 48 pieces. What I love about this one is that there are also 24 matching envelopes and stickers. This lets you complete the letter-writing experience and make the piece even more special for the recipient.
---
3) ELTNEGSA Stationary Paper
To be honest with this one, I'm not sure how well the paper will take the ink that you choose to use. But, I can see why there are so many happy buyers that love using this set. The designs on the paper are stunning with prints of Chinese ink paintings. This means they are great not just for those looking to write stylish letters, but those that practice Chinese characters. There are 10 designs in total over 60 sheets. There are also matching envelopes to finish the set.
---
The Best Calligraphy Paper for Chinese or Japanese Calligraphy
Finally, we have a different type of paper for Chinese and Japanese work. It is great fun learning how to recreate the beautiful Kanji characters of the Japanese language, and even more rewarding on authentic paper. There are packs of Xuan rice paper and Sumi bamboo paper that have the texture and absorbency needed. They are smoother for cleaner strokes with the ink. Look out for raw paper that hasn't been treated if you want a more natural look.
1) MEGREZ Chinese Japanese Calligraphy Xuan Rice Paper
This first option is a classic option in Xuan rice paper. The company has three different styles available: ripe, raw, or semi-ripe. This means you can choose the look and finish to suit your preference. There are also various sizes available. With 100 sheets in total, you should be able to express yourself with ease and try different characters again and again. The smooth feel and absorbency also allow for some nice results.
---
2) Artecho Chinese Calligraphy Paper
This next pack of Sumi paper is one that will appeal to a lot of first-timers because it offers the same guidance of those practice pads above. I like that the company has tried to blend both styles so well and hasn't compromised on the quality of the Sumi paper. There is still a nice smooth finish to the material for better strokes, but you also get the traditional calligraphy grid lines to offer a little uniformity in size and shape. This is a great way to practice your form before getting more creative with the raw version of the product.
---
3) DAISO Japanese Calligraphy Paper
Finally, there is this pack of paper from Daiso. As this is a Japanese import item, it has that sense of authenticity that consumers are after. However, there is also more of a Western approach with the presentation of the sheets of paper. You get 100 sheets per pack and can purchase multiple packs at once. You do have to be careful which seller you choose, as some buyers have received theirs folded. But, the basic paper is good for those getting started.
---
Which is the Best Calligraphy Paper for you?
In short, you have three main options here. If you have never attempted anything like this before then you should start with the gridded pads of practice paper. Stick with these until you are happy to move on to a new type of paper. You can find similar paper without the grids or move onto the stationary for letter writing, if this is your ultimate goal. Of course, if you are more interested in the Japanese or Chinese style, you can start with the gridded Sumi or Xuan paper and move on to quality raw paper later on. Whichever you choose, be patient with yourself, learn from any mistakes, and have fun.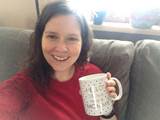 I'm a stay at home mom with our two kids. I really enjoy doing crafts with my kids however, that is typically a challenge with how limited their attention span can be and how messy it gets. So, I'm always looking for ways to make crafting an enjoyable experience and creating fond memory for all of us.