For many of us, the sea is a place of peace and serenity, unperturbed by the worries and preoccupations of the city life. Take a piece of the sea with you with these inexpensive and simple seashell necklace crafts. While you are at it, maybe you might want to create a DIY Make up Vanity as well.
---
Top 20 Seashell Necklace Crafts
Shimmer Seashell Necklace – Showcase your favorite color with this stunning seashell necklace glittered and painted with nail polish.
---
2. Simple Waxed Cord Necklace – This necklace is highly customizable and extremely comfortable to wear, especially if you don't like metallic necklaces.
---
3. Simple Seashell Necklace – Simple, understated elegance at a fraction of the time and cost, this necklace is great for anyone looking for an easy DIY project
---
4. Pearl In Shell Necklace – Pearl In Shell necklaces are charming, but often command a rather high price tag. Fortunately, you can actually make them yourself easily!
---
5. Cowrie Shell Flower Necklace – Who says only flowers can bloom? This beautiful cowrie shell flower necklace has five tiny cowrie shells pieced together like a flower and looks absolutely stunning.
---
6. Seashell Flower Necklace – Exquisite is an understatement with this fabulous tropical seashell flower necklace – perfect as an accessory to a floral or beach-inspired outfit.
---
7. Ursula Seashell Necklace – Need a dash of magic for your wardrobe? This spellbinding little necklace, inspired by the great villainess of The Little Mermaid, looks enchanting and is easy to make.
---
8. Hawaiian Kahelelani Shell Necklace – The shells on these necklaces are really tiny and can only be found at certain beaches of Hawaii. With hard work and a little patience, however, this elegant and chic necklace is both rewarding and fun to make.
---
9. Abalone Shell Necklace – This fetching abalone necklace adds just the right dash of color to your wardrobe.
---
10. Oyster Shell Necklace – While most people would usually go for the luster of the pearl than the asymmetric bumps and ridges of the oyster shell, this project showcases the surprising potential for the ordinary oyster shell to look ornate and classy.
---
11. Mermaid Necklace – This dashing seashell necklaces looks fun and would be a great craft project for kids. From the start where they find the shells to being able to wear the final project.
---
12. Leather Cord Seashell Necklaces – Sometimes the broken items are the ones we find the most uses for, and that applies especially to seashells with holes in them. This DIY project is prefect for the imperfect seashells collected at the beach.
---
13. Falling Water Necklace – With pearls, shells, and beautiful accent beads, this heavily embellished necklace is reminiscent of the ocean waves crashing against the shoreline.
---
14. Spiral Hemp Cowrie Necklace – Looking for a DIY project that takes your knotting skills to the next level? This necklace is both classy and ornate – perfect for any outfit.
---
15. Silver Leaf Shell Necklace – Sometimes, regular seashells just won't cut it if you need something a bit more classy to wear, especially in more formal settings. This necklace, with just the right splash of silver finish, can turn any casual necklace into a glamorous, classy necklace.
---
16. Charmed Seashell Necklace – Need a splash of color in your wardrobe? This fun little necklace has a playful mix of charms and brightly painted seashells – perfect for any summer outfit.
---
17. Gold Seashell Necklace – If you're a fan of black, classy wardrobes, this gorgeous gold seashell necklace is the perfect addition, with its balance of simplicity and luxury.
---
18. Seashell Statement Necklace – Nothing says "I love the beach" better than a necklace heavily adorned with pearls and shells clinking and clanking with every step.
---
19. Seashell Necklaces for Kids – For kids who want to take a piece of the sea with them, this fun, brightly colored necklace is a great project to try.
---
20. Simple Shell Choker – This simple shell choker looks great and fits snuggly around your neck.
---
Give a Seashell Necklace a Try Today!
There's no limit to what you can do with seashells; with so many variations on shape and size, no two necklaces will be the same! Feel free to experiment with the shells you find, and create your own variations to suit your personality and wardrobe; the sea is the limit.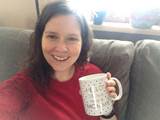 I'm a stay at home mom with our two kids. I really enjoy doing crafts with my kids however, that is typically a challenge with how limited their attention span can be and how messy it gets. So, I'm always looking for ways to make crafting an enjoyable experience and creating fond memory for all of us.