At some point in your journey into quilt-making, you will find that the kitchen table just isn't suitable. You need a more user-friendly surface with enough space to sew, cut fabric, play with designs, and hold all your equipment. Below are some recommendations for 9 of the best quilting tables and cabinets to improve your experience.
Arrow Laverne & Shirley Sewing and Quilting Cabinet with Lift and Caddy

TUFFIOM 60-Inch Sewing Craft Table

Best Choice Products Folding Sewing Table

Hydraulic lift for the sewing machine shelf

Cabinet sits under the desk has an extension to become a side table

Ergonomic design with 6 height position options
What To Look for In the Best Quilting Tables?
Consider the following points when making your choice to get the most practical solution for your craft room.
The dimensions– Is the table long and deep enough to handle your material and tools with ease?
Do you have enough room at home? Large tables need plenty of space. A folding table or cabinet design could work better.
Is it portable? If you are folding it up for storage, can you also wheel it away on casters?
Are there enough storage features? Some basic tables have a couple of shelves. More complex cabinets have drawers, spool pegs, hooks, and more.
Does the sewing machine have its own shelf? A separate lower shelf can make it easier to work on large quilts. High-end tables even have power-lift shelves.
What is the tabletop surface like? A smooth surface means you won't snag your fabric and can wipe it down for cleaning more easily. This is essential for a quilting cutting table.
Does it look nice? If this is a large piece of permanent furniture, an attractive design helps. Some are more boring than others. Look for different effects like wood veneers.
Arrow Quilting Tables
I want to start by talking about a company called Arrow. This is a brand you will either love or hate – and not just because the prices are a little on the steep side. A lot of their top sewing furniture is over $1000 so, it is an investment piece for experienced quilters and those working for profit. There is also an old-fashioned style that won't be to all tastes. Still, they are large, solid items with great storage solutions and plenty of room in which to work. Check out the three Arrow tables below and see if they are suitable or not.
Let's start with this quirkily named table with a pull-out cabinet as part of the design. The cabinet sits under the desk has an extension to become a practical side table. The design will divide opinion but it has plenty of space at 43.4 inches long when extended. There is also a nice hydraulic lift for the sewing machine shelf to make it more accessible.
Pros:
1) Lots of space to work with
2) The hydraulic lift on the shelf
Cons:
1) Won't suit all tastes
---
By comparison, this model is more appealing because of its storage solutions. This is more of a traditional fold-out cabinet than some other products in the line, which works in its favor. You can open it out to reveal large drawers and trays, as well as 33 spool holders. You also get a similar airlift shelf for the sewing machine and an easy-clean surface.
Pros:
1) The attractive design with the teak effect
2) The vast amount of storage
Cons:
1) Too much of a large wooden box for small spaces
---
Bertha is a beast of a table with one of the largest work areas available. Once opened up with the shelves on display and room to get to work, you have just over 84 inches across and nearly 40 inches deep. It is built for holding quilts with a well-designed leaf at the back. It is also an interesting retro design with the bonus of 8 storage trays.
Pros:
1) The massive work area
2) The retro design
Cons:
1) Less storage than other options
---
Multifunctional Computer Desk Sewing Tables
If you think that the Arrow models above are too much – both in price and impact – that's understandable. A different approach is to look at the best multifunctional quilting tables instead. These double up as craft and workstations so you get more use out of them. A key feature to look for is the lower shelf as this is great for both sewing machines and keyboards. It creates a level surface from the table to the needle. The designs are also more minimalist and contemporary to suit more homes. These three 2-in-1 sewing desks could work for you.
I like this product because it is such a multifunctional option with no unnecessary features. You get a nice smooth work surface that is 50.75 inches long, an adjustable shelf for a machine or keyboard, a long shelf near the bottom for equipment, and some drawers at the side. The white and grey design is clean and works as a permanent piece of furniture.
Pros:
1) Large drawers to keep sewing materials safe
2) A strong steel frame for durability
Cons:
1) Not the most adjustable table
---
Table could not be displayed.
This 2-in-1 sewing and computer desk is more adjustable with a choice of six positions for the drop-down platform. This makes the table more adaptable for different tasks. There is another wipe-clean surface of a similar size – 57.09 inches long – that should be strong enough to handle regular use. I also think that this is one of the more attractive options with the design of the black shelving and drawers.
Pros:
1) A good looking option for various needs
2) A more adjustable shelf
Cons:
1) More for sewing than quilting
---
To be honest, many of these products have the same sort of features with slightly different designs or arrangements of storage options. If you want a multifunctional model, you can't go too wrong. Still, this one is a little longer at 60 inches. It has ergonomic design with 6 height position options and spacious drawers for sewing and other crafting items.
Pros:
1)A little longer than the other two option
2) Just as adaptable with similar storage
Cons:
1) Doesn't have the same sense of style
---
Simple Crafting Areas for Quilting
Finally, there are some alternative designs for those short on space. The best folding sewing cabinets aren't always the best approach for quilting, but they are better than working at a dining table. You can find some items that fold out into longer workstations, which exposes the storage within. These are cute and look great at all times. There are also some folding quilting cutting tables that are less practical but, great for storage. The following products could help in the right situation.
The first of these more simplistic products is actually my favorite. It isn't anywhere near as multifunctional as a sewing desk. But the smooth adaptable surface is perfect for measuring and cutting fabric. It is also sturdy enough to hold a machine if you want it too. You have two folding side pieces on this table that create a 58 by 36 tabletop at their full extension. You can then fold them down and wheel the table away on lockable casters when no longer needed.
Pros:
1) The shelf design is still functional when folded for permanent storage
2) Portable and adaptable
Cons:
1) Not the best for sewing on
---
This one is more like the desks and cabinets above with this shape and storage solutions. It is a more basic design with the bare minimum of what you need to house equipment, but the two curved side shelves are cute. The best feature is the 18.89 inches of extra space with the folding table on the side. This wing is great for laying out the fabric but it isn't going to get in the way all the time. The length is 50.39 inches in total – not massive but not tiny.
Pros:
1) A more simplistic practical solution for small spaces
2) Longer than you think
Cons:
1) Plain white throughout
---
I had to include this as a potential solution for a couple of reasons. First, the design is cute with some great storage solutions that open out into a nice little work area. You can move into place on its wheels, unfold the cabinet, and make use of various shelves, bins, and pegs that act as permanent storage. Second, this is an affordable choice and from a highly rated seller.
Pros:
1) The nice storage solutions
2) A multifunctional item
Cons:
1) Smaller than others at 23 by 16 by 31 inches
---
Which Is the Best Quilting Table?
I really like the collapsible table above because of the focus on cutting material and the functionality in a small home. It is an underrated option. But, you don't get that dedicated space for the sewing machine or extra storage solutions. The desks that double as computer desks are a more practical solution because of the designs and storage options, without going as over-the-top as the Arrow designs. Still, those robust cabinets have their place in the right home. Take your time to compare the features, dimensions, and aesthetic appeal of these top quilting tables to find the best match for your needs.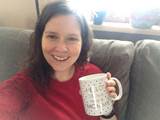 I'm a stay at home mom with our two kids. I really enjoy doing crafts with my kids however, that is typically a challenge with how limited their attention span can be and how messy it gets. So, I'm always looking for ways to make crafting an enjoyable experience and creating fond memory for all of us.