Anyone that uses epoxy or UV resin fairly regularly will be aware of the issue of bubbles in your work. no matter how well you mix the liquids for your epoxy or carefully cure your UV resin under a lamp, there may be some little pockets of air left behind. A few small bubbles could add character if you aren't insistent on something perfectly clear. Large bubbles are more problematic and could lead to a problem with the strength and durability of the piece. Thankfully there are ways to reduce bubbles while curing your resin. The simple answer is heat – preferably with the best heat gun for resin.
Hippie Crafter Craft Heat Gun for Crafts

Chandler Tool Store Heat Gun for Crafts

Wellshine Bubble Buster Tool for Making Epoxy Glitter Tumblers

Miniature tool for younger users

Low temperature is safer and fine for gentle work

Better shape than some of the other craft guns

Effective heat range without getting too hot

More heat resistant than other craft guns

Comes with brushes and glitter powder
In this guide, I want to talk about some of the different heat guns that are available, as well as their benefits and disadvantages. Not all guns are created equal, so it is important to learn what to look out for, and how to avoid common issues. I also want to talk about the other options when using heat and other applications for effective resin heat guns.
Do You Need a Heat Gun for Resin?
This is something that you will see a lot on forums or comment sections about working with resin. Lots of people enjoy working with resin and will use common hacks to deal with bubbles. Lots will use a hairdryer to speed up the curing process and eliminate the worst of the bubbles. But this leads to potential problems with air displacing particles or disrupting the surface of the resin. As for using a lighter, this may be effective as a short-term fix, but it isn't the safest option. If you want to work with resin regularly, or do so around children, you need a safe heat gun. This then means figuring out what temperature heat gun for resin to get. As you will see below, temperatures vary greatly.
What Kind of Heat Gun Do You Use for Resin?
There are lots of different guns available and they all share some common traits. What you need is a handheld device that expels heat through its tip, or ideally a nozzle. You don't need anything too intense of professional, so there is no need to spend a fortune on equipment. Still, you don't want anything too weak and flimsy either. Look out for products specifically design for craft purposes or consider a slightly more high-end DIY option.
How To Use a Heat Gun on Resin
Once you have the gun, using it to cure and remove bubbles should be easy. Many of the best products allow for one-handed operation and precision. Just hold the gun a safe distance away from the resin to allow the heat to interact with the layers without it getting too hot. You should be able to switch between heat settings for the best result. As you will see below, it is important not to run the gun for too long at a time. Cheaper models have a low heat tolerance where you need to shut them off after a certain period. Also, make sure to use any safety features and stands included. These short blasts of heat should be enough to let the bubbles dissipate and allow for a better surface.
7 Of The Best Heat Guns For Resin
First up, we have one of the more high-performance heat guns for more than just resin work. This tool has two heat settings and helpful controls that bring the temperature from the low of 750ᵒF up to 1000ᵒF. This is great for softening different materials and dealing with bubbles fast. You also get three nozzles for different effects. It won't suit everyone and won't last forever, but it has its benefits!
Pros:
1) A high-end gun with a great ergonomic shape.
2) Great potential for projects outside of resin work.
3) Digital controls for the temperature settings.
Cons:
1) More here than most beginners will ever need.
2) Some failures over time.
---
I want to stick with Wagner for a moment because they have some really nice tools on the market. This one is a little less intimidating for crafters with its friendlier design. It is sold with candle making in mind but will also work with other crafts. The temperature is lower with settings of 450ᵒF or 680ᵒF, but that isn't a bad thing. You also get some more great accessories here, although not as much as the one above.
Pros:
1) The lower temperatures make this more of a crafters heat gun.
2) The shape and look are much nicer for newcomers.
3) The bonus 8×8 inch silicone mat is a nice touch.
Cons:
1) Fewer nozzles with this one.
2) The same issues with faults over time.
---
This is another of the more intense DIY-style guns for those that need extra power for different projects. The heat may be a bit excessive here with a choice between 750ᵒF or 1112ᵒF. But you still get the helpful nozzles and the ergonomic shape needed for one-handed applications. I'm not sure this is the best fit for crafters, but it could be something to aspire to at some point.
Pros:
1) A very high temperature for effective work on tough materials.
2) 4 nozzles in the pack to direct the heat.
3) A nice ergonomic shape.
Cons:
1) Perhaps too intense for smaller crafts.
2) Be careful where you leave it.
---
Now we move on to the more user-friendly tools for crafters. You get more of a cylindrical gun here to aim at your resin. It is still a good size though and fairly easy to hold. This is where the temperature drops a lot, with a heat of just 390ᵒF. This is fine for light resin work when using small resin molds. The problem comes with the short working time. You have to shut this off after 3 minutes to stop it from overheating.
Pros:
1) The gun is a fun shape and not hard to use.
2) There are no issues here for light resin work with the medium temperature.
3) There are no extra features in the pack.
Cons:
1) The lower temperature won't suit some projects.
2) You need to shut it off after 3 minutes.
---
What I like about this next product is that you get a nice miniature set for younger users. The design, shape, and lower temperature here make this much safer for teens to use. This should allow them more practice before using something bigger and hotter. The small gun has a shorter cord, but there is still room for a secondary heat setting and a stand on the bottom. The lowest temperature is 100ᵒF and the highest is 200ᵒF.
Pros:
1) A miniature tool for younger users.
2) A helpful stand for safety.
3) The low temperature is safer and fine for gentle work.
Cons:
1) The miniature design does mean a shorter cord.
2) The temperature has its limitations.
---
This next option isn't quite as compact as the one above, but still on the smaller side. The benefit here is that you still get that user-friendly design, but with better temperature settings and controls. The lowest setting is 200ᵒF and the highest is 300ᵒF. A bonus here is the 2 hour run time, which shows the construction is a lot better. Be aware though that some people remove the guard to get a higher heat. This is not advisable at all.
Pros:
1) A better shape than some of the other craft guns.
2) A more effective heat range without getting too hot.
3) More heat resistant than other craft guns.
Cons:
1) Still smaller than some users might like.
2) Problems with people removing the guard.
---
Finally, we have this fun set for younger crafters. I advise ignoring the emphasis on making glitter tumblers, unless that is all you want to do. There are plenty of other applications for this gun. The tool itself is very similar to those above with just enough heat and an average 20 minute work time. But the lack of quality here is made up for with the extra features. You get a series of brushes and 6 different colors of glitter powder. This makes this a more interesting set for all those starting out with resin at home. It is a fun starter piece before upgrading later.
Pros:
1) The gun is cute and fun for teens.
2) The settings and heat are fine for this sort of gun.
3) You get brushes and glitter powder for your projects.
Cons:
1) There is a risk of overheating after 20 minutes.
2) It is a basic starting point and not much else.
What To Look Out for When Buying a Heat Gun for Resin
As you can see from the products listed here, there are some common considerations when choosing between them. There are lots of similarities in the way that they work, with some great effects on the resin. But this is all determined by a few key factors. So, look at the following closely before buying anything.
1) The heat settings
Temperature makes a big difference with these products because of the effect on the drying time and on the material. Too high and you risk damaging the resin and other items. It may also be uncomfortable to use. Too low and you might not get the results you are after. Make sure there are two settings to switch between and that the lowest is worthwhile.
2) The run time
On a related note, you will find that there are big differences in the run times of these products. This means that duration between turning the gun on and having to switch it off before it overheats. Some can go for a long time without any negative effects – usually those on the more professional end of the scale. Some cheaper craft heat guns are at risk after just 10 minutes. There is no point in risking burns or melted plastic just to remove a few bubbles.
3) The shape of the gun
There are two main shapes available. Most cheaper craft guns are round, elongated tubes. They look nicer but might not be the easiest to hold. It depends on whether you get any ergonomic grips or just a solid tub. The more high-end guns have a "gun" shape with the handle and trigger for long-term use. These are more instinctive to use.
4) The extra features
Finally, look at what else comes with the gun. Some have a little metal safety stand, which is great for keeping the hot gun away from other surfaces. You may also get a choice of nozzles for directing the heat more effectively. Also, take a look at the length of the cord.
Can You Use Resin Heat Guns for Other Projects?
Yes. I recommend having a heat gun in your collection of artists' tools, even if you don't use resin all that much. Heat guns are an effective way of speeding up the drying time for surfaces or melting items just enough without any health and safety risks. You can use a heat gun to dry the surface of the painting, especially if you want to bring resin into your work. As mentioned before, the hairdryer technique poses the risk of displacement. This is great if you want your paint and resin to run and swirl, but not if it needs to stay in place. Heat guns are also good for melting wax in candle making or just retrieving a buried wick. An intense gun can also shape pipes and metalwork, but these lower-grade craft ones won't.
Should You Get a Heat Gun for Your Resin Projects?
Resin heat guns can be very effective when used correctly, so are worthwhile if you work with resin a lot and want those perfect bubble-free surfaces. Also, the low cost and ease of use of the best craft heat guns make them handy tools for working with other projects. You might not get a lot of use out of it, but you will be glad to have it on hand when you need it.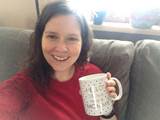 I'm a stay at home mom with our two kids. I really enjoy doing crafts with my kids however, that is typically a challenge with how limited their attention span can be and how messy it gets. So, I'm always looking for ways to make crafting an enjoyable experience and creating fond memory for all of us.