Spray paint is a must for creating a thin even coat of color on a large surface. You might be into the idea of creating some spray can street art pieces in your yard, or in need of something to freshen up some furniture or bodywork on a car. Enamel spray paint is a popular oil-based material that is commonly used for projects in need of a tough final coat. But there is also the option of acrylic spray paint.
In this guide, I want to explain why acrylic spray paint is a good substitute for enamel paint in many situations. From there, we will look at some of the different brands and types of products on the market. This ranges from cans with a more professional feel for DIY jobs to those for more artistic projects. There are pros and cons to all of them, and I will go into some of the common problems below. However, there is certainly plenty of choices.
Rust-Oleum Automotive Acrylic Enamel

GLO-X Glow In The Dark Spray Paint

Made to dry in just 20 minutes

Multi surface use, even works on automotive parts

Different colors and effects to choose from

Decent amount of paint for the price

Works on metal and plastic for outdoor projects
What Is Acrylic Spray Paint?
You probably know of acrylic as a water-based paint for fine art. There it is a great substitute for oil paints as it dries quickly into a nice surface with high saturation. It is a popular choice for its range of colors and ease of use. So, it makes sense for companies to apply these materials and benefits to spray paint cans. Ideally, you will get something with a nice water-resistant coating and a little flexibility under pressure while retaining the color expected.
Can You Get Acrylic in A Spray?
It isn't difficult to find acrylic in a spray can, rather than acrylic that you use for airbrushing. It is important to check that you have the right product for the right application. Acrylic spray paint comes in cans with nozzles and caps like other types of paint. You should also be able to get a variety of styles, colors, and sizes.
Which Acrylic Spray Paint Is the Best?
Choosing the best acrylic spray paint depends on what you want it to do. There are some options below that are great for art but wouldn't work to coat practical items – or vice versa. Whatever you want to do, you need to make sure that you have quality acrylic paint in a can that provides value for money. If you can get a pack of colors, this is even better for artistic ventures. Or you might want to look for something more niche for a specific purpose.
Just be aware that there are common issues with these products no matter the intention. Clogged nozzles are frequent due to the paint drying up. It might help to wipe them off after use and be careful storing the cans. Results also vary depending on the way the surface has been treated before spraying. This is worth keeping in mind when looking at user reviews where some people loved the results and others didn't get what they expected.
This first product is a specialist one, but one that could prove to be a good choice for a lot of car owners. Spraying car bodywork with acrylic allows for more flexibility in the final coat. When you have a stronger acrylic enamel like this, you have a tough product that works well. There is 12oz of paint per can with the promise that it can handle 12 square feet of material. This will depend on the application. This version is a nice glossy cherry red, but other colors are available.
Pros:
1) Made to dry in just 20 minutes
2) Can be used on other materials than automotive parts
3) Some nice colors and effects to choose from
Cons:
1) Coverage will depend on the application method
2) Some issues with petrol reacting with the paint
---
Sticking with this theme of more industrial paint rather than craft paint, there is also this option from Krylon. Again, Krylon is a well-known brand with a lot of great products in its range. This is one of the more interesting examples because there is a multi-purpose approach with the same great finish as other acrylic sprays. You can use this in various situations and get a good effect with the right care and preparation. However, I need to point out warnings about the tone and finish, so make sure to get the right version and maybe look elsewhere if you want a true black.
Pros:
1) A multipurpose spray for various applications
2) 12oz for plenty of coverage
3) Try it out indoor and outdoor thanks to the durable coating
Cons:
1) Some find the matte black to be more of a charcoal
2) Take your time to prepare the surface first
---
This next product is specialist in a different kind of way. I appreciate that this one is pretty niche, but also that a lot of tabletop gamers will be after something like this. The Army Painter is a great company for paints and tools for decorating models and figurines. Their cans aren't the best, but I like the care taken to create the best tones for military models or flesh tones. This green is great for uniforms and tanks for an even effect.
Pros:
1) A brilliant color, which is part of a wider interesting series
2) A nice durable coating for well-handled models
3) A good size at 13.5oz
Cons:
1) The nozzles can clog up quite easily
2) Some found the finish to be glossier than expected
---
Next, I want to move on to some of the sets of paints for artwork. Montana is a name I see mentioned a lot as one of the top names that people want. If they can't afford these, they go for a cheaper brand like those below. This sense of quality is seen in the final coats and color offered, although it does help to prep the surface first. There are 12 colors here in 400ml aerosol spray paint cans, so plenty to work with.
Pros:
1) You get a good quality finish with Montana paints
2) There are lots of colors in the set for fun murals
3) You also get a decent amount of paint for the price
Cons:
1) You are better off starting with a white coat underneath
2) Some users experience spitting from the nozzles
---
You might not get so many colors in this pack, or as much paint in a can, but this is a great starter set for kids and beginners. The Montana paints can seem a little high-end and professional while these are accessible for younger users. You still need to be careful when spraying them, but you can be more experimental on surfaces and projects. The colors are fun tones and result in a nice ultra-matte finish.
Pros:
1) This is more of a beginner set for kids
2) Small cans allow for learning can control
3) The finish is of good quality and should last
Cons:
1) Mini cans won't go as far as larger ones
2) There are fewer colors available here
---
Finally, for the packs of cans, we have another model with a nice assortment of colors for vibrant artwork – although I don't get why there isn't a black can in the pack. These cans offer medium pressure for a slow even coat and you get 12oz per can. This may be a better value option if the mini cans aren't what you were after.
Pros:
1) Another large selection for high value
2) The colors provide lots of artistic inspiration
3) The medium pressure approach is good for first-time users
Cons:
1) There are comments about the nozzles clogging sometimes
2) There is no black
---
Finally, I want to talk about something a little different. This product is a glow in the dark paint in a spray can. As you will see in my other guide on glow in the dark paint, these products are temperamental when it comes to getting a good result. However, the tone and ease of use of this can make it worth a try. You can easily spray different materials, perhaps with a cool stencil, and I like the Aqua tone of this one. Then, just leave it to charge up in the sun and what to see what happens.
Pros:
1) A fun bright Aqua color that is a bit more unusual
2) The glowing element can work well in the right conditions
3) You can use it on metal and plastic for outdoor projects
Cons:
1) Mixed results with the quality of the finish
2) Some cans dried up too fast
---
FAQs About Acrylic Spray Paint
Is Acrylic Paint Water Based?
Yes. This makes it easy to mix and clean compared to other oil-based paint.
Is Acrylic Spray Paint Water Based?
The paint in acrylic cans is water-based just like in craft paint.
What Is the Difference Between Acrylic and Enamel Spray Paint?
Some people prefer to use enamel paint when they need a long-lasting surface because this oil-based paint is stronger and doesn't fade too much in direct light. However, it also doesn't have the elasticity of enamel, which can make it less effective on materials that may expand or contract in different temperatures. Water-based acrylic may not be as durable, but you can get more wear outdoors and top it up as needed.
Can I Use Acrylic on Top of Spray Paint?
You should be able to paint over a spray paint primer with ease, but you also may need to treat a painted surface if it is a different material. Check the instructions with the spray paint and be careful applying the new paint. Remember to also seal the new paint when finished.
Is Acrylic Spray Paint Waterproof?
The best acrylic spray paint products should be pretty water-resistant. Acrylic hardens into a plastic-like coating due to the combination of polymers and pigments. But there may be times when it doesn't offer enough protection and you need a coat of something else.
What To Spray On Acrylic Paint To Make It Waterproof
A lot of the best acrylic spray paint products will have some form of weatherproofing because of the plastic material used. However, it doesn't hurt to apply something else to the top of the paint for a better seal. You can find various products that act as sealants to keep moisture out and protect the life of the paint. I recommend going with a compatible product from the brand from which you got the paint. If that isn't possible, you could try this option below.
Mod Podge is a company I have praised before because of their great range of products for decoupage and other crafts. They also have a spray sealer for acrylic paint. I admit that this is mostly for craft projects rather than any large-scale outdoor work or furniture. But the effect shouldn't be too dissimilar. You just may need to buy more of it. The product is effective, quick-drying, and remains clear and transparent so as not to ruin the look of the paint beneath. If you're not familiar with Mod Podge or want to learn more check out our article what is Mod Podge?
Choosing The Right Acrylic Spray Paint for Your Needs
In short, not only is acrylic a viable option as an alternative to enamel spray paint, but you can also find a lot of different products on the market. It is important to take the time to figure out just what you want from these spray cans. Look for a brand that has a good reputation for either heavy-duty spray paint or craft paint – depending on your project – and then find the right option by color or finish. A set may be a better choice for artists, but make sure you know what you are getting. Once you have a good acrylic spray paint, you can work on your preparation and technique to get the best possible result.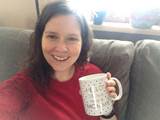 I'm a stay at home mom with our two kids. I really enjoy doing crafts with my kids however, that is typically a challenge with how limited their attention span can be and how messy it gets. So, I'm always looking for ways to make crafting an enjoyable experience and creating fond memory for all of us.