Do you ever feel as though there are never enough clean drinking vessels at home? All you want to do is pour a glass of water but all the cups are in the dishwasher and the last of the tumblers are hidden in a kid's bedroom somewhere. One way to increase your stock is to make your own at home. This might sound drastic and a bit too difficult, but you can make some great tumblers with the right epoxy resin.
FanAut Epoxy Resin Crystal Clear

FansArriche Epoxy Resin Crystal Clear

JANCHUN Resin Kit for Beginners

Comes with tools, gloves, and glitter

Promise of crystal clear rock hard surface finish in 40 minutes

Clear and user-friendly solution

Lots of colors and flakes for the resin

A bonus project of coaster making

Comes with tools, apron and measuring cups
What do You Need to Make Your Own Tumbler at Home?
There are three things that you need to consider to make the perfect DIY tumbler. The first is the material to shape and set the form of the vessel. For this, you need a high-quality epoxy resin. This will be the main focus of this guide. Next, you need the additives to create the design. Finally, you need some way of shaping that resin into a tumbler. You could add layers to a pre-formed tumbler using a spinning tool or build one from scratch with a mold.
Choosing the Best Epoxy Resin for Tumblers
Below are five products that you can use to make a tumbler from epoxy resin. Some kits are more extensive than others, but they all have the right formula for a great result. Before we look at those, let's consider what you need to look out for when choosing the best tumbler epoxy resin and some common questions.
How Difficult is it to Create a Tumbler with Epoxy Resin?
The difficulty depends largely on your tools and previous experience. Don't be afraid to experiment and make mistakes early on, that is why it is such a good idea to get a set of plain tumblers.
Here's a great YouTube videos that's very helpful. It walks you through the entire process from start to finish. I like how easy Alexandra makes the whole process look!
What to Look for in the Best Epoxy for Tumblers
1) The clarity of the resin. Ideally, you want a solution that claims to be crystal clear. This should mean that it is as transparent as possible where there isn't any dye or glitter. This makes the piece feel more high-end and makes it easier to see the drink within.
2) The number of ingredients you get. You should get a good amount of both parts of the epoxy resin mixture. Too little and you won't get to make many tumblers if you are aiming for a set. Too much and you may get overwhelmed.
3) The extra features in the box. Finally, it helps if there are some extra tools to help with the process. Mixing cups and stirring tools are always a must. Plastic gloves are great if you don't want to get them on your hands. You might even find some sets with added glitter or dyes.
---
The Best Epoxy Resin for Tumblers
1) FanAut 18.5 Ounce Epoxy Resin Crystal Clear
First up, we have one of the more popular choices with buyers thanks to the quality of the resin. There are two bottles here with 18.5oz of liquid (A and B) and hardener respectively. There is the promise of not just a crystal clear finish but a rock hard surface and a 40 minute working time. This is all great when working with tumblers with a long life expectancy. You also get some tools, gloves, and a little pack of glitter at a reasonable price. Experienced and beginner epoxy users report that this epoxy is easy to work with, dry quickly, and limited issues with bubbles. Some users do report issues with curing but, you do need to remember to complete the process correctly for the epoxy to work accurately.
Pros:
1) Quality resin
2) Promise of crystal clear rock hard surface finish in 40 minutes
3) Comes with tools, gloves, and glitter
4) Reasonable price
Cons:
1) Some users do report issues with curing
---
2) FansArriche 18.5OZ Epoxy Resin Crystal Clear
This next option is very much on the same lines. You get two bottles of liquid (A and B) – 18.5 oz of each – and some tools to help you out. The resin is another crystal clear mix with a user-friendly 1:1 ratio. You get some sticks and drops for mixing up the resin and adding your extra pieces for your design. This time there are two little packs of glitter in teal and purple. There are also some gloved for safety. It is a simple starter set with a lot of positive reviews. A lot of first-time users should find this to be effective when used correctly with the right cup and spinner.
Pros:
1) Extra glitter this time
2) Another clear and user-friendly solution
Cons:
1) A basic starter set
---
3) Sevgili Epoxy Resin Clear Crystal Kit
Table could not be displayed.
This next option takes a slightly different approach in that there are dyes in the pack instead of glitter. This may be preferable if you want to create some bold colors and patterns rather than leaning into the glitter tumbler trend. These pigments are bold with some fun neon tones. You also get some mixing cups, sticks, and gloves. The cups are graduated to make it easier to find the best match for the job. The bottles of liquid are smaller this time at 8oz rather than 8.5oz. But, they are still clear crystal resin with that 40 minute work time and 1:1 ratio. Add in the affordability of this set and you can see why it is an appealing alternative product.
Pros:
1) The use of dyes instead of glitter
2) The ease of use with the ratio and working time
Cons:
1) Less in the bottle this time
---
4) Janchun 72oz Crystal Clear Epoxy Resin Kit
This next product is for those that have bigger ambitions in mind. There is a lot of product here with 72oz of each liquid in massive containers. This means that you have enough for a large set of tumblers and other projects that will benefit from this crystal clear finish. The main purpose here is actually for tabletops. The set comes with a series of mixing cups and tools, as well as a more protective kit, such as the apron. There are also 12 packs of mica powders so you can create some beautiful designs in various colors.
Pros:
1) A more intense setup for serious projects
2) Lots of mica powders to play with
Cons:
1) Not for beginners
---
5) JANCHUN Resin Kit for Beginners
Finally, we have my favorite of all the sets because it ticks all the right boxes. First of all, you get that crystal clear resin and hardener. You don't get a lot at 5.9oz per bottle, but it is still slow to harden and of good quality. You then get a series of pigments and flakes to add to the mix and decorate your cup. This is actually sold as a coaster mold kit, which means you get a bonus project to work in after you make your tumbler. You could make a matching coaster as a safe place to put a cold tumbler of soda! The additional apron and measuring cups finish the set off nicely. The kit also includes: gloves mixing sticks, disposable mixing cups, tweezers, and droppers.
Pros:
1) Lots of colors and flakes for the resin
2) A bonus project of coaster making
3) Comes with apron and measuring cups
Cons:
1) Not a lot of liquid for the various projects
---
Blank Tumblers For Epoxy Resin
When you have your resin and all the necessary kit to hand, you will need a good base to work on. This option from PYD Life is a popular choice as it offers 4 straight cups that are completely blank and ready for decoration. The cup is of good quality with a nice stainless steel interior and double-wall insulation. There is also a sublimation coating to help with the process. A bonus here is that you get a matching set of clear lids and bent metal straws. So, once your piece is fully dry, you are ready to try it out.
Making Glitter Tumblers from Epoxy Resin
Making a clear tumbler isn't that much fun. You might have a nice matching set at home for guests, but they aren't that interesting to use. The great thing about epoxy resin is that it holds glitter and dye really well. The craze for glitter tumblers is still going strong, and you can find some great brand-name glitter tumblers in my other guide here. But, this new skill of building epoxy resin tumblers means you can create your own designs for a custom design. They may not be as perfect as the store-bought options, but they will be more meaningful.
It should be hard to turn a mix of the best crystal clear epoxy resin into something suitable for glitter tumblers. There are lots of brands that sell glitter, sequins, and more for the craft. Just add them into your mixture and build your pattern.
Building an Epoxy Resin Tumbler at Home is Time Consuming, but Rewarding!
Don't expect to be able to create a perfect drinking vessel the first time. You might find that the bottom is uneven, the sides are askew, or that there is a small leak somewhere. However, you should also find that the process is great fun as you build something pretty and practical with your bare hands. Once you get good and create something functional, you can build a bigger set or maybe take commissions from friends and family. There is still no guarantee you'll have enough clean ones, however.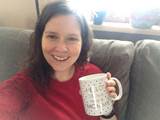 I'm a stay at home mom with our two kids. I really enjoy doing crafts with my kids however, that is typically a challenge with how limited their attention span can be and how messy it gets. So, I'm always looking for ways to make crafting an enjoyable experience and creating fond memory for all of us.