Glitter tumblers seem to have been everywhere for a couple of years now – with no sign of the craze slowing down. It is no surprise that they are a hit with users of all ages. These large vessels are the perfect way to stay hydrated outside while also making a statement.
In this guide, I will showcase some of the best glitter tumblers around in terms of both practical features and their design. With so many different options and sets around, this is just a highlights list. But, I have tried to be as broad as possible with my choices to find something for everyone. I also want to briefly talk about the alternative option of making glitter tumblers at home, as this could be an interesting way to expand your collection.
ALOUFEA Tumbler with Lid and Straw

Bastwe Tumbler Vacuum Insulated Tumbler with Lid and Straw

BYO by BUILT Double Walled Stainless Steel Tumbler Rose Gold Glitter

Tumbler is 20oz Stainless Steel

Long-term temperature control

Tumbler is 22oz Stainless Steel

Also make a smaller 20oz for kids

Tumbler is 30oz Stainless Steel
Why are Reusable Glitter Tumbler Cups so Popular?
Reuseable tumblers with secure lids and room for drinking straws are a great way to carry a drink around. It doesn't matter if you are meeting friends in the park or taking a drink into the office. You can also use colorful tumblers to keep more water at your desk at home and brighten up the place. They are a much more fun and environmentally friendly way to drink enough water each day than buying single-use plastic boards. The green points add up when you have a reusable metal straw.
A glitter tumbler is popular because glitter instantly makes us smile and makes the item even more joyful. They are great for kids and teens to encourage better habits, but are just as fun for adults that want something better than a sporty water bottle.
What Should You Look for to Make Sure That You Get the Best Glitter Tumbler Possible?
1) The design. Naturally, the design will make or break the product. Is there a specific tone to the glitter, a rainbow effect, or a nice affirmation?
2) A secure lid. These tumblers aren't that portable without a secure lid with a nice seal on it. A tab over the drinking hole helps too.
3) The capacity. How much liquid can the tumbler hold? Some with thick walls may not hold as much as you would expect.
4) Is it insulated? Some of the best glitter tumblers have double walls and insulation to keep drinks at the perfect temperature. Check user reviews for an idea of how efficient they are.
---
5 of the Best Glitter Tumblers Around Right Now
These products only scratch the surface in terms of what you can get from the glitter tumbler craze. There are lots of great products around with beautiful designs in practical drinkware. However, you can take things even further by creating your very own glitter tumbler at home.
1) ALOUFEA 20oz Stainless Steel Tumbler with Lid and Straw
Let's start with a classic look that will be adored by people of all ages. This glitter tumbler is more of a travel coffee mug, which makes it suitable for a wider range of beverages. You can put cold drinks and water in here in summer and keep your morning coffee warm with the double-walled insulation. The lid is nice and secure with a leakproof slider, rubber gasket, and a hole for a straw. It is just a shame some struggle to clean it out. A stainless steel straw comes with the mug for added value. I particularly like the subtle sheen of the lavender version of this mug, but there are lots of other patterns and colors too. You can also get this as a set if needed.
Pros:
1) Lots of color options
2) Insulated tumbler
Cons:
1) Issues cleaning out the lid
---
2) Bastwe Tumbler 22oz Stainless Steel Vacuum Insulated Tumbler with Lid and Straw
This next option is very similar in that it is suitable for both hot and cold drinks and has a classic look. I love the black glitter version of this one because the dark tone looks so good against the metal lid and dark straw. The metallic shimmer also has a masculine feel, unlike some other designs, while making the cup look really tall. It is, in fact, a little more spacious than others at 22 fluid ounces. Again, there is the sliding lid for protection – which may be just as difficult to clean. This is a grown-up glitter tumbler for those that want to ensure keep their drinks at the right temperature on the way to work.
Pros:
1) Grown-up aesthetic
2) The long-term temperature control
Cons:
1) Similar cleaning issues
---
3) Home Tune Rainbow Tumbler with Straw
If the last option was for grown-ups, this one is for the big kids with a fun side and teenagers. This one is all about the rainbow effect. Be aware that there are variations in the graduation of color in three stages. It all depends on what color lid you get. The one with the blue lid is the more authentic-looking rainbow while the green takes an odd turn. This is a 21oz acrylic cup, so a little cheaper, but it is still double-walled. The lid isn't as complex for protection this time, but there is still a hole for the plastic straw that is included with the tumbler.
Pros:
1) The range of graduated rainbow effects
2) A nice capacity for various drinks
Cons:
1) Cheaper with a lot more plastic
---
4) Blush Glam Silver Double Walled Glitter 24oz Tumbler
This is another product where everything is a little cheaper in quality with plastic parts. There is a plastic lid and straw, which offers a window into the beverage and doesn't detract from the design of the cup. Still, there is a silicone seal and the promise that it will be leakproof. The selling point here is the capacity of 24oz, although it isn't the largest here. There are fewer color options but the striking glitter effect of both the silver and gold will grab the attention of passers-by. Just be careful washing this as water may seep into the lining between the walls if you aren't careful.
Pros:
1) A fun and affordable gift
2) A silicone seal on the lid
Cons:
1) The overall quality compared to other options
---
5) BYO by BUILT 30 Ounce Double Walled Stainless Steel Tumbler Rose Gold Glitter
The final product is a little different in shape and style. This one makes a statement with the more interesting ergonomic shape and the much larger 30oz capacity. There is a small 20oz for kids too. This rose gold is the nicest of the glittery options. Others are more metallic. Again, you get a double-walled structure where you can protect the temperature of your drink for a while. The plastic lid has a different design to make it easier to clean, but looks thinner than the tough coffee mug lids. It is also worth noting that this is twice the price of some cheaper options – although many would argue it is worth it.
Pros:
1) The nice ergonomic shape compared to the taller mugs
2) A larger capacity than the others
Cons:
1) Fewer color choices in the glitter effect
---
Making Your Own Glitter Tumblers
You can get some epoxy resin and some glitter and add them to a suitable pre-made tumbler. A tumbler spinner rotates the cup so that you can build your own tumbler out of resin with even layers. It times some time to perfect and to dry, but you can get some decent results. You may also find small tumbler resin molds online Either way, you will need the best epoxy resin for tumblers and some good glitter. You can learn more about this in my other guide, click on the link above.
There are pros and cons to both options here. The benefits of the pre-made tumbler are that you have a pre-formed shape where all you need to do is add the right coating to the outside. It is much easier than building from scratch and you should be more certain of having a flat bottom, a more even shape, and everything you need to actually drink from the vessel. The resin mold approach could be more satisfying and easier to work with. However, you need to be sure that you get an even casting throughout and that you can turn out the mold. There also aren't many full-size models around.
Tumbler Care Instructions
How to Clean Your Tumbler
Before you start cleaning, make sure your tumbler is empty and dry. You can clean it with warm water and a mild detergent, or use a dishwasher if it's dishwasher safe. Be sure to rinse it thoroughly and air dry it afterward.
How to Sanitize Your Tumbler
If you want to sanitize your tumbler, you can either use a bleach solution or place it in the dishwasher on the sanitize setting. Make sure to rinse it well afterward.
How to Store Your Tumbler
If you're not using your tumbler, it's best to store it in a dry place. You can also store it in the refrigerator or freezer if you want to keep your drink cold or frozen. Just be sure to let it thaw out before using it again!
Should You Buy Your Own Glitter Tumbler Cups, Make One Yourself, Or Both?
If you have a healthy obsession with the glitter tumbler craze, there is no reason why you can't do both. You can build a nice collection of practical drinkware in all kinds of designs and learn to make your own. The latter may be more for personal use in the privacy of your own home than meeting friends in the city. Whichever approach you take, this craze is something that we can all embrace in our own way to show off some personality and have fun while staying hydrated.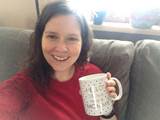 I'm a stay at home mom with our two kids. I really enjoy doing crafts with my kids however, that is typically a challenge with how limited their attention span can be and how messy it gets. So, I'm always looking for ways to make crafting an enjoyable experience and creating fond memory for all of us.