Nothing beats a wooden stove if you're looking to cozy up outdoors. Nifty and functional, these stoves work exceptionally well everywhere. So, whether it's your kitchen, garden, or patio- wooden stoves are an absolute must-have! These stoves are also an excellent option for anyone who likes to upcycle and recycle stuff. But, how exactly do you build a small wood stove? Can these stoves be built at home in the first place? What are some best DIY wood stove ideas? Let's find out!
1. Minion Styled Log Burner
If you have kids at home or if you simply love minions, this DIY wood stove is your top bet! This one is all about the scorching fire, flickering flames, and everything in between. The wood burner is solid and almost tailored for all kinds of patios. The best part, all you will basically need is an obsolete gas container or any other bottle to do the job. Simply follow the guidelines and bam! You're left with one of the prettiest wood burners ever! So, if you are unafraid to show off some quirkiness, this wood burner is a must-have!
---
2. Get The Rocket
This is yet another excellent way to use wood in your everyday cooking. These stoves work extremely well, and their defining goal is to get the wood super warm and scorching. All that you need to do is get the fire insulated and then start directing the heat to the appropriate point. Well, that, and you're done!
Tutorial: https://www.instructables.com/Rocket-Stove-2-3/
---
3. Barrel Wood Stove
This is yet another ingenious way to transform a regular barrel into a fully functional wooden stove. The key takeaway? It's super simple and equally affordable to start and complete this project. Your two major pieces of equipment would be a barrel, some quality barbecue paint, and a proper stove kit. Barrel plate kits and grates (preferably made of cast iron) are optional.
Tutorial: https://morningchores.com/how-to-build-a-barrel-wood-stove/
---
4. Pot Belly Wooden Stove
If you're looking to stay warm and cozy during the chilly winter months, this is one wood stove that won't disappoint you. Involving simple stuff like butane tanks, mesh, cement, etc. to build this stove is no hassle at all! The best part, unlike some DIY wood stoves, this one doesn't look ghastly. On the contrary, it's compact and sleek.
Tutorial: https://www.instructables.com/Gas-Tank-Pot-Belly-Wood-Stove-budget-approx-35/
---
5. Basic Wood Stove
As evident from the name itself, the Basic Wood Stove works best for anyone who's looking for a no-frill wood stove. This stove is made of steel and it requires only basic materials. The welding work is minimal and thanks to the guidelines provided in this tutorial, setting up your stove is easier than you thought!
---
6. Backpacker's Wooden Stove
Backpackers are probably the most in need of a quality wooden stove. However, since most stoves tend to be heavy, carrying them outdoors is a task. But we have a solution! Yes, you can now build a portable backpacker's DIY wood stove with just a couple of tin cans, can openers, and knives. Check out this tutorial to learn more.
---
7. Thermal Stoves
Made from a thermal mass rocket, these stoves are an excellent option for a budding DIY wood stove building enthusiast. It doesn't require any technical knowledge and the task is simpler than you'd think. The thermal mass-powered design ensures that heat is released extensively and the product is extremely cheap to come up with.
Tutorial: https://www.survivopedia.com/how-to-build-a-rocket-mass-heater/
---
8. Water Heater Wood Stove
If you have old junk at home, fret not! That is because you can easily double them up as a DIY wooden stove. These stoves are inexpensive and in this specific tutorial, you learn to build them for under $50. The best part, you can keep it anywhere including your outbuilding, patio, garage, etc.
Tutorial: https://www.youtube.com/watch?v=NzsQjUrOq-M
---
9. In-Built DIY Stove
This is an excellent way to add the right kind of warmth and coziness to your abode. Perfect for Christmas and the entire holidays, this stove is both functional and beautiful. Check out this tutorial to learn more about building it from simple stuff lying around at home.
Tutorial: https://justcallmehomegirl.com/diy-wood-stove-built-in/
---
10. DIY Small Stove
Portable and compact stoves are a great alternative for people struggling with space. All you will practically need is a small propane cylinder to start the project. Note that before using the cylinder, it is crucial to snip out the valve. The overall project will cost you less than $20 and it's super simple to set it up.
Tutorial: https://youtu.be/kSfORUDMn3s
---
11. DIY Wood Stove in Mobile Home
Suited for their mobile or any modern home, this stove is classy and sophisticated. This design does take some time to build, as there are more than one video but, if you've got a small indoor space you need to heat, then is might be worth the time. The stove isn't too bulky and looks quite chic too.
Tutorial: http://youtube.com/watch?v=lK59rWqY3O4
---
12. Steel Barrel Wood Stove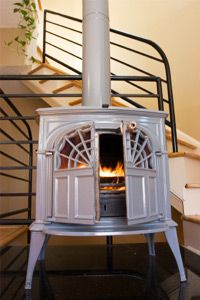 As you can probably guess, these stoves are made by simply removing the head of a steel barrel. Even though it does need some moderate welding and technical tasks, the instructions are quite clear. However, given the amount of equipment needed we still recommend this stove to only experienced carpenters.
Tutorial: https://home.howstuffworks.com/home-improvement/heating-and-cooling/how-to-build-wood-burning-stove.htm
---
13. Hot Tent DIY Stove
Another excellent option for backpackers, this stove too uses a bunch of cheap stuff that is easily available at all leading hardware outlets. The whole project will cost you less than $50 and all of the required equipment is listed in the video itself. Along with step by step directions from start to completion of the wood burning stove.
Tutorial: https://www.youtube.com/watch?v=J4FLZI9bGbQ
---
14. Smoke-Free Wood Stove
Ever wanted to make a smoke-free wooden stove? Well, now you have it. Check out the attached video to learn how to make this simple stove with no smoke. This one may take a few more materials and time to complete but, the construction is a rather simple design anyone can duplicate.
Tutorial: https://www.youtube.com/watch?v=WRYDbHfQcDI
---
15. Mini Wood Stove
Perfect for tiny tents or small spaces that don't need too much heat. They are also extremely easy to build. If you're wondering, the stove produces imminent heat by warming up tealights. This is a great tutorial that walks you through each step of the process with word and visual instructions that are easy to follow along with.
Tutorial: https://www.instructables.com/Miniature-Camp-Stove/
---
16. Pyramid DIY Wood Stove
If you're an outdoor person, you would love this DIY wooden stove. With that said, you will need to be an expert at metalwork to complete this project. Typically, it will take you one day to get this done.
Tutorial: https://www.instructables.com/KP-pyramid-wood-stove/
---
17. Piglet Wood Stove
Just like the minion stove, this is yet another cute stove that can be built in a jiffy. You will need a couple of metalworking tools and an old metal gas container to complete this project.
Tutorial: https://www.instructables.com/id/Piglet-shaped-wood-burner-from-an-old-bottle/
---
18. Wood Stove for Your Garden
If you want to build a stove for your patio, this one might be the one to start with. This stove features a chimney crafted from sand and cement. It also uses a large bucket (at least five gallons) as well as, another bucket to create the mold. The design is sturdy and well constructed however, this design takes multiple steps and time for setting since you're working with concrete. Although, if you spend the time constructing your DIY wood stove it'll be worth it! Plus, these materials are relatively inexpensive yet, very durable.
Tutorial: https://www.youtube.com/watch?v=Aa5V7nOSUFM
---
19. BBQ DIY Wood Stove
Portable and nifty, you can build this BBQ DIY stove from high-quality metal. Thanks to the metal alone, it will effectively bear the intense flames exuded from burning wood. Also, with this design it'll create hot heat quickly for cooking. You'll be able to heat 1 liter of cold water to a boil in approximately 2.5 minutes. Another benefit of this design is that it's on the small end so it heats up quickly and if you don't continually feed the fire it will not burn for hours at a time, just long enough to cook with, The device is efficient, and it is also quite simple to build.
Tutorial: https://www.instructables.com/Hack-a-Weber-Rapidfire-into-an-Awesome-Woodstove/
---
20. Halloween Wood Stove
If you're a little too fond of the holiday season, this DIY wood stove is the way to go. Not only is it aesthetically pleasing, but it also involves minimal materials. With that said, it does take you some time, and you need to be patient while following the instructions.
Tutorial: https://www.instructables.com/Wood-stove-made-from-scrap/
---
21. Space Shuttle Stove
This is another great stove with rocket styled design and solid wood scorching capacities. It uses vibrant colors and is fairly easy to build as long as you're familiar with working with metal and have the correct tools. This design is simple and there are visual and written directions so, this may be a good beginner design for meatal working.
Tutorial: https://www.instructables.com/Space-Shuttle-Rocket-Stove-/
---
22. Frontier Stove
You can make this stove right from a gas bottle and given its size and portability, it would make an excellent accessory when you go hiking or camping. While the instructions are simple, please follow all safety guidelines while crafting this stove. This design is more of an advanced metal working design but, the design does include detailed description of each step, with a visual. As well as, a material list and tools required.
Tutorial: https://www.instructables.com/Make-a-Frontier-stove-from-a-gas-bottle/
---
23. Darth Vader Stove
Styled after the iconic Darth Vader, this stove can be built from an empty bottle. You would also need some old iron and paint to deck it up. Please note, converting LPG cylinders are dangerous and could result in legal action too. You can buy an empty LPG cylinder that has not been filled with LPG. This design will require more artistic ability then others but, the end result is stunning!
Tutorial: https://www.instructables.com/Vader-Gas-Bottle-Log-Burner/
24. The Rocket Mass Heater
Rocket mass heaters are extremely efficient and can easily heat an entire room with just a few pieces of wood. The best part about these stoves is that they are very easy to build. All you need is a metal can, some insulation, and a few other materials that can be easily found at your local hardware store.
25. The Masonry Stove
Masonry stoves are slightly more complex to build than rocket mass heaters, but they are still relatively easy to do. These stoves work by using bricks or stone to create an enclosed space. The heat from the fire radiates through the walls of the stove and into the room. Masonry stoves are highly efficient and can easily heat an entire home with just a few pieces of wood.
---
Bottom Line
Well, now that you are at the end of this article, you probably understand that building wood stoves are easier than you had presumed in the first place. All you will practically need are some simple and absolutely basic equipment like a gas bottle, some sheet metal, a couple of old and worn-out scraps, etc. As you look for stuff to build your DIY wood stove, you will realize that building one from scratch is significantly inexpensive than getting one online or even from your local store. The best part, since our list includes 23 different types of wood stoves, you won't have any dearth of options.
Building your homemade wood stove is certainly an excellent option for anyone who seriously enjoys welding. It is equally useful for people who are exploring creative DIY options. All you need to do is make sure that the equipment you are using is completely safe. Don't forget to follow the guidelines entailed in the attached tutorials too!
Once you tick all of these boxes, you're a step closer to a perfect DIY wood stove, just the way you looked forward too. Next, you may want to check out our article on DIY fire wood storage here because you'll need somewhere to nicely store your wood once your wood burning stove is complete.