It can be difficult to find an hour to put aside for knitting and crafting in a busy schedule. So, it helps if everything we might need is all together in one place and we can pick up where we left off. The ideal way to do this is to invest in one of the best knitting bags or knitting organizers. In this guide, you can learn more about these portable tools and see some recommendations on top products.
Feed 4 different yarns through the eyelets and they'll stay in place when not in use with the magnetic tape

Bag is 15 x 8.2 x 12.6 inches

Well designed to store knitting tools, yarn, and there's 3 grommets to feed yarn through

Bag is 15 x 10 x 11 inches

Store six balls of yarn and there are six eyelets in the lid for easy access

Bag is 12 x 12 x 10 inches

Durable canvas with nice carry straps
---
The Best Knitting Tote Bags
1) QZLKNIT Yarn Storage Bag
I may be cheating slightly here because this is more of a cross between a tote bag and an enclosed knitting bag. But, the shape, simple carry handles, and adaptable function does make it a good fit as a basic tote. There is plenty of room in the 9.05 x 5.51 x 10.23 inch bag for your yarn and projects. There is also a nice zippered pocket on the front with organized compartments. The little pockets on the side won't do much, but they are better than nothing. My favorite feature here is the use of the eyelets on the top to feed the yarn through. It is a hit with buyers and the selection of cute designs on the fabric only adds to the appeal.
---
2) YARWO Knitting Tote Bag
This next option follows a similar approach with the option to close up the top of the bag and you can feed 4 different yarns through the eyelets and they'll stay in place when not in use with the magnetic tape. However, there is due praise from users for the organization within the 15 x 8.2 x 12.6 inch bag. There are nice pockets for storing unfinished projects with ease and spaces for needles and more. This includes a nice back pocket for patterns and other source material. I also think that this one is a lot stylish with the plain black material, tan handle, and pale lining. It doesn't look like a knitting bag until you open it up. But, I can see why others may prefer the more interesting designs seen with other brands.
---
The Best Enclosed Knitting Bags
1) Luxja Knitting Bag
The shape of this bag is a lot different. There isn't the tote shape that you can put on your arm but more of a boxy shape with a greater focus on storage. This purple bag has a more structured approach to the interior, which could be helpful or limiting depending on your needs. The plus side to this approach is that you get a more substantial side pocket and extra storage in the lid. That lid is also more secure and protective with a zipper running all the way around. There is a warning from users that this is bigger than you might expect, which may be an issue for transportation. This bag is 15 x 9.5 x 12 inches. But, the additional padded shoulder strap could help. This one is all about function over style so could be ideal for those with big projects in mind.
---
2) Coopay Yarn Storage Bag
This is another of the "cuter" options and the print is very similar to that of the Varwo knitting bag above. It is pretty and more affordable than the Luxja, which is great for those getting started. But, this does mean less in the way of storage. There isn't the same side pocket and the top is just a zippered flap rather than a more practical lip. Still, buyers love this bag for its user-friendly size and the choice of handles. Be aware that the padded strap is a little hidden if you don't spot it immediately. The bag dimensions are 15 x 10 x 11 inches. I like how the design has the ability to see the yarn with it's clear top and utilize the 3 yarn grommets to feed your yarn through to neatly work on projects or you can put the additional lid on to conceal your items inside. There are multiple pockets for yarn, organization, tools, and storage. You also have your pick from four different color options to suit your needs.
---
The Best Round Knitting Organizers
1) Homest XL Yarn Storage Tote
I really like this knitting organizer because it works so well as storage on a sewing table as well as for transporting items. The main compartment is 11.75 inches in diameter and 16.5 inches tall to hold plenty of yarn and you can use the drawstring to seal it up when on the move. I also love that there are numerous pockets on the inside and outside for organizing tools and needles, which makes everything accessible as you work. There are 6 oversized grommets to keep your yarn tangle free as you work. The biggest selling point for a lot of users, however, is the mini bag that comes with it. You can put a ball of yarn in here, feed it through the eyelet and work on your projects from pretty much anywhere. The simple grey fabric won't be to all tastes, but it is a nice backdrop to colorful needles and accessories. There are two other bolder color options as well.
---
2) Yarn Boss Yarn Bag
This final option for a round knitting organizer might not have the same capacity as the XL Homest model, but it is still clever. The bag is 12 x 12 x 10 inches. The divider in the main compartment makes it easy to store six balls of yarn and there are six eyelets in the lid for easy access. This lid then zips shut for protection and has the option of the small handles on the top and a larger shoulder strap. Other items fit snugly into the side pockets. There is also something nice about the unisex style of this black and grey bag, although the large branding is a bit OTT. Aside from a couple of users not getting that divider when the bag arrived (something quickly rectified by the company), most are impressed. The durable canvas will keep your yarn and projects safe when on the go or even when used for storage.
---
Why are Knitting Bags so Helpful in a Sewing Room?
The best knitting organizers and bags are more than just a way of carrying items between locations. You can use these products as attractive storage on show in your sewing room, with easy access to all the tools you might need. Then, everything is already in place if you decide to take your knitting to a friend or relative's house, or if you go to a class. The secure compartments of these bags also mean that current projects and other balls of yarn won't become damaged or at risk from sunlight, water, spills, or other risk factors.
---
What Should you Keep in a Knitting Bag?
The main purpose of a knitting bag is to provide that safe place for your yarn and current projects. But, you can also use the best knitting bags for a lot more. These top products should have more than enough room for additional items within designated storage areas. This means you can take your needles, scissors, stitch markers, patterns, measuring tape, and anything else you need to be able to continue your work away from your sewing room. Depending on the space available, you might also have room for non-knitting-related items that you want to have on hand.
---
What Type of Knitting Bag do you Want?
There are different approaches that you can take when it comes to choosing the best knitting bags and organizers. These include the following,
Open-top tote bags with clever additional storage
Larger closed-top bags with more options or greater capacity
Round knitting organizers that are portable but also great in a sewing room
While I find myself drawn to the round knitting organizers because of their practical edge and the nice designs, I can see the appeal in the other two. The tote can be a bit more restrictive without that closure at the top of the bag. But, they are stylish and can work for those with fewer items to carry. The larger knitting bags may be more secure and well-organized, but they could be cumbersome.
To help you figure out the best knitting bag or knitting organizer for your needs, I have selected a series of products from each category below. Before we look at those, let's consider some of the key features to look out for when choosing a top knitting bag.
1) How much yarn will fit inside the main compartment?
The capacity of any storage solution is important and here you need a good indication of how many balls of yarn it will hold. The shape of the round knitting organizers is great for storing yarn and any current projects. The bigger the diameter, the more you can get in there.
2) What other storage options are included with the organizer?
There should be more to these products than just the main compartment. A lot of the best knitting bags have front pockets and side pockets for additional tools. These pockets may also have holders and mini compartments for easier organization of tiny pieces.
3) Is it easy and comfortable enough to carry?
The problem with some larger bags is that they might not be that comfortable when full and slung over a shoulder. Look at the straps and handles provided. Do you only get a basic set of handles on the tote or are there padded shoulder straps too?
4) Does the product offer any protection from potential damage or rain?
We're dealing with material that shouldn't get wet. So, a tote might not be ideal for transporting yarn in bad weather – even if it is just a quick dash to the car from the house. Bags with secure zippers, flaps, and other means of enclosing the yarn help. You can also look to see if there is a waterproofing lining.
---
Choosing the Best Knitting Bag or Organizer for your Needs
In short, you should find that there are plenty of options out there in tote, bags, and round organizers. As long as they have the capacity and storage required, you can then find your ideal model based on smaller details and the design. Find something that you are proud to carry around with you and that will make your life easier.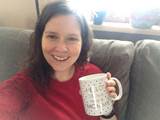 I'm a stay at home mom with our two kids. I really enjoy doing crafts with my kids however, that is typically a challenge with how limited their attention span can be and how messy it gets. So, I'm always looking for ways to make crafting an enjoyable experience and creating fond memory for all of us.