Part of the fun of sewing your own clothes is the chance to play with different materials and see what they do. You may have seen a piece of ITY fabric on a shelf and been drawn to its vibrancy and feel. But, perhaps you are unsure whether or not to use it in a future project. If so, it helps to understand the material. So, what is ITY fabric, what are its benefits, and what can you do with it?
What is ITY fabric?
ITY stands for Interlock Twist Yarn. What this means is that there is a little twist to the yarn during the construction process to create a different effect than on other materials. One of the standout features here is the way that the material drapes but, it is also sought after for its pattern, comfort, and lack of maintenance. It is no surprise therefore that many sewers like to bring this into their work when creating outfits for people. It might not be the first thing that you think of when creating things like skirts and blouses, but it ends up being formfitting and so nice to wear that recipients are pretty grateful for it.
What is ITY fabric made from?
This interlock twist yarn is made from two common materials. The majority of the fibers are synthetic polyester, which gives ITY the durability and feel that you need for some of its potential applications. The rest in spandex, which adds to the stretch created by the twist in the yarn. The result is a two-way stretch that allows for 50% stretch across the grain and some great fitted garments.
What is the difference between ITY and DTY?
DTY stands for Draw Textured Yarn, which meant that you get a polyester yarn with crimps and twists that distort the fibers. The result is a similar material with a nice feel. The double-sided brushed surface is great for activewear for greater comfort. The similar blend of polyester and spandex also gives it some of the same properties as ITY. But, DTY does tend to be a bit denser and less structured.
What are the benefits of using ITY?
Those that get along with ITY when creating garments love it because it has a range of benefits. In addition to that two-way stretch, there is the way that the material drapes over the body. The dense material tends to resist wrinkling so, it's great for all kinds of clothing items. It is also surprisingly cooling and breathable, which adds to its comfort.
Then there is the fact that ITY comes in so many different patterns and prints that you are sure to be able to make something really interesting. This material is great for those that like bold colors because it holds blocks of color and bright tones so well.
Another benefit of this material is that it is easy to take care of. Garments are easy to clean and don't require much ironing – if any at all if hang properly. The soft material also doesn't pill in the same way as some other fabrics. Therefore, it is easy to see why so many people want to create clothes with ITY as an alternative to other options.
What are the disadvantages of working with ITY fabric?
A possible downside to this material is sewing with it. Stretch fabrics can be a problem for a lot of sewers when it comes to cutting and pinning pattern pieces. While I have seen experienced sewers talking about how much they love ITY for its feel, patterns, and the work they create; I don't advise using it too early. Beginner sewers are better off starting with light materials that don't stretch out so there is less risk for error. This could happen easily here because of that two-way stretch and would be a nightmare when working on swimwear, where everything needs to be precise for full coverage and protection in the water.
What can you make with ITY fabric?
One of the more popular uses for ITY fabric is swimwear. So, if you have ever hated the prospect of finding a swimsuit in-store that suits your figure, or that has a nice design, it might be a good idea to make your own with ITY fabric. This should allow you to get the measurements just right for a more flattering shape in a one-piece garment. The material will then do most of the heavy-lifting, as it were, when it comes to creating a nice fit and comfortable piece of swimwear. The best swimsuits will move with the body without scratching or chaffing you in any way. The added benefit here is that because you can get ITY in a range of colors with ease, it shouldn't be too hard to find something that works with your style and complexion.
Any form of activewear is a great choice with ITY fabric for similar reasons. So, if you need something that you can move around in with ease, with optimal stretch, but that is supremely comfortable at all times, you can't go too wrong with ITY fabric. This could be a brilliant choice if you are working on some leggings or yoga pants. The stretch fit allows for a form-fitting shape and also lets wearers get into whatever position they need to on the exercise mat without any risk of discomfort. Again, the wide range of bright colors and patterns are perfectly suited to this sort of activewear especially, if you want to make more of an impact in your next class.
Is ITY fabric a good fit for your next project?
As you can see, the pros do outweigh the cons a lot of the time with this material. There are some great examples of ITY fabric out there with a brilliant two-way stretch and pattern that can create some impressive pieces. Just remember that it can be difficult to work with if you are inexperienced so pay attention to your measurements and take your time.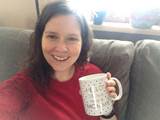 I'm a stay at home mom with our two kids. I really enjoy doing crafts with my kids however, that is typically a challenge with how limited their attention span can be and how messy it gets. So, I'm always looking for ways to make crafting an enjoyable experience and creating fond memory for all of us.