The arrival of a baby is a very special occasion. It is not something that happens every day. These rare moments must therefore be treated with specialty. One way of doing this is by transforming the baby's room with your own DIY projects. There are a number of baby crafting ideas to help beautify the nursery. I've selected my top favorites that I found on the net. Hope you enjoy it!
Elegant Baby Crafting Ideas selected for You
Wooden Gym for Play
Plastic play gyms are more common yet cannot match the authenticity of wooden gyms. When you design your own wooden gym, you decide on the kinds of artistic additions to apply to it. When it is complete, you add colorful toys for a complete finish. As the baby grows older, these toys can be swapped with more advanced playthings to match the age of the kid. If well laid, this cute gym could be turned into a tent when the baby becomes a toddler! Learn more about this project here.
The Crib Skirt
When your baby's nursery is small-sized, arranging it may present a challenge. This can be handled splendidly by placing certain items under the bed. To hide them, the crib skirt can be quite handy. Apart from the beauty it presents to the room, you will also be keeping numerous baby items without anyone knowing it. You can start your DIY project @ www.babybedding.com.
Unique Artwork Pieces
Babies are quite visual. Their room should have a variety of colors on the wall as well as on their beds. Craft animal and beautiful plant pictures and paint them with extraordinary colors. Huge colorful animals like the giraffe, zebra and elephant can be elegantly painted and mounted on the wall. You can check out some sample from this link.
Baby blanket
Baby love to be swaddle. Why not knit or crochet a blanket for him or her. Just be sure to use the best yarn for baby blanket.
Pompom Rug
As the baby grows older, it will need a rug to sit on and even crawl on. You can design your very own pompom rug. This can be done by skillfully sewing together pieces of rugs. If done artistically, the rug may be a cute masterpiece. If you are interested to sew your own pompom rug, check out here.
Baby Dinosaur
You do not need to buy literally all baby play things. Some can actually be made by you. Take the dinosaur for example. You simply need old clothes, a needle and a thread. The size of this extinct yet lovely creature is chosen by you, same to the color and design. So it is all up to you to create them and for a basic tutorial, watch the video here.
A Rocking Cradle
When the baby is agitated a little, you will need a rocking cradle to help sooth it. Homemade wooden cradles look very beautiful if designed using pallet wood. Have the room arranged properly and you can be sure the room will look extremely elegant. For instructions on creating a rocking cradle, you can visit this site.
A Clear Plastic Shelf
Each night before the baby goes to sleep, you read two or three stories and watch as it closes its eyes to sleep. You cannot have the books strewn around the room. A shelf should be available to place them. Construct a simple clear plastic shelf with colorful books placed on it close to the bed. You can see some sample from this site.
A letter Wall
From the time a baby is born, it begins to learn. Place the letters of the alphabet artistically on the wall. Use varying colors to help distinguish them. If you are not into DIYing them, you can check them out here.
A Baby Apron
You do not have to buy an apron for feeding baby, you can actually make one. Sew an apron using simple materials. You could add decorations according to your taste. It will be customize according to your liking and definitely more satisfying then just buying them off sites like bapronbaby.com.
Give these baby crafting ideas a trial!
With these cute baby crafting ideas, your baby's room will be super. They are simple and can actually be done. All it takes is some research and the desire to provide the best for your bundle of joy. Have fun starting on all these projects and do share them here by commenting below. Happy DIYing!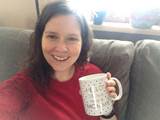 I'm a stay at home mom with our two kids. I really enjoy doing crafts with my kids however, that is typically a challenge with how limited their attention span can be and how messy it gets. So, I'm always looking for ways to make crafting an enjoyable experience and creating fond memory for all of us.