Plastic items are everywhere around the home and have their value in terms of practicality and affordability. It is also a great idea to transform old pieces of plastic to help these unenvironmental materials last a little longer. The problem is that these pieces are often pretty boring to look at, especially a clear plastic storage container or an old food container. One possible option here is to paint the plastic with a new design. But, can you use acrylic paint on plastic and, if so, what is the best method?
In this guide, you will learn more about how you can use acrylic paint and other related products to bring new life to storage containers, old toys, and more. You will learn what to look for when choosing the best paint and some important tips for getting a quality finish that will last. This means looking at prepping the plastic and sealing the paint. Finally, there are some recommendations for products you can use across the different stages.
Can You Use Acrylic Paint on Plastic?
It is possible to use acrylic paint to add new colors or designs to plastic items and you should find that it works better than a lot of alternative options. You can get some bold images that hold up well because of the plastic nature of the dried paint. However, this will only happen if you take the appropriate steps to prepare the plastic and seal the finished painting. It is worthwhile taking your time to source the best paint, primer, and sealant for the job. You may also want to get some tape, make stencils, and consider using spray paint instead of working with a brush. The results are worth the effort.
Will Acrylic Paint Stick to Plastic?
This is an understandable concern about working with acrylic paint on plastic if you are familiar with the material. For example, you may have a little plastic palette for mixing your acrylic paint when working on canvas. If so, you will know the satisfaction of peeling the dried paint off when cleaning up. Dried acrylic is basically a plastic itself. There is a little bit of adhesion but not enough for it to last. So, without the correct processes, you will find that any design painted on plastic with acrylic will peel off in the same way. That is why you need to choose the best paint, prep the surface, and then use a sealant for a better chance of the image staying put.
What Sort of Acrylic Paint Should You Use?
There are two choices to make here when choosing the best acrylic paint for plastic. The first is to make sure that you look for "multi-surface" paints. The product may not specifically say "plastic" in the listing, but multi-surface means there is a much better chance of it sticking to plastic items. Your standard tubes from your collection of paint will go on well but aren't guaranteed to last.
Then there is the question of whether or not you want to work from the brush or use spray paint. The second option is acrylic spray paint for plastic, which has its pros and cons. The upside is that you can get a nice even coat on large areas with no risk of bristle marks. This is great for going over a whole container or large toy before adding in details. Stencil work can look great with spray paint. However, you do need to be confident with keeping the stencil in place for clean lines. The other downside is the fact you need to work in a ventilated area due to health and safety concerns.
How To Use Acrylic Paint on Plastic
There are lots of steps to take to get the best result here. You need to start by preparing the plastic with cleaning fluids and sandpaper. Then you can apply a base coat to the plastic for a better chance of adhesion. When that is dry you can work out your design and start the finer details with your new acrylic paint. Work on this until you have the density of color you want, making sure that it is dry before adding new layers. Then you can add your sealant to ensure that the piece lasts as long as possible.
How To Prepare Plastic for Acrylic Paint
There are four important steps when preparing your piece of plastic. First, it helps to give the item a clean with some rubbing alcohol or mineral spirits. This means that you start with a nice clean canvas where there are no dirt particles, oils, or other nasty surprises to worry about. Then, you can start sanding down the plastic to create a rougher texture. Wipe it down and clean it again so there is no dust leftover that could affect the painting. Then you can add a primer. Primers are a bit of a hassle because they require so many layers and so much drying time. Thinner layers set more effectively but need to be 100% dry before you continue. Be patient as this step could have a big impact on how the piece turns out.
Will Sanding Down Plastic Help Acrylic Paint Stick to It?
The sanding process is another part that you don't want to skip unless there is a good reason too. You may decide not to do any sanding if you are touching up an old toy and worry about damaging it. But sanding with fine sandpaper creates a rougher texture where it is easier for the primer and paints to adhere.
Why Should You Use a Base Coat Before Painting Your Design in Acrylic?
A good base coat of paint can act as another good adhesive layer between the plastic and painted design. Many people like to use oil or enamel paint in this first layer when they want that greater guarantee of a better result and long-lasting renovation. If you don't want the hassle of also sourcing enamel paint on top of a primer and new acrylic paint, then that's fine.
Using Painter's Tape for Clean Lines
This is a great trick for anyone that wants a more professional finish to their designs, especially if there are strong blocks or stripes of color. Painter's tape lets you mask off an area with a clean edge. It is easy to just paint onto the tape and then peel it off to reveal this straight line. Be careful not to leave the tap on too long, however, as overlapping dried paint on the plastic and tape could lead to you peeling off the whole layer.
How to Seal Acrylic Paint on Plastic Material
Once you have your finished design with enough layers of paint, and it is all completely dry, you can add some extra protection with a sealer. Sealers are a good way of making it less likely the painted area will peel off. There is protection from abrasion and from damage via other environmental factors. Another nice detail is that you can choose the finish. Some of the best sealers for acrylic on plastic have a glossy sheen that makes the finished item look more like it is new. But there will be times where a softer matte look is far more appropriate.
What Type of Plastic Can You Paint On?
Now you know how to add designs to plastic with acrylic paint, we can look at some of the different types of plastic items that are perfect for this sort of project. The choices are pretty endless as you may have something unique that could use a coat of paint. But here are some great places to start.
1) Old Toys
It can be pretty disappointing when a child's beloved toy becomes faded or damaged over time. It is a sign that the item is well-loved. But your child may not love it quite as much as they once did if the character and designs aren't at their best. One way to make the toy last a little longer – as long as everything still works – is to go over it with some paint. If are careful with small brushes and color-matching, you could get it looking close to how it did when you bought it.
2) Plastic Furniture
On a similar theme to the toys, there may be some great practical pieces of kids' furniture at home that are past their best too. With a little redesign or a simple coat of spray paint, they could be perfect for younger siblings or to pass on to friends and family. Some creative touches and the right paint could turn big sister's old princess-themed pink table and chairs into something that their younger brother will love to use. Of course, it isn't just kids' furniture that can benefit from a coat of paint. Your outdoor plastic furniture, like the basic seats for your loungers, could help change the look of a patio area with some spray paint
3) Storage Containers
Plastic storage containers are brilliant tools for across the home, whether you need places to store shoes, tools, toys, or anything else. They come in all kinds of shapes and sizes but are generally quite boring to look at. So, why not add some designs to help these boxes match in with the decor? Or simply paint icons or names related to the items that belong in the box. That could make it more likely that kids will clean up after themselves.
4) Old Bottles Tubs and Jars
Finally, there are sure to be plenty of pieces of plastic packaging that would go straight in the recycling after use that could have a second life at home. Plastic bottles make great pen and brush holders for a kid's craft room or desk. Ice cream tubs are surprisingly spacious as storage containers. Get creative with your trash and surprise yourself. While you are at it – those plastic garbage cans and recycling boxes might look good with a painted design or new color on them.
2 Of the Best Primers for Acrylic Paint on Plastic
Because it is so important to start with a good primer, you need to find the best products. The Vallejo White Primer Acrylic Polyurethane is a good place to start because it is such a simple base coat and works with brushes or airbrushes. There are also various bottle sizes depending on your needs. This is the largest at 200ml.
Then there is the option of the Rust-Oleum 209460 Plastic Primer Spray. This isn't the first time you will see Rust-Oleum in this guide, and I have reviewed other of their products in the past. The promise here is that you can spray this onto large surfaces with ease to prep bigger plastic items in no time at all. There are also lots of colors in the range to suit your project, so you can come back to the brand for each job.
2 Of the Best Multi-Surface Paints for Plastic
If you decide to go for a standard multisurface acrylic to use with a brush, there are plenty of options out there. However, FolkArt is one of the top brands. The 16 Piece Multi-Surface Acrylic Craft Paint Set is a brilliant starting point designed for beginners. There are enough colors for you to blend for color-matching or to create bold designs.
Alternatively, you might appreciate this set from Your House a Home. This Multi-Surface Acrylic Craft Paint Set doesn't have as many colors to play with as there are only 8 tubes, but this is still a good starting point. It is also a nice addition to other stater sets with unusual metallic tones. A bonus here is that you can use these on glass and ceramics for other projects.
2 Of the Best Acrylic Spray Paints for Plastic
If you prefer the idea of working with spray paint, you might like this Rust-Oleum 211339 12-Ounce Plastic Spray Paint. This one is a simple white gloss that would make a brilliant base coat for other designs. The brand is well respected and a great choice for those that want a good clean coat on large items around the home or that need something more durable.
A fun alternative option is this spray from Krylon. This Krylon COLORmaxx product is one of many different colors that you can use to brighten up kid's furniture or storage. This one is a vibrant watermelon pink for some extra fun. There is a gloss finish and it is meant to be easier to use thanks to the big button and multi-angle spray nozzle. Just make sure to leave this to dry long enough and follow all the instructions.
2 Of the Best Acrylic Paint Sealers for Plastic
The first option for sealant comes from a familiar brand. Using a Krylon K01303007 Acrylic Spray Paint Sealant is a great idea if using Krylon spray paint because you know they should be fully compatible. This one is an 11oz aerosol with a crystal clear finish with the promise of being smudge-proof. As with the spray paint, make sure to follow the directions for the best result.
A different option comes from Mod Podge. Mod Podge is a much-loved brand when it comes to sealants, fixatives, and related products. You can learn more about their range in my Mod Podge guide. The Mod Podge Spray Acrylic Sealer is one such product that should work well on plastic painted with acrylic. It might be better on small-scale craft projects like toys and small storage items. But it should still be nice and clear with no running.
What Is the Best Way to Paint Plastic with Acrylic?
Painting plastic with acrylic isn't easy when you add up all the steps. But, the right products and methods will allow for a great result. Clean up your plastic item and get a good primer to create the best surface possible for your design. Then mark out the design and create a matching set if working with multiple storage items or chairs. Then, make sure to get the best possible paint – either multisurface tubes for small toys or spray paint for furniture. Work in stages to get the best finish and let it dry properly. Finally, add the sealant, let it harden, and then enjoy your new item.
In short, painting plastic with acrylic is a great way to alter the look of otherwise tired of boring plastic items. It might sound like a lot of work to go through all those stages of prepping the material and creating the design. But, with the right tools, you can get some great results. It is worthwhile putting in the effort to get it right, especially on important or treasured items. Take your time perfecting the design on a kid's toy or matching a color to the decor outside. It will make a difference. The better the result, the more likely that these rejuvenated plastic items will be in use for years to come.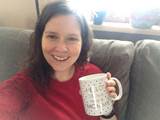 I'm a stay at home mom with our two kids. I really enjoy doing crafts with my kids however, that is typically a challenge with how limited their attention span can be and how messy it gets. So, I'm always looking for ways to make crafting an enjoyable experience and creating fond memory for all of us.