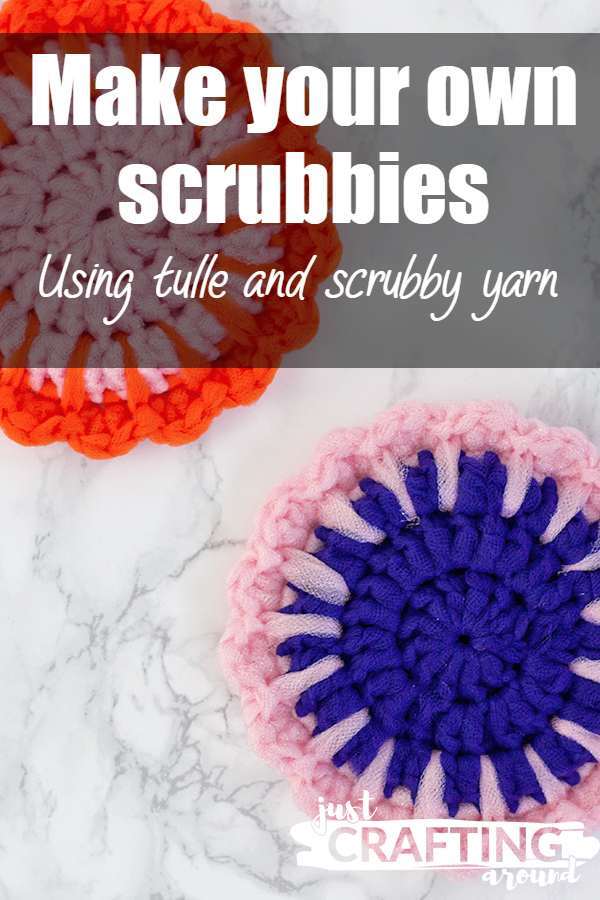 What Kind Of Yarn Do You Use To Make Scrubbies?
Last Updated on
The best kind of yarn to use to make scrubbies is tulle, which is a netting fabric normally used in tutus! You can also often buy scrubbies made of tulle, but it is easy to crochet your own from rolls of tulle.
Another option is to use a textured worsted weight yarn such as Red Heart's Scrubby Yarn. This is a uniquely textured yarn for either knit or crochet dishcloths or washcloths. It will clean pots and dishes much easier than cotton yarn dishcloths. In addition, it will dry much quicker than cotton as it is made from polyester.
---
---
Tips for working with Tulle
Preparing Tulle
There are two steps in preparing tulle to be crocheted.
Measure and mark one and a half inches on your netting spool.
Cut the spool with a knife using a gentle sawing motion until the knife touches the inner cardboard roll
And then you're ready to go!
Using Tulle
This is a pretty simple one – if you want your scrubbies to be fun and fluffy, keep your stitches a bit loose. Otherwise, you'll end up with smaller, bunched up scrubbing pads that will be more difficult to use.
Cleaning Tulle
Your tulle scrubbies won't stay clean for long. When it's time to get all that dirt and grime off your scrubbing pads, simply boil a pot of water, take it off the heat, drop your tulle scrubbies in and leave for a few minutes.
---
Free Tulle Scrubby Patterns
Free Crochet Tulle Scrubbers Pattern at Consumer Crafts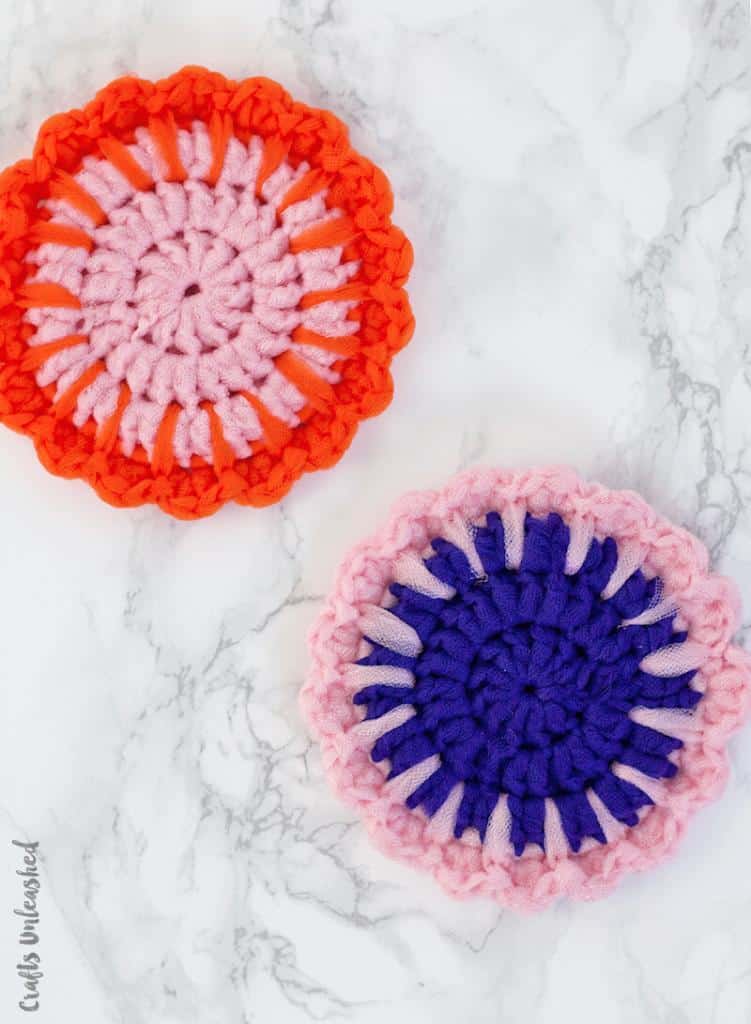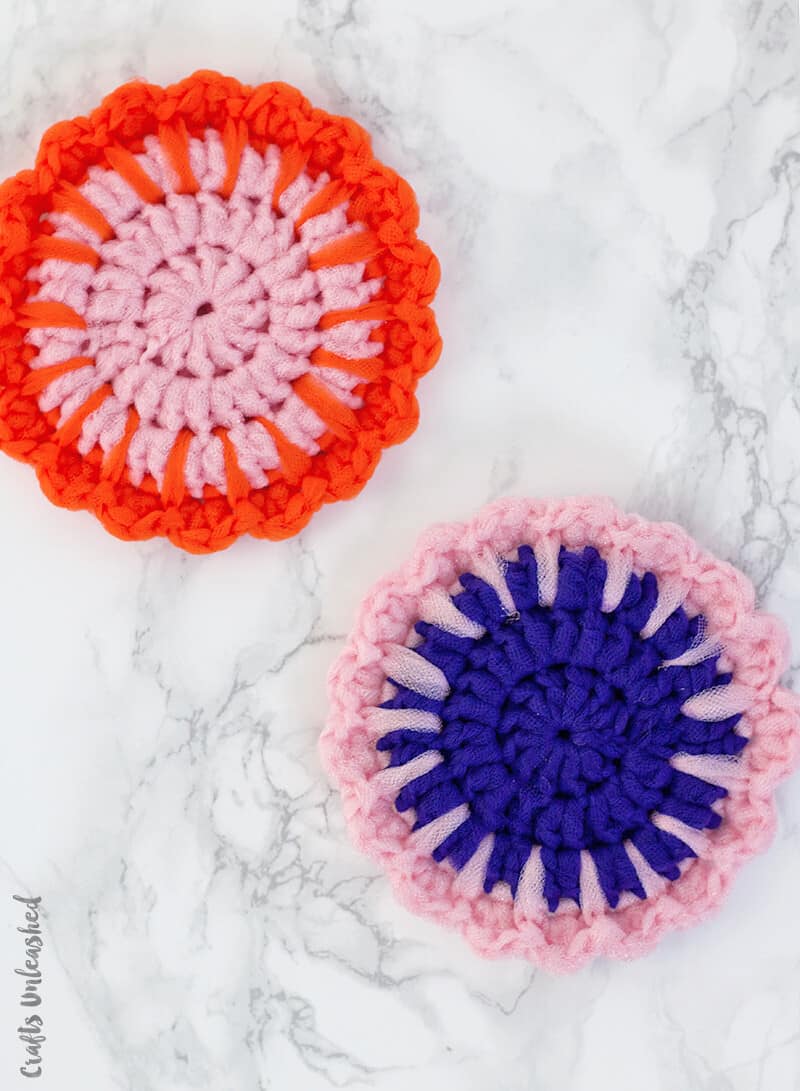 This is a wonderful and easy pattern to make your own scrubbies at home.
Alexis walks you through turning a couple of yards of tulle netting into one long piece of tulle yarn, and then how to crochet that into cute scalloped scrubbies.
These scrubbing pads aren't just cheap and cheerful – they will get your pots looking mirror clean in no time!
This is a fun pattern that, with a little bit of practice, can be completed in five minutes!
Vickie referrs to tulle here as nylon netting, but she says in the comments that she uses the names interchangably.
By the way, Making Our Sustainable Life is a wonderful blog for anyone interested in sustainability. Check out this amazing DIY water tower, as well as all these killer blogs on soap making. So fun.
---
Tips for working with Scrubby Yarn
Hook/Needle size
Scrubby is a worsted weight yarn, so we would recommend:
Knitting:  5mm / 8 US size knitting needle
Crochet: 5.5 mm (I-9) size crochet hook
Gauge/Tension
Knitting: 16 S x 21 R = 4″ x 4"(10 cm x 10 cm)
Crochet: 13 SC x 15 R = 4" x 4" (10 cm x 10 cm)
The wonderul folks over at Yarnspirations also had the following advice:
Note that if you change your needle/ hook size as recommended above, then you may also alter your gauge. This can change the final size of your finished item. When first working with Scrubby, it is best to try projects where size doesn't matter so much. You should still check your gauge to get a sense of how closely you are working with what is recommended, but it gives you the opportunity to play with different needle / hook sizes without ruining what you're creating. Luckily Scrubby is best for washcloths and dishcloths and small variations in size don't matter to most people when working with those projects.
Choosing Colors
This is a quick tip – this can be a difficult yarn to work with, so bare in mind when choosing dark colors that you may have issues seeing your work.
Cleaning Scrubby Scrubbers
This is where using scrubby is especially practical – you can just toss your scrubbers and dishcloths in the washing machine. Easy! Just remember to rinse them out after each use.
---
Free Scrubby Yarn Patterns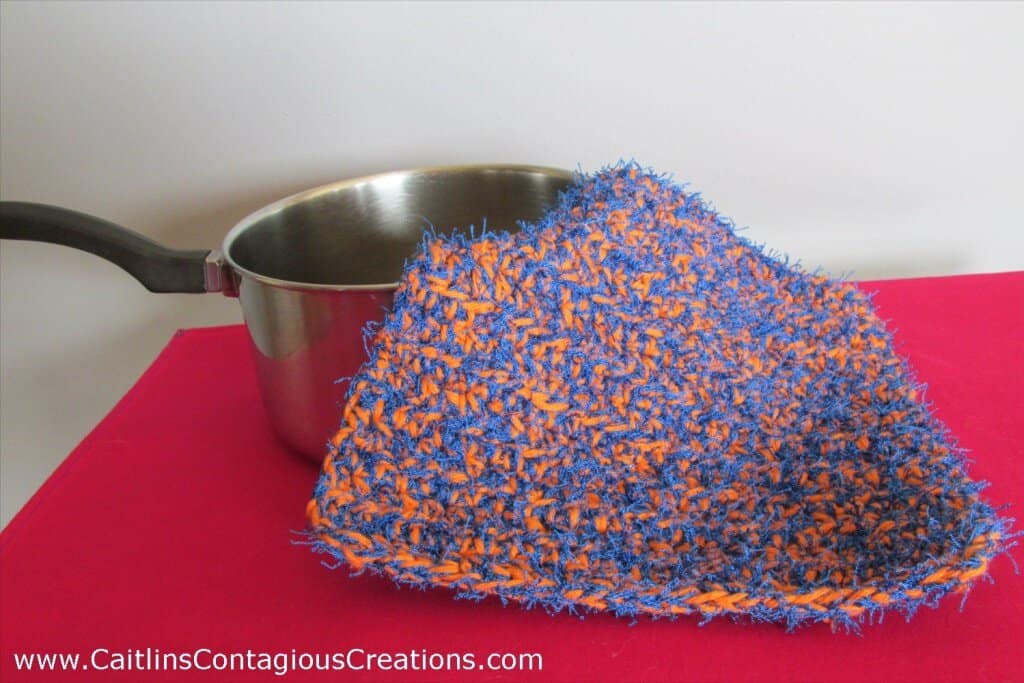 Easy Scrubby Dishcloth Crochet Pattern at Yarn Hook Needles
We've featured Yarn Hook Needles before – and for good reason.
In this post, guest "feature maker" Caitlin walks you through making this fun and easy scrubby dishcloths.
What I like about this post is that in addition to the picture walkthrough, they have provided several videos.
Super helpful!
Mijo Disktrasor (Dishcloths) at Mijocrochet
This is a fun one for our international visitors!
Johanna provides her instructions in both English and her native Swedish!
But that's not all, this free dishcloth crochet pattern is also available in Dutch, German, Russian and Spanish!
These cute and colorful dishcloths are easy to make and will brighten up any home.
---
Conclusion
There are two ideal yarns for making scrubbies – tulle, and Red Heart Scrubby yarn. Both are easy to crochet or knit, and both will give you dishcloths and scrubbers that equal any of the commercial alternatives at a fraction of the price!