Fabric paints are a great way to bring new life to an old piece of fabric or upholstery that could do with a new look. However, there are different ways to apply the paint and some may not be as suitable as others. Fabric paint pens can work nicely on clothing, or you could brush it on from the bottle, or you could find a spray paint for fabric for greater coverage.
Can You Use Spray Paint on Fabric?
There are some great products around that come in spray paint form as an alternative to smaller bottles and pens. But they still need to be paint or dyes designed for fabric and not just any old spray paint. There are lots of different types of products around depending on your intended purpose. For example, there are some brilliant smaller sprays for use on clothing and craft projects and other more industrial cans for outdoor use or car interiors. The following guide looks at some of the best spray paints for upholstery, interiors, and outdoor use, as well as some top metallic options and products from the Tulip brand.
What Should You Look for From a Good Fabric Spray Paint?
Regardless of the type of product and the intended purpose, there are some important considerations to keep in mind when choosing a product. They include the following.
1) The amount of paint in the can or bottle. Some craft products are pretty small and exterior products much larger. But it is all about providing enough coverage in as few cans as possible.
2) The color of the paint. Some craft paints and those for car interiors come in a broad range of colors while outdoor fabric paint may be more limited. Check your options and you may be pleasantly surprised.
3) The spray mechanism. Most products use an aerosol-style nozzle for a fine spray while others are more little standard spray bottles. The latter may not offer the best effect.
4) The directions for use. It is important to always check the instructions to see how many coats you will need, how best to apply them, and the drying time. Deviation could lead to bad results.
Be aware that options can vary a lot, with some people hating a paint and others loving it. This can come down to the final tone, saturation of color, ease of application, and other subjective variables. What works for one person may not suit you and what one person hates could be perfect. Keep an open mind.
Is Tulip Fabric Spray Paint One of the Best Brands?
I want to start by looking at the Tulip brand before we talk about different styles of paint. I choose Tulip for this spotlight because they have so many options in fabric paint. This means other types of products than spray paint as well as the different forms and colors. They are prevalent on Amazon and more accessible than some other options. But, they also tend to have pretty good reviews across the board. Other brands have more conflicting reviews about the effects and final results. The appeal comes from the various effects and treatments in the products and their ease of use. Many are smaller bottles for craft purposes and clothing. But, you will also find alternatives in other categories below.
There are lots of small 4 oz bottles of Tulip spray that you can spray onto light-colored fabrics. They are permanent fabric paints that should create great saturation with enough coats. But do be prepared to need a few bottles on larger areas. It should affect the texture or leave any nasty residue or scent. The lack of aerosol propellants also makes these spray bottles more eco-friendly. This option is a nice dark asphalt, but there are plenty more to choose from.
---
What I love about the Tulip brand is that you can get pretty much anything in such a broad range of colors. This one stood out as something a bit different that could add an interesting effect to children's clothing and accessories. The iridescent sheen may take a few coats to create precisely what you are looking for but the effect is worth it. There is also no problem washing and using the item afterward and retaining the sheen.
---
Finally, for Tulip for the moment we have this alternative set of colors. Sets are a great idea where you can them for clothing and other craft projects because you get more choice of colors without buying multiple items. The effect and ease of use are pretty much the same as with the single bottles. This neon set is a lot of fun with 7 bright colors and is still non-toxic. But you don't get a lot in a 0.81 oz bottle, so it won't work for big projects.
---
Can You Get Metallic Spray Paint for Fabric?
While the neon set from Tulip is a little more unusual, you tend to find that paint brands have pretty common colors across their fabric paint ranges. Some of the more heavy-duty options can be limited to black and white with maybe some neutral tones in there. So what if you want a bit of a metallic shine to your material instead? You will be pleased to know that there are metallic options in a few different ranges. These can offer a different look to outdoor fabrics, car interiors, and accessories with ease. Gold and silver are always going to be the more common options, but you could find fun sets like the one below.
Unsurprisingly, you can also get some great metallic products from Tulip in the same style as that alternative iridescent option. This one is a pretty classic color with a bold gold shimmer in a 3 oz bottle. I expect that this is another one that looks better and deeper with more coats. The brand also recommends the use of stencils for designs for effective sharper edges.
---
This is a product that could get overlooked because of the Tulip products, but I really like the range of colors and the simple application process. There are some typical metallic tones like gold and silver, but also a fun green and blue. There is 1.7 oz in each bottle that should be enough for multiple coats on one project. They say it lasts for up to 30 shirts, but this might make the coats a bit thin. Expect it to run out by then.
---
We will go into the prospect of car interior and vinyl fabric paint in a moment, but I just wanted to highlight a product that uses metallic tones here. I didn't expect to see this sort of effect on something for a more "grown-up" situation. For a fun effect, this paint is pretty tough and should resist cracking and peeling just as well as the others in the line. It's one of those tones you will love or hate in a car, but it makes a statement.
---
Does Fabric Spray Paint Work on Upholstery?
A lot of the best fabric spray paints are for small-scale projects, such as clothing and accessories. However, there is no reason why you shouldn't be able to work on upholstery and soft furnishings with the right product. Here you need to look for a larger can with an aerosol spray rather than the smaller bottles for craft projects. They should also say Upholstery Spray Paint on them. The best products will dye cushions and covers with ease without changing the feel of the material.
There are fewer products specifically designed for use with indoor upholstery. You could easily use a stencil and the smaller bottles for clothing and craft projects and get the same effect. Again, it is all about creating enough layers for saturations and ensuring you get the right texture. You also need to be sure that the product you choose doesn't end up putting clothing at risk via color transfer. However, if you prefer the idea of going for something more specialist, Tulip and Simply Spray have you covered.
If you aren't confident enough to use the standard Tulip fabric spray paints on your upholstery and cushions, you might prefer to use this version instead. For a start, there is more in a bottle, with 8 oz can. The promise here is that there is no concern about this rubbing off or making the fabric too stiff. You still need to be careful how you apply it so that works with the weave and texture of the fabric.
This camel brown paint from Simply Spray is a great choice if you want a nice safe product that is really easy to use. There is a fully non-toxic formula and no issues you might get with aerosols. I appreciate that some people may not like the trigger spray because you don't get the same fine spray. But, you can still get a deep-seated dye that dries pretty easily. There are also plenty of colors in the range for darker tones if the camel is too light, and you get 8oz in a bottle for use on multiple items.
---
Can You Use Upholstery Spray Paint on Car Interiors?
You may also come to a point where you aren't happy with the color of the fabric interior of your vehicle. One option is to get some new seat covers to completely refit the car. However, this can be costly and difficult to set up. The best fabric spray paint for car interiors should offer a nice shortcut where you transform the current covers or maybe just touch them up. What you need to look for here is a spray paint for fabric that says vinyl and fabric coating. These high-end products can handle more heavy-duty materials inside the car – as well as the vinyl around the dash and door panels. This should give a uniform look and better transformation.
This first option comes from a brand that specializes in more high-performance products for hard-wearing surfaces. This one is made for the vinyl seats of your car but should also work as a multi-surface paint for the panels, shifter, and more. There are some great colors in the range, and I liked this warm burgundy. As with all products, there are conflicting comments about the results but there is the bonus of not requiring a primer.
---
This next option is similar in a lot of ways because there is the same use on various interior surfaces and the promise of a great finish. It is classed as a refinisher, which suggests touching up fading paint rather than going for a whole new color. That explains why the range of products is so broad here. Instead of simply choosing by tone, you choose by the model of car. This should allow for a great match and end result. The bonus of the urethane base should also provide greater protection.
---
Finally, we have a brand that isn't a stranger to this site. I have mentioned Rust-Oleum a lot before when talking about sprays and sealants, so it is nice to see a paint from this reliable brand. Be aware that this is for "vinyl, simulated leather, and some fabrics", so may not be ideal for your project. Still, there are some nice effects with a choice of matte or gloss black in addition to the white and sand. There is also a nice comfort tip that is meant to allow for better can control and working upside down.
---
Can You Use Fabric Spray Paint Outdoors?
Finally, there is the issue of using the best fabric spray paint products outside. There is the concern that you will end up with the product running or washing out completely in the rain. This will be the case for a lot of spray paints for fabric that don't contain the right treatments. However, there are products from top brands that are suitable for use outdoors. This could be for seat covers or cushions outside or for canopies or other structures. Just make sure that the product works on the material you have as this isn't a guarantee.
Let's go back to Rust-Oleum for a moment because we know that they are so reliable. This option is another easy-to-use spray with that great can control and protective elements. For example, this one works against UV damage and fading. I like the efficiency of these sprays for use on various materials, such as outdoor cushions or longer covers. You can get a good result as long as you are careful with your coats and drying times.
---
Next, we have another product from Simply Spray. Again, this one could be problematic depending on the project as it doesn't work on polyester. Instead, it needs a more absorbent material for cushion covers. Still, it is sold as a multi-purpose option and could still work with outdoor seating. Also, be aware of the warning that you need up to 12 cans for a whole sofa.
---
We couldn't end this guide on anyone but Tulip considering their broad range of products. This Red Achieve spray is for outdoor upholstery and is a little different from the option above. It should resist fading and damage a little better but still provide the same saturation and texture. You get quite a lot in a bottle too compared to the craft paints. The bonus here is the use on synthetic fabrics, so it should be fine on polyester.
---
Choosing the Best Fabric Spray Paint
In the end, your choices could quickly become more limited based on the intended purpose of the paint. Craft projects for clothing and small interior projects will have more options due to the properties of the paint. Here you can take your time comparing brands and looking at interesting color choices. When it comes to the more specialist projects, like outdoor canopies and car interiors, you may have a more narrow selection. However, you can get a more reliable result when working with top names like Rust-Oleum and greater protection.
Compare different brands and finishes to see which you think is the best fit, consider the size of bottle or can you want, and take your time to get the best coats and value from your product.
How to Spray Paint Fabric
The first step in spray painting fabric is to choose the right type of paint. There are three main types of fabric paint: acrylic, latex, and enamel. Acrylic paint is the most common type of fabric paint and it dries quickly. Latex paint is also a good option because it's durable and water-resistant. Enamel paint is the most durable type of fabric paint, but it takes longer to dry.
Once you've chosen the right type of fabric paint, it's time to decide on the color. You can find nearly any color imaginable when shopping for fabric paint. If you're not sure which color to choose, opt for a light or neutral shade that will go with everything.
Now that you've picked out the paint and the color, it's time to start spray painting! The best way to do this is to lay the fabric out on a flat surface and use a cardboard stencil to create your desired design. Be sure to make sure the fabric is completely dry before moving on to the next step.
Once you have your design drawn on, it's time to start spraying! Hold the can of paint about 12 inches away from the fabric and spray in short, even strokes. Don't forget to go over each section twice for an even coat. Let the paint dry for at least 24 hours before wearing or using the piece of furniture.
That's all there is to it! Now you know how to spray paint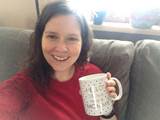 I'm a stay at home mom with our two kids. I really enjoy doing crafts with my kids however, that is typically a challenge with how limited their attention span can be and how messy it gets. So, I'm always looking for ways to make crafting an enjoyable experience and creating fond memory for all of us.