I'm so happy when cutesy crafts are back in trend. That means that I can take out all of my Sanrio bits and play with them to my heart's content. To top it all, making paper squishy can't be easier or cheaper to create. But, where to begin?
Here are some things other people on the internet are making. Hopefully, these 12 homemade paper squishy ideas will inspire you to make something cute as well.
1. Keep it squishy, keep it simple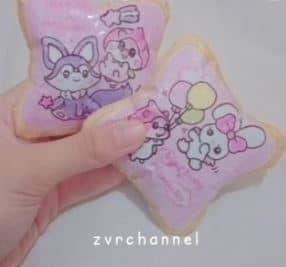 Credits: Instagram @zvrchannel
Any square piece of paper can become a paper squishy. Since their purpose is to be anti-stress toys, any design that brings you joy will be a great choice.
And you don't have to go the kawaii route (no matter what the rest of the list may imply). Put some random doodles together or even cut out a magazine or wallpaper. As long as you like it, it's perfect.
2. Greetings Feline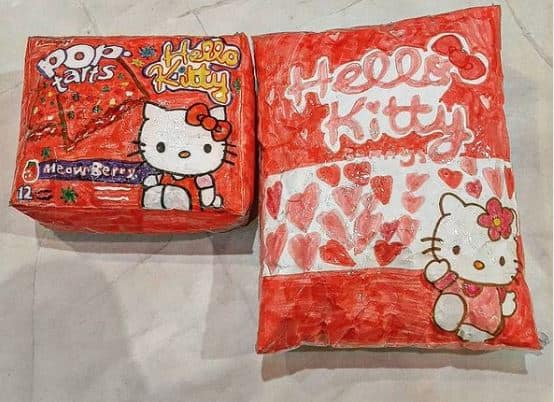 Credits: Instagram @silvia.sink1
Am I trying to say that anything looks good once you slap Hello Kitty on it, or am I informing you that the food packaging paper squishes are very popular? Yes, to both!
Reproducing the packaging for your favorite snacks is a great place to start this journey since they are usually square or rectangular. And if you're not too happy with the results, slap a few Hello Kitty stickers and call it a day.
3. Cootie Patootie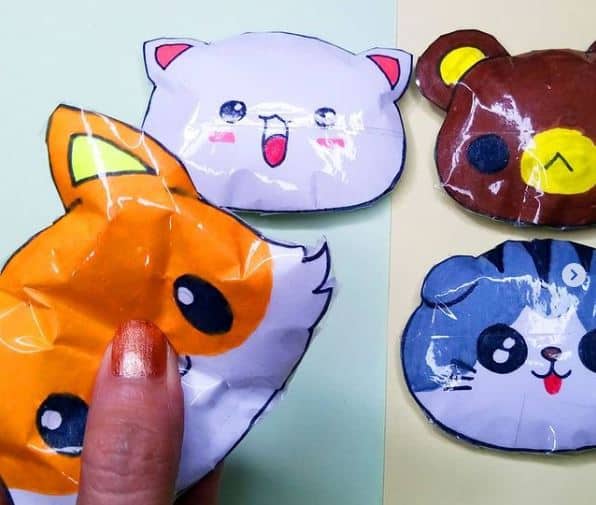 Credits: Instagram @diyworks143
Here's an easy way to level up without making your life complicated. You can cut out any drawing and turn it into a paper squishy. If you can't draw, simply print out whatever image takes your fancy.
When going this route, make sure you're using a smaller piece of foam than the one you would use in a rectangular shape of the same size. You may need to do some shaping as well for certain designs.
4. A la mode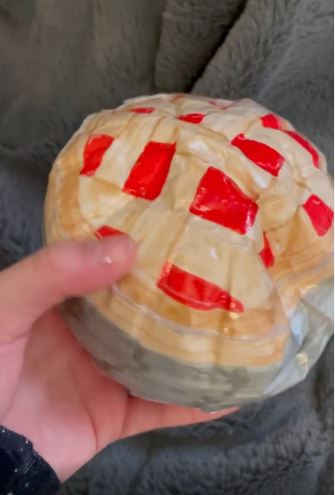 Credits: Instagram @squishaholicdesigns
Why would you make a simple round paper squishy when you can make a squishy cherry pie?
A round paper squishy can be made with either 2 or 3 pieces of paper, depending on how simple you want the design and process to be. But once you learn how to do it, you have a whole list of desserts you can reproduce. If you don't like pie, how about a chocolate Swiss roll?
5. Unisquish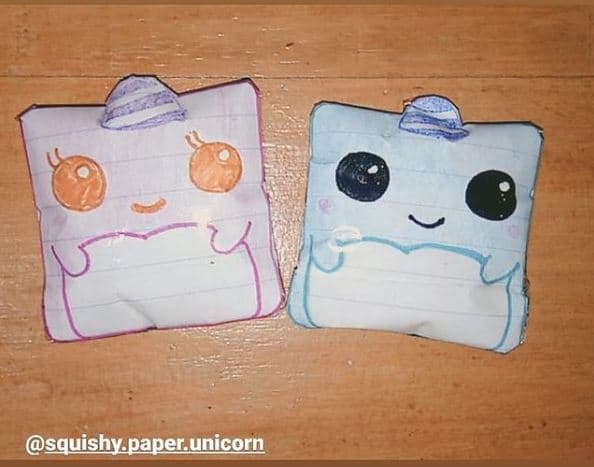 Credits: Instagram @squishy.paper.unicorn
Another big trend amongst the squishmakers is unicorns. There are 2 ways to make these. The first is to cut out the shape as in the third entry, then glue the horns flat for better structure.
The other is to add the horn separately. You can either sandwich it between main pieces or glue it to the front. You can also use this opportunity to play with texture and materials. In any case, have fun!
6. So cute, it will give you cavities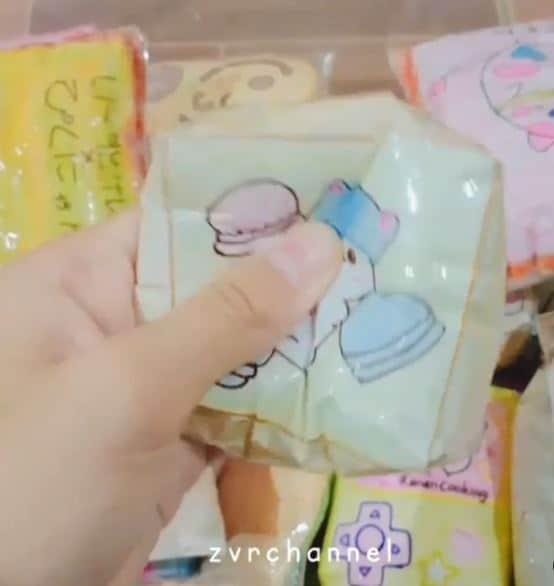 Credits: Instagram @zvrchannel
If my dentist gave me one of these after every visit, I would not hate him as much. Anyway, this made the list to show that not all designs have to be candy or teddy bears, but can also be a sweet… tooth.
You can turn anything into a paper squishy. Your imagination is your only limit. Speaking of, check out these great designs and ideas; to illustrate this point further. 
7. Give us our daily bread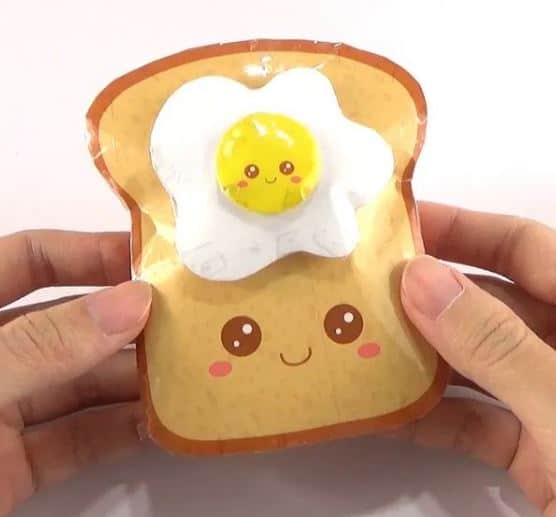 Credits: Instagram @marissa_liviani
Where would this list be without even one entry dedicated to sliced bread? After all, it's one of the most popular paper squishy food ideas and a must-do project!
Melissa makes it very easy for you. You can download this design from her for free and check out her tutorial on how to put everything together.
8. A refreshing drink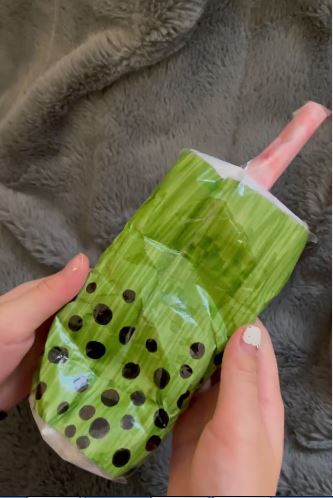 Credits: Instagram @squishaholicdesigns
It may seem like it's a bit complicated for an absolute beginner, but you can achieve this effect by only wrapping the foam in paper instead of enclosing it from all sides. And simply insert a regular straw on top and you're done. The trick is to make the paper slightly shorter than the foam, so the top and bottom parts appear fuller and therefore rounder. 
Oh, and this idea will work with any drink, it doesn't have to be Boba. A complicated Starbucks drink with a misspelled name, anyone?
9. For the bold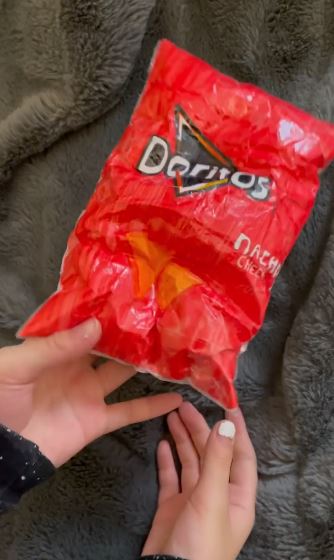 Credits: Instagram @squishaholicdesigns
Admit it, you always wanted to do this to a bag of Doritos. Especially if the person who owns that bag earned your ire. But what should you do if you can't yield to the temptation because the owner might come for payback?
In that case, make a squishy paper of Doritos and fulfill your fantasies without getting into trouble.
10. Rainbow in my pocket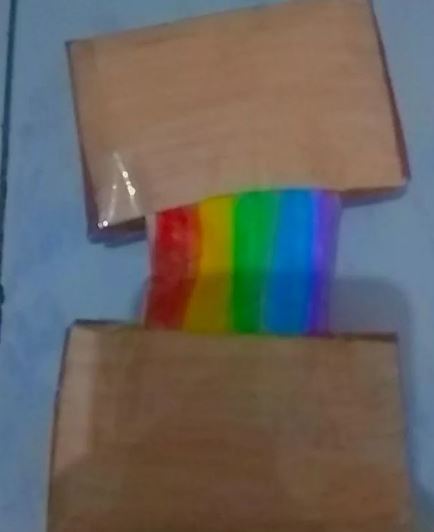 Credits: Instagram @faridha.art
This one is a bit more challenging since you will have to spend a bit more time constructing the paper pockets. But it's worth it.
I mean, isn't this totally unexpected and different from other homemade paper squishy ideas?
11. Better together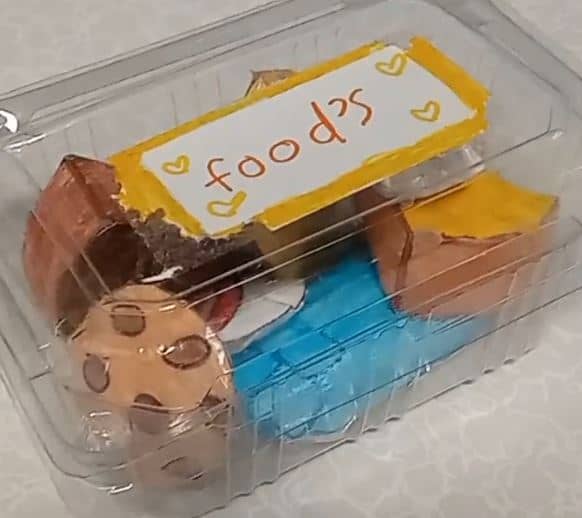 Credits: Instagram @lucinda_spamz
You've mastered this craft and you're ready to give out your pieces as presents? How about this as an idea?
While a paper squishy can be a nice addition to go with a card, a whole box of them can become a nice gift all on their own. Group them by a theme – bento lunch, fruit salad, Christmas cookies, etc. Whatever you choose, it's bound to put a smile on someone's face.
12. Ready for the new dimension?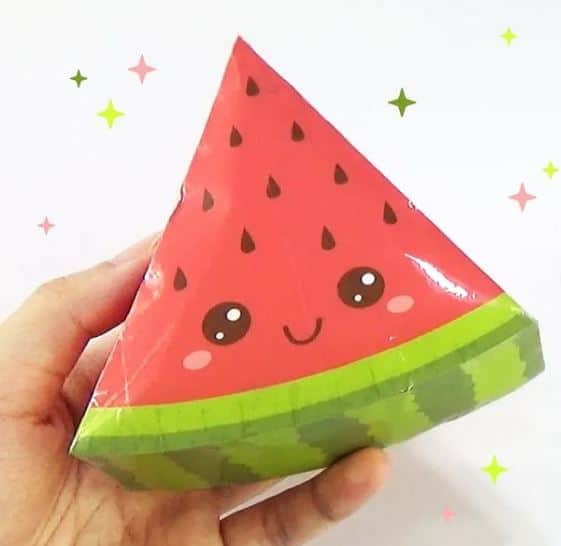 Credits: Instagram @marissa_liviani
Marissa makes another appearance on this list with this adorable watermelon. She also provides a free download and tutorial for this one as well.
Not only is this slice of summery goodness super cute, but it's a great project when you're ready to upgrade your paper squishy-making skills. Once you figure it out, there's a whole new world out there waiting for you to explore. 
Let's Get Started!
Pick a design and see how it goes. With squishy it's great that if you try something and it doesn't work out it's east to start over and try again. If you like the feel of a squishy you'd probably also enjoy slime. Check out our tutorial on making butter slime. It's something you don't want to miss!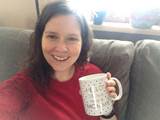 I'm a stay at home mom with our two kids. I really enjoy doing crafts with my kids however, that is typically a challenge with how limited their attention span can be and how messy it gets. So, I'm always looking for ways to make crafting an enjoyable experience and creating fond memory for all of us.