If you've ever owned a table saw, one of the best ways to support it better is by installing a table saw fence. Even though some of you would argue emphasizing the importance of the blade, we think the right fence is equally crucial.
Unfortunately, almost all leading ready-made table saw fences aren't of the best quality. While you can explore and even find a couple of good-quality variants, they tend to run super expensive. The solution? Building your own DIY table saw fence.
While it might seem intimidating in the beginning, with the right guidelines and a tad bit of effort, you can successfully come up with your DIY fence like you always wanted. Building the fence can be achieved in less than an hour and most of the required equipment is easily available.
So, if you're looking to build your first DIY table saw fence, here are some excellent DIY table saw fence plans to get you started.
Bisenmeyer style fence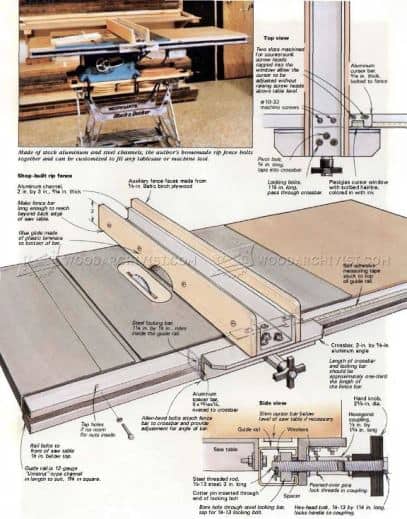 This is the quintessential table saw fence with a T-square structure. However, it is not the same as your conventional Bisenmeyer fence. It completely does away with the specific Bisenmeyer styled lever and uses a fastening latch instead. This way, your fence is secure, sturdy, and durable.
Another defining quality of these fences lies in the structure of their bars. Both the fence bar and its crossbar are crafted from the high-quality channel. Interestingly enough, they move across inside a channel made of stool. The Bisenmeyer styled fence also comes with wooden parts. That means you need to stock up on both your metal and woodwork gadgets to create this fence
You can build this fence quite conveniently once you follow the right guidelines as suggested in the linked tutorial. Most of the guidelines are easy to grasp and thanks to the easy approach, you will get started with this project in no time.
The task will require you to make small holes in the wooden and aluminum parts. That is exactly why you need to stock up on the appropriate tools. It is also worth noting that you will need to tweak your existing dimensions of the DIY fence to sync it with the saw. This is because the tutorial prescribes highly specific dimensions.
Tutorial: http://woodarchivist.com/3585-diy-table-saw-fence/
---
Wooden Table Saw Fence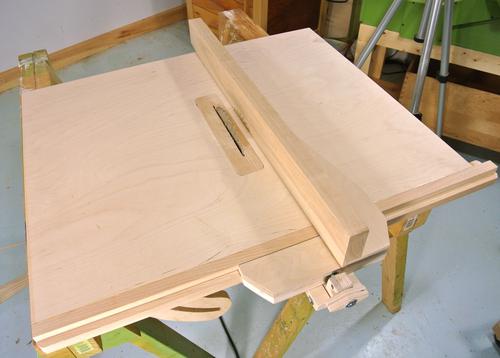 You might also want to consider building a wooden table saw fence. You can make one right at home just using half an inch of plywood. A DIY wooden saw fence is tailored to operate on your rail with accurate measurements. It will also feature a wooden lever to secure the fence the way you prefer.
Even though the attached tutorial is not as difficult to follow, you will need to measure specific parts to double-check. Start with the calculations even before you proceed with this project to make the most of it.
In case you are looking to try this project at home, you would need quality glue, plenty of clamps, drills, and other items as listed in the tutorial.
Tutorial: https://woodgears.ca/homemade_tablesaw/fence.html
---
Table Saw Rip Fence
If you're fond of functional tools instead of just aesthetically pleasing ones, this one might be your best bet. Table saw rip fences are quite the fad and given their sturdiness, they'll last you several years down the line.
Even though it may not be one of the prettiest fences of the lot, it will still do the job expected of it instead of just sitting pretty. By the time you're done with the project, you will be left with an excellent final version of a DIY fence that is stunning and professionally crafted at the same time.
In the attached tutorial, you can explore the vivid thought processes of the maker. What's more, you also get a glimpse into the truly crucial parameters. You will also find a continuation video in the same video. This will help you come up with a perfectly finished product.
Tutorial: https://youtu.be/e5VonQwBGls
---
T-Square Fence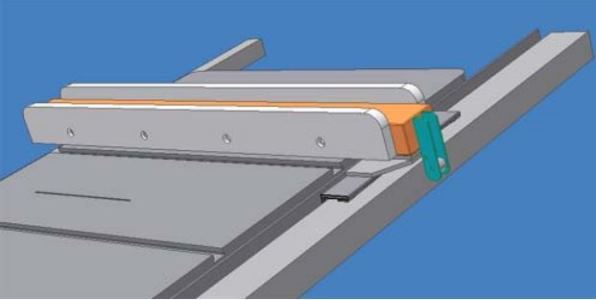 T-Square is one of the best options when it comes to DIY table saw fences and this one is no exception. Thanks to the detailed tutorial, you get plenty of insight into building your metallic fence in T-square style. It goes without mention that you will need metalwork tools for this project along with other tools to weld and sand your fence.
The tutorial here is loaded with details and even comes with a PDF file comprising 20 pages. You will get multiple references, a detailed list of the materials you will need, along with steps that will help you start and finish the project quickly.
Tutorial: http://www.twistedknotwoodshop.com/PDF%20Files/tsquarefence.pdf
---
Metal Fence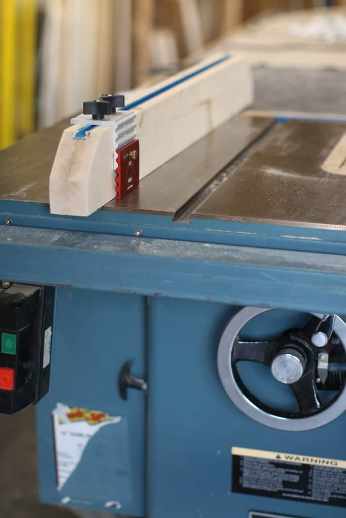 Do not confuse this for the previous T-styled fence, because it's nothing like the former. Metal fences are hard to find because most people prefer wood. However, with a metal DIY table saw fence you end up with sturdier and more solid equipment that has just the right kind of professional vibe.
We are especially impressed by this tutorial since it comes with several high-quality illustrations detailing how exactly you can build a fence from scratch. Since it also provides the required measurements, building your fence from scratch will be a breeze.
Tutorial: https://sawshub.com/how-to-make-a-table-saw-fence/
---
Table Saw Fence With Double-Sided Function
The basic idea behind a table saw fence with a double-sided function is to create a fence that can be operated from both sides of the table saw. This adds to the flexibility of the fence making it much more convenient to use and handle.
Yet another defining feature of this fence is that you need to attach a hardwood right at the posterior part of the table. This way, you can make your fence wobble-proof. Building this fence is super simple and all you will practically need is a solid nail gun, a sturdy table saw, and a proper jigsaw. It may take you a while to understand and build the locking operation of the fence correctly. However, once you're done, you would be left with a stunning table saw fence that is both functional and pretty to look at.
You might want to check out the tutorial below to understand how to start building your fence. The process is super simple and it will barely take you any time.
Tutorial: https://www.simplyeasydiy.com/2014/01/diy-rip-fence.html
---
Cheap Table Saw Fence
At times you want to spend all your time, energy, and effort in crafting the perfect table saw fence. Other times, you just need a simple table saw to work with. And this is exactly where the cheap DIY table saw fence enters the picture. These fences are easy to build and they won't make a hole in your pocket either.
The design is simple where the tabletop is made of multiple wooden pallets. It is then backed by an iron trestle (of course homemade) that also functions as the stand of the table saw. Once you're done with the project, you can conveniently remove the saw from the upper part of the table. Similarly, you may use the trestles for several other kinds of projects.
Tutorial: https://www.youtube.com/watch?v=y0R5rO1jJqM
---
Big Sized Table Saw
If you have massive building tasks, this is the table saw fence to go for. This will not just make your tasks convenient but, it is also super simple to set up. Top takeaways include a perfect latching system, a spacious sliding plate with a cut of twenty-four inches, and a ripping level of 26 to 40 inches. The blades would be even bigger, allowing you to make any type of wooden cut.
Tutorial: https://ibuildit.ca/projects/homemade-table-saw/
---
Simple Fence
Nothing beats the simple and plain table saw fence and that's why this plan has made it to our list. The process is simple and extremely easy to follow. First, you need to make sure the table is completely square and is at 90 degrees from the blade. After this, cut the wood and position it appropriately. Finally, use nuts and sturdy threaded rods to build a solid lock for your table saw fence.
Tutorial: https://www.instructables.com/How-to-Make-a-Table-Saw-Fence-for-Homemade-Table-S/
---
Incremental Table Saw
While this table saw fence might resemble the T-square variants at the outset, that is certainly not the case. Unlike the former, these come with incremental positioners. That means, every time you get the fence locked, it will slide up to 1/15". Thanks to this feature, you will also get a repeatable table saw that allows you to make any form of cut, tweak the location of the fence, or customize it any way you want. You can use the threaded rods for rotating the increments. This way, your fence will be even more flexible.
Tutorial: https://www.youtube.com/watch?v=4pudkvHFOfk
---
Sliding Style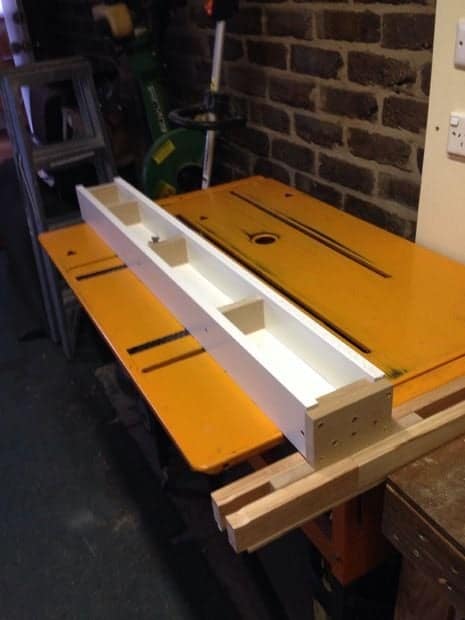 If you're looking for a table saw fence that'll ensure that the rip fence is just in sync with the right blades, sliding-style fences may be your best bet! Setting this up is simple and thanks to the easy steps, you can get started in no time. All you will need is your woodworking tools along with a couple of nuts and bolts and a sturdy board (preferably made of melamine). The sliding style variants are inexpensive and durable: the best of both worlds!
Tutorial: https://www.instructables.com/DIY-rip-fence-for-saw-bench-1/
---
Take-Down Style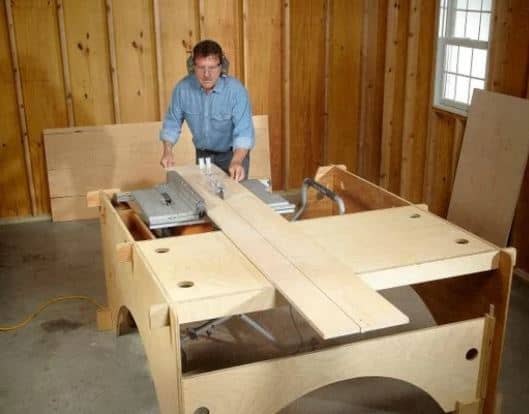 These table saw fences work best for workshops with space crunch but that need to handle large-scale projects. A take-down style table saw will be spacious enough to accommodate plywood and board pieces. You will also get plenty of storage space to hoard the accessories you might need for your DIY tasks.
Once you're done setting up the saw, you can easily re-configure it or store it in any small area until you need it again for a potential task. This way, you are left with plenty of space in your workshop and a big fence for the times you need it.
Tutorial: https://www.familyhandyman.com/tools/table-saws/diy-table-saw-table/view-all/
---
Aluminum Fence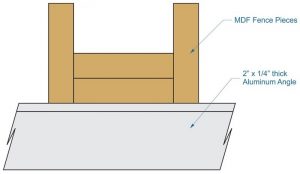 When it comes to aluminum fences, the blade takes more precedence over the fence itself. An aluminum table saw fence might be difficult to set up at the outset, but once you're done with the finished product, you are left with an excellent table saw fence crafted from the highest grade of materials.
The tutorial here educates you about all the aspects you should consider while setting up an aluminum fence. Both the illustrations and the explanations are well-justified and logical.
Tutorial: http://theplywood.com/table-saw-fence
---
Folding Table Saw Fence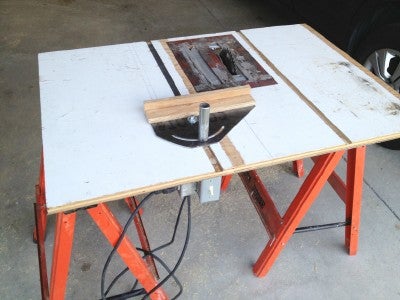 This is yet another excellent design that lets you create a table saw while also leaving you with ample space. If you are not using the device at any point, you can always fold it flat and at that point, it will take up even less space.
To start, get a couple of sturdy trestles and position your table saw right above it. In no time, you would be able to rip out the kind of fence you need. As you would probably guess, these are extremely easy to configure and you can store them even more conveniently. So, if you are looking to make your storage spot clutter-free, this is the way to go.
Tutorial: https://www.instructables.com/id/My-Table-Saw-from-a-Circular-Saw-Redone/
---
Stratiako's Fence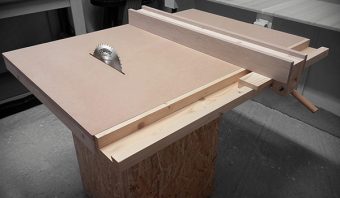 This is perhaps the most durable fence to be featured on our list. It is sturdy and functional, just the way you would want it. The primary component of this fence is wood, and you will find more details about the process from the tutorial we have provided. The steps are detailed, and it also explains all your doubts.
The most distinctive quality of this fence is the design and the solid locking system. Unlike other variants, the locking system involves a lever and a small part of the wood. Check out the tutorial to start the project.
Tutorial: https://www.woodworkersjournal.com/table-saw-fence-system/
---
Bottom Line
Well, this was our list with some ideas we think work best for a table saw fence. Since most of them are extremely easy to make and only use widely available equipment, it would be even simpler to come up with your DIY table saw fence. So, think no longer and get the right equipment to build your DIY table saw fence today! Next, check out some of our other woodworking guides, such as, how to make holes in wood.