Crochet coasters are perfect for beginners, as they're small enough for different patterns, colors, and stitches. They're also highly useful, making them great décor or gifts. That being said, check out these 20 creative crochet coasters you can try.
---
By the way, if you want to level up your crochet skills, check out our top five intermediate crochet stitches!
---
20 Crochet Coasters for the Crafty
1. Crochet Fruit Coasters
Perfect for spring and summer gatherings, these crochet fruit coasters look fresh and fabulous! Make your own fruit coasters and mix and match them to your taste by following the steps @ Repeat Crafter Me.
2. Groundhog Coaster
Looking for a quick, easy, and fun way to decorate for Groundhog day? Fill your dining table with these adorable groundhog coasters patterned by Jennie Claver @ Ravelry.
3. Cat Butt Coasters
Need a fun gift for a cat lover or a pretty little oddity to accent your plain old dining table? These cat butt coasters are the perfect comical little coasters for anyone looking to make their dining tables a bit more interesting.
4. Cat Face Coasters
Want a simpler cat themed coaster? This cat face coaster pattern is easy to follow and easy to customize to match the color patterns of your cats!
5. Dragonfly Coasters
These dragonfly coasters are the perfect mix of playful and classy – perfect for a light afternoon tea party. Check out the pattern @ Pattern Paradise.
6. Color Burst Coasters
These beautiful coasters look like vibrant flowers, making them look absolutely stunning on any hardwood table. The burst of colors makes them particularly eye catching and brilliant, too! Check out the pattern @ Moois van M(i)e
7. Citrus Coaster
Easy and quick to make, this citrus coaster is a great project to try for beginners who want to start off with something simple yet classy.
8. Solar Eclipse Coaster
This beautiful eclipse coaster looks almost like a sunflower in bloom! If you love breathtaking eclipses, you'll want to try this pattern out.
9. Leaf Coasters
Unlike actual leaves that go brittle and break easily, these hardwearing coasters are made to withstand generations of wear and tear. Learn how to make your very own sturdy leaf coasters by following the tutorial by Katherine Laight @ Ravelry.
10. Ferris Wheel Coasters
Want to try out different stitches at once? This Ferris wheel coaster pattern includes front post stitches, bobbles, etc., making it perfect for beginners looking to try out new patterns, or even experienced crocheters! Check out the tutorial by Dennis Marquez @ Ravelry.
11. Colorful Fish Coasters
These fun and vibrant fish coasters are simple, but look absolutely adorable! Make your own coaster sea creatures by following the tutorial @ One & Two Company.
12. Amelia the Sheep Coaster
Nothing's cuter than a flattened sheep trying to carry your heavy drinks! Make your own adorable little sheep by following this tutorial.
13. Donut Coaster
Donuts don't just taste delicious, but they also look super cute as crochet coasters. This is a very popular design that's just perfect for the kitchen, not to mention, it's not too complicated to create. You'll need cotton yarn in your favorite colors, a size H crochet hook (5mm), and a yarn needle.
14. School Inspired Coaster
If it's that time of the year when school is just around the corner or almost over, why not make some back-to-school and end-of-year inspired coasters for the teacher in your life? You can make apple coasters, pencil coaters, or alarm clock coasters. These are fun, useful, and make for great gifts!
15. Heart Coaster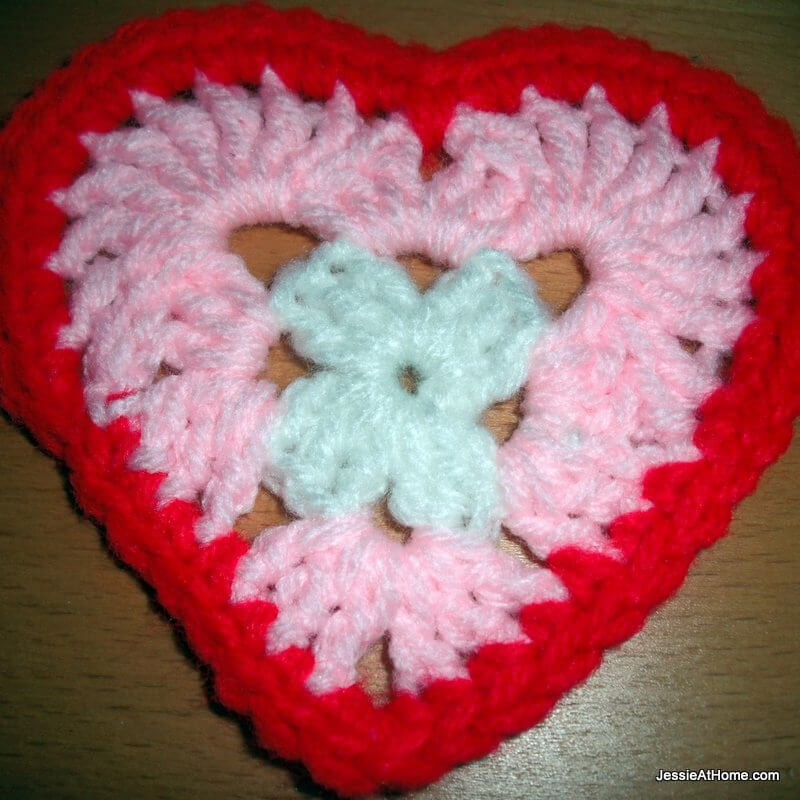 If you're looking to keep things simple but, as basic as a square or circle, you can't go wrong with a heart-shaped crochet coaster. Just imagine how good these can look on a table for a romantic dinner! Heart coasters are also excellent for Valentine's Day parties. The best thing about these coasters is that you can use just about any yarn as long as you pair it with the matching hook.
16. Filet Crochet Coaster
If you're searching for a unique crochet coaster pattern to show off your crocheting skills, then a filet crochet coaster is a fantastic choice. Reminiscent of vintage doilies, filet crochet patterns may look a bit complex, but they're really not that difficult. Here's a filet crochet chart for an elegant squared coaster. There's also a symbol chart added for those who can't read filet crochet charts.
17. Classic Granny Square Coaster
Simple, pretty, and handy, a classic granny square coaster is an awesome choice that anyone can make regardless of the level of their crocheting skills. You'll come to love how versatile this pattern can be having so much room to play with colors. You can make each coaster in a single color (perhaps representing rainbow colors or Christmas themed red, white, and green). You can also make multicolored coasters by crocheting each round of the square in a different color.
18. Turkey Coaster
A pumpkin design can work for Thanksgiving, but if you really want to nail this holiday's spirit, then a turkey coaster is simply perfect! You get a couple of options for color and detail with this pattern to suit your skill level. You can make a turkey from a side view or a turkey that's looking straight at you with a bunch of feathers on its back.
19. Shamrock Coaster
A shamrock coaster would look beautiful on your table in springtime, as well as make a terrific decoration for your next St. Patrick's Day party. Of course, you don't have to stick to shamrock green. Feel free to play with colors for year-round use.
20. Mandala Wheel Coaster
Who doesn't love a nice mandala design? Well, then how about you make a mandala wheel coaster to add summer vibes throughout the seasons! This is a quick and easy project to complete that also makes for a wonderful gift. You can pretty much choose any number of colors to include and you'll get a different look every time.
Add a Dash of Style to Your Dining Table with Your Own Crochet Coasters!
Coasters are like miniature canvases – there's just so many things you could "paint" into them! Whether you're a beginner or an advanced crocheter, the patterns in this list will help you turn your dining table into a work of art. Make your very own coaster today and don't forget to post your latest creations in the comments section. We'd love to see how great your crochet coaster turned out! Happy crocheting!