Spirograph is one of those toys that kids either struggle to see the appeal in or get really creative with. The original concept of a mechanical drafting toy that was for children was odd but, let kids get creative in a new way. The sets haven't deviated from the concept, even in the anniversary edition. But, which is the best Spirograph set for your kids?
Spirograph Original Deluxe Art Set

Features to enjoy for both adults and kids

Comes with pens and paper

Special Edition 50th Anniversary Die-Cast Spirograph Wheel

Crayola Spin & Spiral Art Station

There are 3 gears, 6 markers, and 15 discs of paper for the basic unit

Everything included to get started

Introduction to Spirograph
---
6 Best Spirograph Set
1) Spirograph Original Deluxe Spirograph Art Set
This has to be the best place to start when talking about Spirograph sets because it is the one that adults and kids alike will be drawn to. Adults want an original set that plays into their nostalgia and kids want deluxe features. A lot is going on here with 15 wheels and a series of extra shapes. Everything comes in a storage case to avoid little discs getting lost and there is a built-in work area. It is short on pens, so it is worthwhile getting a set of fine-point markers in various colors to go with this set. The deluxe model is still inexpensive so you can turn this into a bigger gift to help kids get started.
---
2) Super Spirograph 75-piece Jumbo Kit (50th Anniversary Edition)
Sticking with some of the more classic toys for a moment, I want to show you this anniversary edition. The idea here is that you get the same sort of kit, with the storage case and the built-in work area. But, there are even more wheels, shapes, and some interesting tracks to play with. The idea of a collectible gold die-cast wheel is nice for die-hard fans, but will be lost on kids. This one is best left to those that appreciate the history of the craft. Although you won't become bored with this set because it includes: 31 Precision Spiro-Tracks, 21 Spirograph Precision Wheels, 2 Spirograph Precision Rings, 2 Spirograph Precision Racks, Reusable SpiroPutty, 3 Design Pens, 12 Sheets of Jumbo Design Paper, 2 25-Page Design Pads, and a 24-Page Design Guide Book. This is an intermediate set because of all that it's capable of creating. However, one could start with this set and enjoy it for some time with all it's aspects included.
---
3) Spirograph Travel Set
I like the concept of this miniature toy for a couple of reasons. First of all, younger players can take this hand-held device with them when traveling or visiting relatives as a quiet way to occupy themselves. Secondly, older players – like adults needing a little stress-relieving break – can use this on a work break as it is so portable and simple. Clip the frame together to hold the paper in place, add one of the six wheels, and draw. There is also the suggestion to use 3 by 3 inch sticky notes as they stay in place better. This is great for those using it in the office with access to the supply cupboard.
---
4) Spirograph Cyclex Multi
This next set takes things to another level in terms of complexity because it uses a more complex set of holders to create intricate Mandela designs. This means more colors and patterns within one final image. It should be a great way for kids to test their creativity and you get a nice set of wheels and some basic markers in the box. The downside is that the tendency for the wheels to catch leads to errors in work, which is more frustrating with these detailed designs. Older kids with patience could enjoy this project a lot more than younger siblings.
---
5) Spirograph Scratch & Shimmer
What I love about this set is that it gets a whole new effect to play around with while still holding onto the classic mechanics of Spirograph. Here, you get some sheets of scratch paper and a stylus, rather than markers. Players then scratch out the dark top coating with patterns from the different wheels and reveal rainbow-colored patterns. There is a greater level of difficulty in getting complete and perfect designs, and you will have to source extra paper when you run out. But, it is a great novelty option for older kids that need a challenge.
---
6) Crayola Spin & Spiral Art Station
For the last product, I want to take a moment to go in a different direction. Are you keen to have a Spirograph-brand toy or a toy that has Spirograph-style mechanics? I ask because Crayola has a copycat product with a "we must be vague and unaffiliated" name. It is a great idea for younger kids familiar with Crayola markers. There are 3 gears, 6 markers, and 15 discs of paper for the basic unit. It's not your classic Spirograph, but it's a fun twist on Spirograph that might get the wheels spinning for kids to introduce Spirograph.
---
Why are Spirograph Sets so Popular?
Let's be honest here, a lot of Spirograph sets are bought for kids because parents have fond memories of them from their youth. It doesn't matter if you had an original one in the 1960s or were part of the revival in the 1990s. Spirograph holds a nostalgic place in our hearts and we want our kids to share in that. The concept is so timeless that anyone can pick it up and have a go. It remains one of the more interesting art-based toys around.
What Should you Look for When Choosing a Spirograph Set?
There are some interesting official Spirograph sets out there and others that are similar but from other brands. Either way, you want to be sure that you have a good frame and a nice selection of wheels for a range of designs. Take a look at the contents of each set and see if there is any special feature to make it stand out. Also, how much paper and how many pens are included in the box?
Remember that no Spirograph Art is Perfect
If you are new to this toy, be aware that there are imperfections and risks of faults. Kids that are too forceful or eager can take the wheels off their tracks. There is also a tendency for wheels to catch. So, never expect masterpieces. Just brush it off and go again. Also, be careful to use the right pens and paper for the best results. No pens that are too fat or paper that will bleed or tear.
Choosing the Best Spirograph Art Toy
If you are keen to stick with the original brand, there are still lots of great sets out there. I recommend starting with the classic so kids can understand the mechanics and moving onto a gimmick like the Scratch & Shimmer when they build confidence.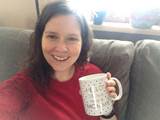 I'm a stay at home mom with our two kids. I really enjoy doing crafts with my kids however, that is typically a challenge with how limited their attention span can be and how messy it gets. So, I'm always looking for ways to make crafting an enjoyable experience and creating fond memory for all of us.