Making a baby quilt is such a wonderful thing that you can do for a newborn. Perhaps you are an expectant mother with a little sewing experience who wants to create something for their child. Or, maybe you want to make a special baby shower gift for a loved one. Either way, it helps to find the best baby quilt for beginners to get started.
Janlynn Cross Stitch Kit Twinkle Quilt

Dimensions Stamped Cross Stitch Sweet Prayer DIY Baby Quilt Kit

Shanon fabrics Minky Read to Me Forest Cuddle Kit Quilt Kit

Great example of a beginners kit

Room to customize the quilt with the baby's name

Polyester/cotton blend for a softer and more breathable quilt

Final quilt is 34 X 43 inches

Pre-stamped and all the instructions, thread, and other tools you should need

Able to make quilt and fabric book with material provided in kit

28 X 40 inch quilt set that comes with the pattern, fabric, backing, and binding

Brand is known for overall satisfaction
---
What Sort of Kits are Available When Looking for the Best Baby Quilt Kits?
In this guide, I want to highlight two different types of baby quilt kits for beginners. The first is the sort of kit that teaches you how to sew material together to create a soft, safe cover for your baby's crib. These typically have the printed fabric top, backing, and binding in the kit, as well as the instructions on how to put it all together. From there, you can choose the ideal option based on designs and any other extra that come in the box.
Then there are the kits where you can cross stitch a pattern onto the fabric and then construct the quilt. There are pros and cons to choosing this sort of baby quilt kit. On the one hand, you have a much more interesting project where keen sewers can enjoy making and customizing the pattern to suit the child and its nursery. On the other, this may require more skill than other "beginner" kits and there is the risk that the design will not hold up in time after a few months with a newborn baby. The other kits with the printed fabric are more simplistic but, they may be more durable.
---
Important Things to Look Out for When Choosing the Best Baby Quilt Kits for Beginners and for More Experienced Sewers
1) The difficulty in completing the project.
If you are looking for a beginner-friendly kit, the last thing that you want is something that is a pain to put together. Some kits are much easier than others. I like the quilting kits with various types of fabric as they are great for novices and give you skills you can use with other pieces of material in the future. However, it still helps to read user reviews in case a material is too slippery or stretchy.
2) The design of the quilt.
This is just as important. You need to be proud of the finished quilt and the design plays a big part in that. It is up to you how complex you go with the needlework involved, especially with the cross stitch kits. I like products that test out skills with lettering, straight borders, and different types of stitches. You can also lean towards a more traditional design or something more contemporary. Animal themes and teddy-bears are easy to find.
3) Is this a complete kit?
What I mean by complete is can you finish a quilt and hand it over as a gift using everything in the box? Some kits are complex with the backing, biding, patterns, needles, and thread. The pattern is also clearly marked on the fabric. However, others offer the top piece of the quilt alone, or perhaps don't have enough thread. Check the listings and be prepared to source your own colors if you want too.
4) Are there any extra features or freebies that can enhance the product?
There are a couple of sets below that I think are extra special because they provide material and instructions for side projects. One of these is a kit where you can make a little fabric-covered book that adds to the story of the quilt. The other allows you to make a cushion cover. Essentially you are getting two items for the price of one, which means added value if you are giving a kit as a gift.
5) Is this a good gift for a loved one, or something to make yourself?
On that note, there are some products here that are better suited for gifting to another person. Some of the cross stitch baby quilt kits come in boring packaging and are better for a relative with sewing skills that want to create a gift for a grandchild or niece/nephew on the way. Then the quilt is ready to use and more special when unveiled at the baby shower. Then there are those that come in cute boxes with ribbon and are inviting gifts for creative mothers-to-be.
6) The size of the finished quilt.
This is something that we could easily overlook when choosing a baby quilt kit. We can get so enamored with a design or concept that we don't take a closer look at the small print. There are lots of quilts that are around 28 by 37 inches, but others will be a little bigger and others smaller. You want the quilt to be practical, with a nice surface area for warmth and comfort. Too small and it becomes a bit decorative and easily out-grown.
6) The durability and long-term value.
Speaking of out-growing the quilt, how long do you expect these finished quilts to last? There will be plenty of people that aim for a quilt that the child can grow up with. This will all depend on the quality of the sewing, but also the durability of the materials. A cross-stitched quilt may not look so good after a few months of being chewed, spit-up on, and then washed in the machine. Other options with durable materials could end up being treasured items, especially those with fun characters that kids can latch onto.
---
The Shannon Fabrics Brand
A lot of the best quilt kits with printed fabric come from the same company. There are sure to be other brands out there that offer similar projects with equally attractive designs. However, Shannon Fabrics always seems to come out on top with Amazon consumers in terms of the frequency of purchases and the overall satisfaction. I am impressed with this brand not only because of the range of designs but also the care taken to create something that family can treasure.
1) Shanon fabrics Minky Read to Me Forest Cuddle Kit Quilt Kit
The first option I want to highlight is part of the "Read to Me" Forest collection. You get a 28 by 40 inch quilt set that comes with the pattern, fabric, backing, and binding. It is sold as a premium quality option and I can see why. What I love about this one is there are two gifts in one if you were to give this to an expectant mother as a baby shower gift.
There is also an additional piece of fabric measuring 9 by 9 inches that you can use for a panel for the soft covered book. The book "Critter Count" is a great way to teach kind basic numeracy skills by counting the creatures depicted on the quilt. Therefore, this piece should provide comfort and education for many years to come.
Also, those creatures are beautiful cartoon depictions of recognizable forest creatures such as foxes, bears, raccoons, and bluebirds. Just be aware that the fabric is a bit slippery so it isn't the easiest option as a first kit.
---
2) Shannon Fabrics Minky Bambino Hay, There Cuddle Kit Quilt Kit
There is a lot to love about the fabric of this next choice from Shannon Fabrics. While there is a common desire to lean towards pastel colors and soft tones with nursery decor, we forget that babies like things that are high contrast. That is why this fabric is so appealing with its various stripes. There is a white element with a fun farmyard print of cows, sheep, windmills, tractors, and more – hence the "Hay, There!" name. Then there are black stripes with white dots, and in between are strips of duck-egg blue.
The set comes beautifully packaged if you plan to give this as a gift and contains a pattern on how to sew the 28 by 37 inch sheets, as well as the5 pre-cut strips, pattern, backing and binding. The backing sticks with the fun farm theme with the classic E-I-E-I-O in Cuddle Seaspray. It doesn't have the same educational factor as Critter Count, but is still a great choice.
---
3) Shannon Fabrics Minky Wee Ones Love Ewe Cuddle Kit Quilt Kit
This next option from the brand is a little bit different and I really like this one for the textures used. These quilt kits are great for teaching newcomers how to stitch strips of fabric together, add a really nice binding and create an attractive finished product. So, to offer a fluffy faux fleece alongside the strips with the printed shape and the beige stripes in between.
I also really love the packaging of this set, which is why this company is such a great choice for gifting kits to other people. There is a lot to like with the complete set of materials and tools. A downside I need to mention here is that the finished quilt is considerably smaller than the ones above, at 27 by 27 inches square.
---
4) Shannon Fabrics Minky Picture Perfect Stardust Unicorn Cuddle Kit Quilt Kit
For the last of these options from Shannon Fabrics, I have a product that may divide opinion. Is this a baby quilt? I would say maybe not, considering the size and the extra feature in the kit. However, there is still the potential to use this in a nursery with ease. Also, the two elements have longevity that allows for use into toddler years and when using the room as a playroom.
The quilt is beautiful with the four different types of fabric, there is a big piece with the unicorn heads in blue, pink, and purple. Either side, you have a turquoise unicorn print and a series of pink and white textured strips. This creates a large quilt measuring 38 by 58 inches. Then, there Is enough material left over to make an 18 by 18 inch pillow cover. What is interesting here is that you aren't paying that much more for the extra fabric, making this a great value choice. There are some comments that the materials aren't the easiest to use. However, more experienced sewers should have no problem at all. There is also great quality and not much to worry about.
---
5) Design Works Crafts Tobin Baby Quilt Kit T21747
For the first of the cross stitch-your-own quilt products, we have something that is adorable and similar in vibe to the critters at the start of the guide. Here you get the pre-bound material, needle, and embroidery thread to stitch a gorgeous scene of woodland animals. You can also practice your skills with writing the message in the middle and creating a neat border framing the scene. The finished quilt measures 34 by 43 inches, making it larger than some of the options above.
However, there are two small issues to be aware of. The first is that the stamp on the material isn't always as clear as it could be. The second is that some buyers switched out the colors for something more realistic. Therefore, this set is a better choice for those with a little more experience and confidence than for those looking for the ideal beginners set.
---
6) Dimensions Stamped Cross Stitch Sweet Prayer DIY Baby Quilt Kit
There is something sweet about the traditional design and feel of this quilt cover. It looks like just the sort of thing that grandma would make for her new grandchild – so if that is your situation, this could be ideal. The image depicts the prayer of a young child and their teddy bear with the phrase "Now I lay me down to sleep". There is also a border of flowers around the scent.
Again, the final quilt is 34 by 43 inches and you get the image pre-stamped and all the instructions, thread, and other tools you should need. This material is also a polyester/cotton blend, rather than the 100% polyester in the first section. This could make the quilt a little softer and more breathable.
The downside here is that you don't get the backing or binding to finish this off. Overall, it seems pretty easy to use with a better print than the Tobin Baby Quilt.
---
7) DIMENSIONS Stamped Cross Stitch 'Zoo Alphabet' DIY Baby Quilt Kit
If the design above is a bit too traditional, but you like the idea of the package that you get and the stamped cotton blend, there are some other fun designs in the Dimensions range. The Zoo Alphabet is a great choice for a gender-neutral nursery. The LOVE letters are created with different tones and patterns and have various animals interacting with them. The lion, ostrich, giraffe, and elephant all have a baby version of themselves too.
Some of the animals aren't the most realistic, so there isn't much educational value here, but the variety of images and colors allows for a really nice finished product. The colorful patterned border around the edge helps too. Again, you get a nice print on the fabric that washes away and the same dimensions of 34 by 43 inches. The downside here, however, is that while you get a lot of thread for your money, you don't get the backing or binding.
---
8) Janlynn Cross Stitch Kit Twinkle Quilt
This final option is a great example of a beginners kit because the pattern is a lot more simplistic and it is also a little more affordable. There is the phrase "Twinkle Twinkle Little star is different fonts and colors, with a cute baby elephant holding a star-shaped balloon. There is also room to customize the quilt with the baby's name.
The added benefit of this product over the two dimensions kits above is that this time you do get a fully bound and backed quilt to stitch. The problem is that there are some inconsistencies with the print. There are some people that get kits with no issues and they end up having a 5-star experience. Some agree that this is perfect for beginners because of the complete set and the image. But, there are others that get prints that are faded or askew in places. Personally, I think it is worth the risk for the low cost and the chance of creating such a pretty quilt. You can always return it if you receive it and the print isn't perfect.
---
Choosing the Best Baby Quilt Kit for your Needs
This is just a small selection of what you can find, but I believe that these kits are some of the best approaches for those looking for the best baby quilt kits for beginners. Personally, I think that the Shannon Fabrics are best for those that just want to learn how to construct a quilt, especially with their range of fabrics. But, the cross stitch kits are brilliant for those that know how to sew and want to expand their horizons. Whichever style you prefer, there is sure to be a design to suit your tastes!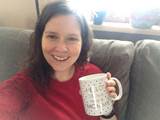 I'm a stay at home mom with our two kids. I really enjoy doing crafts with my kids however, that is typically a challenge with how limited their attention span can be and how messy it gets. So, I'm always looking for ways to make crafting an enjoyable experience and creating fond memory for all of us.