Arts and craft kits are a great way for kids and adults to get creative when they aren't sure where to start. An interesting option for parents unsure what their next craft project should be is a stained glass kit. The basic premise is that you add color in some way to a piece of clear plastic, put the finished piece up to the light, and enjoy a stained glass effect.
Joy of Coloring Zorbitz Stained Glass Window Art Cling Kit

Pajaver Stained Glass Painting Window Art DIY Kit for Kids

Lanyani 1600 Pieces Transparent Cathedral Glass Mosaic Tiles

Wide variety of designs and colors to work with

Suction cups to help the pieces stick to the window

Table could not be displayed.

Templates are adaptable for various designs

Use of sheets and frames creates a more durable decorative item

A completely different way to get creative with stained glass

A large selection of colors and shapes for interesting designs

Results in impressive creations
In this guide, I have compiled a series of 5 of the best stained glass kits around right now. Some of them are simple introductions for kids to create specific images, while others allow for a little more creativity. There are also tips on the different types of kits and what to look out for to help you make your choice.
5 of the best stained glass kits
1) Melissa & Doug Stained Glass Made Easy Craft Kit
The purpose of these Melissa & Doug stained glass kits is to create a detailed and attractive image for kids with nothing but translucent stickers. The process is meant to help young kids with their motor skills and ability to follow a pattern. This is the Dolphins set, with a cute marine-themed scene with an added rainbow. There are others in the range. Some parents wish there were more masculine designs, but many kids love the options available.
The great thing about these Melissa & Doug products is that even if they are a little simplistic and don't use paint, they are accessible. Anyone can get started with one of these and create an attractive piece with few issues. With 180+ stickers in this Dolphins set, there should also be room to make mistakes. Once finished, you can attach the design to a window or door, or find a way to hang it up to catch the light. The size of the piece makes it a great choice for an eye-catching decorative object.
The downside here is that there isn't much artistic skill in peeling and sticking these stickers compared to the sets below. Some kids will like the process and the easy application if they lack the confidence to paint. Others may find it a bit too restrictive. Also, there is a warning from parents to be careful peeling them off so they don't tear or separate. That is where those spares help.
Pros:
1) One of many fun sticker-based designs from a respected brand
2) A user-friendly option with an attractive finished design
Cons:
1) Be careful with the stickers
---
2) Joy of Coloring Zorbitz Stained Glass Window Art Cling Kit
This next option works with paint rather than stickers for a more hands-on way of creating the images. Kids can follow patterns on the box to create pretty mandalas or use the colors to design their own. There is more creative freedom with this approach, especially as each of the four designs comes with a spare for a different color combination.
Most kids should find this to be a fun and satisfying project if they are willing to be patient. You need to give the paint time to dry to stop the sections from running into each other. Each of the five colors comes in a tube that they can squeeze directly onto the design, rather than needing precision with brushes. Once complete and dry, the piece should cling to a window for that stained glass look – hence the name.
One potential issue to be aware of here is that the colors aren't always as parents expected. There is an expectation for bright primary colors that have a great visual impact on a window. In some cases, the tones were more of a pastel shade. While this is still pretty, it isn't the same as the deeper colors in other sets.
Pros:
1) The mandala approach has greater appeal for a wider age range
2) You can play with different color combinations for creative expression
Cons:
1) The colors aren't always as buyers expected
---
3) EPIQUEONE Paint Your Own Suncatchers Kit for Kids
This kit is my favorite of the sets on offer in this guide because of the method and the amount you get in the set. You get tubes of paint to squeeze directly onto the designs to create colorful patterns. Then, once dry, you can stick them to a window to admire the designs on sunny days.
The main difference with this kit, is that you get a lot more in this set than the one with the four mandalas. There are 28 pre-made suncatcher pieces in this set. 26 of these are standard-sized ornaments with a great range of fun designs and animals to color in. There are then two larger pieces with a unicorn and a photo frame theme. These are a little more like the detailed Melissa & Doug model at the start of the guide. Furthermore, you get a lot more colors – with 18 shades – as well as glitter glue and suction cups for extra security on the window.
There isn't much to say against this product because of all the features and options. Kids should be able to come back to this kit again and again for a fun arts and crafts session. However, the complexity of some of the smaller pieces and the use of tubes do mean that kids benefit from a steady hand and care. It might be worth getting some brushes if kids find that easier.
Pros:
1) A much wider variety of designs and colors to work with
2) Suction cups to help the pieces stick to the window a little better
Cons:
1) You need to be precise with the tubes as there are no brushes
---
4) Pajaver Stained Glass Painting Window Art DIY Kit for Kids
Table could not be displayed.
This next set is another that uses paint to create a stained glass effect. However, the rest of the product is completely different. Here you get a set of two acrylic sheets that mimic glass. These are set into stylish picture frames so they are free-standing on a desk or windowsill. This allows for a decorative item that may last a little longer than the clings above. Kids can then use the templates to build fun mandala patterns onto the "glass".
This approach should allow for greater creative freedom than the other kits with shapes to fill in. Users can adapt the templates into different configurations and patterns. Kids that are more artistically minded could also take the plain transparent "window" in the frame and paint their own design with glass paint.
There is a big downside here that I feel parents need to consider before ordering one of these sets. The kit doesn't include any paints or pens for painting the designs. Nor are there any instructions. The latter isn't a big problem as the problem is pretty intuitive. You can also get some glass paint and add that to an order if you are keen on trying out this process.
Pros:
1) The use of the sheets and frames creates a more durable decorative item
2) The templates are adaptable for various designs
Cons:
1) You need to supply your own paints or pens
---
5) Lanyani 1600 Pieces Transparent Cathedral Glass Mosaic Tiles
Finally, we have something completely different from the painting and sticker sets above. An alternative way to create a stained glass design is to take small pieces of glass – either real safely prepared pieces or acrylic – and build a mosaic. This is better for older kids and adults than younger crafters that may be put off by a lack of instruction or a clear design to make. With imagination and patience, these kits can lead to some impressive creations.
This set is no different because there are so many pieces to work with. Not only do you get 15 colors to put together in various patterns, but there are also 4 shapes within each color. This can lead to some interesting effects and a series of different designs over time. With 1600 pieces in total, you could end up with something large that revamps a window at home for years to come, or a series of smaller pieces.
The problem with this set is that there are inconsistencies in the pieces. Some users might argue that this brings some authenticity to the set as off-cuts wouldn't all be precise. But, others find it difficult to match elements and create the perfect patterns they had in mind. In some cases, users have filed down pieces to make them work.
Pros:
1) A completely different way to get creative with stained glass
2) A large selection of colors and shapes for interesting designs
Cons:
1) There are often inconsistencies in the shapes and sizes of the pieces provided
---
Some of the Different Styles of Stained Glass Kits
There are lots of different ways to create a stained glass effect on decorative items at home. Those that are more accomplished painters may appreciate the opportunity to use glass paint to create images on drinking glasses, old jars, or other recycled items. But, it may be better to start off with a stained glass kit for an introduction to the art. There are various approaches here. They include
painting onto pre-made shapes
putting stickers onto pre-made shapes
using templates to paint onto acrylic sheets
making mosaics with precut pieces
One of the most popular options is to get a set of shapes with clearly marked segments for painting. You can then apply the paint – either following a pattern or your own design – for a colorful image. The light should come through the piece when attached to a window for a stained glass effect. This is a great idea for young children or adults with dementia that like simple paint-by-number projects for creativity.
There are alternative kits with similar approaches but slightly different methods, as you saw above. Some brands use stickers rather than paint to complete an image. There are benefits here for kids that aren't yet familiar or confident with using paint and creating colors. The stickers are recognizable shapes like puzzle pieces and fit into place with ease. It is a step-up from having a sticker book to creating something more artistic.
Other brands provide stencils and plain sheets of acrylic. The stickers and clings above are great for very young users while this is more grown-up. Stencils are a nice safety net where kids are still able to follow guidance but remain creative. There is a feeling of greater expressive freedom while the clings are more paint-by-numbers.
Then there is the mosaic style of stained glass kits. These provide a series of pieces to glue into an intricate pattern for a more authentic look. Again, this may be better for older users with more patience but can offer a nice alternative to painting.
What Should you Look Out for When Choosing the Best Stained Glass Kit?
Keep the following factors in mind when choosing a kit, especially if this is your first venture into the world of stained glass. You want to be sure that you have something that isn't too niche or complex, or that isn't too simplistic or low-quality.
1) The recommended age.
Age recommendations aren't ever that strict because it depends on the skills and experience of those using the product. Some kits for 4-8 years old may or it may also work brilliantly in dementia care. Or, you may have an 8 year old that is artistically gifted and needs something more challenging. Still, the guide on the box gives an indication of what to expect.
2) The design.
Some of the best stained glass kids' kits offer fun shapes that they can fill in with paint and stick to the window. Browse the designs to see what may suit their personality the best. Other options with a series of templates are great for creative expression.
3) How they are displayed.
Many brands will use products called "clings" that fix to the window by themselves. They can look great but lose adhesion with time. Others provide suctions cups for a similar set-up. There are also free-standing pieces in frames that can look great on a windowsill or a child's desk.
4) What's in the box?
Take some time to look at the full contents of a kit before ordering anything. Some sets have more shapes and features than expected and others far fewer. The more shapes to paint, the more often kids can enjoy craft time. How many tubes of paint are included and in what colors? Are there brushes and other tools? Also, check for methods of adhering shapes to windows.
5) The testimonials on quality.
Finally, make sure to read feedback from parents on any kit you like the look of. They can provide valuable information on the quality of the paints, the longevity of the pieces, and other potential issues. For example, paint colors aren't always true to the photos on listings.
---
FAQs about stained glass kits
1) Can you stick a stained glass painting kit to a window?
Sometimes. Many kits with plastic paintable surfaces adhere to glass. Some are more temporary than others, so it helps to look out for kits with suction cups. Others may have stand-alone frames instead as decorative items.
2) Do stained glass painting kits come with paint?
Again, it depends on the kit. Many products will have user-friendly tubes for application straight onto the surface. Others will require you to already have suitable paints or pens. I recommend starting with something with tubes included.
3) Are stained glass kits strict paint-by-numbers projects?
Many of these kits have a shape to fill in and a series of paints. You could follow the design on the box here or be more imaginative. Kits with stickers or mosaic pieces for specific patterns will be more restrictive.
4) Are stained glass kits just for kids?
Not at all! I have seen many reviews for these products where buyers have gifted them to older relatives with dementia or other cognitive issues. The combination of creative expression and simple instructions can make a difference. Teens and adults can also look for more complex mosaic sets and glass painting kits for a fun challenge.
Choosing the Best Stained Glass Kit for your Next Project
There are pros and cons to the different styles highlighted here. I believe you can't go too wrong starting off with a simple painting or sticker kit, and both Epiqueone and Melissa & Doug certainly have enough designs to keep kids busy. You can then move onto the templates or mosaic styles as kids get more creative and build confidence. Also, don't be afraid to test these out on older relatives with cognitive issues looking for fun creative projects. Whichever you choose, don't have too high an expectation about the quality or longevity of the finished piece. Just have fun watching and helping your kids make it.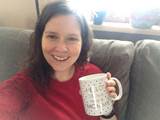 I'm a stay at home mom with our two kids. I really enjoy doing crafts with my kids however, that is typically a challenge with how limited their attention span can be and how messy it gets. So, I'm always looking for ways to make crafting an enjoyable experience and creating fond memory for all of us.