Whether you are a keen quilt-maker yourself, or just have an impressive collection of quilts and blankets at home, a top quilt rack could be a good purchase. These racks allow for better storage and display of these beautiful pieces. But, you need to find the best option for your space. There are lots of different styles out there, some of which are more practical and aesthetically pleasing than others. The most important thing is that it provides easy access in a secure and attractive piece of furniture.
In this guide, I will highlight some of the best quilt racks around right now to show you some of your options. I have divided the guide into three key sections based on the style of the product. The first is a trio of attractive wooden racks. These have a soft look and different ways of presenting the items. Then there is a trio of metal racks, in case you prefer this style and want a more heavy-duty option for your home. Finally, there are some wall quilt rack ladders. This is an alternative way to display these items that is very popular and effective. Before that, let's look at why you might want a quilt rack at home and where to use them.
Winsome Wood Eleanor Storage/Organization

Enclume Premier Quilt Rack

Solid Beachwood with a walnut finish

Company offers various styles and finishes

It is 34 inches wide by 33 inches tall

Choice of barnwood in rustic brown or rustic white finish

Five shelves/rungs to the ladder

Is 4.5ft height by 1.5ft width
Why Do you Need a Quilt Rack At Home?
Quilt racks are a great idea if you often have guests over and want to make sure that they have access to spare bedding. This is great for family members that come to stay in the holiday season, or if you happen to live in particularly cold areas that get chilly in the evenings. A quilt rack provides easy access to something to take the chill off. With the right storage solution, you can also display a range of quilts and blankets of different thicknesses and materials. This idea of displaying items is also important, as you may just want to keep homemade items on show.
Where Should you Set up your New Quilt Rack?
You could set up your new quilt rack in a guest bedroom for spare linens and bedding. A well-placed free-standing rack at the bottom of the bed provides easy access and doesn't get in the way. A nice alternative here is to use a larger ladder against the wall. This can create a nicer display. You may also choose to bring one of these products into a living room. There are times watching movies or gaming late at night where a blanket would be perfect, but you don't want to leave the room. You may also notice that some of these products are listed as racks for the bathroom. This isn't great for bedding but does work for towels or robes.
Finding The Best Wooden Racks for Quilts
Wooden racks for quilts are some of the most popular options available because they use softer natural materials. These go nicely with natural wool blankets or comfortable quilts to add to that feeling of coziness that buyers are after. Wood is also a great way to get some antique quilt rack designs for older homes.
When Choosing the Best Wooden Quilt Rack, Consider the Following
1) The Type of Wood Used
I have cheated a little in this guide by including a bamboo option, purely because I wanted to showcase a broader range of plant-based materials. Both wood and bamboo are appealing and nice to touch with natural tones. The type of wood will determine both the tone and the durability of the piece. Some companies may offer the same design in a different wood, so it is worth checking.
2) The Number of Rungs or Shelves Available
There are some wooden blanket racks that focus more on aesthetic appeal than practicality. It all depends on how many items you want to present. The more rungs or shelves the better for multiple items. But, there is also the risk that some may be pushed to the back. Try and imagine what it will look like in a room before buying.
There is a timeless quality to this first option from Winsome. This company offers a lot of different products with various styles and finishes, so it might be a good idea to compare and contrast. But, this one has a classic look that should work in many homes and styles. The solid Beachwood has a walnut finish, making it darker than some modern pieces. But, the clean curves and lack of embellishment are nice. There are 6 rungs at various points for different items. the downside to this approach is that the pieces on the back are hidden by those at the front. The prized pieces should hide the spares. There is also some assembly required, but it isn't as much of an issue as with other models in this guide.
While the option above could pass for something modern or vintage, there is a strong antique look to this next product. This is a reproduction of an 18th-century blanket holder. The ornate work on the arms and feet, as well as the lathe-worked spindle supports, are something that consumers will either love or hate. It could look great in a guest room for spare bedding if you want to show it off. The same is true for the rich tone of the Heirloom Cherry. The downside of going for this authentic design is that you don't the same sort of storage solution. There are just two rungs so you can only display your two most prized possessions, or fold them up two have two pieces on one rung. It might be worth narrowing down your blankets to a certain style to turn this into an accent piece for the right room.
This final option is the one that is bamboo rather than wood. But, that doesn't mean it is an inferior choice in any way! Bamboo is a great lightweight material that is durable and good for the environment. This is sold as a drying rack more than a display rack. But, there is something about the stepped heights and spacing of the rungs that make this interesting for holding blankets or quilts in a room. There is also a little shelf on the bottom to make use of. The minimalist style compared to the other options would also look great in a small guest room where there is more of a Scandinavian vibe. The tallest point is 33 inches, which is fine for this setting, and it is 12 inches tall.
Is a Metal Rack for Quilts a More Suitable Choice?
If wood isn't a material you like using in your home, you might prefer to use metal instead. A good metal structure should be nice and secure for long-term use, with durable rungs and features that you can rely on. You should also be able to find a blend of modern and vintage designs to suit your home.
Consider the Following Points if Choosing Metal Quilt Racks Instead
1) The Finish on the Metal
As with the wooden quilt racks, the treatments and tones make a difference. In this case, the metalwork should have a nice coating to resist rust and damage, especially if you plan on putting this anywhere near a bathroom to double as a drying rack. Some coatings can offer a distressed or bronzed look for greater interest.
2) The Quality of the Construction
There are times where the cheaper models stand out against the more expensive ones when it comes to metal blanket racks. For example, the metal may appear thin or misshapen in places. It may not hold up to dents either. Quality may also be determined by weight. While a heavy cast-iron rack is a bit much, you don't want something you can lift with one finger.
This first metal rack is one that I know people will either love or get frustrated with. Personally, I wonder if the overly ornate scrolls on the top of the rack and the feet could be a bit of a hazard. Could guests catch themselves or snag the quilts? Still, it is a nice look that blends modern and antique quilt racks nicely. It is a statement piece that doesn't go too far. The stepped design to the three rungs is similar to that of the less ornate bamboo option. The material is heavy-duty tubular steel with a bronze rub. The 35.5 inch height and 31.5 inch width are also just right for the end of a bed or off to the side of the guest room.
It is the star design that sets this model apart from the others as it takes things in a different direction. Depending on your age, you could see different things. You may see this as a nice addition to night-time decor to promote a peaceful night's sleep or as something from the 1990s. Either way, it is a nice little rack with some nice storage solutions and a powder coating to resist rust. I like how is a rack has a shelf, so is great for housing other items related to bedding. It isn't the widest at 29 inches, but is tall enough at 36.25 inches. The problem is that some feel it is a little cheap in places with the shapes and casting. This could be a few bad apples in a larger batch, but it's worth looking into.
Finally, we have an option that is similar to the curved wooden model above. There is that timeless look to the arched supports on this rack where it should suit many rooms. The choice of a hammered steel finish does lean more toward the vintage end. This effect comes from the expert craftsmanship of creators from Puget Sound, so you are assured a USA-made product. It is also a good size at 34 inches wide by 33 inches tall and heavier than others with the commercial-grade steel. The problem is that while the wooden curved rack had 6 rungs, this one has just 3. One quilt is hidden at the back too. So, the appeal here all depends on how many you want to show off at once. If this is too limiting, you may benefit from one of the alternative products below.
What About a Ladder Rack for Blankets and Quilts?
Finally, I want to highlight an alternative set of products that use a ladder style to display quilts and other items. The concept is pretty simple in that you get a ladder, prop it against the wall, and then drape the quilts from the rungs. In theory, you could upcycle an old one yourself if you have one somewhere. But, it is easier to get a pre-made option for this purpose.
When Choosing the Best Wall Quilt Rack Ladders, you Need to Consider the Following Features
1) The Height of the Ladder
It is easy to get carried away with this sort of product and end up with something that is a little too big. The ladder has to be wide enough to show off the quilt well, and tall enough for enough rungs. But, you also need to measure up the space in your room and see if it is better to go for something closer to 4ft or 6 ft.
2) The Materials Used
The majority of the best ladders for displaying quilts are wooden rather than metal. But, there are also some laminate and man-made materials out there. The material and finish determine the look and longevity of the product. You can find options that have a more rustic farmhouse appeal and others that are more contemporary.
You don't have to put this ladder up in the living room, that is just a suggestion from the company. There is no doubt that this piece will look great up against a large enough wall in a living area. You can show off the pieces to guests and use them when getting cozy on the sofa. But, it could also work in a guest bedroom. This is sold as a rustic piece with a choice of barnwood in rustic brown or rustic white finish, but isn't as distressed as some pieces. You get five shelves/rungs to the ladder to show off different quilts and blankets in style. At 4.5ft height by 1.5ft width, it is spacious without getting too intrusive. The only downside here is that you do have a little bit of self-assembly to contend with. This is worth it for the capacity and looks of the finished piece.
This one stands out in Amazon listings because it is currently one of their best sellers in top quilt racks. The design is simple but effective, which is all you really need if you aren't going for a specific vibe with the decor. There are multiple color options available, with a more "wooden" brown, a darker black, and a soft white. At 6ft tall, this is one of the larger models available and will make a big statement on any wall. It will also show off the various quilts and blankets with ease at this height without material getting hidden. While this is a popular and affordable choice, it is worth remembering that this is a laminate finish and not real wood. This could affect the look and long-term appeal.
Finally, we have what is probably my favorite of the three ladders because of their functionality. I like that there are not just five rungs/tiers for displaying quilts but that there is also an adjustable shelf with four hooks. This gives the ladder an additional purpose in a guest room for housing other items like robes. The look is also really nice with the rustic brown wood that makes it seem like it has been there for years already. Just be aware that some buyers have had assembly issues. The holes for the fixtures don't always line up perfectly so may need some extra work. Otherwise, you can't go too wrong with this one.
Finding the Best Quilt Rack for your Needs
In short, there is a nice variety of materials and styles out there when finding the best rack for quilts and even crochet blankets. The quilt rack ladders may be a personal preference based on their appeal for displaying pieces, but there are some great free-standing wooden racks and metal items too.
Take a look at items in your preferred style and see what fits your guest room or living area. Just make sure to measure the space and have a good idea of how many quilts to display first. You don't want to get a rack home and find you don't have enough space.
Also, another great way to display your quilts is with a quilt hanger. If you're looking to display only one quilt in it's entirety this is the way to go! I've always loved the look of a quilt hanger and enjoy switching out which quilt we have on display.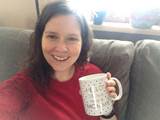 I'm a stay at home mom with our two kids. I really enjoy doing crafts with my kids however, that is typically a challenge with how limited their attention span can be and how messy it gets. So, I'm always looking for ways to make crafting an enjoyable experience and creating fond memory for all of us.