Whether you are a child having fun with clay for the first time or an adult playing around on a potter's wheel, you are going to make a mess. That is why it is so important to find the best pottery apron. A good apron for a pottery session will provide you with the protection you need while also proving to be a comfortable and practical item. In this guide, you will learn more about the different types of aprons for pottery and what to look out for. Some of these aprons are more multi-purpose with enough features at a fair price. Others are more heavy-duty with great protection and emphasis on pottery applications. By the end, hopefully, you will have a better idea of what you need.
MORNITE Art Aprons for Painting Pottery Ceramics

Shop Apron Canvas Work Apron with Pockets

Under NY Sky Pottery Moss Green Apron

Great waterproof material that is also easy to wash

Good coverage at 34inches long and 26 wide

Lots of sizes and adjustments for a unisex product

Strong shoulders straps rather than a neck strap

Double stitching and good hems for added longevity

adjustable crossing back straps has a length of 95 inches

Professional full coverage split-leg design
What Is the Difference Between Normal and Split-leg Pottery Aprons and Which Is the Best?
There are some pottery aprons called split-leg aprons. What this means is that there is a split in the front for greater freedom of movement. This can actually make a big difference to user comfort when it comes to working with a potter's wheel. Some of the more extreme garments for pottery take this further with individual leg coverings that are more like overall. You probably won't benefit that much from a split leg apron when hand sculpting or learning the basics, but they are worth keeping in mind for a later date.
Are Pottery Aprons Unisex?
Yes. The best aprons for potters are unisex, even if some don't appear to be at first. There are always going to be gender stereotypes in product descriptions and photos where the heavy-duty tougher aprons are for DIY and men and the lighter prettier aprons are for baking and women. However, the adjustable fits and various size options mean that a good apron is suitable for anyone. You can pick a style that works for you and then – if you are lucky – choose a preferred color.
Important Considerations for Choosing the Best Pottery Apron
1) The adjustability
The best aprons tend to have some way of adjusting the shape for a snugger fit. You don't want anything too baggy that doesn't offer full protection. This typically means an adjustable strap around the neck or individual straps on the shoulders. The more it adjusts the more suitable it is for men and women of different sizes.
2) The length
It doesn't matter how adjustable the fit is if the apron doesn't offer enough coverage. Some basic models may be a little on the short side while high-end split-leg aprons could be too long and heavy. Check the length to make sure you get enough protection.
3) Storage solutions
It helps to have somewhere within the apron to hold your tools or other important items. The more basic aprons may just have a couple of side pockets or one big kangaroo pocket. The more craft-focused may have a wider range and some with secure zippers.
4) The material used
There are lots of different material choices out there depending on the intended purpose and buyer. Some are quite lightweight and thin with linen or cotton. Others are much thicker with denim or waxed canvas. You can also find some microfibre blend for a softer feel.
5) The waterproofing
The choice of material has a big impact on the protection offered. Wet clay can seep through thin materials and damage clothes. That is why the waxed canvas options are so popular. Pay attention to whether a listing says water-resistant or waterproof.
7 of the Best Pottery Aprons Around Right Now
Below are some of the best products in the different styles mentioned above. Some are more basic for casual potters, others that are more heavy-duty and protective, and then those with that split-leg design. There is also a kid's option in case your child wants to help and learn with you.
1) CONDA 100% Cotton Canvas Professional Bib Apron
The best place to start is with this simple 100% cotton apron from Conda. This may not be the most practical solution specifically for pottery, but it is a well-made apron for various crafts and hobbies. You get a nice lightweight material for long-term wear and a fully adjustable neck strap that makes it suitable for different users. This affordable product also has three deep pockets – two at the sides and one in the middle.
Pros:
1) A great multipurpose item for different situations
2) Great coverage with the 30.7inch length and 25.6-inch width
Cons:
1) Not the most durable for pottery
---
2) carrotez Chef Apron
This next option has a similar multipurpose approach with a focus as much on the attractive design as the practical features. This is an apron you will enjoy wearing for various tasks because of the vintage look to the color choices and stitching. There is an adjustable strap, utensil holders, and a few pockets, including one that is perfect for a phone.
Pros:
1) Lots of sizes and adjustments so anyone can find a good fit
2) Attention to detail in the construction
Cons:
1) A little shorter option
---
3) MORNITE Art Aprons for Painting Pottery Ceramics
It is important to note when a product listing says water-resistant or waterproof. This apron is the latter with a nice blend of 30% polyester and 70% microfiber for durability, protection, and comfort. It is the most simplistic design because of the simple popper adjustment for the neck strap, waist strap and pouch pocket with one addition pocket on the pouch. This is a great option for use around the house and more than just pottery. There are also some fun colors to choose from.
Pros:
1) A great waterproof material that is also easy to wash
2) Good coverage at 34 inches long and 26 inches wide
Cons:
1) The straps are probably not long enough to wrap around and tie in the front
---
4) Shop Apron Canvas Work Apron with Pockets
Next, we come to one of the more heavy-duty options in this list. This is completely different from the cuter canvas aprons for crafts and baking as there is thicker 16 oz waxed canvas material. This means more protection and durability. While this is sold as a tool apron for woodworking and DIY, the shape, material, and range of pockets also make it suitable for pottery. The kangaroo pocket is especially helpful alongside the zippered one. This is a split leg apron to easier work in while sitting, while still providing coverage.
Pros:
1) There are still lots of sizes and adjustments for a unisex product
2) Strong shoulders straps rather than a neck strap
Cons:
1) Not designed for pottery but adaptable
---
5) PotteryToTT Comfortable Denim Apron
This smart-looking potter's apron is another split-leg design. This one isn't as extreme in its design as the one below but still offers freedom and comfort. That comfort continues with the use of the microfiber lining and the adjustable straps around the shoulders. The use of denim is also nice because there is some water resistance, thickness, and a nice color.
Pros:
1) The additional cloth and drawstring bag for added value
2) One of the nicer-looking unisex designs
Cons:
1) A lack of decent pockets compared to other products
---
6) Under NY Sky Pottery Moss Green Apron
Finally, for the grown-up options, we have this more professional split-leg design. This is a full coverage apron that is more like overalls. It goes right down to the angles with ties on the legs. But there is still freedom of movement at the wheel. The material is a tough twill with leather reinforcements so should last a long time. You also get some nice deep pockets for storage.
Pros:
1) Double stitching and good hems for added longevity
2) The adjustable crossing back straps has a length of 95 inches
Cons:
1) A bit over the top for casual potters
---
7) LeerKing Kids Apron 100% Linen Cotton Chef Painting Bib
Finally, I want to talk about an option for children. It is a nice idea to have something more suitable than a basic plastic-coated apron for pottery. Your child will feel more grown-up in something that is a miniature replica of a grown-up pottery apron. This one is nice and light thanks to the 100% linen material and should provide just enough coverage and protection. The two front pockets and adjustable strap are nice touches too.
Pros:
1) Plenty of colors for kids to choose from
2) Suitable for ages 6 to 15 with a height of 95-145cm
Cons:
1) Not the most durable or waterproof material
---
Which Is the Best Pottery Apron for You?
There are some great products here in this list. My recommendation for those new to pottery would be to go for one of the more simplistic multi-purpose aprons first. you will be able to get enough protection with a few helpful pockets without having to deal with anything too cumbersome or extreme. Then you can move on to one of the more protective and practical split-leg options when you decide to move on to working on a wheel. Wherever you are in your pottery journey, make sure to find an apron that fits well, isn't going to impede you in any way, and encourages you to continue with your new hobby.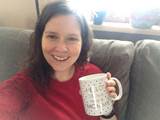 I'm a stay at home mom with our two kids. I really enjoy doing crafts with my kids however, that is typically a challenge with how limited their attention span can be and how messy it gets. So, I'm always looking for ways to make crafting an enjoyable experience and creating fond memory for all of us.