A regular tin of paint is a good start when redecorating part of your home, especially when you find the perfect color. But, the walls can still look a little bland. Glitter paint for walls could be the answer when used appropriately. So what can you get to create this effect and how does it work?
Rust-Oleum 323860 Glitter Interior Wall Paint

Krylon Glitter Finish Iridescent Wall Paint

Silver Glitter Paint Additive with pads

Should dry in as little as an hour

Iridescent uniform shimmer

Three different metallic color options

Company offers 100% guarantee
What is Glitter Paint?
As the name suggests, this is a coating of emulsion for the walls that contains glitter in some form. As you will see below, pre-made glitter paint is rare and some companies cheat a little with terminology. But, there are ways of adding glitter pieces to emulsion for a similar effect. You can also add the pieces to a clear glaze as an effective topcoat for a colorful base. The process isn't foolproof and results vary on brands, additives, application methods, and even the wall you choose.
How to Use Glitter Paint in Your Home for Maximum Effect
There are different approaches to take here. You can either get a pre-made glitter paint and roll it onto the wall like regular emulsion, or you can use a glitter additive to a glaze or emulsion as a topcoat. Make sure that any mixture is as even as possible for the best coverage and stick with a roller rather than a brush. Brush marks can detract from the shine and glittery surface.
Another consideration here is that you need to pick the right wall. If you wanted, you could paint a whole room with this paint or a glittery glaze. This may be more acceptable in a kid's room. Otherwise, you can pick a nice accent wall in a living space to draw attention. The effect will depend on the light hitting the wall. One that gets a lot of sun in the evening can create a nice effect at the end of the day. But, those that are in darker areas won't have the light needed for the reflective crystals.
Do You Need to Use a Buffing Pad?
When searching for glitter wall paint and glitter additives for paint, you will find that companies also sell buffing pads. In some cases, those pads may be part of the package. The purpose here is to sand down the topcoat with the glitter in so that there aren't any jagged edges sticking out. You could find that the shapes don't lie flat in the paint and that some chunkier flakes can create a rough texture. The buffing pads do add extra work to the process, and some extra cost. However, they are worth using for a more high-end look. Don't try and substitute the pad with anything more abrasive as you could ruin the paint or damage the wall.
What to Look Out for When Choosing the Best Glitter Paint For Walls
1) The color. This has to be the most important thing with either pre-made paint or additives. You want it to match the theme of the room.
2) The style of the product. Some emulsion paints may have more of a sheen than a glittery effect. Some additives are chunkier or have specific shapes in them. Just make sure that any additive you get is suitable for emulation and not meant for acrylic or resin instead.
3) The quality of the crystals. Look for the words colorfast and light or temperature resistant in product descriptions
4) The quantity. Is this a big enough tin of paint or bag of crystals to make enough paint for the intended walls?
The Best Glitter Paint for Walls Pre-mixed
Before we look at pre-mixed glitter paint for walls, be aware that this is still quite a niche product. Therefore, there are only a few major companies that offer tins of pre-mixed paint for sale and availability isn't great. However, there are benefits to this approach if you can find it. A pre-mixed paint is more convenient as you just open the tin, grab a roller, and start painting. Here are two options from leading brands.
1) Rust-Oleum 323860 Glitter Interior Wall Paint
Rust-Oleum is a brand with a lot of interesting interior design and DIY products to its name. This Glitter range of wall paint isn't glittery in the same way as some of the other products in this guide. Instead, you get more of an iridescent shimmer across the wall than little speaks of "glitter". There is a "gloss finish" in the range, but it is unclear if you will get the same sort of effect there. Each tine in 32 fluid ounces. The product has a latex-based coating that should be dry in as little as an hour. Just roll it on and wait. The downside is that you need to apply an appropriate base coat to get the best effect. It could be difficult to match products for the right metallic look
Pros:
1) The uniform shimmer is effective
2) It should dry quickly
Cons:
1) You need a matching base coat
---
While we're talking about Rust-Oleum for a moment. I would like to point out this product. The Rest-Oleum Intense Glitter Paint is glitter paint for home interiors rather than walls. But, it offers the intense sparkle you don't get from the wall paint. So, it might be an interesting way to brighten up furniture or rails on walls instead.
---
2) Krylon Glitter Finish Iridescent Wall Paint
Krylon is a company I want to mention here because they have so many interesting products for home improvements. There are various glazes, finishes, sprays, and more to find the effect that you need. This is the same as the Rust-Oleum paint in that there is a simple iridescent sheen that works as a topcoat over another color. The effect can be great for living areas that need another dimension without becoming too much of a focal point. With 32 oz of paint here, there should be enough for your project. But, just be aware that there are complaints about the consistency. It is thicker than expected for a strong coating and shine, but this means it doesn't spread as well.
Pros:
1) 32 oz of paint
2) Comes in three different metallic color options
3) Multipurpose use- can be used on walls and furniture
Cons:
1) Some users have complaints about the consistency
2) It's a topcoat
---
The Best Glitter Paint Additives for Walls
There are limitations in getting this sort of pre-mixed solution, notably the need for base coats and limitations on tones and colors. The alternative solution is to get some special additives to put in regular emulsion for your walls. This could be a better choice for a lot of consumers because it lets you customize the experience a little better in a convenient product. There is also more choice on the style of the product and what you do with it. However, you still need to be able to get a good mixture that looks good on the walls. If the ingredients aren't evenly distributed, you could end up with some odd patches on the wall. Below are some examples of the best glitter paint additives for walls.
1) Hemway Clear Glitter Paint Glaze (Silver)
The first option here is to get a combination of a glaze and glitter paint additive. Henway provides a 2-in-1 package where you get 1 liter of clear glaze and a packet of glitter. This creates a nice extra layer that goes over the top of any other color to add some much-needed sparkle. The glitter is a nice consistency with pieces large enough to catch the light, but nothing over the top. You can't go too wrong with the silver version as this will add sparkle to most base colors. But, there are said to be 25 colors to choose from. 1 liter isn't a lot, so this might be better for one accent wall than a whole kid's bedroom. But, it is non-toxic and safe enough that you could use it in kids' rooms with no ill effect.
Pros:
1) Good quality glitter to add sparkle to the glaze
2) A non-toxic solution for kids' bedrooms
3) Numerous color options
Cons:
1) A simple set for a standard glittery finish – others are more interesting
2) Only 1 liter of clear glaze
---
2) Hemway Glitter Paint Additive Extra Chunky
If you like the idea of these Hemway additives, this next option might be more impactful. The fine silver glitter above is great for a bit of shimmer but the extra chunky flakes will stand out more with some great reflective qualities. I have gone for the Rose Pink one here because I am sure a lot of kids would love a wall with these pink sparkles on it. But, there are other colors too. It is suitable for emulsion – even though some listings focus on acrylic paint. Apparently, Hemway is number one in the market in blind tests and promises a high-end material that is colorfast and fade resistant. Comments vary between those that love it and those that hate it. A lot of this is down to the application process and problems with using this sort of product.
Pros:
1) The chunky flakes for a fun reflective surface
2) Lots of colors to choose from
Cons:
1) Mixed results – possibly down to user error
---
3) V1RTUS Silver Holographic Stars & Moons Glitter Paint Crystal Additive
V1RTUS is another brand that has a lot on offer in the world of glitter paint. There are lots of different styles and tones to choose from to enhance your paint. This one is a lot of fun because you have a series of holographic stars and moons. They are colorfast and fade resistant to ensure the best saturation and shimmer for a long time to come. All you need to do is add the pieces to a pot of paint of your choosing and admire the result. The company recommends adding it to a clear glaze and applying it as a topcoat. It might be a bit over-the-top for your average living room. But, there is the potential for an amazing accent wall in a kid's bedroom.
Pros:
1) Colorfast pieces that look great in clear glaze
2) Bold moons and stars rather than flakes
Cons:
1) The style is a bit more for kids than adults
---
4) V1RTUS Purple Holographic Glitter Paint Crystal Additive
If moons and stars aren't quite your thing, how about some holographic glitter? This option uses a slightly different kind of high-grade glitter to create a beautiful effect on your wall. It is all down to the enhanced light reflection. Again, this is a colorfast and fade-resistant option. There is also the added benefit of it being vegan and cruelty-free. The application and use are much the same as the one above with some great results. You also get a choice of colors. The downside is that 100g of flakes may not go as far as you'd hoped.
Pros:
1) The advanced crystals
2) The range of colors
Cons:
1) The quantity
---
5) v1rtus Silver Glitter Paint Additive with pads
Finally, I just wanted to point out this option as a good bundle. The basic silver glitter additives may not be as fun as the shapes and holographic options, but they still offer a nice sparkle when used well. The selling point here is that not only do you have two packs of this glitter for double the coverage, you also get a couple of those buffing pads mentioned before. This could help you save a little money. It is the same colorfast and temperature resistant product with the potential to lift lots of colors. If for any reason you're not pleased with the product, the company offers a 100% satisfaction guarantee.
Pros:
1) The extra pack of glitter
2) The bonus buffing pads
3) Company offers 100% guarantee
Cons:
1) The glitter is a bit basic compared to others
---
Which is the Best Glitter Paint for Walls in Your Home?
Personally, I think you are better off getting some crystal flakes and a glaze to add to a colorful wall. You have a better chance of finding the color and style that you want and can use it to enhance a pretty standard emulsion. Pre-made glitter paint emulsion for walls is scarce and not as impactful. Have a browse of styles and colors and see what you can create.
Next, check out our article on glitter tumblers here! Tumblers are starting to be very popular, with the option of being insulated and stylish, I can see why! Then you add some glitter to the decor of the tumbler, I'm sold! Let's just say that I've got a few of them at home.
How to Make Glitter Paint for Walls: The Best DIY Project
Do you want to add some glamour and glitz to your walls, but don't want to spend a lot of money? We will teach you how to make your own glitter paint at home. It's a fun and easy project that anyone can do!
To make glitter paint, you will need:
Acrylic paint in the color of your choice
Glitter
A mixing bowl
A stirring stick
Instructions:
Step One: Pour the desired amount of acrylic paint into the mixing bowl. We recommend using a ratio of one cup of paint to one tablespoon of glitter. Feel free to experiment with different colors and amounts of glitter to find what you like best!
Step Two: Add the glitter to the paint and stir until it is evenly mixed in. If you want a more subtle look, you can add less glitter. For a more dramatic effect, add more!
Step Three: Once you have achieved the desired consistency, it is time to paint! Use a brush or roller to apply the glitter paint to your walls. Let it dry completely before enjoying your beautiful new creation!
We hope you enjoy this tutorial on how to make glitter paint for walls! Happy crafting!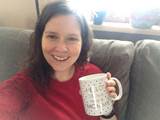 I'm a stay at home mom with our two kids. I really enjoy doing crafts with my kids however, that is typically a challenge with how limited their attention span can be and how messy it gets. So, I'm always looking for ways to make crafting an enjoyable experience and creating fond memory for all of us.